If you're a fan of dark psychological anime, Boogiepop wa Warawanai has everything you could you want and more. With tons of mysteries, supernatural beings, and a plot that will both confuse you and keep you on the edge of your seat, Boogiepop wa Warawanai has it all. If you can't get enough of the anime and you want a little something to watch and enjoy just as much as much, then we've got you covered. Today we are going to be looking at six anime that are similar to Boogiepop wa Warawanai.
Similar Anime to Boogiepop wa Warawanai / Similar Anime to Boogiepop and Others
1. Occultic;Nine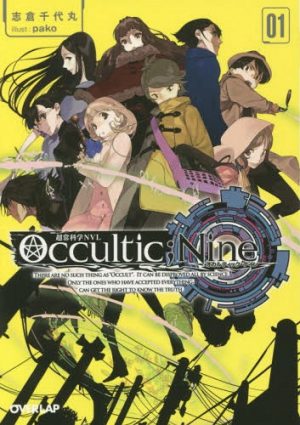 Episodes: 12
Aired: October 2016 - December 2016
Yuuta Gamon is a NEET that runs a blog dedicated to disproving the supernatural alongside his friend Ryouka Narusawa. After finding his professor dead, Yuuta starts to look into what happened to him. Yuuta is then thrown into a world full of mysterious people with supernatural powers brought together by his blog. Together with all of these people, Yuuta and his new friends begin to investigate all of the many other murders and mysteries that are happening around him.
Much like Boogiepop wa Warawanai, Occultic;Nine delivers its story in an interesting way. The stories are often told from different perspectives and out of chronological order giving the anime a plot that can be both interesting confusing. Both anime use a large cast of characters and really flesh out the world the characters are living in. While this style of storytelling may not be for everyone, if you enjoyed the mystery elements and story of Boogiepop wa Warawanai, Occultic;Nine is the perfect anime for you.
Occultic;Nine Trailer
---
2. Kamisama no Memochou (Heaven's Memo Pad)

Episodes: 12
Aired: July 2011 - September 2011
While Kamisama no Memochou may not have many of the dark and supernatural elements that Boogiepop wa Warawanai has, it does have great mystery and drama filled story for you to enjoy. Kamisama no Memochou has a much more light hearted feel to the whole series and includes a little bit of comedy. Despite all of that, it still gives you a great detective story with some serious themes. Both anime have wonderful and engrossing characters that keep the stories interesting.
Narumi Fujishima has a very uninvolved school lie and doesn't know many of his classmates. Narumi does have one good friend though, a girl named Ayaka who is the sole member of the Gardening Club. One day, Ayaka introduces Narumi to a strange girl that lives above a ramen shop. The girl's name is Alice, and she lives her life alone as a NEET. Alice spends her days utilizing her skills as a hacker to work as a private detective. Narumi finds himself dragged into a world filled with gangs, thieves, and murderers, as he helps Alice and her group solve the mysteries that come their way.
---
3. Another

Episodes: 12
Aired: January 2012 - March 2012
Kouichi Sakakibara has just moved to Yomiyama to live with his grandparents. Due to a sudden illness, Sakakibara ends up missing his first month of school. On his first day, there is a strange air within the classroom, and all of the student seem gloomy. There is one student that catches Sakakibara's eye, a mysterious eye patch wearing girl named Mei, so he talks to her. Despite being warned not to talk to her by his other classmates, Sakakibara still decides to get close to her. By getting closer to Mei Sakakibara, comes to learn about the truth behind the phenomenon that's been plaguing class 3-3 of Yomiyama North for the last twenty-six years and the dangerous situation he now finds himself in.
Another has a lot of the same dark and mystery that are in Boogiepop wa Warawanai. Both anime are mystery filled anime that take place in a school and incorporate supernatural elements into the story. While the anime use very different tactics to set up the mystery and the drama, they still both manage to keep you on the edge of your seat. If you're looking for an anime that gives you the the dark and gory aspects of Boogiepop wa Warawanai while also giving you a more straightforward story and mystery, Another is the anime for you.
Another PV
---
Any Anime Like Boogiepop and Others / Any Anime Like Boogiepop wa Warawanai ?
4. Steins;Gate

Episodes: 24
Aired: April 2011 - September 2011
Rintarou Okabe is a scientist that spends his days working on "future gadgets." Together with his childhood friend Mayuri Shiina and a talent hacker named Daru, the group spends their days in an old building turned into a lab working on Okabe's latest invention. The group has started tinkering with an old microwave they call the "Phone Microwave" in hopes of turning it into something great. Unfortunately, the only thing the microwave has managed to do has been able to do is turn bananas into a strange green goo. That s until they discover the microwave is able to send messages into the past that alter the course of history. Now with the ability to manipulate history, the group finds themselves thrust into a mysterious situation none of them saw coming.
Steins;Gate is the perfect anime if you are looking for an engrossing story that keeps you invested and makes you think like Boogiepop wa Warawanai does. Both anime get better the longer you watch them as you slowly learn more and more about what is really going on. The characters find themselves fighting against a group that is unknown to the general public and end up getting themselves put in harm's way as they try to save the world. The visual style of both anime are also very nice with each of them using dark and dull colors that really make the worlds stand out.
---
5. Denpa Teki na Kanojo (Electromagnetic Girlfriend)

Episodes: 2
Aired: February 2009 - December 2009
Juu Juuzawa has always been a lone wolf and has never found it necessary to make friends. Juu's life as a lone wolf comes to an end when a strange girl named Ame Ochibana approaches him and claims they are linked together from their previous lives, and that she wishes is to be his servant. Despite his best attempts to avoid her, the murder of one of his classmates causes leads Juu to leaning on Ame's intelligence and unique skill set. Together, the two of them begin looking into the murder and attempt to figure out just what happened.
Denpa Teki na Kanojo's similarities to Boogiepop wa Warawanai come from the stories. Most of the similarities come from the early parts Boogiepop wa Warawanai. The setup for the stories involves a bunch of high schoolers getting dragged into a dangerous world. The death of the characters classmates gets them started down the path of solving the mysteries behind their deaths. Juu willing begins his investigation while the characters in Boogiepop mostly find themselves as victims of the supernatural events happening around them. Although Denpa Teki na Kanojo is short, it still manages to capture the mystery and drama that Boogiepop wa Warawanai has. If you're looking for an anime that can give you the same sense of mystery and dramatic storytelling, while keeping everything short and sweet this is the anime for you.
---
6. Shinsekai yori (From the New World)

Episodes: 25
Aired: September 2012 - March 2013
The world has been devastated by the an outbreak of psychokinesis. The outbreak caused 1% of the population to develop psychic abilities. After being used by the governments of the world, the people who developed powers build a utopian society and isolated themselves from the rest of the world. 1000 years after the outbreak Saki Watanabe and her friends enjoy their lives in the city Kamisu 66. As Saki and her friends begin to awaken their powers, they are allowed to enroll in Sage Academy in order to develop their powers. The fun days of playing and developing their powers don't last long for Saki and her friends as they begin to learn about the dark secrets of their world.
Shinsekai yori is similar to Boogiepop wa Warawanai in a different way than any other anime on this list. The anime are very different in terms of style and content, but the worlds and story are very similar. Both anime tells the story of children as their lives are forever altered by the mysterious supernatural events. The way in which the anime show what the characters are going through and the way they develop and reveal the secrets to the mysteries of the story are similar. While both of the anime can be slow and confusing to in the beginning, the longer you watch and see the mysteries of the world explained, the stories then get a lot more interesting and are worth watching to the end.
From the New World Trailer
---
Final Thoughts
That is it for our list of six anime similar to Boogiepop wa Warawanai. Hopefully, you found a show that can be just as immersive and entertaining as Boogiepop wa Warawanai is. What do you think of Boogiepop wa Warawanai? Are there any other anime similar to Boogiepop wa Warawanai? Leave us a comment below letting us know.
---