También puedes leer este artículo en:Español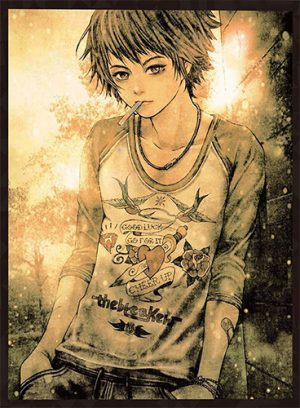 Whether it's because we love the sports they talk about, or because of the adrenaline rush we feel by watching them, sports anime are the ones that can keep you glued to the screen. There are a lot of good anime about sports, and this summer season brought us good shows, but today we will focus on Cheer Danshi!! which is probably the less conventional one.
As you all know, the show is still ongoing, but so far it proved to have all the elements that viewers would expect from a sports anime. The story revolves around two childhood friends, Haruki Bando and Kazuma Hashimoto. Haru is a former judo player, but because of a physical problem he had to quit. Kazu did judo as well, but he followed Haru and quit as well. Now without a club to belong to, and disheartened with judo, Haru is full of doubts. That's the moment when his friend Kazu decides to start the non-conventional boys cheerleading team, the "BREAKERS" and, of course, to invite Haru in!
Like we said, it's pretty much the scheme that every good sport anime follows. That's why, if this kind of shows are your cup of tea and while waiting weekly for a Cheer Danshi!! episode you want to kill time with some similar shows, keep on reading!
Similar Anime to Cheer Danshi!! / Similar Anime to Cheer Boys
1. Days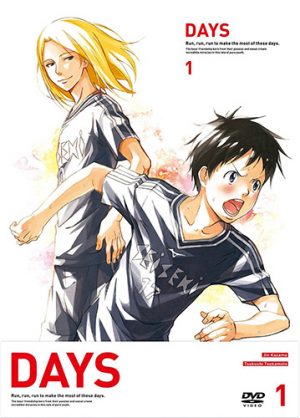 Episodes: 24
Aired: July 2016 – ongoing
Days is one of the sport shows we mentioned above of this amazing summer season. The story revolves around Tsukushi Tsukamoto, who is a shy and clumsy teenager about to start his high school life. While Tsukushi was being bullied, Jin Kazama appeared and sent the bullies away. After the ruckus, short on player for a soccer match, Jin asked him if he wanted to try playing. On that same night, after the umpteenth quarrel with some bullies, Tsukushi showed up at the soccer match, with a hurt foot and after running for miles under the rain. He isn't a good player, but he can run, and he does in spite of his hurt foot, instilling motivation within the other teammates. That's how Tsukushi gets dragged into the wonderful world of soccer, in spite being clumsy, shy and frail!
Both Days and Cheer Danshi!! are about sport: soccer and cheerleading. The premises are the same; there are two boys, Tsukushi and Jin for Days, and Haru and Kazu for Cheer Danshi!!. This dualism is a common point because in Days we find Jin, who is a good soccer player, who manages to drag Tsukushi into the world of soccer. In Cheer Danshi!! we find Kazu, focused on his goal to form a cheerleading club, that manages to drag his childhood friend Haru along. Haru, on the other hand – just like Tsukushi – is not that good, or either interested in the beginning. What's more, Tsukushi and Haru share some peculiar traits, like their shyness, or the fact that when they start something, they put all of their efforts in it. In both Days and Cheer Danshi!! you can find the main themes of friendship, dedication and teamwork, but that's a given talking about sports anime. So we suggest for you to add Days to your summer season list! And we guarantee you won't be disappointed.
DAYS Trailer
---
2. Yowamushi Pedal

Episodes: 38
Aired: October 2013 – July 2014
Yowamushi Pedal revolves around an otaku boy – Sakamichi Onoda – who is willing to join the anime club of his new school. Sad news informs him that the club has been disbanded, so Onoda decides to revive it. He has no luck, though, as finding new members proves to be a hard task. Disheartened, he jumps on his old bicycle and decides to go to Akihabara, where he meets Shunsuke Imaizumi, a first year student cyclist. Their meeting will change Onoda's life; Imaizumi, surprised by Onoda's climbing abilities, challenges him and promises that if Onoda wins, he will join the brand-new anime club. That's how Onoda will be dragged into the cycling world and will meet new friends and rivals!
Even in Yowamushi Pedal we find exactly the same themes we can glimpse in Cheer Danshi!! We find here a common boy who has no experience with cycling and stuff, and just wanted to start his high school life peacefully, while attending the anime club. Yet, he was dragged by Imaizumi, a skilled cyclist, into the world of cycling, discovering to be talented. Similarly, Haru, who just wanted to quit judo and understand what to do with his life, was dragged by Kazu into the world of cheerleading. So once again everything starts with two boys, who gradually meet their teammates and start to work as a team, building step by step their mutual trust. If you are enjoying Cheer Danshi!! so far, you should totally give Yowamushi Pedal a try!
Yowamushi Pedal Official Trailer
---
3. Haikyuu!!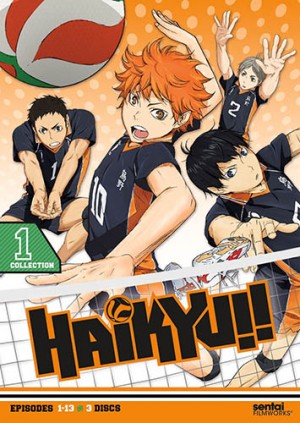 Episodes: 25
Aired: April 2014 – September 2014
Haikyuu!! revolves around the short boy Shouyou Hinata, who fell in love with the "Little Giant", a volleyball ace he can identify with because of his height. To Hinata's eyes, the "Little Giant" was the proof that impossible is nothing when you work hard toward your dreams. With that in mind, he decided to start the volleyball club in his middle school, even if he was the only member. However, thanks to his best friends who went along with his idea moved by Hinata's efforts, they even made it to a tournament where Hinata met Tobio Kageyama. This encounter will be the starting point that will change Hinata's high school life later on. In fact, he will attend the Karasuno High School and finally realize his dream to join a proper volleyball club!
As for the things that Haikyuu!! and Cheer Danshi!! share, we could start talking about the relationship between the two main characters. In Haikyuu!! we have Hinata and Tobio, and Tobio is the skilled one who will help Hinata improve; in Cheer Danshi!! we have Haru and Kazu, and Kazu is the one who will drag Haru into the club, and motivate him. As for the vibes that both shows give, there's the same idea of working hard even though the goal is still distant. In fact, in Haikyuu!! the volleyball club is now in a downfall, and all the teammates, working together and improving together, will try to bring it back to its former glory. Similarly, in Cheer Danshi!! all the teammates are just beginner, and they will work together toward their dream to become a real cheerleading team in the future. As you can see, both these shows share the same themes, so it's not a stretch to say that you'll like Haikyuu!! all the same.
Haikyu!! - Official Trailer
---
Any Anime Like Cheer Boys / Any Anime Like Cheer Danshi!! ?
4. Kuroko No Basket (Kuroko's Basketball)

Episodes: 25
Aired: April 2012 – September 2012
The five members of the "Generation of Miracles" – three years in a row champions in the basketball tournament – of Teikou Junior High are now all split in five different high schools. Tetsuo Kuroko, who played with them as the "Phantom Sixth Man" and who has the ability to move around unnoticed, now attends the Seirin High School. He joins the basketball club together with another first year, Taiga Kagami, who just returned from US and who is very talented. The two boys, together with the other teammates, will start a hard journey with a sole purpose: to win the Interhigh Championship, by defeating one by one the former members of the "Generation of Miracles"!
What Kuroko No Basket and Cheer Danshi!! share is easily said. We have in both these shows everything starting by a school club. In both there's the classical shounen duo who has to struggle for something. In Kuroko No Basket we find Kuroko and Kagami, who are complementary. Since they're both so different, they will work together to make those differences work. The same happens in Cheer Danshi!!, where the differences between Haru and Kazu are basically only in their characters and so Kazu will become the motivation making Haru move towards their goal. Maybe pointless to mention, but both these shows are full of other characters who will grow together with the protagonists. All of their efforts will result in the creation of a very solid team – based on the teammates mutual trust – that will be able to progress toward the common dream. It's time for you to watch Kuroko No Basket, all the more when you're liking Cheer Danshi!! so far!
Kuroko no Basket Trailer
---
5. Free! (Free! - Iwatobi Swim Club)

Episodes: 12
Aired: July 2013 – September 2013
Haruka Nanase – a boy who loves swimming more than anything else – together with his friends Makoto Tachibana, Nagisa Hazuki and Rin Matsuoka, won a relay race. After that victory, they all split just to reunite during high school years. Rin Matsuoka attends Samezuka High School, and has just one thing in mind: to be a better swimmer than Haru. While Haru, Makoto and Nagisa, who attend the Iwatobi High School, are trying so hard to revive their school's swim club. They need one more member, though, and when they meet Rei Ryuugazaki – a former member of the track team – their dream to take part to a tournament gets closer. There are a lot of things to fix, though, first of it all is to teach Rei how to swim!
Free! and Cheer Danshi!! have a lot in common. Both shows begin with a group of boys wanting to start, or revive a club. In Free! we find Haru and Makoto, who are childhood friends, and who – being same age – never split during school years. Together with Nagisa, they will try to take the Iwatobi Swim Club to its former glory. Their goal is to be able to swim together once again. In Cheer Danshi!!, we find Haru and Kazu, two childhood friends who did judo together for years. After quitting, they decided to remain together and create the cheerleading club. So in both these shows we can find childhood friends trying to create something together and then working with the other teammates to realize something. Both these shows have some emotional moments, and some gags that can make you burst into laughter thanks to secondary characters who are very funny. If you are liking Cheer Danshi!!, you will like Free! as well as both have exactly the same good vibes.
Free PV
---
6. Prince of Stride: Alternative

Episodes: 12
Aired: January 2016 – March 2016
Prince of Stride: Alternative is a sport anime revolving around a new kind of extreme sport, known as "stride". This kind of sport involves six players per team, and their goal is to run a relay race in the town, with all the risks that this may involve. Riku Yagami is a first year in Honan Academy, and a talent in basically every sport. Takeru Fujiwara – a stride player – and Nana Sakurai – a girl who aims to be the club manager – are recruiting members to reactivate the Stride club. Together, they will coerce Riku to join the club. Once the club is back, their members purpose is just one: to win the "End of Summer" competition against the other schools!
Prince of Stride: Alternative and Cheer Danshi!! both are stories about very uncommon sports, so their premises are the same. In both stories we find a boy who is literally dragged into the club, without really wanting at first. In fact, both Riku and Haru weren't willing to join the club, and yet they both found themselves giving their best for it. Riku and Haru are similar; they both lived in the shadows of their own siblings. Riku's brother is a very good stride player, so Riku always felt the rivalry against him, and the need to show everyone that he could become just as skilled; Haru's sister is a judo's ace, and so Haru always lived in her shadow, having to prove his parents that he could be good at judo as well. What's more, in Prince of Stride: Alternative we can find the same good relationship between two boys, in fact – similarly to Haru and Kazu – Riku and Takeru will become good friends, in spite their huge difference in character. Mizoguchi, the boy who will become the third member of the cheerleading club, is very similar to Yuujirou Dan – the coach of Honan Stride Club – as both of them talk by set phrases or quotes, in a total nonsensical way, causing gags where it's impossible not to laugh.
What else is left to say? Both of these anime show how very different people start doing something together and put all their efforts into it. They grow together and work together as teammates, and learn how to trust each other, and what being friends mean. If you like sports anime, some funny gags and even the right amount of emotional moments, both these shows are what you're searching for!
Prince of Stride: Alternative
---
Final Thoughts
With Prince of Stride: Alternative, our list has ended. We are sure that if you are enjoying Cheer Danshi!!, you will find all of these six shows just as enjoyable. They all share, of course, a strong passion towards a determined sport, teamwork, friendship and the typical adrenaline rush that make you jump from your chair! If you haven't watched them yet, it's time to catch up. While waiting for the weekly Cheer Danshi!! episode, you can put up with one of it and enjoy your time. We are sure you won't be disappointed! As always, feel free to comment below and let us know what you think!
---