También puedes leer este artículo en:Español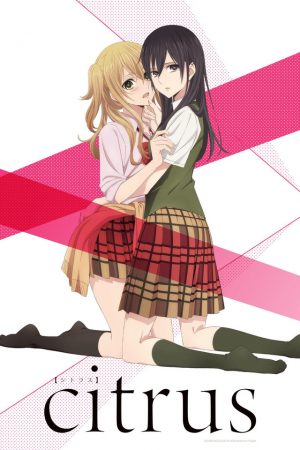 After her mother remarried and moved to a new place, the highly fashionable gyaru Aihara Yuzu is excited to attend her new school, meet new friends, get a boyfriend along the way and meet with her new sister. Things didn't turn out so well for Yuzu as she finds out the school is an all-girls school with a strict policy on clothing within the school premises. There, she encountered the most stuck up girl in the school--the student council president Mei. After a grueling first day of school, Yuzu's mother introduced her new sister--the student council president Mei. Aihara Mei. Love and confusion are well on its way as Yuzu starts developing a romantic interest in Mei.
Okay, you've stumbled up the anime Citrus after hearing a lot about it in the news, and it's talked a lot amongst your friends. Some say it's great, some say it's horrible, and the only things you knew about the anime are that it has a ton of drama, incest, and it's yuri. You log in to your Crunchyroll account and start watching the episode, wondering what's the fuss all about. Minutes into the episode, your body starts sweating profusely, your heart starts beating faster, your body is twitching. And after the episode is over, you're bewildered, confused, dumbfounded and couldn't make out what just happened. As you try to make sense of everything and wiped off the sweat off your forehead, you ask to yourself: "What the hell did I just watch?!" and then "Are there more shows like this?!"
Since you hypothetically asked, yes, there are shows that are similar to Citrus! And luckily, Honey's Anime got your back covered, fam! Yuri, incest, drama, romance, sexual tension are the name of the game here, and we're going to list 6 anime that covers one or two of these themes. The only restriction is the anime on the list must be true yuri anime, so non-yuri anime with a yuri side plot is not allowed. You ready to enter the forbidden world of yuri?
SIMILAR ANIME TO CITRUS
1. Sakura Trick

Episodes: 12
Aired: January 2014-March 2014
Sakura Trick tells the love story of Takayama Haruka and Sonoda Yuu, and how they slowly build their newfound love for each other. Their love life isn't really easy as they battle against a jealous big sister and hide their relationship from everyone… and Haruka is always finding ways to get a few smooches from Yuu.
One thing you'll realize once you're an episode is Sakura Trick loves kissing a lot. The kissing scenes are so abundant and come out of nowhere, it catches you off guard and the anime makes you think twice about watching the show out in public, or with your parents behind you. Haruka is so addicted to kissing, she makes it an effort to steal a kiss from Yuu whenever, and wherever, up to the point they got caught by Yuu's big sister Mitsuki–who happens to have a big crush on Haruka. Did that stop Haruka? Oh hell no!
Yuzu from Citrus doesn't have that luxury as of the moment, but you can tell that Yuzu wants to feel Mei's soft lips again. So much so she often fantasizes about them. And when a kiss does happen, Citrus too catches you off guard and usually, Yuzu is at the receiving end. Geez, what's up with aggressive girls wanting kisses so badly?
Sakura Trick Trailer
---
2. Strawberry Panic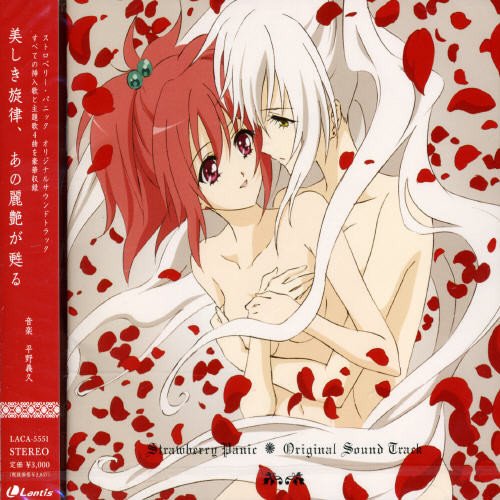 Episodes: 26
Aired: April 2006-September 2006
Aoi Nagisa moves to an all-girls Catholic school and there she meets the school's Etoile the strikingly beautiful Hanazono Shizuma. On their first encounter, Nagisa saw Shizuma seducing a girl and later found out that Shizuma is a playgirl hitting every girl she sees. However, things changed when Shizuma saw Nagisa and a long and confusing story of love, tragedy, partner switching, and betrayal ensued. Did we forget to mention everyone in the anime are legit lesbians and one of them has bed more than one girl?
Strawberry Panic follows a specific trope of the main character enrolling into an all-girls school, probably Catholic in nature, school student body has a complex hierarchy system, and the most beautiful and the most popular girl has taken an interest towards the main character. In Citrus, Yuzu transferred to an all-girls school, and the main love interest Mei is the student council president and the granddaughter of the school chairman. Apart from the usual set up, Strawberry Panic and Citrus both share a ton of drama and several relationships developing that involve jealousy, hatred, and lust.
Shizuma the Etoile has brought Nagisa to her life and in turn, Nagisa is embroiled in scandals and dangerous school politics that involves digging into Etoile's past and gaining power through sex. Citrus is less extreme with Mei with conflicted feelings towards her new sister Yuzu, her future, and the future of the school that involves forced arranged marriages. Seriously, what's up with these aggressive girls in yuri?!
Strawberry Panic Opening Theme
---
3. Netsuzou TRap -NTR-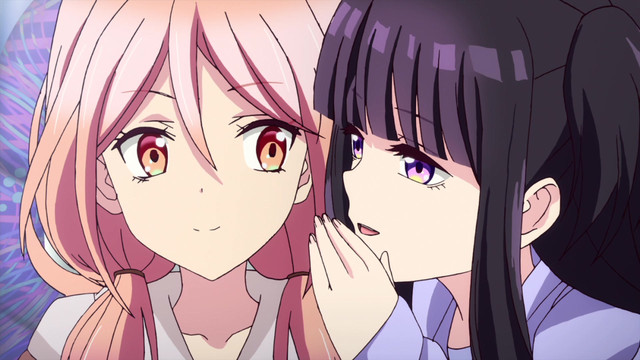 Episodes: 12
Aired: July 2017-September 2017
Okazaki Yuma and Mizushima Hotaru are best friends since childhood and by the time they reached high school, Yuma got herself a nice boyfriend. New to this experience, Yuma asks Hotaru for advice, but things start getting complicated when Hotaru kissed her. Conflicted with her feelings, Yuma doesn't know what to do with Hotaru and her boyfriend vying for her love. Will Yuma cheat on her boyfriend so she can fool around with Hotaru, or will her boyfriend found out and feel devastated by the betrayal?
This is the most recent yuri anime on the list and if you think Citrus has fans divided due to Mei's forced sexual advances to abusive relationships, NTR is more extreme in these regards. Yuma and Hotaru have been friends since childhood and by high school, the two got boyfriends and move on to the future. Little does Yuma know that Hotaru has been in love with Yuma for some time now, and Hotaru wastes no time in making sure Yuma gets the message.
Their developing relationship remains hidden from their boyfriends until one of the guys found out and takes advantage of it. Later we then find out Hotaru never loved her boyfriend and she's just using him to stop other guys from pestering her. But in return, the guy gets to have sex with Hotaru. Citrus, on the other hand, is a bit different with Mei's confusing personality, leading to her forcing herself towards Yuzu, eventually using Yuzu for her own gains.
Netsuzou TRap -NTR- PV
---
Any Anime Like CITRUS?
4. Kuttsukiboshi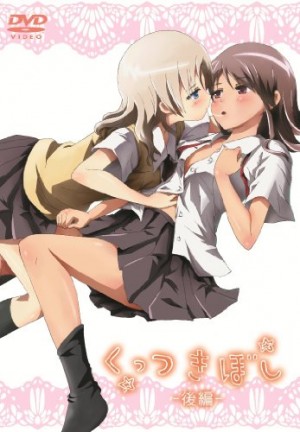 Episodes: 2
Aired: August 2010-May 2012
Kawakami Kiiko is a girl with supernatural powers: she can move things with her mind. Kiiko meets an attractive young girl named Saitou Aaya and starts developing feelings towards her. The two eventually get together and while everything's fine for the both of them, Kiiko will soon discover that Aaya holds a secret that could ruin their relationship.
The main plot is sort of confusing and is very short at two episodes, but if there are a few things that make Kuttsukiboshi and Citrus have in common are the very sexually aggressive girls and how forcing oneself to another girl somehow fixes relationships. Kiiko has telepathic powers but they're not the focus of the anime, and the majority of the runtime in Kuttsukiboshi is them having sex or doing indecent things at school. There was a point in the anime when Aaya subdued Kiiko and locked themselves in the school gym shed and Aaya tries to win back Kiiko through non-stop sex.
Yuzu and Mei aren't hyper-aggressive but if there's something serious going on, Mei has made several attempts at raping Yuzu in order to sort out her emotions. Yuzu doesn't mind most of the time though since, well, she's in love with Mei. Hey, don't ask us why do girls do the way they do.
---
5. Candy Boy: Nonchalant Talk of the Certain Twin Sisters in Daily Life

Episodes: 7
Aired: May 2008-May 2009
Candy Boy revolves around the everyday life of very close twin sisters, Sakurai Kanade and Sakurai Yukino, living together in Tokyo to attend high school, and their rather clingy underclassman, Kamiyama Sakuya, who has a crush on one of the sisters.
Now for a far less serious tone, Candy Boy is all about watching two twin sisters go about their day. From the first ONA episode, it's clear Kana harbors deep romantic feelings towards her twin sister Yuki, to the point she felt jealousy towards their classmate Sakuya getting too close to Yuki. If there's any comparison between Candy Boy and Citrus is the sexual tension between sisters. Yeah, Yuzu and Mei aren't blood-related but they are still sisters by law, and watching them holding back their desires to hold, kiss or go even further while at home or at school.
Every episode of either Candy Boy or Citrus is a test of patience and sometimes the viewers are bracing for the anticipation that something is going to happen. "Kiss already!" "Have sex already!" these phrases will come to mind a lot when watching either show. Honestly, we can't help it. These are bound to happen, so let's go ahead and get hyped for it.
---
6. Maria-sama ga Miteru (Maria Watches Over Us)

Episodes: 13
Aired: January 2004-April 2004
Fukuzawa Yumi transfers to the prestigious all-girls Lillian Girls' Academy and there she caught the attention of one of the beautiful and popular girls in school, Ogasawara Sachiko. The school has a soeur system where the younger freshman student is paired with the older sophomore or senior student, and the older student guides and teachers the freshman throughout her school years. Sachiko invited Yumi to be her little sister or petite soeur and then Yumi realizes that Sachiko isn't the perfect lady she pictured, and Sachiko is just like any girl of her age coping with her changing environment and the people around her.
Maria-sama ga Miteru or Marimite for short is arguably the first series that has brought yuri to mainstream anime. Its influences can be seen and felt throughout the anime world be it a yuri or a non-yuri show. Marimite doesn't win you over to Yuri by showing off fanservice and sex, rather, the anime wins you over with its strong cast of characters, and a more realistic approach of girl-to-girl relationships in Catholic all-girls schools in Japan, and the rest of the world.
Citrus shared a lot of similarities with Marimite from the all-girls school setting, school politics, arrange marriages, and yuri relationships. Heck, you may notice the characters in Citrus look similar to the characters in Marimite. We don't need to point this out because once you see them, you will know immediately.
Maria-sama ga Miteru PV
---
Final Thoughts
You may have noticed by now that majority of anime listed had shown up in yuri lists like, and with good reason: True yuri anime shows are very rare. Yuri is abundant, don't get us wrong, and we see them in slice of life shows as mainly for fanservice or side events. A shounen anime may have a female character who happens to be lesbian, or the jokes surrounding the anime are composed of yuri fanservice, and there are even lesbian story subplots within non-yuri shows or relationships that don't go anywhere.
Anime shows that focus on the yuri/lesbian relationships is not quite as common as other types of romances, and that's going to change now that we're seeing signs of yuri anime making a comeback with anime like Netsuzou TRap, Citrus, and the upcoming anime adaptation of Asagao to Kase-san.
Anime like Strawberry Panic! And Maria-sama ga Miteru has paved way to Yuri anime in the mid-2000s and inspired anime to adapt more yuri stories. Now, a decade later, and a new climate where society is slowly accepting homosexual relationships, anime like Citrus is paving another way for more yuri stories to get adaptations, and by the looks of it, Yuri is going to be bigger and bolder in the near future. What a time to be alive!
---