También puedes leer este artículo en:Español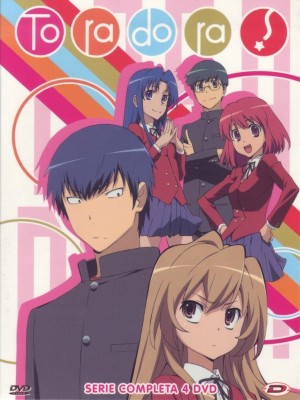 One can recall, past or presently, being involved in a romantic relationship during their school age days. Whether dating or intensely crushing on someone, adolescence, among other things, is a time for growth and exploration. As young adults begin their quest in search for an identity, there are tons of challenges along the way, either within themselves, or with the people around them. In the anime Toradora! starring characters Taiga Aisaka, Ryuuji Takasu, Ami Kawashima, Yuusaku Kitamura, and Minori Kushieda brave this journey to adulthood together; managing studies, romance, family, and their futures. Onward ho! to the list of 6 Anime Like Toradora!
Similar Anime to Toradora!
1. Ano Natsu de Matteru (Waiting in the Summer)

Episodes: 12
Aired: January 2012 – March 2012
Kaito Kirishima is your average teenager, whose hobby includes documenting daily activities with his video camera. One evening while filming, Kaito records an instance of something falling out of the sky, which then blasts him off the bridge. Following this event, Kaito remarkably turns up in his room with no recollection of how he got home. As such, he marks this as normal and goes about his day. When at school, he and his friends propose the idea of filming their summer vacation with Kaito's new camera. As the kids discuss their plans for the summer, Kaito lays eyes on Ichika Takatsuki, the gorgeous new "transfer" student. As the anime develops, we discover that the phenomenon from the sky was Ichika, who succeeded in saving Kaito after he was knocked out from the blast. Thus, Ichika later lives with Kaito in his home. All in all, Ano Natsu de Matteru purely chronicles the lives of Kaito and Ichika, with friends Kanna Tanigawa, Tetsurou Ishigaki, Mio Kitahara and Remon Yamano, their growing romances, relations, and the obstacles they must overcome, all throughout their summer vacation.
In comparing Ano Natsu de Matteru (Waiting in the Summer) with Toradora! the quality in animation is very similar, producing bright and vivid illustrations. Moreover, the characters are very relatable, providing somewhat complex platonic and romantic relationship scenarios where each of them has difficulty expressing themselves. Also, (at least for myself), the recurrence of tugging at the heartstrings emerged while watching both.
---
2. Golden Time

Episodes: 24
Aired: October 2013 – March 2014
Golden Time follows Tada Banri, who suffers from amnesia after an accident on a bridge. While in recovery, Tada decides he wants to attend college and commits to doing so. Once enrolled, Tada meets an array of people, including Linda, a girl he previously knew before the accident; Mitsuo, a boy he befriends at college orientation, and Kouko, another individual from Tada's previous "life", who later grows closer to him, as friends and romantically. Golden Time recounts Tada's experiences with the many people he meets, how his relationships will develop with them, and how he must juggle the resurfacing memories from his past with the life he's built in the present.
In comparing Golden Time with Toradora! both share a similar theme with intertwining and complex relations that encompass the various characters in each. Incidentally, Golden Time and Toradora! were produced by the same studio, demonstrating common elements.
---
3. Tonari no Kaibutsu-Kun (My Little Monster)

Episodes: 13
Aired: October 2012 – December 2012
Tonari no Kaibutsu-kun aka My Little Monster, highlights the budding relationship between Shizuku Mizutani and Haru Yoshida. Shizuku is very isolated, distant and ice cold, only focusing on herself and her studies. Haru, conversely, wears his emotions on his sleeve and couldn't care less about academics. Their relationship begins when Shizuku is tasked with delivering handouts to Haru's home. Their romance is slow, but the two of them begin to discover new aspects of themselves and each other despite what others have observed about them. Over the course of this anime, Tonari no Kaibutsu-kun presents the close connections one needs to chance upon in order to flourish. Here, the phrase "opposites attract" really comes into play.
In comparing Tonari no Kaibutsu-kun (My Little Monster) with Toradora! both share the component of vibrant and charismatic characters bringing the stories to life. They are similar in romantic and comedic themes. More so, the setting of each anime exists at school. Again, the context for Tonari no Kaibutsu-kun and Toradora can suggest a relatability for viewers with moments of surprises, sorrow, and OMGs.
---
Any Anime Like Toradora! ?
4. Sakurasou no Pet na Kanojo (The Pet Girl of Sakurasou)

Episodes: 24
Aired: October 2012 – March 2013
Sakurasou no Pet na Kanojo (The Pet Girl of Sakurasou) is about a group high school students residing at the dormitories of Suimei High. At Suimei High, second year student, Sorata Kanda was recently ejected from his dorm for taking in a stray cat. Sorata was then transferred to the notorious Sakura dorms, which houses the troublesome and the misfits of Suimei High. Just when Sorata sought to protest his transfer, he meets Mashiro Shiina, an art student who is incredibly gifted and talented, but lacks stability and structure for other components in her life. Thereafter, Mashiro instantly latches onto Sorata. In the in the same way he nurtures his strays, Sorata does the same for Mashiro. Sakurasou no Pet na Kanojo, in its entirety, follows their developing relationship, emotional struggles, and hardships as students and young adults.
In comparing Sakurasou no Pet na Kanojo (The Pet Girl of Sakurasou) with Toradora! both involve the main male characters, Sorata from Sakurasou no Pet na Kanojo, and Ryuuji from Toradora! taking care of the main female characters, Mashiro from Sakurasou and Taiga from Toradora!. Each anime takes place in high school highlighting the connection between aspiration, romance, friendship and determination.
---
5. Nagi no Asukara (A Lull in the Sea)

Episodes: 26
Aired: October 2013 – April 2014
Humanity long ago used to live in the seas, granting them the ability to breathe underwater. However, as many migrated to the surface, the population lost that gift. As time went on, surface dwellers and underwater folk grew to despise one another. In Nagi no Asukara (A Lull in the Sea), the anime centers around a group of friends who live in this underwater village. Companions Hikari, Manaka, Chisaki, Kaname are faced with the issue of their school shutting down, forcing them to attend studies on the surface. Throughout the series, these four friends are thrusted into this circumstance and must learn to deal with the challenges of living among people on the surface. On top of this, these young adults must conquer the challenges of personal growth and obstacles.
In comparing Nagi no Asukara (A Lull in the Sea) with Toradora! they are similar in a way that the characters must choose between the value of friendship and romantic interests. Both also have lively characters, highlighting the progress and development of the slice-of-life storyline. Additionally, the animation for both is aesthetically pleasing.
---
6. Nijiiro Days (Rainbow Days)

Episodes: 24
Aired: January 2016 – June 2016
Nijiiro Days (Rainbow Days) details the lives of four students: Natsuki Hashiba, Keiichi Katakura, Tomoya Matsunaga and Tsuyoshi Naoe and their daily lives in high school. As we commonly hear "boys will be boys" Natsuki, Tomoya, Tsuyoshi and Keiichi banter with one another about their love interests. As the boys balance their social lives with school, Nijiiro Days is an easy going series with various shifts of conflict between one of the boys and a girl, and how they collectively try to help and uplift one another.
In comparing Nijiiro Days (Rainbow Days) with Toradora! they are identical in that they are incredibly relatable and perhaps reminiscent of romantic situations in high school (or if one has not experienced such events, it is a scenario that one can imagine having). Also, both anime have characters displaying a diverse and mixed set of personalities. Lastly, although they differ in plot and dynamic, Nijiiro Days and Toradora! are fun to watch!
---
Final Thoughts
So there you have it. These are Honey's Recommendations for 6 Anime like Toradora!. The boy-meets-girl/girl-meets-boy element combined with drama, comedy and romance are what propel these anime collectively. Further, we know there are tons more out there. Let us know what we've missed! What other anime identical to Toradora! can you suggest to us and other readers? Leave your comments below!
---
---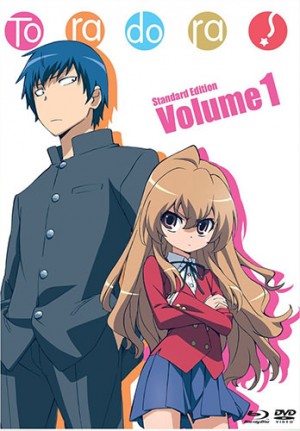 What is love? Baby don't hurt me. When you think about Toradora! you should be thinking high school love story, because that's exactly what it is.
This is an anime that really just takes the conventional subject of high school romance and friendships and plays them out in a way that keeps the viewers involved.
As if it were the anime version of a soap opera, there are clichés to be expected – clichés that we've seen or heard a million times before, but makes them entertaining to see.
As if you're a part of their lives and living it with them.
What I want to do now is take a look at six different anime that give me the realistic lovey-dovey vibe.
Similar Anime to Toradora!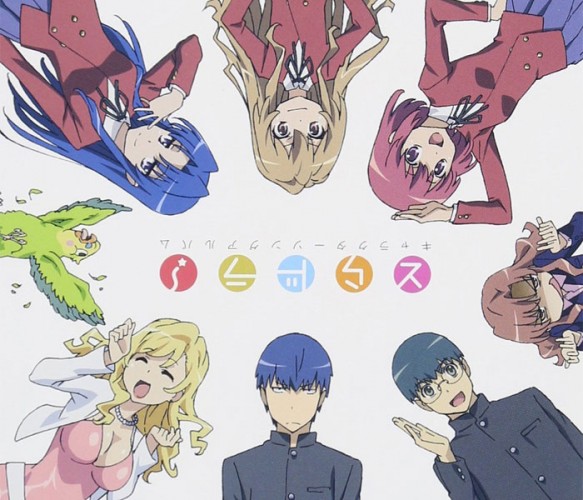 1. The Familiar of Zero (Japanese: Zero no Tsukaima)

Episodes: 13
Aired: Jul. 2006 - Sep. 2006
Louise is a magician at one of the premier magic schools in all the land, ladies and gentlemen from all over the land attend this school and all are equally gifted in one area of magic or another. The same can't be said for Louise however; she can't even cast a silencing spell without blowing something – or someone – up.
One day they're told to summon their very own familiar, and instead of a regular familiar she summons none other than Saito Hiraga, a seemingly normal and average Japanese boy.
Will anything ever be normal?
This is a super fun anime to check out if you're into the tsundere relationship prevalent in Toradora!, or any other romance anime for that matter.
While the 'dere' is more common in this anime, the story has magic and bad guys and some weird chick… the list goes on.
The comedy is legitimately funny and the show plays off its own weaknesses, making it one of the better romantic comedy anime I've seen.
2. Waiting in the Summer (Japanese: Ano Natsu de Matteru)

Episodes: 12
Aired: Jan. 2012 - Mar. 2012
All a group of friends are looking to do is make the summer pass by quicker without getting bored and without getting into trouble.
Instead of just hanging around, they decide to focus their time to making a movie together. During their time making this film, they discover things about each other, figure out more about themselves, and grow together closer than they were before.
Waiting in Summer is an absolutely incredible anime that really brings new meaning to the term "a picture is worth a thousand words." Relationships aren't simple, and vary depending on the person – be they romantic or simply friends, they take work.
This is an anime that takes that fact and puts it all up for display as if retracing the steps you've taken in your own life, the mistakes made and the inevitable apologies, they're displayed as if a piece of your past has made its way to screen.
If you liked the relationship dynamic in Toradora!, you're going to love this one.
---
3. Golden Time

Episodes: 24
Aired: Oct. 2013 - Mar. 2014
Tada Banri is a normal student who just got accepted to a prestigious law school in Tokyo; completely normal despite his amnesia.
Due to a fall when he was younger his memories are cut off afterwards, he has no idea who he ever was, or who anyone else is. He meets Mitsuo Yanagisawa; another first year with a crazy girlfriend named Tada Banri and helps his new friend leave the crazy behind – only to get sucked into it himself!
Golden Time is my own personal favorite romance anime, with a few episodes near the end that just completely depress me as well – but we won't be getting into that.
If you want something a little more romance oriented than Toradora!, this should be your number 1 on your list. The art is gorgeous, the character stories fascinating and a completely captivating story to it.
Definitely give this at least the 3 episode test; it'll pull you in before that.
---
Any Romantic Tsundere Animes Like Toradora! ?
4. My Little Monster (Japanese: Tonari no Kaibutsu-kun)

Episodes: 13
Aired: Oct. 2012 - Dec. 2012
Shizuku Mizutani really only cares what grades she's getting (or going to get), with little empathy or care left for anything or anyone else. Thanks to this, when her teacher asked her to take some delinquent his homework (and to convince him to come back to school) she didn't really want to go at all.
Haru Yoshida may be a delinquent, but he's a genius. The only reason he's a delinquent in the first place is because he's so emphatic with those in need he'll do whatever it takes to help them – including beating up a band of bullies picking on one person. Basically, he's everything Shizuku wasn't expecting.
This is an adorable anime, and I use adorable in every sense of the word. Take the socially awkward super nerd boy and send in the socially inept girl, together they just make the socially awkward, socially acceptable.
If you're looking for a fun anime that even shows its own edge, My Little Monster is a great place to start your search.
---
5. Gosick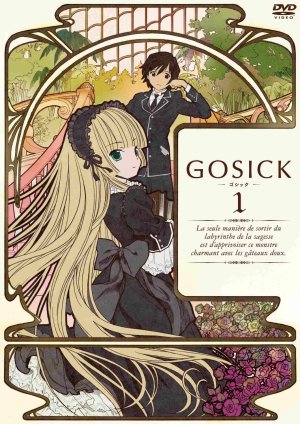 Episodes: 24
Aired: Jan. 2011 - Jul. 2011
The year is 1924 and Kujou Kazuya is studying abroad in a little country tucked away inside the Alps.
One thing about Kujou that separates him from the rest of his new class however is his complete lack of faith in anything abnormal. All the ghost stories he hears, he doesn't believe.
Victorique on the other hand is much more interested in these stories, and happens to be the areas own little Sherlock Holmes detective. Together they investigate mysteries far and wide (including a ghost ship), and are those sparks?
If you want to watch the anime version of Sherlock Holmes, this is one of my favorites in that category. What makes this so relatable to Toradora! is the romance of course, but it has less of a pure focus on it and more of a focus on the mysteries presented.
Gosick is an excellent anime to watch if you're looking for something more than just "oh they're in love, cool."
---
6. My Teen Romantic Comedy SNAFU (Japanese: Yahari Ore no Seishun Love Comedy wa Machigatteiru)

Hachiman Hikigaya just doesn't care, about anything. He wants to do nothing for the rest of his life, but when you're just a student in high school explaining this to a working teacher that plan doesn't tend to work out well.
Thus, he gets sent to the Volunteer Service Club, where the most beautiful girl in his school spends her after class hours. Will he be stuck with the mentality he has and never find anyone because of it? Or will the Volunteer Service Club change his life?
This is the perfect anime if you're looking for a RomCom that goes against the norm and makes it fun instead. I know, sounds like too much of a niche to exist right? Well it's right here and waiting.
It does have the qualities of something that has been done before, so when you first begin watching you only think you know what to expect.
The art is fantastic and the characters really fit themselves, and at times it feels like you'd fit in perfectly (by sometimes I mean most of the time, and by most of the time I mean all the time). Definitely give it a shot, you won't be disappointed.
---
That wraps us up for romantic and yet still engaging anime that resemble Toradora! in one way or another.
If you think we left one out feel free to leave your suggestions in the comments box below!
by Nathaniel Loomis
---