También puedes leer este artículo en:Español
Overflowing with technicolor animation and whiplashing time skips, Concrete Revolutio has the potential to be a great, if not groundbreaking anime. Combining magic, super heroes, yokai, and politics, this latest offering from Bones has a little bit for everyone. Due to its loose sense of time, many viewers may have already given up on this show. But, for those still sticking with Concrete Revolutio through thick and thin, waiting for the next episode can seem like forever (where is a time jump for this?).
The following is a list of anime that resemble Concrete Revolutio to tide over those waiting for the weekly installment. Now without further ado, let's unleash the action!
Similar Anime to Concrete Revolutio
1.Punch Line

Episodes: 12
Aired: April 2015-June 2015
Punch Line follows the story of Yuuta Iridatsu, a high school boy particularly sensitive to girl's panties. Through a variety of incidences, a mysterious figure steals Yuuta's body, reducing him to a sprit. While trying to regain his body, Yuuta soon finds himself shouldering the responsibility of saving the world. Throw in superheroes, robots, and plenty of action, and we have a show that is really rolling the punches.
Though Punch Line features more fanservice than Concrete Revolutio, it shares the latter's overly saturated color palettes and wild narratives. Also, much like Concrete Revolutio, Punch Line can take some warming up time before one really becomes engrossed in the story. However, it certainly does reward those with patience. For the fans that love colorful aesthetics, an enigmatic plot, and a slow boiling show, Punch Line might be up their alley.
Punch Line - [Anime] Trailer
---
2. Kyoukai no Kanata (Beyond the Boundary)

Episodes: 12
Aired: October 2013– December 2013
For those who love all things Kyoto Animation, Kyoukai no Kanata will not disappoint. The anime depicts the story of Akihito Kanbara, a half human and half youmu, or supernatural creature, as he confronts and eventually helps his hapless classmate Mirai Kuriyama.
On a slightly different track than Punch Line, Kyoukai no Kanata resembles Concrete Revolutio due to its focus on the relationship between yokai and humans and the existence of the Spirit World Warriors. Like in Concrete Revolutio, Kyoukai no Kanata is set in a world where both humans and yokai exist. However, yokai are not always benevolent. Much like the Superhuman Bureau, the Spirit World Warriors regulate the yokai and try to maintain the everyday lives of normal humans.
Kyoukai no Kanata Official Trailer
---
3. Samurai Flamenco

Episodes: 22
Aired: October 2013-March 2014
The phrase, "you have to see it to believe it," might be the most apt when describing this show. For the sake of simplicity, Samurai Flamenco is the story of the self-made superhero, Hazama Masayoshi and the local police officer, Goto, as they try to save the world.
Samurai Flamenco seems to depict the story of a hero's everyday life at least for the first five episodes. While this might not be the first anime that comes to mind when thinking about Concrete Revolutio, Samurai Flamenco arguable resembles it due to its focus on monsters, heroes, and the concern for the meaning of justice. Much like how Jiro Hitoyoshi fights with the Superhuman Bureau to keep monsters in check, Samurai Flamenco's Hazama Masayoshi fights for justice in his battles against monsters that threaten humanity.
Samurai Flamenco PV 02
---
Any Animes Like Concrete Revolutio ?
4. Kekkai Sensen (Blood Blockade Battlefront)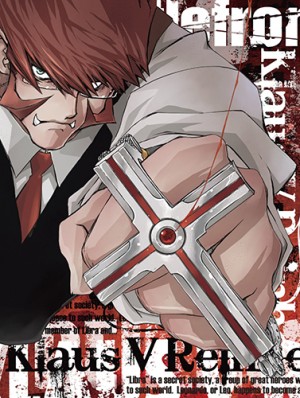 Episodes: 12
Aired: April 2015-October 2015
In Kekkai Sensen, the young Leonardo Watch, blessed (or perhaps cursed) with the "All Seeing Eyes of God," joins Libra, a quasi-order enforcement organization for the "Beyond." As a part of Libra, Leonardo soon finds himself in pinches well beyond his imagination.
Though stylistically different from Concrete Revolutio, Kekkai Sensen, with its stunning animation and cinematography, is just right for those who want a visual treat. Additionally, those who like the Superhuman Bureau will find a similar organization at the heart of Kekkai Sensen: Libra. Just as the Superhuman Bureau regulates superhuman beings, Libra protects humans from the chaos caused by monsters and magic.
TV Anime Kekkai Sensen PV 02
---
5. One Punch Man

Episodes: 12
Aired: October 2015-Currently Airing
One Punch Man is the story of Saitama, a superhero who can take out anything with only one punch. But, even with his overpowered status, Saitama still has his struggles, such as finishing his fights fast enough to make it in time for limited-time-sales at the market.
One Punch Man is another superhero anime like the previously mentioned Samurai Flamenco that is not the typical hero show. Instead of heroes working independently, we have a larger organization monitoring the activities of these super humans much like the Superhuman Bureau does in Concrete Revolutio. Throw in the monsters that appear throughout the show, and we have an anime with a faint flavor of Concrete Revolutio for the fans that are craving more.
TV Anime One Punch Man PV 01
---
6. Psycho-Pass

Episodes: 22
Aired: October 2012 – March 2013
Psycho-Pass is an anime set in a dystopian future in which it's possible for every citizen of Japan to have their state of mind measured and quantified by the Sybil System to monitor mental states and probability of committing a crime. Psycho-passes indicate whether or not a person has a high likelihood of committing a crime and the Public Safety Bureau's Criminal Investigation Division enforces order with the help of people who are on the brink of being categorized as criminals themselves.
On the surface, Psycho-Pass and Concrete Revolutio may not seem that they have much in common. However, when you consider the dystopian and political overtones of both shows, they begin to seem more like one another. Just like how the Superhuman Bureau is a government agency with questionable politics, in Psycho-Pass we have the Public Safety Bureau's Criminal Investigation Division, an organization that operates under the morally murky justice system. Rather than superhumans and monsters, Psycho-Pass confronts the monsters within all of us.
Psycho-Pass Season One - Official Trailer
---
With hopes, this list satisfies the most avid fan of Concrete Revolutio. Admittedly, these shows are of a wide range of genres. Nonetheless, they share elements of narrative, setting, and tone (particularly dealing with politics and monsters) with Concrete Revolutio. If you have any questions, comments, or concerns about this list, be sure to leave a comment below!