When you put together a school life harem with some romance, heaps of comedy, a love for books, and a dash of mystery, what do you get? A Good Librarian Like a Good Shepherd is an anime that pulls you in with its mysterious, one-of-a-kind charm rooted in high school life. Our beloved loner, Kyoutarou Kakei, reluctantly joins the Shiomi Happy Project with Tsugumi Shirasaki, the girl he saved from a fatal accident. Adapted from a Japanese adult visual novel, this anime has a bit of everything from comedy to mystery, from romance to harem with its fair share of beautiful female protagonists. As the members of the Library club discover who the mysterious Shepherd is between humorous daily activities, Kakei learns the joy of spending time with his friends. In his attempt to learn more about the world around him, Kakei learns more about himself and his feelings while helping others.
With its slice-of-life elements and the hint of supernatural sprinkled throughout the anime, the subtle romance and comedy make you feel right at home, as if you're a part of this school club. As you finish watching this series, looking for more anime that fill you with a similar warm feeling can be hard. Whether you watched Daitoshokan no Hitsujikai for Nagi Kodachi or for Tsugumi Shirasaki, here are six recommendations that come close to Daitoshokan no Hitsujikai with its themes of romance, comedy, and harem in a school setting.
Similar Anime to Daitoshokan no Hitsujikai / Similar Anime to A Good Librarian Like a Good Shepherd
1. Yahari Ore no Seishun Love Comedy wa Machigatteiru (My Teen Romantic Comedy SNAFU)

Episodes: 38
Aired: April 2013 – September 2020
Our very first recommendation is the recently completed anime that took Summer 2020 by storm, Yahari Ore no Seishun Love Comedy wa Machigatteiru, or popularly known as "Oregairu". Oregairu is the story of cynical Hachiman Hikigaya, who is forced by his teacher to join the Volunteer Service Club where he meets Yukino Yukinoshita, the school's ice beauty. The two are forced to put their heads together to tackle the various requests that the club receives, despite the glaring difference in their personalities. Joined by Yui Yuigahama, the only member of the group with social skills, the trio form an unlikely friendship that is tested with different perspectives, feelings, and everything in between.
If you enjoyed A Good Librarian Like a Good Shepherd's unique take on mystery, comedy, love, and drama in a school setting, Oregairu has all that and more. There is a heavy similarity between Kakei and Hikigaya's characters as they prefer to be in their own world than be surrounded by other people. Moreover, they were forced to join a club that they normally would not join or distract them from the life they lead. Just like Kakei's life was changed when he joined the Library Club where he made lifelong friends, Hikigaya finds memorable friendships and a long-lasting relationship because of the world he was exposed to by Yukino Yukinoshita. Despite the difference of personalities between the members, they never give up on being friends and struggle through their differences in high school coupled with Oregairu's refreshing, deadpan humor.
My Teen Romantic Comedy SNAFU Trailer
---
2. Hyouka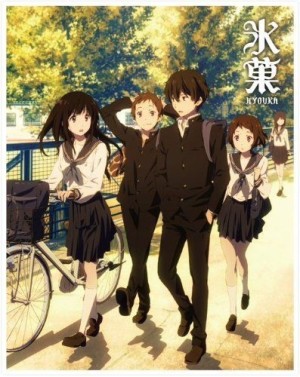 Episodes: 22
Aired: April 2012 – September 2012
Of course, this list would be incomplete without Hyouka. Hyouka starts when energy-conserving Houtarou Oreki joins the Classics Club where he meets the always curious and impressionable Eru Chitanda. Along with two other members who join later, Oreki and his friends solve mysteries surrounding the Classics Club, among others, and enjoy their high school lives at the same time.
Hyouka is similar to A Good Librarian Like a Good Shepherd for its themes of mystery, romance, and school life. Oreki shares many similarities with Kakei as a loner who is helped by Eri Chitanda, who exposes him to a different kind of world filled with friends and memories. One of Library Club's main goals was to find out more about the mysterious Shepherd. This is similar to the Classics Club's goal of solving the age-old mystery surrounding the club. Be warned, you'd definitely be affected by Eru Chitanda's curiosity as you watch this anime!
Hyouka Trailer
---
3. Kokoro Connect

Episodes: 13
Aired: July 2012 – September 2012
What would you do if you were forced to switch bodies with your friends at random? While this sounds like fun and games at first, what would you do when they learn your emotional scars and your hidden past? Kokoro Connect starts when Taichi Yaegashi, Iori Nagase, Himeko Inaba, Yui Kiriyama, and Yoshifumi Aoki form the Student Cultural Society or "StuCS" when they realize there are no clubs that they really fit in. When the five friends get entangled in this supernatural phenomenon, they are forced to become closer than ever, while dealing with challenges that come up with this newfound intimacy.
If you enjoyed Daitoshokan no Hitsujikai for its slice of life aspect, you will love Kokoro Connect. The Library Club and the StuCS are formed with members who do not have much in common with each other. Whether solving who the mysterious Shepherd is or why this mysterious soul-switching occurs, both the anime are still grounded in their comedy, romance, and drama. Both the clubs' members are forced to bond because of the mysterious circumstances that happen to them. But, ultimately it becomes something they cherish.
Kokoro Connect Trailer
---
Any Anime Like A Good Librarian Like a Good Shepherd / Any Anime Like Daitoshokan no Hitsujikai?
4. Boku wa Tomodachi ga Sukunai (Haganai: I don't have many friends)

Episodes: 24
Aired: October 2011 – March 2013
Adapted from the light novel of the same name, Haganai: I don't have many friends is the story of Kodaka Hasegawa who transfers to a new school. Hoping to make new friends, things don't go as planned when he is labeled as a delinquent because of his blond hair and arrogant expression. One day, Hasegawa meets another loner, Yozora Mikazuki, while she is talking to an imaginary friend in an empty classroom. After sharing their woeful stories of lonely high school lives, Hasegawa finds himself dragged into creating the Neighbor's Club, a club for misfits to learn social skills and make new friends. When other students who feel left out join this special club in the journey of making friends, Hasegawa realizes that he has already made friends with the very misfits of the club.
This anime is similar to A Good Librarian Like a Good Shepherd in terms of creating a club for a specific goal and somewhere along the way, realizing that they had made some precious friends in the midst of daily shenanigans. Both anime have their fair share of comedy and romance, sharing the same light-heartedness that evokes school nostalgia. Hasegawa and Kakei's lives are changed because they joined special school clubs that are basically harems of beautiful women surrounding one lucky guy. With both the anime set in school, the harem style is not missed as the students tackle the hilarious daily struggles of high school life, inevitably making friends with each other.
Haganai: I don't have many friends Trailer
---
5. Bokutachi wa Benkyou ga Dekinai (We Never Learn: BOKUBEN)

Episodes: 26
Aired: April 2019 – December 2019
Up next, we have We Never Learn: BOKUBEN. Nariyuki Yuiga, a senior high school student at Ichinose Academy, is forced to tutor high-achieving students in their weakest subjects to get a VIP scholarship for college. Yuiga must help three different students with unique problems: Rizu Ogata who is good at math and hopeless at literature, Fumino Furuhashi who is good at literature and horrible at math, and childhood friend Uruka Takemoto who is good at sports and bad at everything else. In order to receive the scholarship that would cover all of his college fees, hard-working Yuiga must teach these girls and help them succeed but how can he when Ogata and Furuhashi clash because of their stark contrast of ambitions and character?
While Bokutachi wa Benkyou ga Dekinai doesn't explicitly form a club like A Good Librarian Like a Good Shepherd, the plotline is rather similar with the male protagonist helping girls for his own benefit, at least at first. Both the protagonists realize that they enjoy the company of their fellow students, letting go of their loner personality somewhere along the way. The characters undergo a variety of comedic situations and hardships as they try to achieve different goals together. This is similar to the Library Club where the students join the club for different reasons but struggle together. The story has its hint of romance where Yuiga is clueless about the feelings of his fellow students, much like Kakei, creating everyone's beloved harem situation.
We Never Learn: BOKUBEN Trailer
---
6. Ore wo Suki nano wa Omae dake ka yo (ORESUKI Are you the only one who loves me?)

Episodes: 12
Aired: October 2019 – December 2019
Every harem male protagonist's dream comes true through Amatsuyu "Jouro" Kisaragi who is asked out by two girls, Sakura "Cosmos" Akino and Aoi "Himawari" Hinata. When Jouro, average in every regard, thinks that both the girls are confessing their love for him, he is struck by the harsh reality that both the girls are in love with his best friend Taiyou "Sun-chan" Ooga, a popular baseball player, instead. Accepting to help both the girls in their pursuit of love, Jouro has an ulterior motive: to claim the girl Sun-chan rejects for himself. But what happens when stalker Sumireko "Pansy" Sanshokuin knows the true, manipulative nature of Jouro and proclaims her love for him?
ORESUKI Are you the one who loves me? is a hilarious romantic anime, very similar to A Good Librarian Like a Good Shepherd minus the mystery. Jouro, though average in every aspect, is not your average harem protagonist. He knows his situation very well yet wishes to create a harem for himself, desperately trying to turn the situation around in his favor. The character development of both the male protagonists is similar where they receive the attention of many girls, creating a harem. Moreover, both the protagonists start as loners but end up with a lot of friends. Set in school, both anime show the daily challenges faced by the characters with a whole lot of comedy.
ORESUKI Are you the one who loves me? Trailer
---
Final Thoughts
And there you have it! These are six anime similar to Daitoshokan no Hitsujikai or A Good Librarian Like a Good Shepherd. Whether you enjoyed the harem style or the romance or the school setting, this list quenches anyone's thirst for a new, similar anime after binging this beloved anime. If you enjoyed the suggested anime above or think we left out a particular anime that is similar to Daitoshokan no Hitsujikai, let us know in the comments below!