Born as a manga by Hashigo Sakurabi's wise pen, Dakaichi immediately gained a lot of popularity, thanks to a range of amazing characters, funny gags, and the "rivalry" between the two main protagonists, who happen to have a relationship. It was adapted into an anime for the current season, making the enthusiastic fandom overly happy. This BL show revolves around Takato Saijou who, after five years in a row on the top, saw his number 1 place as the "most huggable man" snatched by the newbie actor Junta Azumaya. Not only that, but when Saijou is in a drunken state, Azumaya catches him and start to blackmail the actor. He states that he will stop on one condition: Saijou will let Azumaya hold him, who was the former number 1 most huggable man! This is how their strange relationship begins, only to get deeper episode by episode. As we are sure you are enjoying this amazing BL show, we decided to create a list of six other similar anime, so you can watch them while waiting for the next episode of Dakaichi! Stick with us until the end to discover six anime like Dakaretai Otoko 1-i ni Odosarete Imasu.
Similar Anime to Dakaretai Otoko 1-i ni Odosarete Imasu. / Similar Anime to DAKAICHI -I'm being harassed by the sexiest man of the year-
1. Love Stage!!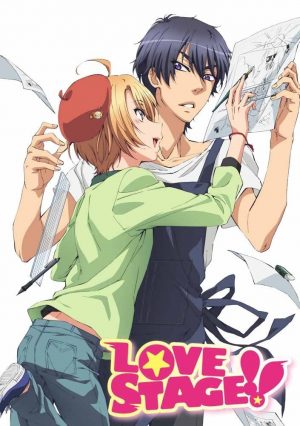 Episodes: 10
Aired: Jul 2014 – Sep 2014
When they were children, Ichijou Ryouma and Izumi Sena met during a shooting, in which Izumi was playing a little girl. Years after, on the 10th anniversary of that same commercial, Izumi is dressed up like a princess, and Ryouma fails once again to understand that Izumi is actually a boy! The young actor falls in love with Izumi, who doesn't want to get involved with the showbiz. How will the situation develop, once Ryouma discovers that Izumi is a boy?
Dakaichi and Love Stage!! are two BL shows, involving actors and the showbiz. Ryouma is similar to Azumaya to an extent, as both of them are very determined to win their counterpart's heart. Izumi and Saijou, too, are similar: both of them can't stand their counterpart's advances, yet they are unable to refuse their attentions. Dakaichi and Love Stage!! wield the same good vibes, so if you are enjoying Dakaichi, you'll like Love Stage!! all the same.
Love Stage PV:
---
2. Yuri!!! on ICE

Episodes: 12
Aired: Oct 2016 – Dec 2016
After the defeat at the Grand Prix Finale, Yuuri Katsuki just want to go back to Japan, and give figure skating up for good. Upon his arrival in Japan, though, he gets filmed while performing Victor Nikiforov's routine, and the video goes viral in no time: Victor himself happens to see it. Seeing Yuuri's potential, on a whim, Victor leaves for Japan, with one goal on his mind: to become Yuuri's mentor. Being a super-fan of Victor, Yuuri can't believe that he went all the way to Japan only to become his mentor.
Even if not explicitly BL, Yuri!!! on ICE still depicts a homosexual relationship between two figure skaters. It shares with Dakaichi the "rivalry" between the two main protagonists: Azumaya and Saijou are both actors, and while Azumaya is a newbie, Saijou is a veteran; the same happens with Yuuri and Victor. Aside from their rivalry, though, there's a deeper feeling between the two of them, and it develops slowly but surely episode by episode. If you like the main concept of two main protagonists who are friends and rivals, you're bound to love Yuri!!! on ICE.
Yuri!!! on ICE Trailer:
---
3. Haru wo Daiteita (Embracing Love)

Episodes: 2
Aired: Mar 2005 – May 2005
Kyosuke Iwaki and Yoji Kato are two AV actors, and their goal is to put an end to their AV careers, and become popular worldwide. During an audition for an LGBT movie, the director goes as far as to ask them to have sex in front of his eyes. Iwaki is reluctant, but he accepts as soon as he sees Kato accepting right away. Their rivalry explodes, but in the end Iwaki gets the part. On the other side Kato, from that moment onward, seems unable to forget Iwaki...
As you can see by the premises, Dakaichi and Harudaki both revolve around two characters who are actors. Iwaki, exactly like Saijou, is the veteran who looks down on the newbie. Even if older than their counterparts, both Iwaki and Saijou will be swept over by Kato and Azumaya's strong personalities, and determined characters. Just consider Harudaki like the hardcore, explicit version of Dakaichi, and enjoy it!
---
Any Anime Like DAKAICHI -I'm being harassed by the sexiest man of the year- / Any Anime Like Dakaretai Otoko 1-i ni Odosarete Imasu. ?
4. Koisuru Boukun (The Tyrant Falls In Love)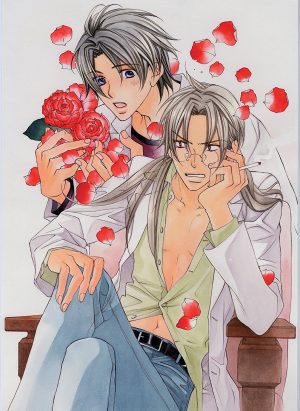 Episodes: 2
Aired: Jun 2010 – Nov 2010
Morinaga is a university student who's been in love with his upperclassman – Souichi Tatsumi – who, sadly, hates gay people due to an accident happened in his past. Morinaga's life is hard, because the homophobic tyrant is cynical, mean, and a tireless workaholic. Morinaga isn't willing to surrender, but on the other side Tatsumi keeps refusing him harshly. What happens when they end up in bed and Tatsumi doesn't refuse Morinaga, then?
Koisuru Boukun and Dakaichi are both set in a working environment. On one side we have Tatsumi and Saijou who are cynical, and look down on their counterpart; on the other side, there are two guys younger than them who impose their feelings on their seniors. Both these shows are lighthearted, and give off very good vibes. Koisuru Boukun is more explicit, and only two-episode long, but it's a must-see if you're enjoying Dakaichi!
---
5. Junjou Romantica

Episodes: 12
Aired: Apr 2008 – Jun 2008
Misaki Takahashi is about to end high school, therefore he needs to prepare for university entrance exams. Akihiko Usami is a famous author of numerous best-seller books, and his brother's best friend. When he offers Misaki his help, he accepts right away. Little he knows about the kind of author Usami is, nor how he is gay and was in love with his brother... but why does his heart beat faster, whenever Usami gets near him?!
Junjou Romantica and Dakaichi are both BL shows, full of gags that make the viewers crack up. Usami, exactly like Azumaya, is the dominant one who imposes his feelings on a seemingly unwilling counterpart. Misaki and Saijou, too, are similar in a way: in spite being shy in the beginning, they gradually become to show interest toward their counterpart. Junjou Romantica is a must-see of the genre, all the more if you're looking for anime similar to Dakaichi!
Junjou Romantica PV:
---
6. Sekaiichi Hatsukoi (World's Greatest First Love)

Episodes: 12
Aired: Apr 2011 – Jun 2011
Masamune Takano is the editor-in-chief of the Emerald department, at Marukawa Shoten. Ritsu Onodera – his first love during high school – begins working at Emerald as an editor, but while Takano immediately recognizes him, Onodera seems to have forgotten everything about his first love. Takano then decides to keep quiet, and starts bullying him endlessly. When the truth gets uncovered, Onodera only wishes to run away from that first love who only caused him bad memories!
Sekaiichi Hatsukoi and Dakaichi are on the same wavelength, as both are comedic BL/shounen-ai shows, with a lighthearted feeling to them. Once again, we have two main characters working in the same field, and similar personalities. Azumaya is strong-willed and unable to give up his feelings for Saijou, exactly like Takano who acts the same way with Onodera. Saijou and Onodera stay reluctant at first, but they eventually surrender. Give Sekaiichi Hatsukoi a try, if you like Dakaichi: we guarantee that it won't fail you!
Sekaiichi Hatsukoi PV:
---
Final Thoughts
And this is how our list came to an end! All the shows mentioned above share with Dakaichi the main concepts: two protagonists working in the same field; one dominant character prevailing on the more bashful one; a lighthearted feeling, and non-stop gags. Not only that, each show mentioned in this list is a shounen-ai/BL or yaoi show, so expect tons of love and spicy – or sweet – boy-on-boy action. As Dakaichi is still ongoing, why don't you pick one of these shows while waiting for the next episode? And please, don't forget to let us know what you think in the comments below! See you next time!
---