También puedes leer este artículo en:Español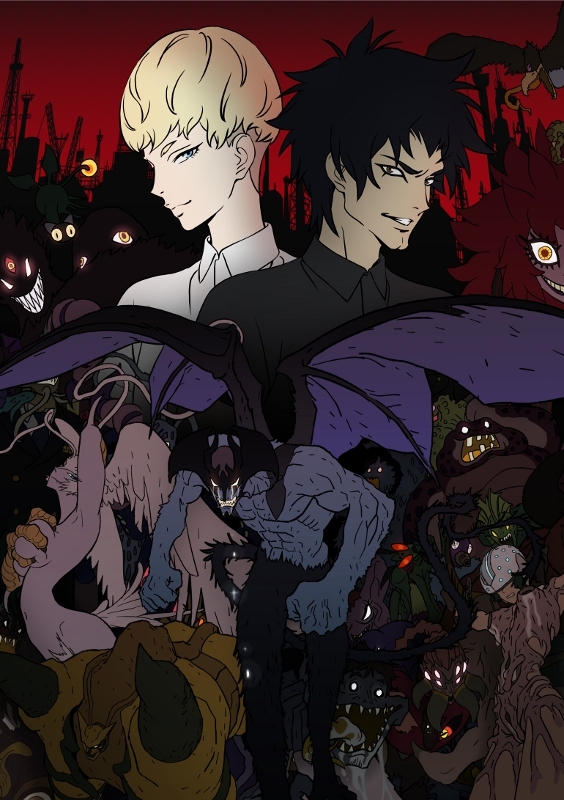 When Devilman: Crybaby released on Jan 2018 via Netflix, it caused quite a stir in the anime community. With some rather unique art/animation and a pretty brutal story, Devilman: Crybaby was all that people could talk about for the month of January. Honestly, it's very rare when a reimagining—as Devilman: Crybaby is a reimagining of the original 70s anime Devilman—actually surpasses expectations and becomes quite a hit in the anime world. Though at only 10 episodes long and all of which available to binge on Netflix, Devilman: Crybaby will definitely leave you wanting more to fill that hole in your heart after you finish the series. Luckily, we here at Honey's Anime know that feeling all too well and have a solution for you all.
We here at Honey's Anime HQ have been hard at work—like the busy bees we are—crafting a list of similar anime for you to watch. Do you need some ultra-violence like Devilman: Crybaby delivers all too well? Maybe you need a thought provoking series that mirrors the themes found in Devilman: Crybaby. Well our list of 6 Anime Like Devilman: Crybaby has you covered. Below are 6 anime like Devilman: Crybaby we think you'll love if you loved Devilman: Crybaby. Now to begin our list, all you need to do is scroll on down and begin reading up on some anime like Devilman: Crybaby.
Similar Anime to Devilman: Crybaby
1. Kenpuu Denki Berserk (Berserk)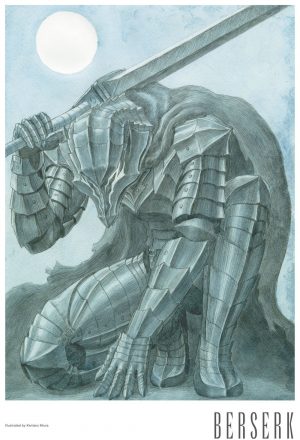 Episodes: 25
Aired: Oct, 1997- Apr, 1998
Guts was once a wandering mercenary who couldn't care less who his allies were as long as he got paid after doing what he was tasked to do. That changed when he met Griffith and his Band of the Hawk. Forced to join after losing to Griffith in a sword dual, the once lone mercenary finally seemed to have found a group worthy of calling allies. However, Griffith's dream would eventually lead Guts—and the whole world for that matter—to a nightmare that is all too real. Learn of Guts' dark story in Kenpuu Denki Berserk and be prepared for a story that will shock you to the core…
Back in the late 90s, Kenpuu Denki Berserk released acting as anime adaption of the popular manga series created by mangaka Kentarou Miura. Ever since then, people who consider themselves fans of dark and truly mature anime know of Kenpuu Denki Berserk and the struggles of Guts and his fellow friends. There is a movie trilogy which acts as a remake of Kenpuu Denki Berserk but we think you'll enjoy the original 1997s version even with the older animation style it uses. Many don't realize that Miura actually got ideas for Kenpuu Denki Berserk from the original Devilman series and you can see some of these similarities in Devilman: Crybaby. Mature, dark and truly stunning, Kenpuu Denki Berserk is a renown anime series for a reason and we think you'll like it a lot if you loved Devilman: Crybaby.
---
2. Kiseijuu: Sei no Kakuritsu (Parasyte- the maxim-)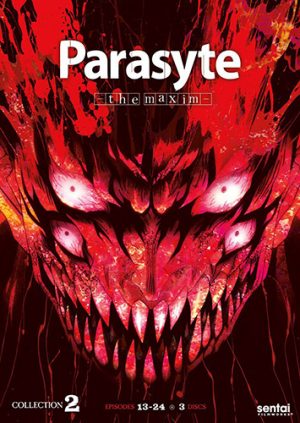 Episodes: 24
Aired: Oct, 2014- Mar, 2015
One morning, Shinichi Izumi—a regular high schooler—awoke to quite a shock. Shinichi's once normal hand is now possessed by an alien life form with intelligence. Naming the being Migi, Shinichi learns that Migi tried to take over Shinichi's mind but failed and thus was isolated to his hand. Shinichi also learns that other parasitic organisms like Migi have fallen to Earth and begun taking over humans and animals. Now Shinichi must somehow survive against an alien race that is both powerful and nearly hidden, disguised as normal humans and with a dire need to feed…
Kiseijuu: Sei no Kakuritsu is probably one of the closest anime to Devilman: Crybaby in terms of graphic content and scary hidden symbolism. Filled with aliens who slice their foes apart, Kiseijuu: Sei no Kakuritsu hits all the right notes for being a great series echoing Devilman: Crybaby in numerous ways. Crafted by studio Madhouse—known for series like Black Lagoon, Death Note and HighSchool of the Dead to name a few—is usually know for their seinen anime works and Kiseijuu: Sei no Kakuritsu proves that. Shinichi's story in many ways can be compared to Akira Fudou's story from Devilman: Crybaby thus why we think Kiseijuu: Sei no Kakuritsu is perfect for our 6 Anime Like Devilman: Crybaby list. Now here's a question for you all: What's worse Aliens from another world who can disguise themselves as humans or Demons that do the same? Honestly, we think both are pretty scary.
Parasyte-the maxim-Show Promo (Official Trailer)
---
3. Kyoushoku Soukou Guyver (Guyver: The Bio-boosted Armor) (2005)

Episodes: 26
Aired: Aug, 2005- Feb, 2006
In this world, a powerful organization called Chronos exists. Dabbling with alien technology, Chronos plans on ruling the world via their creations known as Zoanoids. However, one teenager named Sho Fukamachi plans on making that a difficult task for Chronos. Wielder of an ancient alien armor called the Guyver Unit, Sho must battle against Chronos and its terrible creations to keep those he loves safe from their evil intentions. Sho might have found the Guyver Unit by accident but now his destiny—as well as his life—ride on using this power to stop an evil that has been around for a long time…
Similar to Devilman: Crybaby, Kyoushoku Shoukou Guyver is also a reimagining of an original version released in the late 1980s. Kyoushoku Shoukou Guyver is filled with brutal action as limbs fly when the Sho unleashes his alien Guyver armor and it's truly a beautiful thing to witness. We also love the deep story that comes with a normal teen becoming anything but normal and the responsibilities laid upon him to use his new powers for good. This theme mirrors Devilman: Crybaby and we know you'll notice that too while watching Kyoushoku Soukou Guyver. Desperate for more bloody action and gripping narrative? We recommend checking out Kyoushoku Soukou Guyver.
Guyver- Complete Series on Blu-ray 6/22/10-Anime Trailer (Official Trailer)
---
Any Anime Like Devilman: Crybaby ?
4. Mob Psycho 100

Episodes: 12
Aired: Jul, 2016- Sept, 2016
What do you get when you mix one eighth grader and psychic powers? You get Shigeo Kageyama or better known as Mob. Within Mob lies a powerful psychic user unlike the world has ever seen before but rather than use his powers for bad, Mob just wishes to be a kid and become stronger physically. Maybe Mob can even attract the attention of a girl he likes named Takane Tsubomi. However, Mob isn't one to be messed with mind you. If he lets his inner energy reach 100, then Mob's power becomes berserk and the world will see just how powerful Mob truly is…
Do you need a break after all the roughness of Devilman: Crybaby but still want an anime with a unique art style and animation? Then we here at Honey's Anime recommend Mob Psycho 100. While Mob Psycho 100 might not have the brutality of Devilman: Crybaby or the super deep narrative it does have some amazing music, insane psychic battles and truly outlandish art/animation that needs to be seen to be believed. Mob Psycho 100 is an awesome series and will surely be a good relief for you if the ultra-violence of Devilman: Crybaby was a bit too much for you. Studio Bones is always known for delivering great anime series and Mob Psycho 100 is no exception.
Mob Psycho 100- Season One- Coming Soon (Official Trailer)
---
5. Shiki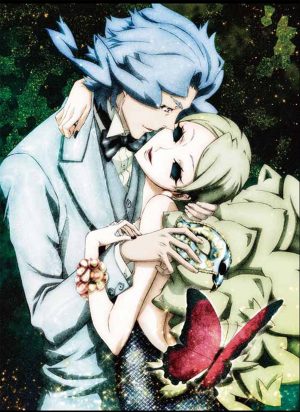 Episodes: 22
Aired: Jul, 2010- Dec, 2010
The quiet village known as Sotoba was seemed to be perfect for those set in the older ways. However, with a slew of deaths that recently have begun taking place in Sotoba, the quiet village has become loud with rumors and stories. Doctor Toshio Ozaki has a feeling these deaths can be explained as a strange disease but little does he know that this is no disease. Sotoba has been invaded by a new threat that those within the quaint village are unprepared to deal with. If Sotoba wishes to keep the townsfolk alive he will need to realize that medicine and science can't always explain everything. Sometimes, death can come from ancient phenomenon that have been hiding behind the scenes all along…
Shiki might not be about demons like Devilman: Crybaby but it does contain another ancient threat and that comes in the form of vampires. We won't spoil too much about Shiki's story—Shiki is better experience knowing as little as possible to be honest—but we will say it's one heck of an anime series. Filled with mystery, horror and supernatural themes, Shiki will keep you guessing and watching in suspense from beginning to end. Here at Honey's Anime, we have rewatched Shiki numerous times and we've loved it every time. Why not give it a try if you need a new series to binge after Devilman: Crybaby?
Shiki Parts 1 and 2- Available on BD/DVD Combo on 5.29.12- Trailer (Official Trailer)
---
6. Ajin (Ajin: Demi-Human)

Episodes: 13
Aired: Jan, 2016- Apr, 2016
Unknown to many, 17 years ago a strange thing occurred within the forests of Africa. Immortal beings appeared being called Ajin and seemed to be a threat to humanity as a whole. Humanity eventually learned of Ajin and were told of the dangers these beings possessed making them targets to be arrested on sight. Kei Nagai soon will learn he has become an Ajin and will go on the run to survive against those that wish him neutralized and or captured. Kei will also come face to face with other Ajin who see humanity as a threat to their existence and must be dealt with by force.
Ending our list of 6 Anime Like Devilman: Crybaby is a great two season anime series called Ajin. Adapted from the manga made by mangaka Gamon Sakurai and Tsuina Miura, Ajin deals with corrupt governments, immortal beings and what constitutes as being human versus being an Ajin. We really loved Ajin's subtle ways of showing humans being just as bad as Ajin which Devilman: Crybaby also did with the demons and humans in its series as well. Ajin also utilizes a strange animation style—a style seen often by studio Polygon Pictures—which might appeal to those who like their anime animated differently. We can only hope for a season 3 of Ajin, but until then, we recommend checking out Ajin season 1 and 2 if you loved Devilman: Crybaby.
Ajin PV (Official Trailer)
---
Final Thoughts
Devilman: Crybaby is just one of those shows that seems to only come around every so often. That's why it is indeed finding similar shows that give you the same feeling of euphoria while watching Devilman: Crybaby. Though the shows above we think are worthy anime to enjoy each offering great elements that are enjoyable and fun, just like Devilman: Crybaby. What are your thoughts on our list above? Did you watch any of the shows above and what are your thoughts on them or their similarities to Devilman: Crybaby? Comment in the boxes down below and for all your anime article needs, be sure to keep coming back to our beautiful hive here at Honey's Anime.
---