Anime has grown exponentially on various streaming services in the last several years. Hulu and HBO Max have begun to add a significant amount of anime to their services but the greatest variety still can be found on Netflix. While anime-dedicated services like Crunchyroll and Funimation might still have more anime to choose from, Netflix has been adding tons of new anime monthly and even producing some truly stellar series! With so many anime choices, we knew it was time to look at some of the best anime of the last 5 years to release on Netflix. This wasn't an easy list to create but we hope our fellow otaku out there find some of their favorites on here and maybe some new shows to check out!
10. B: The Beginning

Episodes: 12
Aired: March 2018
Killer B, a serial killer who has evaded police capture on the island of Cremona. Despite the RIS—Royal Investigation Service—using all of their resources, Killer B continues his killings uncontested. That's why the RIS has decided to use their ace investigator, the strange, eccentric, and stoic Keith Flick. Keith may not be the most traditional inspector but with his sharp mind and unconventional methods, he might be the only means of stopping Killer B. However, Keith and the other RIS members will soon learn that some mysteries aren't so simple and have layers of surprises just waiting to be discovered.
Produced by Netflix back in 2018, B: The Beginning was one of the first anime series to be released exclusively on the streaming platform and was met with a lot of love. Netflix even gave this series a second season. B: The Beginning is a truly unique mystery anime and will definitely leave many surprised with the twists and turns the series offers.
---
9. Kakegurui

Episodes: 12
Aired: July 2017 – September 2017
Put the books away, class, Hyakkaou Private Academy does things a bit differently. Unlike traditional schools, in this private academy, students are ranked by their ability to win various games of chance. Those in power are considered the best of the best and have almost complete control over the school and those who are lower on the totem pole. Yet, that will soon change when a young woman named Yumeko Jabami enters and shows that loving the game means taking risks most aren't prepared for…
Kakegurui has a bit of everything. Beautiful ladies, a sexy female lead, and plenty of adrenaline-inducing games to watch unfold! We have to wonder if a school like Hyakkaou Private Academy really exists. If it does, can we join too!? All jokes aside, Kakegurui is a fun anime series that we still find ourselves re-watching on Netflix from time to time and recommend to all those who love high-stakes anime.
---
8. Seishun Buta Yarou wa Bunny Girl Senpai no Yume wo Minai (Rascal Does Not Dream of Bunny Girl Senpai)

Episodes: 13
Aired: October 2018 – December 2018
What do you expect to find when you walk into a library, just books right? Sakuta Azusagawa was expecting the same when he entered his local library but what awaited him was a surprising sight. Invisible to all but him was a girl parading around the library in a sexy bunny girl outfit! Sakuta should think he's losing his mind but he realizes this must be the work of the strange Puberty Syndrome that he's come across before in rather bizarre ways. Hoping to solve this new case, Sakuta introduces himself to the odd girl and thus begins his dive into the world of Mai Sakurajima.
We thought Rascal Does Not Dream of Bunny Girl Senpai would never be seen on other streaming services aside from Crunchyroll but then Netflix completely took us by surprise by airing this incredible series! Filled with love, drama, supernatural themes, and just a hint of comedy, Rascal Does Not Dream of Bunny Girl is a perfect series to binge on Netflix especially given the current world climate. Now let's hope the sequel movie—Rascal Does Not Dream of a Dreaming Girl—releases on Netflix so we can have the entire series on one convenient platform!
---
7. Blue Period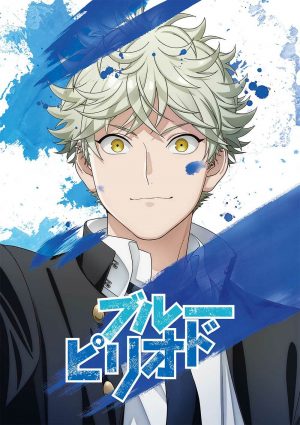 Episodes: 12
Aired: October 2021 – December 2021
Yatora Yaguchi seems like a lost cause. Despite his high intelligence and remarkable grades, Yatora is basically a delinquent who would rather waste his time with listless friends than think about his future but, suddenly, something strange happens to Yatora when he sees a landscape in front of him and tries to convey his thoughts using a paintbrush. This action begins a snowball effect that pushes Yatora to seek a spot at Tokyo University of the Arts. Despite his complete lack of artistic talent and information, can Yatora change his life and finally find passion in the form of a canvas?
In 2021, Netflix began to release some of its anime series weekly and not in one shot. Blue Period was one of those shows and we are glad they made this choice. Blue Period is an exciting slice of life drama that will no doubt appeal to those who understand the pain of the various arts. Plus, Blue Period is an absolutely gorgeous anime that will keep your eyes glued to the screen each time something magical occurs.
---
6. Devilman: Crybaby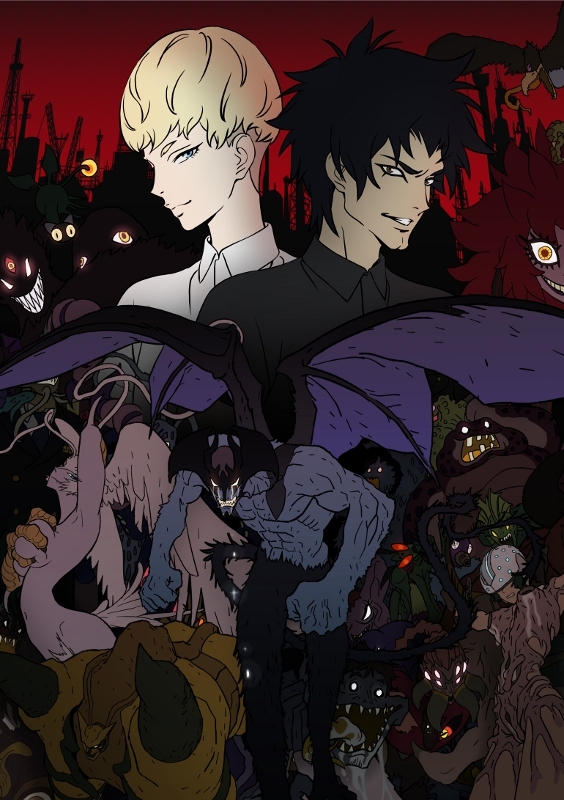 Episodes: 10
Aired: January 2018
Unknown to many of us humans, demons aren't just things of legend but real entities that exist. Ryou Asuka has begun a mission to search for these demons that coexist with humans but he knows the challenge is too great for himself alone. Friends since childhood, Ryou goes to Akira Fudou who might be a crybaby but is always willing to lend aid to those who seek his help. Working together, the friends head to a strange party of pure sin and Akira ends up being possessed by a demon. Now powered by a powerful entity he's made his own, Akira has become a special being known as a Devilman but can he control a power that drives most men and women mad?
Netflix has produced some hyper-violent series but, hands down, Devilman: Crybaby might be one of their most explicit and mature anime yet. Based on an older anime/manga series, Devilman: Crybaby is an extremely exciting action-horror anime with some philosophical themes and an ending most won't see coming. If you somehow avoided Devilman: Crybaby—the art is a bit different which is why it's most commonly avoided—we implore you readers to give it a shot…you will love this series without a doubt!
---
5. Aggressive Retsuko (Aggretsuko)

Episodes: 100
Aired: April 2016 – March 2018
When you reach adulthood you have many exciting things ahead of you like being able travel alone and enjoying the wonders of getting your own place. However, you also have work and, for many, that's the worst part of being older. Retsuko can tell you that herself as she is a 25-year-old red panda who would rather just spend her time at a karaoke place screaming her favorite death metal songs but is also aware that it won't pay the bills. Journey alongside Retsuko and her coworkers and see the life of a diligent worker—who gets very little respect—in this comedic but realistic anime.
Aggretsuko might be one of the best series to air on Netflix for those who know the woes of working 9-5 every day. Filled with adult humor and semi-realistic themes, Aggretsuko is one of our favorite anime to watch on Netflix after a long day at the office. Even if you don't like cute animal-human hybrids, you should still watch an episode or three of Aggretsuko and see why this anime has spawned toys, a cellphone game and numerous other pieces of merchandise worldwide.
---
4. Beastars

Episodes: 12
Aired: October 2019 – December 2019
Legoshi has always been feared and shunned for being a grey wolf, a possible killer in the eyes of his fellow classmates, as he is a carnivore and a possible danger to those weaker than him. Despite this, Legoshi keeps to himself to avoid any unnecessary hate, especially after an incident occurs putting the spotlight back on beings like him. One faithful encounter with the cute rabbit Haru though, shows that within Legoshi is an aggressive beast itching to be released. Can Legoshi curb his inner beast and find a way to exist with everyone or is he truly a danger to those he cares for?
Beastars is a strange anime and that will no doubt turn off many if they judge this series by the cover. However, let us remove your doubts and tell you Beastars is one of the better anime to bless Netflix's library in the last 5 years! Filled with drama, suspense, romance, and mystery, Beastars is an exciting anime that never fails to deliver. Not only will the animation amaze you otaku out there but so will the story and the wonderful cast that we're sure many can relate to.
---
3. Komi-san wa, Comyushou desu. (Komi Can't Communicate)

Episodes: 12
Aired: October 2021 – December 2021
The plan was simple, avoid being noticed by anyone and just get through school as if he was invisible. Hitohito Tadano's plan seemed simple enough, until he was forced to sit next to the object of every high school boy's desire in the form of Shouko Komi. Despite seeming perfect, Hitohito soon learns that Komi has a secret, she is pretty horrible at communicating her thoughts with others. After spending a wholesome moment together in the classroom, Hitohito discovers Komi's plan to make 100 friends and decides to assist as he now has become her very first friend.
Shy readers out there, raise your hands if you too struggled to talk to others in school or at work. Trust us, we can relate and that's why we absolutely adore all that is Komi Can't Communicate. Another Netflix weekly released anime, Komi Can't Communicate is a wholesome slice of life comedy that just is so relatable on many levels. We highly recommend Komi Can't Communicate and suggest our otaku out there to give this series a shot!
---
2. JoJo no Kimyou na Bouken Part 6: Stone Ocean (JoJo's Bizarre Adventure: Stone Ocean)

Episodes: 12+
Aired: December 2021 – Currently Airing
Jolyne Juujou, a tough-as-nails girl currently sits in a jail cell ironically mirroring her dad, Joutarou, who did the same as a teenager. However, Jolyne isn't here because she did something wrong but was framed and now is destined for a more permanent cell in Green Dolphin Street Jail. Thankfully, like her father, Jolyne has a hidden stand waiting to be released and it has finally come to her aid. Naming her stand Stone Free, Jolyne escapes her confinement and has one goal on her mind, find the person who set her up. Little does Jolyne know, that on her new journey lies a deeper plot that will attack all that she loves and goes deep into her family's legacy.
JoJo fans need no introduction to the amazingness that is JoJo's Bizarre Adventure and we doubt any of them have missed out on this sixth entry into the series. Yet, we know some readers probably still need to give JoJo a chance and we hope you guys and girls do! JoJo's Bizarre Adventure: Stone Ocean is an exciting new entry in the long-running franchise and is probably one of the best ones so far thanks to some incredible art, animation, and character development. For those who aren't caught up don't fret, the entire JoJo series is on Netflix right now as we speak just waiting to be watched and loved!
---
1. Kimetsu no Yaiba (Demon Slayer: Kimetsu no Yaiba)

Episodes: 26
Aired: April 2019 – September 2019
On a snowy day, Tanjirou Kamado was tasked with just going through town to help make ends meet for his big—but poor—family. However, when he returned a day late from his journey, he discovered something nightmarish. His entire family has been wiped out by a demon. Tanjiro's sister survives but was cursed, becoming a demon herself. With assistance from a passing Demon Slayer, Tanjirou finds himself taking his sister and heading toward a new destiny to save her and rid the world of the demon that took his beloved family.
Last on our list—but certainly not least—is Demon Slayer: Kimetsu no Yaiba which we doubt many haven't heard of at this point. This stellar anime has garnered tons of fans—who regularly cosplay as most of the characters from the show—and has become one of the prime examples of how amazing anime can be. Yet, we know some of you probably have been sleeping on Demon Slayer and that can be easily fixed right now! The whole first season can be readily watched on Netflix and enjoyed to your heart's content! Trust us, this anime has been considered a masterpiece for a reason, and now is your time to discover why for yourself.
---
Final Thoughts
Netflix is showing a lot of love for anime and we can tell from their amazing variety of series to watch! Did we mention your favorite anime on our list of the Top 10 Best Anime on Netflix from the Last 5 Years? Comment below with your personal favorites and if our list helped you with some new recommendations! Be sure to keep stuck to our list-loving hive here at Honey's Anime for even more Top 10 lists and various anime articles!
---