También puedes leer este artículo en:Español
The sports anime genre has always been very popular, covering a range of classic sports as well as some unconventional ones. Since the early days of the Olympics and competitive gaming, more sports are being created, evolving, and are gaining professional recognition. Delving into a wide variety of team-based activities, in addition to coverage of individual athletes, with so many types of sports and players to name, anime succeeds in capturing the intensity and focus of the games played.
In the anime Dive!!, we get to learn a little bit more about the sport of diving, observing that it isn't as simple as jumping off of a platform or springboard, but requires practice, strength, flexibility, and acrobatics. As we root for the Mizuki Diving Club (MDC) and their quest to the Tokyo Olympics, here are 6 similar anime like Dive!! that you can jump right into, all the while anticipating upcoming episodes. Midway into the series, Dive!! is already making a big splash!
Similar Anime to Dive!!
1. Tsuritama

Episodes: 12
Aired: April 2012 – June 2012
Tsuritama focuses on the story of Yuki Sanada, a socially awkward teenager who has trouble making and keeping friends. Due to his grandmother's occupation, the small family is constantly on the move. So when it comes to starting a new school, introductions are tough, public appearances make him feel like a fish out of water, and more unnecessary attention is placed on his already troublesome situation. However, things change for Yuki when he moves to the town of Enoshima and meets a peculiar guy named Haru –who claims to be an alien. Yuki and Haru form an unlikely friendship and what lies ahead for these two are tons of splash-attack adventures.
Although Tsuritama doesn't focus on competition like Dive!!, a similarity that these anime carry is the profound interest and enjoyment for water-based activities, i.e., diving and fishing. Yuki and Haru, and the boys of the MDC bond with each other over time, despite their dynamic personalities because they are involved in a passionate hobby that truly lifts their spirits. Moreover, we see tremendous personal growth with all of the characters, especially when they are placed in the most challenging circumstances.
Tsuritama Trailer
---
2. Free!: Eternal Summer

Episodes: 13
Aired: July 2014 – September 2014
Free! follows a group of friends; Haruka Nanase, Rin Matsuoka, Nagisa Hazuki, and Makoto Tachibana, who as kids competed in swim competitions. The four boys were passionate about swimming, but as they grew older, they also grew apart. Years have passed, and time has reunited them in high school to once again revive their pastime. Haruka, Nagisa and Makoto decide to form a swim club at their school, but bitter and competitive Rin refuses to take part. As such, the trio is in search of a fourth member to complete the team. Then, Rei Ryuugazaki enters the picture, flawlessly connecting with his new teammates. As we tune into their intense training, we also watch the boys face past and present adversities, make new friends, and rekindle old friendships. Free!: Eternal Summer continues the boys' second/third year in high school.
Free! Eternal Summer and Dive!! provides viewers with lots of fan service. As our guys glisten out of the pool with hot washboard abs, they are pictured as the token advertisement for a Speedos campaign. Free! Eternal Summer and Dive!! are school life anime containing interesting characters, realistic sports references, and vibrant, colorful animation; making the story come to life and very relatable. Furthermore, the theme for both stories takes on a dramatic approach, with the Iwatobi Swim Club and the MDC putting their best efforts to make it to the top and hold their team together.
Free! Eternal Summer PV
---
3. Ballroom e Youkoso (Welcome to the Ballroom)

Episodes: 24
Aired: July 2017 - Ongoing
Ballroom e Youkoso (Welcome to the Ballroom) follows the journey of shy guy Tatara Fujita who is a constant victim of bullying. One day, a professional dancer named Kaname Sengoku comes to his rescue, giving him refuge at his dance studio. There, he meets one of his classmates, Shizuku Hanaoka, whom he regards in secret. Aiming to become a professional dancer, Shizuku sees Tatara's star potential and decides to take him under her wing. From this moment, Tatara is exposed to new friendships, the chance for self improvement and to find approval and support from the dance community. Taking the lead, we at Honey's would like to ask you to the first dance. Give it a chance!
Ballroom e Youkoso and Dive!! are both sport anime that premiered in the Summer 2017 season. Displaying two distinct sports, each series explores the ins and outs of ballroom dancing and diving respectively. In addition to introducing the intricacies and technicality of dancing and diving to viewers, the art and animation for each particular movement is extremely fluid, with the characters moving with elegance and finesse. Lastly, the physical appearance of some of these characters are greatly exaggerated and misinterpreted. Nonetheless, body shape should not be a deterrent when giving these sports a try!
Ballroom e Youkoso PV
---
Any Anime Like Dive!! ?
4. Ookiku Furikabutte (Big Windup!)

Episodes: 25
Aired: April 2007 – September 2007
Ookiku Furikabutte (Big Windup!) is a fun baseball anime series that centers on Ren Mihoshi. Ren is a baseball enthusiast, but lacks the talent as a pitcher. Because he didn't rightfully earn his position, the team's continuous losing and lack of performance significantly impacts overall morale. Consequently, Ren is subject to constant bullying, grossly diminishing his self-esteem, and in turn, has sworn off baseball completely. When Ren decides to attend a new school with a clean slate, he unexpectedly gets dragged into joining the Nishiura High baseball team. A mediocre team at best, Ren learns from his new teammate, Takehaya Abe, that doing what you enjoy already makes you good at what you do.
"Here's the windup and the pitch!" Ookiku Furkabutte and Dive!! are two great school sports anime that focus on having a good attitude and mindset while engaging in a "just for fun" activity. Ren from Ookiku and Tomoki from Dive!! are two guys who find their calling, working extremely hard for themselves and their teammates. With amazing and talented peers to rub off on, these two developing characters have great inspirations to look up to, making their journey exciting and heartwarming.
Big Windup! Trailer
---
5. Yuri!!! On ICE

Episodes: 12
Aired: October 2016 – December 2016
Yuri Katsuki is one of Japan's most promising figure skaters. However, his perception changes when his skating routines place him in the lower rankings at the Grand Prix Finale. Absorbed in defeat, Yuri reassesses his skating career. When he reconfirms that skating is what he wants to do, Yuri is determined to get back on the ice in tip-top shape. Coming back onto the scene, Yuri finds that he's going to have to bring his A-game, seeing that his competitors are in it to win it. In this anime, we watch the intense drama unfold, as the guys are ruthless, going to great lengths to be recognized as the best.
Yuri!!! on Ice and Dive!! highlights two very popular Olympic sports. Both anime center on varied reasons why participants engage in a particular sport, whether it's for the thrill of competition, devotion, natural talent, or for being a legacy. Aside from the vigorous training that Yuri and MDC endure in order to win their respective leagues, Yuri!!! on Ice and Dive!! also share the hilarious fan service element, with comedic moments generously dispersed throughout each episode.
Yuri!!! on ICE PV
---
6. Haikyuu!!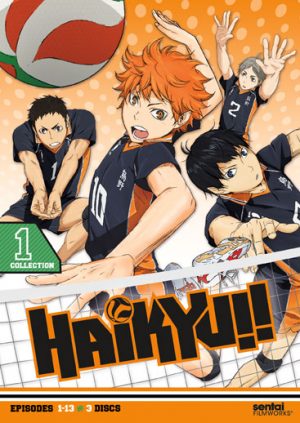 Episodes: 25
Aired: April 2014 – September 2014
Haikyuu!! is a comedy sports drama that motivates anyone who doesn't succeed the first time to continuously try again until they get it right. Hinata Shoyo is inspired by a volleyball legend to revive his middle school's volleyball club. He and his teammates involve themselves in such intense training that they eventually reach tournament levels. Unfortunately, in their first match, they lose against the famed "king of the court," Tobio Kageyama. Nonetheless, Hinata's tenacity remains, swearing to beat Tobio at all costs. Moving onto high school and joining the school's team, Hinata finds that Tobio is on the team as well. In order to bring the team to the top, Hinata and Tobio must learn to put the past behind them. Once viewing Tobio as his competition, the two rivals discover qualities in themselves that the other lacks.
Haikyuu!! and Dive!! capture the spirit of perseverance and unity, reminding viewers that it is never too late to learn a hobby, and with the help of friends and mentors, become good at it. Haikyuu!! and Dive!! also expose an intense realism in each sport, spotlighting assorted techniques and terminology. Overall, the animation for both is fantastic, displaying its own distinct style, and offering viewers countless play-by-play angles of the characters practicing and competing.
Haikyu!! Trailer
---
Final Thoughts
We've reached the end and you have conquered your fear of the concrete dragon! We hope you enjoy our recommendations for 6 Anime Like Dive!!. In the world of anime, we get to experience and maybe relate to some of the sports presented to us. With so many in existence, the main factor that drives athletes to perform their best are the fans, as they show their support and pride to their favorite team and players.
V-I-C-T-O-R-Y! If you haven't already, make sure to check out all of these great titles, as they are ones that will not disappoint! As we know these are only a few of the many in comparison, let us know what we've missed! What other anime similar to this one can you suggest to us and other readers? Leave your comments below! See ya!
---