También puedes leer este artículo en:Español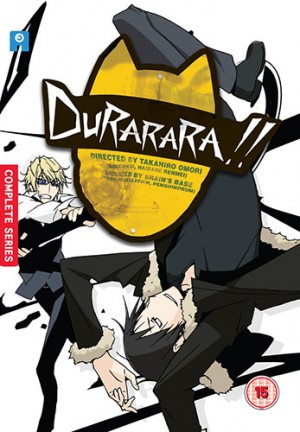 Durarara!! is one of those anime series that has a very good story and is filled with curve balls and twists.
Probably one of the most popular anime series out today with the second series already started since Jan. 10th, 2015.
If you like this anime because of its unique characters, thick plot, and psychological mix of action and suspense, then maybe you'll like these anime series below!
I hope the selection below meets your needs finding new anime that has similar qualities to Durarara!!. Enjoy!
Anime Similar to Durarara!!
1. Baccano!

Episodes: 13
Aired: Jul 27th, 2007 - Nov. 2nd, 2007
This is one of the closest anime to the series! From the same author and studio as Durarara!!, Baccano! takes place in Chicago during the 1930's.
During the time of the transcontinental railroad and the Flying Pussyfoot, the story follows several characters simultaneously throughout the show. From scientist finding missing bottles of an immortal, to a war raging between a mafia group, and life lessons of being an immortal.
The crazy thing is, their lives cross paths in very interesting ways with their own hidden agendas and ambitions.
It is one crazy show you don't want to miss!
2. K

Episodes: 13
Aired: Oct. 5th, 2012 - Dec. 28th, 2012
With a similar atmosphere, K takes place in a world where history is on a slightly different course compared to what everyone knows. Following the story a boy caught in between a psychic war of seven kings.
After having lunch on the rooftop of his school, which is on an island, Shiro runs an errand for one of his classmates in preparation for the school festival when he is chased by mysterious men. Little did he know this would continue a series of unwanted events because a killer on the loose has a striking resemblance to him.
Everyone suspects him for the murderer as he tries to find the real killer who is dangerous and powerful.
---
3. Kamisama no Memochou

Episodes: 12
Aired: Jul. 2nd, 2011 - Sept. 24th, 2011
In this anime, the story follows Narumi, who isn't the typical high schooler everyone would imagine.
Living in isolation from his classmates and others around him, a member of the schools Gardening Club introduces him to a rather intriguing girl named Alice.
Alice lives a life much like Narumi, she stays in an apartment above a ramen shop and is considered a NEET, a person who is Not Employed, Educated or in any Training.
But, that doesn't mean she does nothing all day.Alice is a hacker and highly respected private detective who has Narumi drafted in her elite team of strange and oddball associates as they battle gangs, thieves, murderers and drug lords. Narumis' life isn't so typical, now is it?
---
Any Animes Like Durarara!! ?
4. Mekakucity Actors

Episodes: 12
Aired: Apr. 13th, 2014 - Jun 29th, 2014
This anime follows a character named Shintaro, who is also a NEET and is glued to his computer surfing the internet all the time.
One day he messes around with a cyber girl named Ene, who lives in his computer. Until his interaction with her comes to a halt after spilling some soda and ruining his computer.
While out finding a replacement, he comes in contact with individuals who have special abilities and is forced to join the group. They are members of the Mekakucity Dan (Blindfold Organization) and each member has strange powers which involve their eyes.
Mekakusity Actors Official Trailer

---
5. Working!!

Episodes: 12
Aired: Apr. 13th, 2014 - Jun. 29th, 2014
This anime is a change of pace and scenery compared to the others, but still has some of the same qualities.
Taking place in a family restaurant located in Hokkaido prefecture of Japan, a high school student works part-time at the establishment along with his eccentric co-workers. This starts the interesting storyline that includes a couple of high schoolers, one of which is mistaken for an elementary or middle school student.
Also, a store manager who is the worst worker ever, doing nothing at all to help any situation that the employees encounter. Even when they need it the most.
---
6. Hamatora: The Animation

Episodes: 12
Aired: Jan. 8th, 2014 - Mar 26th, 2014
Another great anime that takes place in a specific are of Tokyo, much like Durarara!!, Hamatora: The Animation.
In Yokohama, a special inborn power found only in a very small number of people who are known as "Minimum" or "Minor Miracles'". Two teenagers operate a detective agency called Hamatora, taking on cases that send them on missions finding corrupt Minimum's wandering the city, causing chaos and destruction by any means.
While conducting an investigation, they uncover a secret that leads to the killing of many Minimum's. Can they stop the evil behind this plot? You'll have to watch it to find out!
Hamatora: The Animation Official Trailer

---
That's it for this segment of anime that is similar to Durarara!!. I hope this selections is helpful in continuing your pleasures of watching great anime. I'd definitely start off with Baccano! You'll be hooked wanting more!
Which anime are you going to check out first? Is there an anime you recommend that's similar to Durarara!!? Let us know in the comments below!
---