With another exciting round of seasonal anime well underway, Honey's is here once again to offer our recommendations for similar shows to watch based on some of our new favorite current series. Today we're tackling Eizouken ni wa Te wo Dasu na!, a uniquely styled and pleasantly offbeat series that's admittedly a bit hard to find recommendations for but we did anyway! We've based our picks primarily on similarity in theme, subject, and overall style. Without further ado, let's get our hands ON 6 Anime like Eizouken ni wa Te wo Dasu na!
Similar Anime to Eizouken ni wa Te wo Dasu na! / Similar Anime to Keep Your Hands Off Eizouken!
1. Shirobako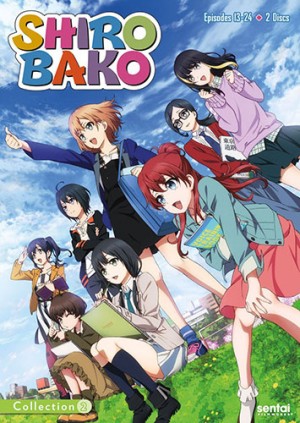 Episodes: 24
Aired: October 2014 – March 2015
When it comes to "anime about making anime", Shirobako is probably the most prominent example, and for good reason! Following five friends, Ema Yasuhara, Aoi Miyamori, Midori Imai, Misa Toudou, and Shizuka Sakaki, Shirobako traces their paths from founding an amateur anime-making club in high school together to their current forays and struggles in and around the anime industry. Ema and Aoi get their breaks first after joining the famous studio Musashino Animation as a key animator and production assistant respectively while others like Shizuka, who is an aspiring voice actress, are still waiting for their chance.
Shirobako is a fan-favorite of people interested in anime production because it depicts the process relatively realistically, warts and all, and goes into more informative detail than you might expect all while also telling a solid story with likable, and slightly quirky, characters. It's also obviously a strong recommendation for Keep Your Hands Off Eizouken! fans who enjoy its many nods to other series and its discussion of the animation process. We think Shirobako makes an excellent companion to Eizouken as it showcases the professional industry and has a great cast that exhibits real passion for the many aspects of creating anime!
Shirobako Trailer
---
2. Genshiken

Episodes: 12
Aired: October 2004 – December 2004
Softspoken and reserved college student Kanji Sasahara happens upon the titular, gratuitously-named school club known as Gendai Shikaku Bunka Kenkyukai (Society for the Study of Modern Visual Culture), or Genshiken for short. This group is made up of an oddball set of nerds who, ostensibly, have the goal of uniting the many otaku fascinations like manga, anime, and video games together in the club but have somewhat lost their way in recent years. An episodic series, Genshiken touches on many facets of otaku culture through its quirky characters like cosplay and buff, middle-aged-man yaoi maniac Ohno Kanako, and hardcore Gundam fan Harunobu Madarame who is frequently broke because he buys doujinshi without looking at the prices. Kanj himself grows to embrace his otaku side over time and loves hentai PC games, among other things.
Similarly to Shirobako, Genshiken has a bit of an almost educational aspect while still being funny and entertaining, this time focusing on the otaku lifestyle in general rather than animation in particular. Perhaps the best way to put why this show is a good recommendation for Eizouken watchers is that they both highlight the enthusiasm their characters have towards their hobbies, are otaku-oriented with a plethora of references to other anime, and do all of this within a school club setting. Genshiken also has a pretty unique look, partially just because it's an older series, with distinctly non-standard character designs like Eizouken that we think you'll appreciate!
---
3. Shoujo-tachi wa Kouya wo Mezasu (Girls Beyond the Wasteland)

Episodes: 12
Aired: January 2016 – March 2016
Despite being a naturally-talented writer, high school student Buntarou Hojo has had great difficulty in writing the story of his own life, that is to say, he feels directionless; particularly after his one outlet, writing scripts for his school's drama department, ends with school. However, one of his classmates, Sayuki Kuroda, sees his potential and decides to enlist him into her bishoujo game development group! The two then gather more team members, like artist Yuuki and voice actress Yuuka, and proceed to do all sorts of wacky things like acting out mock eroge scenes for research so they can effectively complete their game together.
Girls Beyond the Wasteland is a bit of a cautious recommendation as it wasn't a terribly well-received anime in general and very much feels like its visual novel source material in style, character design, and "fan servitude", which might put off some Eizouken viewers. That all being said, the school club making a media product aspect is definitely a clear connection that can be appealing, especially to visual novel fans as the series is about them and sometimes comments on the industry.
Girls Beyond the Wasteland Trailer
---
Any Anime Like Keep Your Hands Off Eizouken! / Any Anime Like Eizouken ni wa Te wo Dasu na!?
4. Gekkan Shoujo Nozaki-kun (Monthly Girls' Nozaki-kun)

Episodes: 12
Aired: July 2012 – September 2012
After confessing to her crush, the enigmatic and largely oblivious Umetarou Nozaki, excitable highschooler Chiyo Sakura is surprised to receive his signature rather than an answer. After several more misunderstandings, she soon finds out that the serious-looking Nozaki-kun is actually a popular shoujo manga creator and gets roped into helping out with his production as an inker assistant. There, she also meets popular boy Mikoto "Mikorin" Mikoshiba, who is also one of Nozaki's assistants and frequently embarrasses himself while trying to flirt but remains popular. Thus begin Chiyo's adventures in trying to impress her clueless weirdo crush while helping to create shoujo manga!
Like Keep Your Hands Off Eizouken!, Gekkan Shoujo Nozaki-kun is a largely character-driven anime with a deep focus on independent media production, this time with shoujo manga, and offers some insights into how it's made while still telling a cohesive story by itself. GSNK is altogether a solid series that will appeal to Eizouken watchers who dig its animation production parts and are interested in seeing something similar with manga. Nozaki-kun's characters are also a bit offbeat, albeit not really in the same way as Eizouken's. We'd say the biggest difference, besides the anime vs shoujo manga subject matter, is that Nozaki-kun is a lot more based around cleverly and humorously parodying anime tropes and has a strong genuine romance aspect as well. The OP is also really catchy!
Monthly Girls' Nozaki-kun Trailer
---
5. Animegataris (Anime-Gataris)

Episodes: 12
Aired: October 2017 – December 2017
Do you… like anime? Well, rich girl Arisu Kamiigusa certainly does even though she can hardly find anyone to talk with her about it. That's why Minoa Asagaya sought her out when she was trying to identify the name of an anime she remembers watching as a kid. Little did Minoa know that this would lead to the founding of the Anime Research Club to gather more members to chase down the name of her long-lost memory. Anime noobie Minoa has a lot to learn herself as she enters a new world of otaku culture!
Animegataris is very much an anime about anime that is very self-aware, sometimes breaking the fourth wall completely and frequently making references to and parodies of other series. While done in a different style, this aspect is somewhat reminiscent of Eizouken's trademark "imaginary" anime scenes. The whole thing feels a bit fast and loose at times but also quite enjoyable in the meta sense of the staff "getting away with" a bunch of silly decisions that somehow work. In any case, we think Animegataris is an anime worth checking out for Eizouken fans!
Anime-Gataris Trailer
---
6. Bakuman.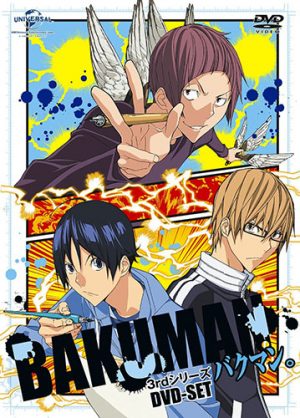 Episodes: 25
Aired: October 2010 – April 2011
Another anime about making manga, Bakuman follows Mashiro Moritaka, a middle school student who had given up his childhood dream of being a mangaka until he was approached by ace student classmate Akito Takagi after he saw his drawings in his notebook. With renewed vigor brought on by Mashiro's crush, Miho Azuki, promising to marry him if she becomes the voice actress for the anime adaptation of his manga, the duo begins their work using the pen name Muto Ashirogi with Mashiro doing art and Akito writing. Their first goal, get serialized in Shonen Jump err… Jack!
Bakuman is another series that is serious about showing the ins and outs of creation—in this case, manga—and it doesn't over-glamourize or sanitize it like series like New Game! does with game development, instead going for a more realistic feeling. Like many of the other series mentioned already, this is the main reason for our recommendation on this list. More generally, it's about ambitious people following their passion to create amazing work just like Asakusa and Mizusaki in Eizouken are doing with anime (and we suppose Kanamori as well, although that's supposedly more about the financial aspect). Bakuman is also just simply very well done so we think it's worth a try regardless!
Bakuman Trailer
---
Final Thoughts
Well, there you have it! It's always interesting trying to figure out good recommendations for more unique series as it forces you to think a bit outside the box. In any case, we hope you enjoyed our picks for anime like Eizouken ni wa Te wo Dasu na! and will enjoy them now that you've got your hands on them!
Let us know your own thoughts and recommendations in the comments section below and be sure to stick around Honey's for more of all things awesome, anime and otherwise! Until next time, stay easy breezy.
---