Based off of the popular gaming franchise, at first glance, you might think that Fate/stay night: Unlimited Blade Works is a complex story full of twists and turns. When observed closely however, there entails a wonderful story of self-conflict and overcoming the darkness within to find peace. Fate/stay night focuses on the main characters Shirou and Rin, who find themselves trapped between two worlds, in hopes to destroy the holy grail that is creating conflict in reality. Producer ufotable uses a plethora of action sequences to emphasize the battles we must face within ourselves, with the help of others and conquer them to find closure. Using magic spiritual casters to battle in this survival game theme, Shirou shows us that anything is possible.
Here are 6 anime that may entice you if you really enjoy spiritual magic spells, teamwork, and game of death plots similar to that of Fate/stay night.
Similar Anime to Fate/stay night / Similar Anime to Fate/stay night: Unlimited Blade Works
Similar Anime to Fate/stay night: Unlimited Blade Works / Similar Anime to Fate/stay night: Unlimited Blade Works
1. Noragami Aragoto

Episodes: 13
Aired: October 3, 2015 – December 26, 2015
Noragami Aragoto continues in its second season, which focuses more on Yato's rival Bishamon (I recommend watching the first season if you haven't), who is on a mission to finally put an end to the hatred that had boiled inside of her through Yato's past actions. This supernatural, action adventure takes place in a separate world where, much like Fate/stay night, uses a variety of spiritual magic alongside well developed character plot to give the viewer a great visual experience.
Both anime focus on the use of spiritual guardians to overcome the enemy. Fate/stay refers to them as masters, while Noragami uses the term Shinki to define the same purpose. Both shows start off with an immediate taste of action, which is enticing since this encourages you to tune in more to what happens next. Yato and Shirou both share the same path where they both want to prove their innocence while helping to destroy the evil inside them and around them. If you love high octane action with beautiful production quality, use your spiritual energy and jump on in to Noragami Aragoto.
TV Anime "Noragami" congratulation second term broadcast decision! Ultra teaser Comics PV
---
2. Mirai Nikki (The future diary)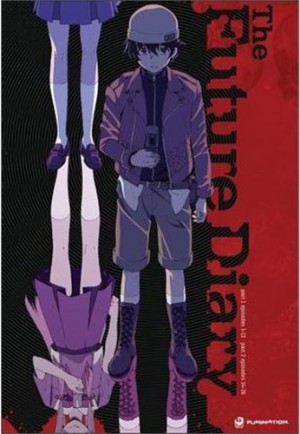 Episodes: 26
Aired: October 9. 2011 – April 15, 2012
Mirai Nikki is a supernatural thriller produced by Kadokawa shoten, which stars a young boy named Yukiteru who soon discovers that his habit of conversing with imaginary friends through his cellphone (his diary), eventually becomes a fearful reality. By fate, Yukiteru is confronted with a girl named Yuno who he becomes quite fond of throughout the series. This close relationship however eventually becomes a survival game, where both Yukiteru and Yuno must eliminate their enemies while using their equipped diaries, that allow them to assist one another in this fierce battle conducted by God himself. The winner is rewarded with the throne, becoming the ultimate leader of the universe.
Very similar to Shirou in Fate/stay night, Yukiteru finds himself having to confront the one person he cares about and eventually has to fight them for his own survival. In Fate/stay night, Rin and Shirou had to make the sacrifice to battle one another to overcome the evil casters that guarded the way. Both Yukiteru and Yuno find themselves having to not only risk their own lives to survive, but eventually come together to defeat the twelve enemies that are pursing them for the throne. The holy grail was the goal of Fate/stay night while the holy throne is what Yukiteru aims to grab in this action packed supernatural thriller. If survival is your game, then don't hesitate to check out Mirai Nikki to see who finally claims the ultimate throne of the universe.
The Future Diary Official Trailer
---
3. Kara no Kyoukai

Episodes: 1 ( split into various movies)
Aired: September 28, 2013
Based off of the popular novel series written by Nasu Kinoko, Kara no Kyoukai stars Ryougi Shiki, who comes to realize that after a severe car accident, she possessed the supernatural power, eyes of death perception, which allowed her to foresee death and to kill anything by destroying its origin. In this action fantasy anime, we see Ryougi on a road of survival, to discover the true origins of her supposed dual life while battling against numerous enemies wielding only a knife in hand. With a number of adaptations and various movies to savor your taste buds, Kara no Kyoukai is sure to bring excitement to anyone who enjoys the game of survival.
Akin to Fate/stay night, Kara no Kyoukai is an anime based off of survival while working together with various other characters to discover the true intent behind the enemies plans. Both anime represent the game of death philosophy, where the main character must do whatever it takes to stay alive, while formulating ideas with various characters throughout the story to find the best solutions. At every corner, their life is at stake with every enemy out on a mission to stop them in their tracks. Both Shirou and Ryougi's future are in their hands, and must avoid death if they intend to discover the origin behind their mysterious abilities. If you enjoy action packed survival, with a taste of adventure, then be sure to check out Kara no Kyoukai.
THE GARDEN OF SINNERS Limited Edition DVD Boxset. Available now.
---
Any Animes Like Fate/stay night: Unlimited Blade Works / Any Animes Like Fate/stay night: Unlimited Blade Works ?
4. Btooom!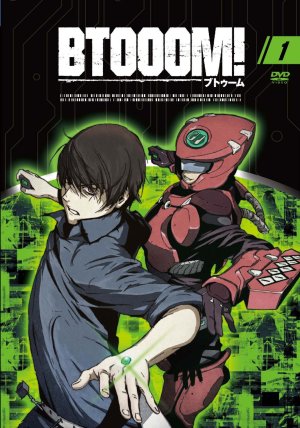 Episodes: 12
Aired: October 4, 2012 – December 20, 2012
In a world where survival is the only means to live, Ryouta finds himself in the midst of a game of death, where every choice he makes can either make or break his entire existence. In Btooom, we see Ryouta being transported from the video game world which he loved, onto a mysterious island filled with killers out for his head, and their own survival. An unknown individual sought out to recreate the ultra violet btooom, and equipped every player with heavy explosives called BIM. His video game fantasy soon turns into a harsh reality, as he now must use the power of the embedded crystal in his hand, equipped with various tools of his own to not only escape this island, but to stay alive.
Fate/stay night runs the same race with regards to how the main character must survive through an onslaught of various battles, by using fused weapons on their bodies. Both Shirou and Ryouta are in the midst of an incredible game of death, where each of them are pitted up against various enemies while discovering the reason behind their turbulent journey. Both anime take place in a mysterious world where they must eventually find their way out by teaming with up other characters to put a stop to the evil at hand. Both Ryouta and Shirou rely on a guardian, or partner, to help aid them on their survival quest.
Himiko plays a major part in the story much like Rin, who establish a close relationship with the main character on a race to the top. If you enjoyed Fate/stay night then stop playing games and check out btooom!
Btooom! Trailer
---
5. Blassreiter

Episodes: 24
Aired: April 6, 2008 – September 28, 2008
Blassreiter is a sci-fi action anime which takes place in a fictional Germany. Joseph Jobson, the main protagonist is out to destroy the outbreak of biochemical creatures called "Demoniacs", which have the ability to fuse with most technological advancements, such as motorbikes, and greatly intensify the overall performance of the vehicle. XAT, which stands for Xenogenesis Assault Team are the ones who eventually help to secure peace from the destruction of the Demoniacs, but to also discover the truth behind their unknown abilities. It's Joseph's job to survive while at the same time learning how to control the biochemical curse that lives within him.
While Fate/stay night isn't sci-fi by any means, Blassreiter gives us a taste once again of sheer production quality with regards to action sequences. You're immediately greeted with a great intro, and well detailed character plot similar to Fate/stay night: Unlimited Blade Works. The similarities lie in the fact that both have a lot to do with "fusing" in the sense that, Shirou fused with his swords to become stronger, while Joseph and the Demoniacs are able to fuse with various tools to enhance their own strength. Furthermore, both Joseph and Shirou are on a road to survival, where every decision they make could potentially threaten their lives. Using the powers bestowed to them, they are destined to seek out the truth while using every bit of their energy to restore balance. If you enjoy a lot of flare and special effects, then fuse with your mouse and check out Blassreiter.
Blassreiter - Part 1 on DVD 10/20 - Trailer
---
6. Blood Lad

Episodes: 10
Aired: July 8 2013 – September 9, 2013
Last on the list is another great anime called Blood Lad. This is another supernatural action style anime very similar to Fate/stay night: Unlimited Blade Works. Blood Lad stars Staz, who is the boss of vampires in the demon world, but has no intention to seek blood from the human race. Staz comes across a teenage girl named Fuyumi, who mysteriously found herself in this new universe. Staz finds himself allured by Fuyumi and befriends her. This friendship soon turns deadly however, as Fuyumi is killed by a monster while Staz had his back turned. This unfortunate death led Staz to fight for the sake of Fuyumi to bring her back to life.
While Fate/stay night: Unlimited Blade Works explained the details of Shirou's revelations, Blood Lad explains the story of friendship and how important it is to protect the ones you care about. Both do incorporate the use of fusing with ones own weapon to help defeat the enemy while seeking truth and forming close bonds. You can clearly see a very close resemblance in terms of character with Shirou and Staz, in that they have a strong passion to help protect those around them, without much care for their own well being. That being said, you learn to love both characters due to their very clear intent to seek clarity and to survive at all costs. If you loved Shirou in Fate/stay night, then you'll love Staz in Blood Lad. Check it out.
TV anime "Blood Lad" preceding PV
---
So there you have it, 6 anime which closely resemble that of Fate/stay night: Unlimited Blade Works. All of these anime share a similar purpose, in that we all must come together as one to help overthrow the chaos that surrounds us, and by having a guardian around to support us, makes everything that much greater. We hope you enjoy Fate/stay night: Unlimited Blade Works, and find the time to catch up on all of the anime mentioned. Be sure to let us know in the comments section down below what other anime are enticing if you enjoyed Fate/stay night: Unlimited Blade Works.
For all of your sweet anime needs, keep it locked here on Honey's Anime.
---