También puedes leer este artículo en:Español
Narratively refreshing as it visually attractive, Kyoto Animation's famous (or should we say infamous) Free! set new standards for male eye candy and left an indelible mark in fan cultures around the world. But, with the second season wrapped up last summer and a movie slated for release later this year, what's a fan to do now during their times of need for a strong hit of bromance? For these fans, the following is a list of anime that possess a glimmer of Free!'s charm.
Now, without further ado, let's get bromanc-ey.
Similar Anime to Free!
1. Aoharu x Kikanjuu (Aoharu x Machine Gun)

Episodes: 12
Aired: July 2015 – September 2015
For what began as a somewhat perverse remix of Ouran High School Host Club, Aoharu x Kikanjuu emerges from the 2015 summer lineup as a truly ship-worthy anime. Sparkling with a fresh sheen of male eye candy, Aoharu x Kikanjuu continues the legacy of veiled homoerotic depictions of male friendship that was accelerated by Free! Not your average gender-bending anime (though what is an "average" gender-being anime), Aoharu x Kikanjuu will surely satiate those in search of male camaraderie that's dangerously close to becoming something more (or at least according to the viewers…), something that's Free!'s trademark.
For those unfamiliar with this series, Aoharu x Kikanjuu depicts the story of Hotaru Tachibana, the Student Council President with almost super-human strength and a sense of justice as strong as steel. Through a variety of mishaps, Hotaru enters the world of survival games upon joining Masamune Matsuoka and Tōru Yukimura's Toy ☆ Gun Gun Team. Yet, Hotaru soon discovers survival games aren't all fun and games when Toy ☆ Gun Gun Team face off against rival team headed by the sadistic Nagamasa Midori.
Aoharu x Kikanjuu Official Trailer
---
2. Kuroko no Basket (Kuroko's Basketball)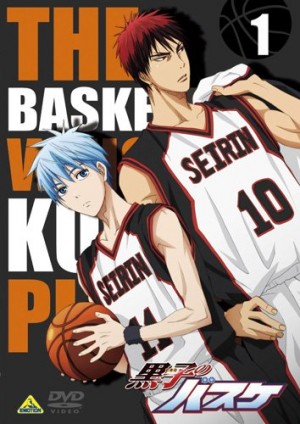 Episodes: 25
Aired: April 2012 – September 2012
A series indebted to Slam Dunk, Kuroko no Basket is nothing to sneeze at, especially when considering the sheer amount of (boys love) fan work it has inspirited. While Slam Dunk can be credited for popularizing basketball in Japan, Kuroko no Basket can be equally viewed as a series further cementing the culture of homoerotic readings of seemingly innocent shounen sports series that is evident in Free. With muscular high school boys who look more like men, like Free!, Kuroko no Basket probably creates complicated feelings of attraction for the viewer. Replete with high school boys possessing the bodies of men and complicated, intertwined back stories, Kuroko no Basket is perfect for those who want a "Free!" on the basketball court.
Kuroko no Basket is a series detailing the talented Teikō Middle School basketball team after it breaks up. Each of the regulars of the Teikō Middle School basketball team, dubbed the "Generation of Miracles," enter their respective high school basketball teams and proceed to compete for the same high school basketball title.
Kuroko no Basket Season 3 TV Commercial‬‬
---
3. Haikyuu!!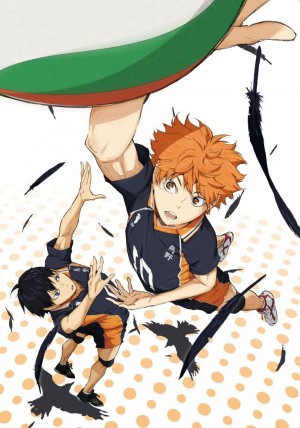 Episodes: 25
Aired: April 2014 – September 2014
Though this list started off with heavy-hitters resembling Free!'s erotic potential, the latter half will dive into the anime that similarly reflect the show's sweetness and light hearted depiction of friendship. To start off, we have Haikyuu!!. Filled with typical sports anime tropes and its fair share of ships, Haikyuu!! rises above other sports anime due to the exuberant enthusiasm oozing from its characters, most notably Hinata Shouyou and Kageyama Tobio. Though not as heavy on the muscles as Free!, it still shares its remarkable quality of creating a bevy of shippable couples.
Haikyuu!! is a volleyball sports anime following the story of Hinata Shouyou and Kageyama Tobio as they enter Kurasano High School's volleyball team with mutual dreams of victory. Unfortunately, victory doesn't come easy, especially considering the odd-couple teamwork patched together by these two characters.
Haikyuu!! Official Trailer
---
Any Animes Like Free! ?
4. Tsuritama

Episodes: 12
Aired: April 2012 – June 2012
On a sweeter note, we have Tsuritama, an anime that can be classified as a "cute boys doing cute things" show, a classification it shares with the infamous Free!. Yet, in Tsuritama, the character's bodies are not a point of attraction. We don't have ripped athletes or bouncing bishounen like Free!. Instead, we have a creative anime that skillfully pairs its imaginative animation style with its spunky narrative that blends the joys of slice of life and the wonder of science fiction. Nonetheless, the show does have slight homoerotic overtones like Free!, making Tsuritama is ideal for those who want a lighter version of Free!.
An anime nominally about fishing, Tsuritama unfolds into story about friendship and growing up. This show centers on Yuki Sanada, a high school boy whose life though is changed forever when he encounters the self-proclaimed alien Haru and befriends budding fishing pro Natsuki Usami and the mysterious Akira Agarkar Yamada.
Tsuritama Official Trailer
---
5. Ookiku Furikabutte (Big Windup!)

Episodes: 25
Aired: April 2007 – September 2007
For all of its delightfulness it creates in its portrayal of youthful sportsmanship, Ookiku Furikabutte is a nonetheless a show that overtly changed sports anime into a genre welcoming the audience's perverse interpretations of character relationships. An ancestor of Free!, this show contains plenty of overt homoeroticism balanced with the sheer adorability of its characters. For those who think Makoto and Haru (unless that isn't your ship…for those Rin Haru peeps…) are a perfect fit, be sure to watch out for Mihashi and Abe. What Ookiku Furikabutte lacks in the muscle department, it makes it up in the friendship feels, a driving element in Free!.
This sports anime series revolves around the story of Ren Mihashi as he joins the newly established Nishiura High School baseball team. Traumatized by his past, Mihashi lacks confidence in his own talent. This all changes when he pairs up with the poker-faced, intelligent catcher, Takaya Abe.
Ookiku Furikabutte -Natsu no Taikai Hen Trailer
---
6. Binan Koukou Chikyuu Bouei-bu LOVE! (Cute High Earth Defense Club LOVE!)

Episodes: 12
Aired: January 2015 – March 2015
For the final show on our list, we have Binan Koukou Chikyuu Bouei-bu LOVE!, an over the top magical boy anime that takes "cute boys doing cute things" beyond the realm of reason. Though this show lacks the same animation quality as Free! and other sports anime, it makes up for it by its comedic interludes and quirky narrative. Binan Koukou Chikyuu Bouei-bu LOVE!, is much like Free! in its irreverent and blatant baiting of perverse readings. Yet, this magical boy show takes it a bit further, making it perfect for those who want Free! mixed with a little bit more boy/boy maginc.
A vanguard of the budding magical boy genre, Binan Koukou Chikyuu Bouei-bu LOVE!, is the story of five high school boys, Yumoto Hakone, Ryuu Zaou, En Yufuin, Atsushi Kinugawa, as they fight for the sake of love.
Binan Koukou Chikyuu Bouei-bu LOVE! (Cute High Earth Defense Club LOVE!) PV
---
With hopes, this list more than satisfies fans of Free! in the wake of the second season and the calm before the film this winter. Though they are at various spectrums of "boys love" anime, from the saccharine to the hardcore, they also reveal the diversity of anime predisposed to the viewer's imaginations.
Have any comments, complaints, questions, or comments about this list? Be sure to leave them below!
---