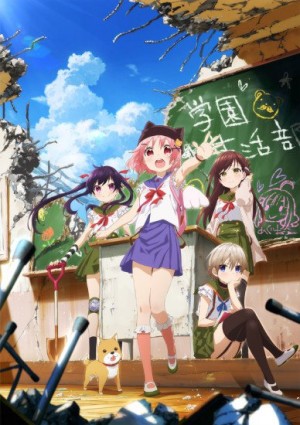 Among the horror anime offerings this summer of 2015 is a series which blends two genres that are not usually taken together – Slice of Life and Horror. Seamlessly managing to harmonize elements that are light in tone and unnervingly grim at the same time, Gakkou Gurashi! has managed to endear itself to anime fans in the few episodes that have been released thus far.
Of course, though very rare, anime with somewhat the same elements as Gakkou Gurashi! have been produced before. Here then is a short list of 6 anime titles that may very well keep you very interested, at least until the next episode of Gakkou Gurashi! is released.
Here then are 6 anime like Gakkou Gurashi!
Similar Anime to Gakkou Gurashi! / Similar Anime to School-Live!
1. Mahou Shoujo Madoka Magika (Puella Magi Madoka Magica)

Episodes: 12
Aired: January 2011 – April 2011
At the core of this series lies Kaname Madoka, an average 8th grader who, despite being quite shy, is a happy teenager who loves her family and friends very much. Her life takes a dramatic turn however, when a chance encounter with Kyuubei, a cat-like being, ends with her being endowed with powers that enable her to transform into a magical girl. Together with her friends, they get introduced to the world of witches and magic.
This anime is a perfect example of a series that must never be judged by its cover. Just like Gakkou Gurashi!, which looks quite average and normal from the outside but is immensely deep and thought-provoking on the inside, Mahou Shoujo Madoka Magika is an anime that looks like a regular magical girl series on the outside, but is actually a deep, psychoanalytical, and immensely dramatic masterpiece on the inside. From the first episode alone, you as the viewer will notice that it is not your typical magical girls anime, and boy, does it deliver in that aspect.
Puella Magi Madoka Magica Trailer
---
2. Higurashi no Naku Koro ni (When They Cry)

Episodes: 26
Aired: April 2005 – September 2006
Yet another series that manages to bridge the gap between Slice of Life and Horror, When They Cry is another dark anime in the guide of moe that has managed to gain a pretty good following among anime fans. The story centers on Maebara Keiichi, a young teenage boy who is adjusting to his new life in Hinamizawa, an isolated mountain village. There, he meets and befriends a group of girls, each one with a dark secret that involves acts of murder, dismemberment, and pure on psychological torture.
Just like Gakkou Gurashi!, this anime manages to blend elements of different genres perfectly, forming a cohesive whole that is both entertaining and quite disturbing at the same time. What you have to expect when you pick up this series though, is the fact that the plot is divided into numerous, individual arcs, all of them starting at the beginning of the story's timeline. Despite this 'reset' that happens every few episodes however, the series manages to deliver an anime experience that is quite unlike any other.
Higurashi no Naku Koro ni Series Trailer
---
3. Corpse Party: Tortured Souls -Bougyakusareta Tamashii no Jukyou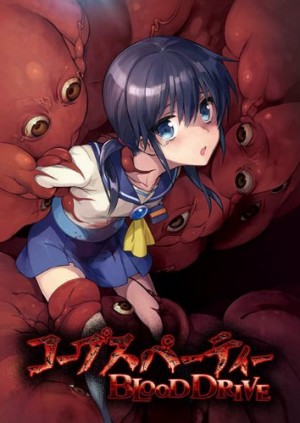 Episodes: 4
Aired: July 2013
The plot of this anime involves a group of students from Kisaragi Academy, which just happens to be a school that was built on the same site as Heavenly Host Elementary School, a place in which a string of brutal murders took place many years ago. Through a series of supernatural events, the students find themselves transported to Heavenly Host, where they are forced to fight for their survival and for the chance to go back home, while they get continually hunted as prey by violent spirits out to kill them.
Corpse Party: Tortured Souls is an anime that was created for one purpose and one purpose alone – to shock and terrify its viewers. In fact, one will not find any shortage of critiques of the show praising it for being the one true horror anime that has been released in recent years. With a moe mask that hides its grim plot similar to Gakkou Gurashi!, this is one anime that has proven itself to never disappoint its viewers when it comes to the horror it brings. Just make sure that you are up to it if you do decide to watch it.
Corpse Party Tortured Souls Trailer 3RD コープスパーティー PV 2013
---
Any Animes Like School-Live! / Any Animes Like Gakkou Gurashi! ?
4. Tokyo Magnitude 8.0

Episodes: 11
Aired: July 2009 – September 2009
This anime's premise is quite unique in its own right, featuring a plot that is very realistic and pretty close to the scientific possibility of Tokyo being hit by a massive earthquake. The plot centers on siblings Mirai and Yuuki, who opts to visit the artificial island, Odaiba, for a robot exhibition. When a magnitude 8.0 earthquake suddenly hits and levels Tokyo, the siblings must work together with Mari, a delivery woman they met on the island, in order to go back to their Setagaya home in western Tokyo.
Both Gakkou Gurashi! and Tokyo Magnitude 8.0 feature a small group of people trying to adapt in the aftermath of a disaster that is beyond everyone's control. While the former features a zombie outbreak, the latter features a powerful earthquake. However, their greatest similarity may very well be the characterizations employed as plot devices, as both series feature characters that undergo extreme emotional trauma to the point of entering a state of denial.
"Tokyo Magnitude 8.0" Trailer (English Subbed)
---
5. High School of the Dead

Episodes: 12
Aired: July 2010 – September 2010
High School of the Dead is all about a group of students from Fujimi High School who are among the last survivors of a massive zombie outbreak in Japan. With the entire social system falling into chaos, the students, together with the school's ditzy buxom nurse, must band together in order to find answers behind what's causing the outbreak, while trying their best to survive the unwavering waves of the undead that is out to get them.
Though the anime has become notorious for its massive amounts of fan service, High School of the Dead is nonetheless an undeniably fun series to watch, with lots of action, some dashes of drama, and a pretty quirky dialogue that makes then characters stand out very well. Just like Gakkou Gurashi!, it is a series that explores the theme of young people trying to survive in a world that is at an end. Oh, and both series feature zombies too.
High School of the Dead: Drifters of the Dead Trailer
---
6. Tasogare Otome x Amnesia (Dusk Maiden of Amnesia)

Episodes: 12
Aired: April 2012 – June 2012
The plot of Dusk Maiden of Amnesia is a very unique one, featuring a story that starts 6o years prior to the events in the anime, when a woman was left to die in the abandoned school building behind the exclusive Seikyou Academy. In the present day, Siekyou's clubs include one which caters to students interested in paranormal investigations. What makes the club very eerie is the fact that it is being led not by a regular student, but by the ghost of the woman murdered many years back.
The series is yet another example of an anime that is able to achieve a certain balance when blending elements of numerous, even contrasting genres. Featuring elements from the Slice of Life, Horror, and even the Comedy and Romance genres, Dusk Maiden of Amnesia is one anime that is, similar to Gakkou Gurashi!, very rare in its own right. Apart from this, themes that are heavy on the psychological aspect of the characters are also explored fully in both of these series.
Dusk Maiden of Amnesia Trailer
---
So there you have it! 6 anime that may just fill some valuable and worthy screentime to get you through the week while waiting for the next episode of Gakkou Gurashi! to air. Of course, other notable anime that are also quite similar would be Chuunibyou demo Koi ga Shitai!, which also uses the theme of delusions, Yuuki Yuuna wa Yuusha de Aru, which is also another pretty serious anime that wears a moe mask, and So Ra No Wo To, another anime that seems light at the surface, but continually does not pull any punches when dealing with mature and very realistic themes. You can definitely check these out as well, as these three are quite notable in their own right, too.
Are there any other anime with this mix of elements on your mind? Feel free to comment below!
---