When it comes to ultimate extreme sports, leave it to the girls with the big guns! Disciplined, zealous, and super savvy in a crunch, in Girls und Panzer, we watch these ladies compete utilizing massive military equipment easily, like breathing! While it may be hard to believe that these gals are up to the task, it's true! Not afraid to handle the heavy-duty business, here are 6 anime like Girls und Panzer! All hands on deck!
Similar Anime to Girls und Panzer
1. High School Fleet

Episodes: 12
Aired: April 2016 – June 2016
High School Fleet takes place in Japan, when a majority of the country is submerged in water. Due to the Earth's shifting tectonic plates, many of Japan's cities have become floating metropoles, improving overall maritime functions and the country's naval capacity. With this abundance in opportunity, particularly widening the workforce for women, a fleet was established called the "Blue Mermaids", designed with the focus of aiding and protecting citizens at sea. Henceforth, we center on Akeno Misaki and Moeka China, who are best friends that aspire to be members of the Blue Mermaids. With sheer determination, they proceed through the proper training, enduring unexpected circumstances along the way.
With a majority of the cast being female, both shows display adorable characters going about their lives, all the while facing serious challenges and overcoming these obstacles. Written by the same author, High School Fleet and Girls und Panzer have girls performing realistic military scenarios using ships and tanks, respectively. Additionally, High School Fleet is faced with the dilemma of saving a population versus GuP's characters mainly participating in their activity for sport.
High School Fleet PV
---
2. Brave Witches

Episodes: 12
Aired: October 2016 – December 2016
Brave Witches is an action, military, sci-fi magical anime. In this twelve episode series, we watch humanity go up against a mysterious foe, the Neuroi. The Neuroi have invaded most of Europe and are continually expanding. Consequently, military officials have devised countless methods to stop these creatures. As a result, the most successful approach demonstrated is to use the power of "Strike Witches", girls who possess magical powers and are the only ones who can pilot the "flying striker units". As many witches assemble to contribute their strengths, the new Allied Forces 502nd Joint Fighter Wing was created. Gaining notoriety as the Brave Witches, these gals do what they must to bring peace to Europe once more!
In comparing Brave Witches with GuP, both series involve military equipment, specifically naval aviation and tanks. Although the themes of each differ, with one fighting the Neuroi and the other fighting to save their school from closure, both underline the element of teamwork and unity. These girls have something valuable to save, struggling to overcome all odds, as well as building knowledge and strength within themselves and as a unit.
Brave Witches Trailer
---
3. Kantai Collection: KanColle (KanColle)

Episodes: 12
Aired: January 2015 – March 2015
KanColle is an action, military, sci-fi anime that is based on a game under the same title. The premise of KanColle centers on a group of special young women who are the only force that can beat these creatures called the abyssal. The treacherous abyssal have drawn out humanity from the seas. As such, these young women are significant to the cause because they are born with the souls of Japanese imperial warships of WWII. Possessing this incredibly unique ability and knowledge, these girls are equipped with specialized weapons called outfits. Substantially, the girls retaliate against their enemy in this great mission to take back the seas for mankind.
Similar to others on this list, KanColle and GuP both retain the theme of cute girls operating heavy military machinery. Our girls in each series demonstrate the essential quality of close friendships and collaboration. Additionally, KanColle and GuP offer very intense and detailed battle scenes, a bonus for military history aficionados. For instance, KanColle seeks to defeat the abyssal and GuP's objective is to land a spot in the national Sensha-do championships. From this, both feature slice of life, comedy and action.
KanColle PV
---
Any Anime Like Girls und Panzer ?
4. Stella Jogakuin Koutou C³-bu (Stella Women's Academy, High School Division Class C³)

Episodes: 13
Aired: July 2013 – September 2013
Stella Jogakuin Koutou C³-bu is a sports, school, and military themed anime. We focus on the story of Yura Yamato, who begins her journey at Stella Women's Academy. In an attempt to familiarize herself with her new surroundings, Yura's dorm-mate introduces her to the school's airsoft club, C³-Bu. Actually, Sonora kind of throws this hobby in her face, as Yura finds herself in an unavoidable hide-and-go-seek game with airsoft guns stashed around the room. After joining the club, Yura discovers new facets of herself; she is more outgoing and personable than she realizes. Additionally, we are introduced to other members of the club, ranging in personalities and quirks. Throughout the anime, we observe these girls enter in numerous competitions. What starts as something the girls do for fun, ultimately turns into a serious sport.
C³-Bu and GuP have a lot of similar attributes, and if you enjoy one, you will definitely fancy the other. Both anime take place in a school setting, where the non-conventional clubs for airsoft and tank battling exist. While we commonly associate weapons and military strategies with brute force, both anime portray a light-hearted and cheerful vibe.
Stella Jogakuin Koutou C³-bu Trailer
---
5. Saki

Episodes: 25
Aired: April 2009 – September 2009
Saki follows the story of Saki Miyanaga, a high school freshman who is an accomplished mahjong player. Although she is adept at the game, she is not very fond of it due to her past experiences in playing. Saki gives the game another fair chance when a friend of hers, Kyoutarou, invites her to check out the school's mahjong club. In attendance, she meets Nodoka, a champion league player. After a coerced duel between the two, Nodoka is shaken by Saki's playing skills. Nodoka sees this as a step closer to going to nationals, thus begging Saki to join the club. As she is convinced, Saki, along with the other four members, embark on the challenge of taking the national championship for themselves.
In Saki and GuP, both main characters are talented in their craft with some reluctance to participate in their school's club because of their "traumatic" past. After some convincing, our MCs relent and join their corresponding extracurricular clubs, all the while demonstrating their skill and potential. With great aspiration, their respective school clubs possess young women with the ultimate goal of becoming the best in their league. The sports they are engaged in are completely different, mahjong and tanks. However, the anime both provide "out of this world" battle sequences, with intensified matches, drawing interest to each recreational activity.
Saki Opening
---
6. Sky Girls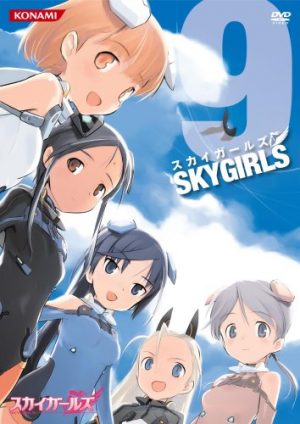 Episodes: 26
Aired: July 2007 – December 2007
The planet is surrounded by a great threat. Once defeated in a destructive war, creatures called WORMS have once again appeared on Earth. These WORMS are terrible artificial life forms, taking the shape of whatever entity they are most likely to run into first. In the planet's defense, a special unit called the "Sonic Drivers" has been created. The Sonic Drivers units, consisting of young females, are equipped with personalized combative devices which they are the only ones capable of operating. To this, Sky Girls presents the tale of Otoha Sakurano, the other members of her team, and their plight in taking down the WORMS once and for all.
Sky Girls is a bit lengthier than GuP, but nonetheless supplies viewers with female characters that are expert wielders of heavy artillery. Revealing exciting battle scenes and intriguing characters, both find a way to entice the audience in a subject matter ordinarily reserved for combat devotees. Overall, there is a strong focus on friendship, camaraderie, and overcoming obstacles together as a team.
---
Final Thoughts
So, that concludes our list of recommendations for 6 Anime Like Girls und Panzer. This list provides a spectacular message: the combination of girls and massive weaponry is thrilling and exciting, becoming more commonplace in the world of anime and IRL. We really hope you enjoy these selections. Additionally, we know there are tons more out there. Let us know what we've missed! What other anime similar to this one can you suggest to us and other readers? Leave your comments below!
---