También puedes leer este artículo en:Español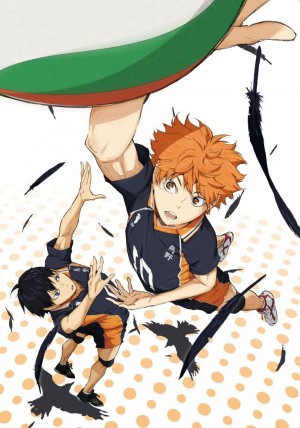 The second season of sports anime Haikyuu!! has just begun and fans already cannot get enough of it. The drama, action and amazing characters make this show unique and there is no other show that can deliver something like that … or is there?
We have done our research and compiled a list of six anime that are at least as entertaining and fun to watch as Haikyuu!!. They revolve around sports and all the drama, teamwork and friendship that come with it. We can guarantee you that all of the shows below will draw you in with the first episode and won't let you go as you keep rooting for your favorite team.
Whether you are looking for a new favorite show or just need something to kill the time until the next Haikyuu!! episode is released, this list has a recommendation for everyone. So lean back and enjoy our quick journey into the world of sports anime.
Similar Anime to Haikyuu!!
Similar Anime to Haikyuu!!
6. Ookiku Furikabutte (Big Windup!)

Episodes: 25
Aired: April 2007 - September 2007
Let' start this show of with Ookiku Furikabutte, an anime that shows you the importance of perseverance and teamwork in sports.
Ren Mihashi loves baseball and everything related to it. In middle school, he was an active member of the baseball club, but after constant bullying by his own teammates he swears to give up the sport altogether. Now that he enters high school the possibility to join a team appears again. Can Ren leave the past behind and trust his new team members as well as himself?
What stands out about this show is how much it focuses on the interaction between the different team members and how their relationships influence the game. Just like in Haikyuu!!, you get introduced to all of the characters and slowly start understanding how their personalities reflect in their sport. You follow a step by step process that shows how the club turns from being a group of individuals into one team.
---
5. Baby Steps

Episodes: 25
Aired: April 2014 - September 2014
If you are tired of seeing characters that are already outstanding at sports, then you should give Baby Steps a try. This show will accompany you on the journey of a guy that seems to be a hopeless case.
Maruo Eiichirou is an honor student who is used to excelling at everything he does. He is smart, dedicated and seems to have everything - with the exception of proper physical exercise. With his endless dedication he decides to join a tennis school and starts on a journey to overcome this new challenge. Along the way, he might even find something else that he is passionate about besides studying and cramming for exams.
Just like Haikyuu!!, this show shows the progress of the protagonist getting involved in sports from beginning until the end. Protagonist Eiichirou, or Ei-chan, is not an ace at sports or has any prior knowledge at playing tennis. This fact does not only grant lots of funny scenes, but also makes the viewers root for him and actually care about all of his small achievements. Baby Steps is a must-watch if you enjoy the heart-warming side of Haikyuu!!.
---
4. Free! (Free! - Iwatobi Swim Club)

Episodes: 12
Aired: July 2013 - September 2013
Next up are our charming boys from Free!, the swimming anime that has captured the hearts of its viewers in next to no time.
Swimming is all Nanase Haruka cares about. The endless freedom it grants him is overwhelming and already in elementary school he and the other members of his swim club win a local tournament. They have to part ways soon after, only to be reunited in high school. However, Haruka's former team member Rin has surpassed his abilities and isn't afraid of letting him know. Haruka's passion is triggered once more and he swears to start a new swimming team to defeat his former friend.
The main cast of both shows feel similar, in the way that all characters are likeable without feeling too forced. More importantly, both shows talk about rivalry and how it pushes athletes to improve themselves every single day. This kind of relationship between enemies that stands somewhere between love and hate can be seen in both Haikyuu!! and Free! and makes for a dynamic main cast that keeps the storyline going.
---
Any Animes Like Haikyuu!! ?
3. Yowamushi Pedal

Episodes: 38
Aired: October 2013 - July 2014
Chances are high that if you are not particularly into sport shows you haven't heard of Yowamushi Pedal. But that doesn't mean that this gem doesn't deserve some credit.
Enrolling in high school only means one thing for otaku Onoda Sakamichi: being able to join the anime club and finally being surrounded by people that share his nerdy passions. Unfortunately, he has to find out that the club has disintegrated and is lacking interested people. At the same time, Sakamichi's classmate and cyclist fan Shunsuke wants him to join their cycling club after seeing him ride his bike at an insane speed. Will the otaku give up his passion for anime to join the world of cycling?
What struck me as most similar to Haikyuu!! is the fact that Yowamushi Pedal also shows great character development as the protagonist advances on his journey. Sakamichi makes a full turn and gets immersed into a world that is completely new to him. Next to more serious scenes, this anime will make you laugh like no other and show you how much your hobbies and passions really define you.
---
2. Diamond no Ace (Ace of the Diamond)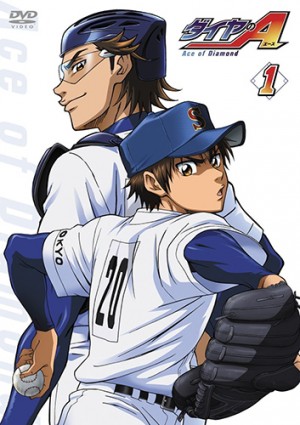 Episodes: 75
Aired: October 2013 - March 2015
After swimming, cycling and tennis it's time for another baseball show that will immerse you into the dynamics of sport clubs.
The viewers follow Sawamura Eijun whose life changes when he meets pro catcher Miyuki Kazuya. Motivated by his great skills Eijun decides to enroll in the same school, an elite baseball academy called Seidou. He believes in his own abilities, but are they good enough to let him survive in this highly competitive world he is about to join?
Similar to Haikyuu!!, you will get to know all of the major characters, not only the protagonist. Just like in sports, every person counts for a good anime and that's what makes this show so great. You will see a group of boys come together and try to find out how to become the best baseball team out there. Both main characters of Diamond no Ace and Haikyuu!! are driven by passion and you cannot help it but feel with them on their adventures.
---
1. Kuroko no Basket (Kuroko's Basketball)

Episodes: 25
Aired: April 2012 - September 2012
Picking a top recommendation for this list was easy - when it comes to the dynamics and lightheartedness of the storyline, no other show matches Haikyuu!! just like Kuroko no Basket.
Kuroko Tetsuya was an infamous basketball player in middle school. It wasn't necessarily his skills that got him that title, but the fact that his appearance is plain enough to allow him to go unnoticed in games. Now in high school, he meets Kagami Taiga who seems to be Kuroko's opposite with his outstanding skills and tall build. With their unique traits combined they embark on a journey to defeat the best players out there.
Kuroko no Basket came out of nowhere and became a great hit in no time. It is true that the storyline itself promises lots of new obstacles and opponents, but it's really the combination of the main cast that makes this show so great. Just like Haikyuu!! you will see that no player is perfect and everyone has to work on their own shortcomings. But by teaming up with other people and working together you are able to defeat even the strongest players. Our top recommendation!
---
This concludes our list of recommendations for this time. If you haven't already started watching the new season of Haikyuu!! you should definitely check it out since it offers as much fun, action and challenges as the first season. Fans of motivating, touching and most importantly exciting shows should give all of the recommendations above a try. They are unique in themselves, but what combines them is a main cast that is driven by passion and dedication.
What are your thoughts on the second season of Haikyuu!!? Do you agree with our recommendations or did we miss out on better choices? Let us know down below.
---