Sports anime can be a genre that gets overlooked by many. When you narrow it down to a specific sport, such as volleyball, what you're going to find is quality over quantity. We, here at Honey's Anime, are no strangers to covering all sorts of niche anime. If you've read our previous article counting down some of the best wrestling anime out there, then you should know what to expect from this one.
With the Summer Olympics still fresh in our minds, we felt it was only natural to cover one of the more popular sporting events showcased. Volleyball is the true definition of a team effort. Unlike some other team sports, volleyball exhibit's every player to be as important as the other. That spirit translates through to the anime seen in this article. With that being said, it's now time to unveil the Top 4 Volleyball Anime.
4. Attack on Tomorrow (Ashita e Attack!)

Episodes: 23
Aired: Apr. 1977 – Sep. 1977
This dramatic sports anime tells a tale of various females who form a volleyball team at their high school. Their unrivaled passion and determination elevate the team from an unorganized club to an eventual powerhouse amongst the entire school. Well recognized at their school, the club's next mission is to conquer the National High School Volleyball League and in doing so capturing the volleyball championship. It's not going to be an easy task for the girls, but with their combined effort they will do their best not to fall short of their ultimate goal. Throughout the anime, the team is tested both mentally and physically while learning important life lessons as they rise to prominence.
Our first selection's concept was essentially triggered from the Japanese women's volleyball team that won Olympic gold in the 1976 summer games in Montreal, Canada. It was also inspired by another anime on this list, Attack No. 1. In fact, Attack on Tomorrow was so close in concept and plot to its inspiration that it ended up being canceled after just 23 episodes, thus making this the shortest episodic anime on this list. Attack on Tomorrow does deliver some charming moments. It conveys a dashing of light-hearted comedy, such as volleyballs striking people's heads. Overall it's not as innovative as Attack No. 1, but it's not a terrible option if you're craving a volleyball themed anime.
---
3. Attacker You!

Episodes: 58
Aired: Apr. 1984 – Jun. 1985
This anime is about a perky and ambitious high school girl by the name of You Hazuki, who moves from Osaka to Tokyo to live with her father, Toshihiko. You is very passionate about volleyball and hopes one day to achieve her ultimate goal by joining the Japanese women's volleyball team for the 1988 Seoul Olympics. In order to do that, she joins her high school volleyball club who is coached by her homeroom teacher. Her coach is extremely strict and slaps around his players when they don't live up to their potential. Thankfully for You, she becomes one of their best players. You forms a tempestuous friendship with her soon to be arch-rival, Nami Hayase, and things heat up when they get placed on opposing teams. In the midst of all that drama, You looks to defeat Nami's team while also winning the heart of her crush, So Takiki.
Just like the previous selection, this also garnered some inspiration from Attack No. 1. Attack You! is one of the most zany series on this countdown. Having You split her desires on improving as a volleyball player and having a token romance with the head of the males volleyball team. Displaying You's abusive coach Daimon Kantoku, being extremely vicious and slapping his players for merely giving up a single point. This show also brings some unconventional comedy to the fold and early cases of chibi animation. If you're one of those cheeky fanservice lovers you won't be disappointed. There are several instances where you see panty shots, bare breasts and buttocks. The animation is dated, but if you enjoy over-the-top moments with fanservice and lots of volleyball action, this one is worth a checkout.
---
2. Attack No. 1

Episodes: 104
Aired: Dec. 1969 – Nov. 1971
An eager high school girl by the name of Kozue has a dream of playing for the Japanese national volleyball team. The series depicts Kozue's rise from the bottom playing at the school district league all the way up to the international volleyball championship. During the course of the anime Kozue quickly climbs the ladder of success, only to find herself dealing with some of the less appealing qualities of stardom; including self-conceit, unwelcomed expectations, and other unfavorable aspects.
A landmark anime, Attack No. 1 is the first televised female sports anime of its kind. The manga was written in 1968 by Chikako Urano and then a year later adapted into an anime. It was created to capitalize on the success of the 1964 Japanese Olympic volleyball team who won gold on the female's side of the sport. Japan also happened to be the host nation of those summer games making it all more enthralling for their success. This sports drama conveys the many negative effects on an athlete rising to greatness in a lengthy well-built series. Kozue's character is tested throughout the anime as she matures to try and become the greatest volleyball player in the world. As cliché as that sounds, it does a wonderful job at portraying Kozue's realistic struggles, which then makes it all the more satisfying when she hits the zenith of her athletic career. This series is still well-received in Japan and is a pioneer for all sports anime, in particular volleyball.
---
1. Haikyuu!!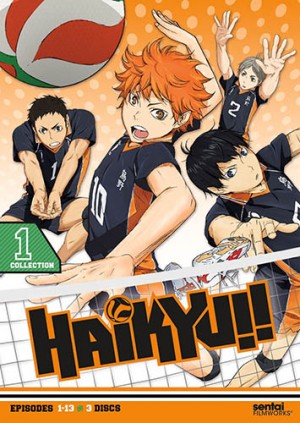 Episodes: 25
Aired: Apr. 2014 – Sep. 2014
Shouyou Hinata became inspired after watching a volleyball pro nicknamed "Little Giant" in action. A similarly small-statured individual, Hinata decides to revive the volleyball club at his school. Immediately the club is faced with turmoil when their first game doesn't go as planned and they easily get handled by Tobio Kageyama. Hinata vows to surpass his new rival and upon graduating to high school he joins the volleyball team, only to come to the realization that Kageyama has also joined the same team. Both teammates want to lead their team but both of them struggle with certain problems. Only when they decide to work together and try to resolve their issues do they understand the true meaning of success.
We know there isn't a ton of volleyball anime out there, as you can see based on this list, but we have to say that this is the best of the bunch. Moreover, we would say it's arguably one of the best sports anime of all-time. It stamps itself as a quality sports series with endearing characters and a compelling storyline. It does all this with only presenting a total of 25 episodes. The dynamic between Hinata and Kageyama is fantastic. Kageyama is intimidating with a short-temper and possessing a sharp glare. Despite that, he's the youngest member of the squad. Hinata, on the other hand, looks younger and is far more approachable. The primary comparison between the two is their love for volleyball. For fans of the show, don't fret, there's a third season to air in October of this year, as Haikyuu!! continues to build on its legacy.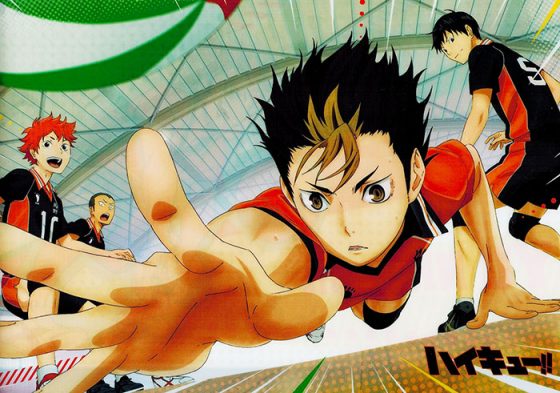 ---
Final Thoughts
That brings closure to yet another niche countdown here at Honey's Anime. We sincerely hope we offered you with some unknown anime that volleyball enthusiasts will soak up. Regardless, we urge all fans of anime who might have a mild interest in sports to check out all of these series.
Are you disappointed by the sheer lack of volleyball anime? If so, you're not alone! Please share with us your thoughts related to this list or even what volleyball mangas could be adapted to anime. We'll be looking forward to what you have to say!
---