Sports are something universal that crosses cultures all around the world. Popularized in many books and movies over the years, tales of the underdog overcoming the odds or the prodigy showing off their skills are well-known story beats. One of the best examples of sports in anime is Hajime no Ippo. This adaptation of the boxing manga from 1989 popularized many of the tropes seen in modern sports anime. Going against the idea that boxing is all about smashing the other guy's face in, Hajime no Ippo has romance, comedy, and a large focus on character relationships throughout. As Ippo faces trial after trial, you'll laugh, cry, and cheer him on with the rest of his friends.
Sports anime has taken Japan by storm in recent years. If Hajime no Ippo had you hooked after Ippo's first Dempsey Roll, the good news is that there's a variety of other moving and memorable sports anime to check out if you want more.
Here are 6 anime similar to Hajime no Ippo.
Similar Anime to Hajime no Ippo / Similar Anime to Fighting Spirit
1. Eyeshield 21

Episodes: 145
Aired: April 2005 - March 2008
EyeShield 21 is an American football shounen sports anime centered on a high school team called The Devil Bats who are underdogs aiming for the annual football tournment called the Christmas Bowl. After discovering Sena, a lithe freshman with crazy reflexes and speed due to running errands for his bullies, hell-raising captain Hiruma recruits him to the team as his running back. However, to protect Sena from being found out, Hiruma makes him the team's "secretary" and gives him a helmet with a visor, dubbing him "Eyeshield 21" on the field. In America, this anime was also streamed on Toonami Jetstream and NFL Rush, a website for kids run by the NFL, in fall 2007. In addition, there are references to NFL players in the anime as well.
Sena, like Ippo, has an advantage when it comes to his sport. His crazy speed makes him the perfect candidate for a running back and he must work hard to learn more about football and improve his skills. Similar to how Ippo uses his strength from helping his mother as a starting point for his boxing career, Sena must find a way to put his agility to good use. If you like watching an underdog team coming together to overthrow the kings in their sport, a good mixture of dramatic scenes, comedic relief, and thrilling matches that'll put you on the edge of your seat, then this is one team sports anime you don't want to miss!
---
2. Diamond no Ace (Ace of Diamond)

Episodes: 75
Aired: October 2013 - March 2015
Baseball is one of America's and Japan's favorite pasttimes. In this next shounen team sports anime, follow high school freshman southpaw pitcher Eijun Sawamura as he struggles to overcome his shortcomings with a unique pitching style and join the first string. However, he's got a long way to go with fellow freshman and talented pitcher Satoru Furuya who joins the first string right off the bat. A team is only as strong as its weakest players, but luckily, Eijun has some talented older teammates to help him achieve his goal of becoming the team's ace.
Although this shounen sports anime has many serious and heart-renching moments, interspered throughout is comedy, suspense and, of course, a few crushes from the female managers. Just like in Hajime no Ippo, you'll get a glimpse into the backgrounds of characters and learn about how they got to where they are now and how they'll move forward. While main cast of Diamond no Ace will suck you in, supporting characters such as the genius and sadistic catcher, Kazuya Miyuki, will keep you wanting more. Thankfully, this anime has a sequel, Diamond no Ace: Second Season and a third season, Diamond no Ace: Act II, which is set to begin in April 2019.
Diamond no Ace PV
---
3. Haikyuu!! (Haikyu!!)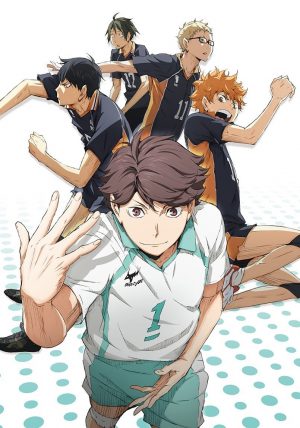 Episodes: 25
Aired: April 2014 - September 2014
Let's keep the shounen team sports anime train going with Haikyuu, a volleyball-themed anime. Karasuno High School, once famous for volleyball after making it to the Interhigh championship, has since fallen to become one of the weakest teams. Despite this, Shouyou Hinata, a boy with amazing jumping power, joins the team only to find out that his rival and "King of the Court", Tobio Kageyama, has joined as well! After witnessing Hinata spiking one of Kageyama's Quicks which no one has been able to before, they are forced to become a team and work together as well as with their teammates to become the best volleyball team in Japan.
Whether it's an individual sport, a team sport, or a sport you do individually within a team, you'll watch as these players find their passion, overcome their weaknesses, and strive to become the best, just like in Hajime no Ippo. Haikyuu!! is incredibly funny with a range of characters not only in the Karasuno team, but across all teams. Every character has a compelling backstory and personalities literally fly across the screen. You'll laugh your head off at their antics, sympathize with the older members, and cheer them on as they scrap their way to the top. If you've finished the first season, there's also Haikyuu!! Second Season and plenty of side stories and movies to watch.
Haikyuu!! Trailer
---
Any Anime Like Fighting Spirit / Any Anime Like Hajime no Ippo ?
4. Baby Steps

Episodes: 25
Aired: April 2014 - September 2014
Following the theme of shounen sports anime, up next is Baby Steps, an anime focusing on tennis and how Eiichirou Maruo, a bookworm and complete tennis novice, becomes one of the best tennis players. Unlike other typical sports anime, Eiichirou chooses to learn how to play tennis, not because he's pushed into it or wants to improve his skills, but because he studies too much and is worried about his health. However, once he gets into the sport, he puts his big brain to use and develops an incredibly strategic style of tennis through his hard work and perfectionist tendencies.
If you want a slightly more realistic anime about tennis, then look no further. Not only do you watch Eiichirou learn and grow, you'll learn so much more about the world of tennis itself and get a glimpse into what professional tennis players might even be thinking during a match. It starts off slow-paced, but you'll soon get into it once Eiichirou's hard work starts paying off. This main character will remind you of Ippo once you witness just how hard he works as nothing earned is nothing gained. Once you finish season one, head over to season two for 25 more great episodes!
---
5. All Out!!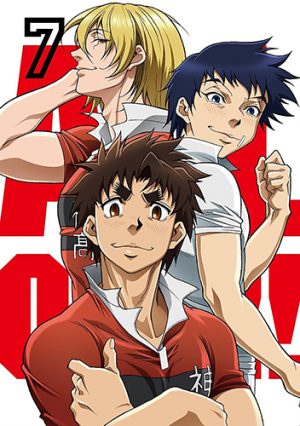 Episodes: 25
Aired: October 2016 - March 2017
If rougher sports are your thing, then you'll love All Out!!, the first rugby shounen team sports anime with some crazy hairstyles and a motto that hard work pays off. The star of this show is Kenji Gion, a small, mouthy but determined freshman who knows nothing of rugby but wants to play. This rag-tag team of high schoolers have something to prove to themselves, their coach, their advisor, their school, and every other rugby team out there.
Working from the bottom-up, Kenji must work harder than anyone else on the team if he wants to play and not be a burden. Like Ippo, no one truly believes that Kenji's got what it takes to become a decent rugby player. However, through his constant efforts, he'll begin to inspire even his older teammates to work harder and become better players. All characters, main or supporting, have a role to play and it's never a dull moment in this anime. The only thing you'll ask for after watching this is, "Why isn't there more?"
All Out!! PV
---
6. Hinomaruzumo (Hinomaru Sumo)

Episodes: 24
Aired: October 2018 - currently airing
Finally, we've reached the newest sports anime on this list, Hinomaruzumo! This sumo shounen anime is the first of its kind, and before you scroll past, if you liked Hajime no Ippo, you'll love this. Ushio Hinomaru is not your average sumo wrestler, a sport that's known for "big" guys who wrestle in the Japanese fashion. But he isn't detered by his stature, as evidenced by the scars on his body, and is more determined than ever to make the Oodachi High School sumo club known and become a Hinoshita Kaisan, the highest rank in professional sumo wrestling.
Having passion is a defining trait of a good sports anime main character and Ushio has lots of it! It's easy to fall in love with the different, quirky characters as you learn more about sumo and watch as this weak, underdog team transforms into a club that's quite formidable. Ushio is one of the most compelling main characters in a sport where competitors fight on their own, but are also part of a team. This fighting anime will bring you back to Hajime no Ippo again and again between the storyline, character development, and epic matches. You're sure to find its themes relating to your own life, igniting that spark within you and getting you hyped up to make something of yourself.
Hinomaruzumo PV
---
Final Thoughts
While sports anime obviously focus on the sport they are based on, they are defined by their wide variety of characters. You'll find some overlap with the main characters, usually having little to no knowledge of the sport or some disadvantage, but that's what makes it relatable to the viewer. Just like in Hajime no Ippo, no one starts out as the best player, or even very good, but with the support of others around you, you can make something of yourself and your team. These six anime should help get you started on igniting that fire within yourself, whether it be for sports, school, work, or life. If you know of any other great sports anime or anime similar to Hajime no Ippo that we've missed, comment below to spread the word!
---