También puedes leer este artículo en:Español
Ah, the silliness that is Hatsukoi Monster just cannot be denied. From falling in love with a primary school student to odd love triangles with people of different ages, there is no doubt that this is a funny reverse harem! While reverse harem has been moderately serious and lacking in humor in the past decade, Hatsukoi Monster is a refreshing breath of air since it has humor and silly antics that we just have not seen in awhile.
For many who are seeking an anime like Hatsukoi Monster--goofy, full of silly antics, ridiculous, quasi-romantic--we are here to help you out! Never fear because Honey's Anime has your back. Here are some anime that will fit the bill. Let us check out 6 anime like Hatsukoi Monster!
Similar Anime to Hatsukoi Monster
1. Momokuri

Episodes: 26
Aired: December 2015 - February 2016 (Web); July 2016 - Ongoing (TV Release)
Kurihara Yuki just asked out the boy of her dreams: Momo. Momo thinks Yuki is cute, but Yuki is just one letter short of a stalker since she never misses a Momo opportunity. Their relationship was based on cuteness, but can they fall in love like that?
Momokuri is another anime that features a cute romance between a slightly older girl and a slightly younger boy. Of course, the age difference--mental and numerical--is not quite as large as Hatsukoi Monster, but their relationship is just as fun. While Kaho and Kanade are odd because of their difference in age, Momokuri explores a strange relationship between a boy who is fairly innocent and cute and a girl who pretty much stalks him. Watch as Yuki stalks Momo while keeping it a secret. This is a romance that you just can't forget!
Momokuri Trailer
---
2. Kono Bijutsubu ni wa Mondai ga Aru! (This Art Club Has a Problem!)

Episodes: 12
Aired: July 2016 - ongoing
There's nothing like joining your favorite club. In art club, the members can be pretty eccentric; such is the case with Many of the members of this art club. Subaru only likes to paint 2D waifus, Colette causes nothing but trouble, and the club president just can't seem to wake up! Usami is the only one who is even a little normal, but just can't get anyone to take art seriously!
Kono Bijutsubu ni wa Mondai ga Aru! is a slice of life anime with plenty of comedy to go around. The main character is definitely Usami and her crush, Subaru, but what do you do when your crush only cares for 2D waifus? Combine that with silly club activities that have nothing to do with the club and people who just seem to do as they please and you have got yourself a great anime!
Not only is this anime romance--if you can call it that--as goofy as Hatsukoi Monster's, but the characters can all be pretty ridiculous. How do they even function as a club? Kono Bijutsubu ni wa Mondai ga Aru! sure figures out a way to hold an art club together.
Kono Bijutsubu ni wa Mondai ga Aru! PV
---
3. Yamato Nadeshiko Shichihenge♥ (The Seven Metamorphoses of Yamato Nadeshiko)

Episodes: 25
Aired: October 2006 - March 2007
Kyouhei, Takenaga, Yukinojo, and Ranmaru are all living in a grand mansion for free on the sole condition that she make the landlady's niece a proper lady. Well, it looks like rent is about to go up because Sunako, the landlady's niece, is a scary-looking horror fanatic who gets nose bleeds every time she is in the presence of a "bright creature". How do you turn someone who looks like Sadako into a proper lady?!
There is no need to question Yamato Nadeshiko Shichi Henge as a choice for this list. As Yamato Nadeshiko Shichi Henge is a reverse harem like Hatsukoi Monster, but all of the guys in Yamato Nadeshiko Shichi Henge are full of goofy antics and stupidity. They are almost always getting into trouble. While most of the boys in Hatsukoi Monster tend to act their age--so they are immature and childish--the boys in Yamato Nadeshiko Shichi Henge usually act very immaturely, especially when they are at home. They cannot even figure out how to do their own chores! How do they function?!
If you are looking for a semi-sweet romance, you will not find it in Yamato Nadeshiko Shichi Henge, but you will no doubt find plenty of goofiness and stupidity. Sunako may not be like Kaho, but you are almost guaranteed to like her even more since she is not your stereotypical shoujo heroine. Love gore or not, you will love Sunako and definitely enjoy Yamato Nadeshiko Shichi Henge!
---
Any Anime Like Hatsukoi Monster ?
4. Ouran Koukou Host Club (Ouran High School Host Club)

Episodes: 26
Aired: April 2006 - September 2006
When you're a student who relies on scholarships to attend school, you take your grades seriously! That is why Fujioka Haruhi ended up at the Ouran High School Host Club; she was just looking for a place to study! However, Haruhi finds herself acting as the club's dog after breaking a valuable vase prices at an impossibly high about of yen! But wait, Haruhi is turned into a host when the other hosts find out just how pretty she is. Now, if only they knew she was a girl...
Some may question the presence of Ouran High School Host Club on our list of six anime like Hatsukoi Monster, but are they really that different? Much the same way Yamato Nadeshiko Shichi Henge relates, Ouran High School Host Club is yet another reverse harem that does comedy well. Ouran High School Host Club features a cast of boys who just can't fathom what it is like to be a commoner and do the silliest (wasteful?!) things as rich boys.
Then you have Fujioka Haruhi who just cannot relate, much the way Kaho cannot relate to the other primary school boys. Kaho spends a lot of time trying to hide her relationship with Kanade from Kanade's father and people who may disapprove while Haruhi spends much of the anime hiding her gender from the other students. However, they both face a lot of stress from those who do know their secrets! Kaho is constantly fighting people who oppose her relationship or want to steal her away while Haruhi just has to deal with people who either fall in love with her, regardless of gender, and threaten to expose her secret, or the Host Club boys who more or less want her to embrace her female side without wanting her to reveal her gender. Oh, the craziness that goes on in this anime!!!
Ouran High School Host Club - Classic - Available on Blu-ray and DVD on 6.26.12 - Trailer
---
5. Bokura wa Minna Kawaisou (The Kawai Complex Guide to Manors and Hostel Behavior)

Episodes: 12
Aired: April 2014 - June 2014
Usa Kazunari is moving into a new housing complex with tenants who are all a bit quirky. But it's all in the name of independence, right? Well, let's just see what happens after he meets the shy Kawai Ritsu who really changes his life. Is this the start of a new love?
If you are looking for a dorm-like romance, then you have got Bokura wa Minna Kawaisou. This dorm room romance will definitely give you the same feel as Hatsukoi Monster. The romance has its own fair share of difficulties which can be expected. Not only that, Bokura wa Minna Kawaisou has its own fair share of oddball residents that make it unpredictable and funny!
Anime "Bokura wa Minna Kawaisou" 4 BD/DVD CMs
---
6. Inu x Boku SS (Inu X Boku Secret Service)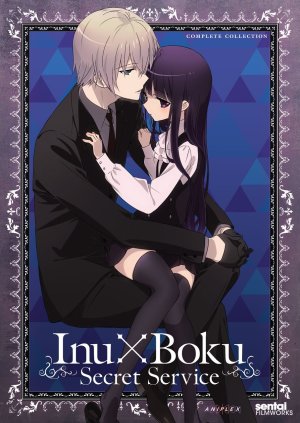 Episodes: 12
Aired: January 2012 - March 2012
Shirakiin Ririchiyo has a sharp tongue and difficulty communicating what she really means, but she wants to change herself so that she can be more independent since she has grown up in a rich family. To change, Ririchiyo has moved into the Maison de Ayakashi, which is a high-security housing complex with many odd residents who are actually half-human and half-youkai, just like Ririchiyo! On top of that, as is required for all residents, Ririchiyo finds herself in the care of Miketsukami Soushi who will act as her Secret Service agent.
Oh, if you want yet another dorm room romance, Inu x Boku SS has you covered! Although this romance is a little unusual as everyone is a youkai with their own problems! Much like Hatsukoi Monster, you get to see different odd relationships between other tenants while the main character seems to struggle with her own. Inu x Boku SS isn't quite as silly as Hatsukoi Monster, but it is a cute love story that you will find yourself loving.
---
Final Thoughts
For all of you Hatsukoi Monster fans, we hope you enjoy these six anime like Hatsukoi Monster. You've got your fair share of love, goofiness, and quirkiness. What more can be better?
For all of you watching Hatsukoi Monster, what are your favorite moments? What do you love about Hatsukoi Monster? Are there any other anime that you would recommend?
---