It's the spooky season. Halloween is coming up and the days are getting shorter, as we're gearing up for a new anime season. What's better to watch than a twisted horror classic, like Higurashi no Naku Koro ni (When They Cry)? The notoriously dark anime starts as a regular school-life show. Keiichi Maebara moves to the village of Hinamizawa. He's the new transfer student and always surrounded by his classmates, who happen to be very cute, especially Rena who blushes whenever she's around him. But nothing is what it seems to be. A village curse, gruesome murders, alternate realities, and the iconic kawaii girl with a meat cleaver, Rena, make up for one hell of a ride.
The popular franchise, which first appeared as a series of visual novel games, includes many series. This Fall we even get a retelling of the show by studio Passione, titled Higurashi no Naku Koro ni Gou (Higurashi: When They Cry - Gou). You might have already watched the original When They Cry, or perhaps you're anxiously waiting for the new series' episodes to get released every week. Whichever the case is, we've got you covered! Here are six more anime we picked for you. They are full of suspense, gore, incredible twists, time travel, and surprisingly cute characters to keep you awake at night.
Similar Anime to Higurashi no Naku Koro ni / Similar Anime to When They Cry
1. Another

Episodes: 12
Aired: January 2012 - March 2012
Kouichi Sakakibara transfers to class 3-3 of Yomiyama North Middle School. His new classmates welcome him, but there is an atmosphere of unease surrounding the school and the town of Nomiyama. There he also meets Mei Misaki, a dark-haired girl wearing an eye-patch. Everyone, students and teachers alike, behaves as if Mei doesn't exist. Oddly drawn to Mei, Kouichi ignores the warnings of his classmates and starts communicating with her, setting in motion a deathly cycle. He doesn't know that the death of a beloved student, Misaki, 26 years ago, is still affecting the town of Nomiyama in the form of a horrifying curse and that Mei might be the key.
If you enjoyed When They Cry, Another won't disappoint. Another is also set in a small-town school and the main character is a transfer student, who like Keiichi Maebara of When They Cry, is completely unaware of the curse haunting his local community. Characters drop like flies, each death more creative and unexpected than the last.
If you enjoyed the mystery elements of When They Cry even more than the gore aspect, Another has that in store, too, as the students run against time to solve the curse. You will also feel intrigued by Mei, who like Rena, looks adorable, but the truth about her is sinister.
Finally, there are awesome plot twists that we're not going to reveal, of course! Tread carefully into the gloomy world of Another and keep the lights on while watching. You've been warned.
Another PV
---
2. Yakusoku no Neverland (The Promised Neverland)

Episodes: 12
Aired: January 2019 - March 2019
Imagine growing up in an idyllic house, surrounded by all your friends, nature, and your loving Mama. You're an orphan, but you have all the love and care you need in your life. The only obligations you have is to take regular tests and to never stray too far away in the forest. If you are a good kid, you have a higher chance of getting adopted by a lovely family. This life is a lie, though. Emma, Norman, and Ray discover that Isabella, the Mother of all orphans in Grace Field House is raising them for a twisted purpose and their whole world turns upside down. They now have to find a way to escape.
It's best to start watching this show without any spoilers. Just press play and dive in. Like When They Cry, Yakusoku no Neverland is an experience of overwhelming horror, where all expectations are shattered, over and over again. Even after Emma and Norman discover the truth about their Mama and their home early on in the show, this is just the beginning. Set in a fantasy realm, it's a show that blends horror, psychological thriller, gore, and alternative universe elements, in a way similar to When They Cry. The character designs are cute and the color palette is soft and dreamy, giving it the deceptively kawaii quality of When They Cry. The second season is scheduled for 2021, so it's perfect timing to catch up with this unforgettable show.
The Promised Neverland Trailer
---
3. Gakkougurashi! (School-Live!)

Episodes: 12
Aired: July 2015 - September 2015
What's not to love about Gakkougurashi? Disguising as another slice-of-life anime with cute girls doing after school activities, like K-ON! or Yuru Camp, this is nothing like that genre. Here at Honey's Anime we've been dying to tell you, but you'll have to watch for yourselves. Yuki Takeya, a super cute pink-haired schoolgirl is a proud member of the School Living Club. Along with four of her classmates, Yuuri, Kaori, Miki, Megumi, and their adorable pet dog Taroumaru, they are performing club activities… or are they preparing for something far scarier?
Gakkougurashi! reveals the truth early on, by the end of the first episode. In a similar manner to When They Cry's main characters, the memories of Yuuki are warped. She cannot face reality, so she repeats the same routine every day, talking with her friends, greeting her teacher, and looking for her dog. But there's a constant threat the girls have to prepare for to stay alive. Like the girls of When They Cry, who hide the truth about the curse from Keiichi, Yuki's friends have to hide the truth from her, but for different reasons. Both Gakkougurashi! and When They Cry play with the cute and moe elements to create contrast with the dark reality. Another similarity is that the terrible past is revealed through flashbacks, to mess with our minds. Don't be fooled by the sugar-coated looks of it, just dive in!
Gakkougurashi! Opening
---
Any Anime Like When They Cry / Any Anime Like Higurashi no Naku Koro ni ?
4. Shiki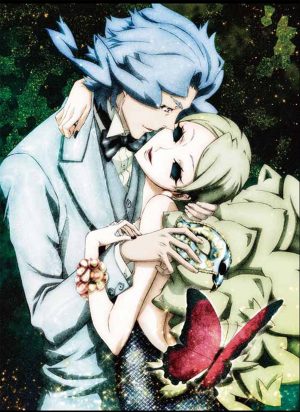 Episodes: 22
Aired: July 2010 - December 2010
Shiki is not your regular vampire story. In the small village of Sotoba, old and young people start dying, after showing signs of a summer cold, or anemia. The local doctor, Toshio Ozaki, gets alarmed after high school student Megumi Shimizu dies unexpectedly. The two red marks on the victims lead the doctor to suspect there's an epidemic. However, the truth lies in the mysterious Kirishiki family, who move into the mansion on the hill overlooking Sotoba Village. In the meantime, transfer student Natsuno Yuuki is doing his best to avoid mingling with the locals and can't wait to leave for the big city after graduation. This cast of characters all get dragged into a fascinating storyline, where good and evil become relative.
The opening song by Japanese goth legends BUCK-TICK and Atsushi Sakurai, famous for his vampire likeness, is giving us life!
If you loved When They Cry, watching Shiki is a must. Shiki uses the vampire trope to deal with similar themes: the new people in town and the threat they pose, unexplained deaths that keep happening, highschool students in the main character cast, cute girls turned deadly, and of course, gruesome killings that will satisfy your horror needs!
Both anime feature mentally unstable characters, who devolve into madness. What happens when paranoia takes over a small group of people?
Finally, Shiki is also an adaptation. The When They Cry series first appeared as visual novels, and Shiki was originally a horror novel by Fuyumi Ono. This could be why both have such strong plots with many twists.
---
5. Itou Junji: Collection (The Junji Ito Collection)

Episodes: 12
Aired: January 2018 - March 2018
Junji Ito is a master of horror in Japanese manga. His work is varied, giving us many super scary titles like Tomie and Uzumaki. It was about time more of his work gets an anime adaptation. The Junji Ito Collection is a set of delightful bites of horror, based on the mangaka's work. Using still frames, the anime is very effective in creating a sense of dread. Each episode includes two stories. For example, in Souichi's Convenient Curse, we meet a creepy voodoo-casting high school student, who takes revenge on his enemies. In Captured Beauty, Tomie, the beauty who drives men literally crazy, is casting her net again.
If you're new into the genre, it's a safe bet that you will enjoy Itou Junji: Collection.
Notice the trademark pale characters with dark circles around their eyes - watch this anime at night and you won't be able to shut an eye either!
Tomie reminds us of Rena, another charming but deadly young woman who cannot get eliminated. Both anime have plenty of jump scares, as well as some funny moments, too. Many of Ito's characters are young and isolated, like Keiichi in When They Cry, getting increasingly disturbed and paranoid. Both titles are produced by Studio Deen, even though they follow a different approach in their animation, to mimic the style of the originals.
Itou Junji: Collection Opening
---
6. Steins;Gate

Episodes: 24
Aired: April 2011 - September 2011
Rintarou Okabe calls himself a mad scientist and with his group of nerdy friends, he creates "future gadgets" and dabbles in conspiracy theories. His latest creation is the "Phone Microwave", which turns bananas into a green gel. When Okabe finds out that the real power of the Phone Microwave is to send emails to the past, he is confronted by an unsettling realization. He can now alter the past and change the future in unexpected ways. It doesn't help that the organization SERN is now after him and that his cosplay-loving companion, Mayu, gets in deep trouble.
If there is an anime that plays as well as When They Cry with the sense of time, or even better, it has to be Steins;Gate. This is why, even though it is more of a psychological thriller than a horror show, it rightfully belongs in this list. Deeply psychological, with characters leading double lives, conspiracy theories turned real, and several time jumps, both anime will keep you on the edge of your seat. Wrong decisions are fatal! What's more horrifying than our own shame and regret? Okabe and the main cast of When They Cry are trying to fix the past and their own mistakes, over and over again, leading to more death and pain.
Steins;Gate Trailer
---
Final Thoughts
All these series are hand-picked by Honey's Anime because they mess with our minds and our sense of reality. Most of the recommendations are set in a school or a small community, where young people are faced with unspeakable horrors. There's suspense, the characters are memorable, and there is a contrast between cute and scary, kawaii and kowai.
On a deeper level, these are all stories about the fear of the unknown, being in a new place, or being an outsider...which makes them true horror. The genre plays out our deepest fears.
When They Cry fans, this is the end of our recommendations. Are you ready to watch these anime? Do you want to recommend any others? Comment below!
---