Masahiro Setagawa is at a crossroads. On the verge of entering high school, he does not know who he is or who he wants to be. Setagawa lacks passion and, due to an uncomfortable home life, suffers from bouts of loneliness. Desperate to experience a sense of belonging, Setagawa joins his neighborhood gang, as it beats staying home alone. Unfortunately, his severe lack of self-confidence makes him an easy target for his peers and he mostly serves as their errand boy.
Setagawa hates heroes, or to be more accurate, he hates the idea of a hero. The notion that when you are in need, someone will show up, out of nowhere, to save the day. From experience, he knows that such a person does not exist. At least, he used to think that way before he met his high school teacher Kousuke Oshiba. The older brother of a friend of his, Oshiba earned a nasty reputation as a vigilante. The charismatic teacher spends his free time beating down gangs and bullies, in an attempt to safeguard his neighborhood. As their paths intersect, Setagawa starts to see the world in a new light. Maybe, heroes do exist.
An adaptation of the manga with the same name, Hitorijime My Hero is a shounen ai about the forbidden romance between a teacher and his student. Fans searching for a new BL anime to watch can rejoice, as this offers more than enough steaming male on male romantic action to quench that thirst.
Similar Anime to Hitorijime My Hero
1. Kuzu no Honkai (Scum's Wish)

Episodes: 12
Aired: Jan 13, 2017 to Mar 31, 2017
Hanabi Yasuraoka and Mugi Awaya have been dating ever since they started high school. On the surface, they seem like the perfect couple; two popular and attractive teenagers who cannot keep their hands off each other. In reality, their romance is nothing more than a distraction to keep their minds off the person they actually love. Hanabi is in love with her homeroom teacher, while Mugi fell head over heels for his music teacher. In a brutal twist of faith, and to Hanabi and Mugi's dismay, the two teachers start to date. Overcome with loneliness, the teenagers make a pact to enter into a sexual relationship in an attempt to drown their sorrow. They agree that if one of their love interests becomes available, their romance will be moot.
Kuzu no Honkai is a dark and twisted anime, one centered on the concept of unrequited love. This is a not a series about happy endings and the central relationships are presented as being far from healthy. These themes are also tacked in Hitorijime My Hero, due to the ethical queries that arise from a teacher dating a student, although Scum's Wish presents a much harsher reality. The soft spoken Setagawa is similar to Hanabi, someone who has good intentions but is struggling with their own desires. Both anime are well animated and move along at a brisk pace.
Kuzu no Honkai PV
---
2. Great Teacher Onizuka

Episodes: 43
Aired: Jun 30, 1999 to Sep 17, 2000
Onizuka used to be a delinquent and the leader of a bike gang, before deciding that it is time to turn over a new leaf. From this point forward, he is determined to put his violent days firmly behind him and to become the greatest high school teacher of all time. On the surface, it might seem like a noble cause, but the primary motivation for his change in lifestyle is so he can meet as many sexy high school girls as possible. Yes, the Great Teacher Onizuka is about a teacher trying to get it on with his students, too often, with hilarious results.
Great Teacher Onizuka has possibly the worst opening ten minutes of any anime. It is so unabashedly sleazy that it could turn away some viewers. Once that opening segment is finished, the anime develops into one of the funniest, most emotional, and entertaining shows of all time. Onizuka is a fantastic character, one who uses his chequered background to help his students in their troubled lives. Romance is not really a big part of Great Teacher Onizuka, and there is no BL to speak of, but it is not difficult to see the similarities between Kousuke Oshiba and Onizuka. The two teachers use unconventional means to mentor their students and attempt to show them a new way to see the world.
Great Teacher Onizuka Trailer
---
3. Yuri!!! on Ice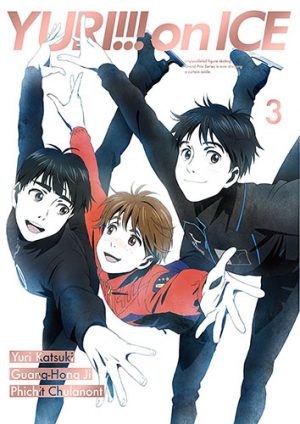 Episodes: 12
Aired: Oct 6, 2016 to Dec 22, 2016
Yuri Katsuki is a figure skater who just suffered a humiliating loss at the Grand Prix finale. Mentally exhausted, he returns to his hometown, Hasetsu, and contemplates taking a break from the sport he loves. While visiting his friend at the local ice skating ring, Yuri is recorded while mimicking a routine made famous by his idol Victor Nikiforov. Without his knowledge, the video ends up blowing up on the internet and quickly captures Victor's attention, who decides to meet Yuri and offers to serve as his coach. Unfortunately, things are never quite so simple, as Victor is confronted by Yuri Plisetsky, a 15-year-old protege, who he promised to coach if he won the Junior World Championship.
Last year, Yuri!!! on Ice proved to be such a massive hit that it feels like any article listing sports or shounen ai anime must at least mention it. The relationship between Yuri and Victor is oozing with sexual overtones, especially during their ice skating routines, while still keeping the focus on the sport itself. The anime does not attempt to rush their romance, as they get closer and closer throughout the season. This pacing is similar to how Setagawa and Oshiba's relationship develops, with the older half serving as a mentor for his younger counterpart.
Yuri!!! on Ice PV
---
Any Anime Like Hitorijime My Hero ?
4. Junjou Romantica (Junjo Romantica)

Episodes: 36
Aired: Apr 11, 2008 to Sep 24, 2015
Struggling to prepare for his University entrance exams, Misaki Takahashi reluctantly turns to his brother's old friend, the famous author Akihiko Usami, for guidance. He originally believes that this could ease some of his stress, but he instead learns that Usami earned his fame by writing yaoi novels and is deeply in love with Misaki's brother, who is in a committed relationship. As Misaki and Usami spend more and more time together, their friendship begins to awaken a powerful urge in the younger teenager, a feeling that the author is more than willing to explore.
Besides the main couple, Junjo Romantica also follows a handful of other BL relationships, including one between a professor and an 18-year-old student. In comparison to Hitorijime My Hero, Studio Deen's popular shounen ai series is more blatant, with characters often stating their feelings out in the open. For example, Misaki shouts out 'do I like men?' in the first episode after he finds himself rushing home to see Usami. For those seeking some graphic BL scenes, Junjou Romantica stands as one of the best. Need proof? Watch the opening five minutes of the first episode.
Junjou Romantica Trailer
---
5. Gakuen Handsome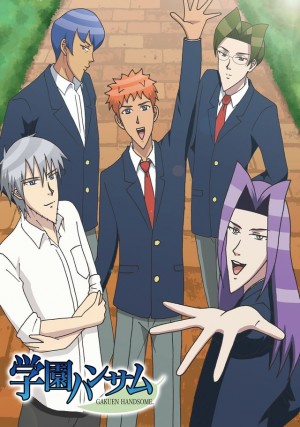 Episodes: 12
Aired: Oct 4, 2016 to Dec 20, 2016
After his parents find new jobs, Yoshiki Maeda is forced to relocate his life as he enters a brand new school. Once at Baramon High School, he quickly meets a few quirky characters; including the overly direct male teacher, the polite delinquent and soccer captain, a Principal obsessed with BL, and a friend he has not seen for seven years. Baramon High School is an all-boy private school, one known to be filled with attractive students, so romance is always in the air. Afterall, when surrounded by handsome men for eight hours a day, it is natural to develop an interest in a handful of them. As summed up perfectly by Principal Jirou, gender is irrelevant when it comes to love.
We should point out that Gakuen Handsome is a shounen ai parody series; in fact, a pretty hilarious one. The episodes are only three minutes long, two minutes if the fantastic opening and ending songs are not taken into account, so the series is a quick sit. Despite belonging to a different genre, it still shares similarities with Hitorijime My Hero, as Yoshiki struggles to understand his sexuality. Teruhiko Saionji, who is Yoshiki's homeroom teacher, is rugged and extremely forward; often offering to introduce the protagonist to a whole new world of experience. As it is comedic in nature, it is presented in a more over the top demeanor than Hitorijime My Hero, but the same themes of sexual awakening and self discovery are present in both.
Gakuen Handsome PV
---
6. Super Lovers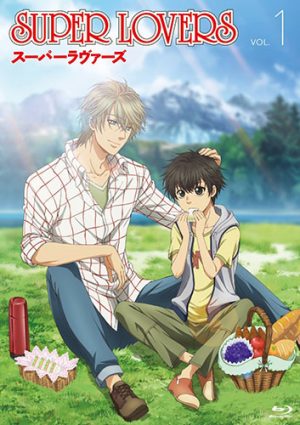 Episodes: 20
Aired: Apr 6, 2016 to Mar 16, 2017
The things we do for our family. Haru Kaidou is the eldest son of his family and the punching bag for his abusive step mother, who fakes an illness so Haru has to put his life on hold to take care of his adoptive step brother Ren. Ren, who Haru's mother picked up randomly, is no better than an untrained puppy and spends more time with dogs than people. The two end up developing a bond; with Haru deciding that, once he graduates high school, he will take Ren with him to Japan. Unfortunately, his plan goes off the rails when a disastrous accident leaves Haru the only surviving member of his family and with amnesia affecting the summer spent with Ren. Years later, Ren shows up in Japan expecting Haru to be his brother. Their relationship gets complicated, to say the least.
A quick disclaimer, people turned off by an overly sexualized relationship between a man and a teenager should avoid Super Lovers. It takes the taboo elements seen in Hitorijime My hero and multiples the romantic tension by a hundred. Throw in the fact that they are practically step-brothers, and the yaoi scenes can be rather uncomfortable.
If the above is fine, then Super Lovers offers a heartfelt exploration of two flawed human beings and how they develop as people via their unconventional relationship. The dynamic between Haru and Ren is similar to Ochida and Setagawa, although Haru is considerably less idealized than his counterpart in Hitorijime My hero.
Super Lovers PV
---
Final Thoughts
Shounen ai manga and anime might have a bit of a bad reputation, with some seeing them as nothing more than a collection of fan service scenes. There are a few shows that justify that overgeneralization, but Hitorijime My Hero offers a more in-depth experience. The best series focus on developing the characters rather than their sexual romance, something that all of the shows listed pull off without any issue.
Is there any other anime that you would recommend for fans of Hitorijime My Hero? If yes, please leave us a comment below with your recommendations.
---