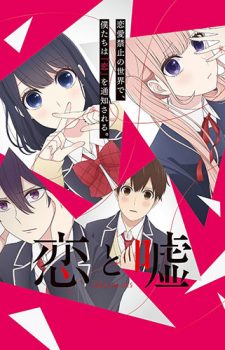 Romance and drama are two very powerful genres in anime which elicit very strong and familiar emotions when viewers tune into each episode. When we combine both, the storyline intensifies, going beyond a simplistic point. Because, not only are we focusing on a character's attempt to win the heart of another, we are also shown the conflicts and emotions attached in reaching this objective. Though it appears as smooth sailing on the surface, as we examine each plot closer, we uncover all of the countless unexpected twists and turns! Additionally, there is more than meets the eye, as when we finally reach the end, an untold message is brought to light.
So, in the following romance & drama titles, we introduce to you, an exciting division of recommendations, solely to give you all a sampling of current flavors based on popular previously aired anime. Hopefully, by the end of this article, you'll give all these anime a shot!
About Kuzu no Honkai (Scum's Wish)

Episodes: 12
Aired: January 2017 – March 2017
In Kuzu no Honkai, we are introduced to eight dynamic characters who are all connected to each other in some shape or form: Hanabi Yasuraoka, Mugi Awaya, Narumi Kanai, Akane Minagawa, Noriko Kamomebata, Sanae Ebato, Atsuya Kirishima, and Takuya Terauchi. These eight individuals are smitten with someone, not just a simple crush, but with intense, fiery passion. However, they all can't just reveal their feelings to their love interest, as easy as it seems, because they are plagued with the pain of being in love with someone they cannot be with.
Liked Kuzu no Honkai [Romance & Drama Summer 2017]? Watch Koi to Uso (Love and Lies!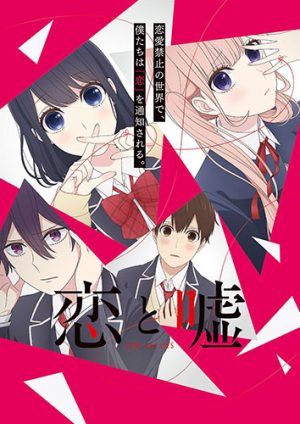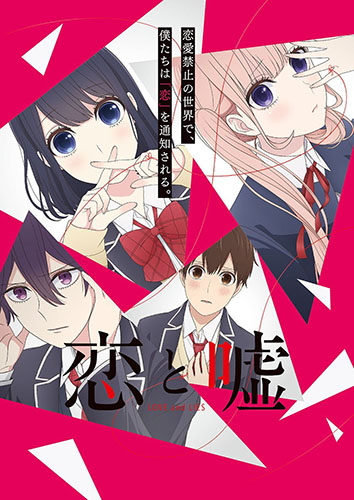 Episodes: 9+
Aired: July 2017 – Ongoing
"In a futuristic society, Japan has implemented a complex system referred to as 'The Red Threads of Science' to encourage successful marriages and combat increasingly low birthrates. Based on a compatibility calculation, young people at the age of 16 are assigned marriage partners by the government, with severe repercussions awaiting those who disobey the arrangement. For Yukari Nejima, a teen that considers himself average in every way, this system might be his best shot at living a fulfilling life."
"However, spurred by his infatuation for his classmate and long-time crush, Misaki Takasaki, Yukari defies the system and confesses his love. After some initial reluctance, Misaki reciprocates his feelings in a moment of passion. Unfortunately, before the two can further their relationship, Yukari receives his marriage notice. He is then thrown into a confusing web of love and lies when his less-than-thrilled assigned partner, Ririna Sanada, becomes fascinated with his illicit romance."
Three Major Similarities Between Kuzu no Honkai and Koi to Uso
1. "You Can't Always Get What You Want"
The premise for both Kuzu no Honkai and Koi to Uso involves our characters being in love with someone they can't or aren't allowed to be with, whether it is by social standards, personal beliefs, or government policy. As we popularly hear, "the heart wants what it wants", we can agree that by watching both these anime, it is hard to put up any type of barrier or obstacle when it comes to matters of love. It is simply an unexplainable and powerful urge! Even though our characters find a way to get close to their love interest by telling them how they feel, life somehow reminds us that things can often get rough and not go exactly as planned. So remember, after you leap, brace for impact!
2. "Let's Take It To The Bedroom"
In Japanese culture, we see very minimal PDA. However, holding hands, hugs, and a light and gentle kiss are growing increasingly popular with the younger crowd, with more couples introducing the notion to the intimately closed society. When it comes to anime, particularly the romantic type, feelings and experiences are a lot more open than what you can normally do IRL, unless you wanna get the stink-eye! So when we see our favorite pairings link up in Kuzu no Honkai and Koi to Uso, we are exposed to such scenes as a total make-out sesh, touchy-feelies, and more, leaving you feeling all hot and bothered too!
3. Exploration
During the early stages of development, teenagers encounter a vast range of emotions and experience countless changes, both physically and psychologically. As many youths grow into the age of adulthood, we learn a little about ourselves and continue to do so over the span of a lifetime. With that being said, first experiences stick with us forever, eventually cluing us in on whether we can commit to an identical event again or swear off the occasion forever. "Never say never", as we commonly hear, and our characters in Kuzu no Honkai and Koi Uso engage in various "firsts", that will essentially change their perspective on love.
---
Liked Kuzu no Honkai? Watch Hitorijime My Hero!
Episodes: 9+
Aired: July 2017 – Ongoing
In Hitorijime My Hero, we are introduced to Masahiro Setagawa, the neighborhood gang's lapdog. Masahiro never had a group to belong to, but he preferred that life to being at home. Around this same time, word on the street was spreading like wildfire about a guy called the "Bear Killer" who went around beating up people. Later this same week, the gang calls Masahiro to check out the place "Bear Killer" was last spotted. Hoping to have more strength in numbers, Masahiro arrives to the scene of a bunch of beat up thugs. "Bear Killer" took them all down! To Masahiro, this guy seems more like a hero than a nuisance. Later on in the series, we learn that "Bear Killer" is named Kousuke Oshiba, a new teacher at Masahiro's high school. Further, we are also introduced to his brother, Kensuke Oshiba and his conflicted relationship with childhood friend, Asaya Hasekura.
Three Major Similarities Between Kuzu no Honkai and Hitorijime My Hero
1. "Feelin' Some Type of Way"
Whether it's having an obvious crush on someone, harboring a secret infatuation, or still not being over your ex, many of us can't explain the over-protective hold that exists over your main squeeze; especially when there is a looming threat over losing the spotlight in his or her life. Often times, you get envious, jealous and petty over the littlest things. It can be hard when your SO has to divide his or her attention instead of devoting it all to you. The unexplainable emotions that follow events like these got chu "feelin' some type of way."
2. Same-sex Relations
Another taboo that is becoming obsolete in Japanese society is the secretive nature of homosexual relations and LGBTQ pride. Once upon a time, the practice and feelings behind same-sex acts were legally forbidden and an immoral abomination, but no more! The modern, free-spoken society we live in today is more open to sexual fluidity, disregarding orientations and labels. Our guys and gals in Kuzu no Honkai and Hitorijime My Hero were hesitant to give their new encounters a try. Ultimately, it is about how happy you feel with the person you're with, both emotionally and intimately.
3. "Back In The Day…."
Hanabi Yasuraoka and Narumi Kanai from Kuzu no Honkai, and Kensuke Oshiba and Asaya Hasekura from Hitorijime My Hero have relationships that began when they were very young, at a time when they could truly define what love means. As other couples from both series also have some length to their relationships, the longer ones resonate more intense emotions and memories. As our characters evolve more, they start to piece together the meanings behind love. As a result, even though our main characters, Hanabi and Masahiro, declare themselves straight, while we watch them both try to sort out their feelings, they also are more or less attracted to characters of the same sex. Unfortunately, this further complicates their already complex situation.
Final Thoughts
So that concludes our take in comparing two current titles with Kuzu no Honkai. The most awesome thing about romance & drama anime is that they're very entertaining, heartwarming, engaging, and they can sometimes be outrageous. Overall, as there are so many other choices, let us know if you agree with this assessment. Feel free to leave your suggestions and comments below! Thanks and enjoy!
---