También puedes leer este artículo en:Español
We are yet again in a situation where we are experiencing that oh-so-familiar despair – we've just finished up a really great anime and we want more of the same. That's where Honey's Anime shows its sweetness. This time, the anime in question is Hoozuki no Reitetsu (Hoozuki's Coolheadedness), a show about the bureaucracy of Hell and its efficient management by Hoozuki, the chief deputy to Lord Enma, the Lord of Hell. The story follows Hoozuki's incredible management of the facilities of Hell (as well as some somewhat unwelcome requests coming in from Heaven). We're here to get six of the best similar to Hoozuki no Reitetsu, so let's get right on it!
Similar Anime to Hoozuki no Reitetsu
1. Gugure! Kokkuri-san!

Episodes: 12
Aired: October 2014 – December 2014
Ichimatsu Kohina, a self-proclaimed doll called out to Kokkuri-san, the Fox Ghost with a very strange incantation. The incantation turned out to be the story of Kokkuri-san's ability to answer any question. In the 21st century, Kokkuri-san's ability lies within a particular search engine; however, Kokkuri-san himself is actually terrible with technology! He had initially planned on possessing a girl named Kohina but out of concern for her living by herself, Kokkuri-san devotes himself to doing Kohina's chores, but now even the Dog Ghost, Inugami, and the supernatural raccoon dog, Shigaraki spend all their time with Kohina too!
Gugure! Kokkuri-san is similar to Hoozuki no Reitetsu in the way in which it delves into the supernatural in order to create the anime's universe and characters. In this anime, a fox spirit is summoned to the 21st century. A plethora of different supernatural creatures appear throughout the show much like in Hoozuki no Reitetsu. Another similarity, despite how different the two characters are, is the stoic nature of the protagonists, Ichimatsu and Hoozuki.
---
2. Mushishi

Episodes: 26
Aired: October 2005 – June 2006
"Mushi" are the most basic lifeform in the world, existing without purpose. They simply exist in various forms, capable of mimicking various natural phenomena like rainbows. However, we can't truly say we understand exactly what they are as most humans are unaware of their existence. In order to understand the Mushi, people who research them, or "Mushishi", ponder the reason and value of the Mushi's existence. One such Mushishi, a man called Ginko, looks for Mushi-related occurrences in order to understand them more, as an understanding of the Mushi could very well lead to the meaning of life itself.
Mushishi bears great similarities to Hoozuki no Reitetsu in terms of story content and setting, with both being set in a world where the supernatural is the everyday for the main character. In both instances, the main characters are extremely skilled at what they do and even become advisors or like supervisors for other characters. Thus the similarities are two-fold: the supernatural aspect, as well as the calm, cool, collected and extremely skilled main character.
---
3. Kamisama Hajimemashita (Kamisama Kiss)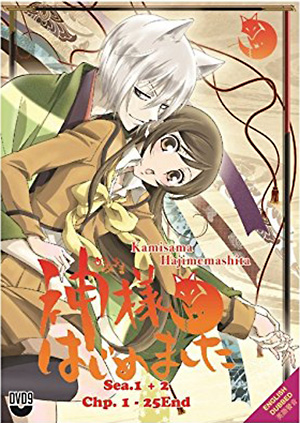 Episodes: 13
Aired: October 2012 – December 2012
Momozono Nanami is a high schooler living a fairly unfortunate life due to her father's extreme debt. Homeless, Nanami runs into a man being attacked by a dog and helps him. She eventually gets to explaining her dire situation and out of gratitude, the man offers her his home – a shrine! Unfortunately, the shrine had seen better days. As Nanami tries to leave, she is caught by a pair of shrine spirits and Tomoe, the fox familiar. For some odd reason, they are convinced Nanami is the man she saved – Mikage, the Land God. At this point, Tomoe realises that Mikage has sent Nanami to replace him as god of the shrine and abruptly leaves, refusing to serve the human Nanami. Despite all the confusion and Tomoe's stubbornness, Nanami decides to try her hand at being a god; however, the road is riddled with obstacles, resulting in her sealing a contract with Tomoe. As Nanami's familiar, Tomoe has his work cut out for him as one youkai wishes to eat her, while another wants to marry her and to top it off, Nanami herself has to understand her feelings for Tomoe.
Much like Hoozuki no Reitetsu, Kamisama Hajimemashita deals with characters who are gods, demons and other supernatural beings and creatures. Much like Hoozuki no Reitetsu, this anime goes into following the trials and tribulations of a particular individual in a position of leadership or power, especially in a supernatural environment, with Nanami having to take over the duties of the Land God, Mikage, and Hoozuki being chief deputy to the Lord of Hell.
---
Any Anime Like Hoozuki no Reitetsu ?
4. Saiki Kusuo no Psi-nan (The Disastrous Life of Saiki K.)

Episodes: 120
Aired: July 2016 – December 2016
Most of us have thought about what kind of superpower we would like to have if we lived in a world in which this is normal. Saiki Kusuo doesn't have to do much imagining as he is gifted with several supernatural abilities, from telepathy to x-ray vision. However, Saiki doesn't regard these abilities a blessing – he feels cursed as the powers continue to inconvenience him in his life. Saiki wishes for an ordinary life, but unfortunately, such isn't possible for him. In an attempt to live normally, Saiki keeps his powers a secret from his classmates, but he still ends up getting the attention of characters like Nendou Riki and Kaidou Shun. With so many eccentric people around him, Saiki begins to realise how difficult it will be to live that normal life he so desperately craves.
Another title which contrasts the mundanity of life with the main character's incredible life of some sort. Here we have Saiki Kusuo, an anime about a guy who'd love nothing more than to live a normal life but can't due to his supernatural powers. This parallels with Hoozuki no Reitetsu's portrayal of the day-to-day life of a character who represents anything but a "normal, daily life", due to the fact that he is basically the managing director of Hell.
---
5. Sayonara Zetsubou Sensei

Episodes: 12
Aired: July 2007 – September 2007
Itoshiki Nozomu is a highly pessimistic high school teacher who ends up in great amounts of despair over the smallest of inconveniences. Some of these incidents have led to his suicide attempts. Set in the modern day, Sayonara Zetsubou Sensei explores modern Japanese life and culture through its main character, Itoshiki, and his interactions with the students he teaches – all of whom happen to be just as eccentric as he is!
Sayonara Zetsubou Sensei is an anime which is extremely rich in dialogue, much like Hoozuki no Reitetsu. This is due to the fact that the two stories in question are not driven by extreme fights, but rather, the mundanity of the lives of the characters in these shows and the characters themselves. Much like Hoozuki no Reitetsu, Sayonara Zetsubou Sensei presents a main character who stands in a position of authority and guidance for the other characters – Itoshiki is a school teacher while Hoozuki manages the very running of Hell, supervising the demons in the positions below him.
---
6. Nurarihyon no Mago

Episodes: 24
Aired: July 2010 – December 2010
Nura Rikuo is unfortunate. All he wants is a normal life; however, he is part youkai and his grandfather, Nurarihyon, wants Rikuo to take over as head of the Nura Clan. Rikuo is able to keep his secret hidden from his classmates as he can only transform into a youkai at night, for six hours at a time. However, given the fact that he is the next in line to lead a demon clan with quite a massive reputation, Rikuo and his friends become the targets of various youkai groups. With this huge problem looming over his head, Rikuo has no choice but to accept his youkai side.
The similarities between Nurarihyon no Mago and Hoozuki no Reitetsu are in the two shows' presentation of the life and times of a demonic main character. This character is then used to explore various forms of organisation of the demons in question. Bottom line – Nurarihyon is perfect if you are looking for anime with demonic main characters and even better if you're looking for something with a little bit of action and Shounen vibes.
---
Conclusion
When we watch anime, we delve into an intense experience that sometimes cannot quite be described. All we know is that we want to have that feeling again, experience that level of intensity again, or even laugh as hard as you did when you watched a different show. These were our six favourite anime like Hoozuki no Reitetsu. Are there any shows you would have wanted to see on this list? Drop a comment below and tell us all about it!
---