The fall 2018 anime season has brought us some fantastic anime. One of the better shows of the season is Irozuku Sekai no Ashita kara. With a great combination of serious dramatic moments and some light-hearted and enjoyable characters, Irozuku Sekai no Ashita kara stands out amongst the great anime of the season. Today, we are going to be looking at 6 anime that are similar to Irozuku Sekai no Ashita kara. Each anime will include some of the things that make Irozuku Sekai no Ashita kara great.
Similar Anime to Irozuku Sekai no Ashita kara / Similar Anime to IRODUKU - The World in Colors
1. Violet Evergarden

Episodes: 13
Aired: January 2018 - April 2018
Ever since she was young, all Violet Evergarden has ever known is war. Violet was raised as a weapon and was able to take out entire groups of enemy soldiers single handedly. Near the end of the Great War, Violet was badly injured and ended up being hospitalized. With the war coming to an end, Violet was left with no clear direction and didn't know what to do with her new peaceful life. While working at CH Postal Services, Violet sees an Auto Memory Doll hard at work and is fascinated by the Doll's work. Violet decides to start working as an Auto Machine Doll a job that will allow her to travel around the country while hearing the stories of the many people she comes across.
Violet Evergarden's story revolves around Violet as she enters into a whole new world, learning and experienced things all sorts of new things. This is very similar to how Hitomi is used in the story of Irozuku Sekai no Ashita kara. Hitomi lost her ability to see color which caused her to isolate herself and not make any friends, but when she gets sent into the past, she is able to make friends and experience color for the first time in a long time. We get to see Violet and Hitomi get a second chance at life and work hard to make the most out of their new lives. While the anime take place in two very different worlds and time periods, they are still able to tell similar stories about young girls who are searching for something they lost long ago.
Violet Evergarden PV
---
2. Mahoutsukai no Yome (The Ancient Magus' Bride)

Episodes: 24
Aired: October 2017 - March 2018
Abandon by her family at a young age, Chitose Hatori has lived a life of loneliness without any friends or family. At 15-years-old, Chitose finds herself being auctioned off to a strange robbed man named Elias Ainsworth. Elias reveals to Chitose that he is a magus and teleports Chitose to his English cottage to meet all kinds of strange magical creatures. Chitose begins her new life as Elias' apprentice and finally has a place she can call home.
In Mahoutsukai no Yome, we find another young girl who has lived a rough life and wishes to change her life for the better. Although Chitose and Hitomi handle their situations differently, with Chitose willing to go anywhere to have a family and Hitomi being forced into her situation, both girls handle it in very similar ways. Both girls then fully embrace their new surroundings and try their best to adapt to their new surrounds, but they still struggle with overcoming their pasts.The worlds of both anime share many similarities with magic being a prominent part of society where mages and regular humans living side by side.
Ancient Magus' Bride - OFFICIAL TRAILER
---
3. Koe no Katachi (A Silent Voice)

Episodes: 1
Aired: September 2016
In elementary school, Shouya Ishida lived a carefree life not caring how his actions affected the people around him. One day a girl named Shouko Nishimiya transfers into his class. The students learn that Shouko is deaf and bully her constantly by destroying her things and making fun of her. After Shouko's mother contacts the school, Shouya is blamed for everything the class did to her. Shouko is forced to change schools and Shouya is ostracized from his classmates, forcing him to live a life of solitude. Now in high school, Shouya has dedicated his life to making up for his actions. Shouya sets out to meet Shouko again in hopes of making up for all the problems he caused her.
The similarities between Koe no Katachi and Irozuku Sekai no Ashita kara are quite different from the other anime we have looked at and go quite deep into the themes of the stories. Both anime are quite somber and while they have their happy moments, the anime is very serious and deal with their problems in realistic ways. The stories focus on the different loss of senses Shouko and Hitomi face and how it has changed their lives for the worse. Alongside this, we see the importance of friendships and how the friends the girls make over the course of the series help them overcome their pasts.
A Silent Voice Official Trailer
---
Any Anime Like IRODUKU - The World in Colors / Any Anime Like Irozuku Sekai no Ashita kara?
4. Nagi no Asukara (A Lull in the Sea)

Episodes: 24
Aired: October 2014 - April 2014
Many years ago, every human lived in the sea, but the curiosity of some of the people led them to seek the world above and decide to live up there. The separation of the group led to an ongoing rivalry between the people of the land and people of the sea. Nagi no Asukara follows the story of a group of friends who live in the sea and attend school on the land. The group of friends includes Hikari Sakishima, Manaka Mukaido, Chisaki Hiradaira, Kaname Isaki, and a boy who lives on the land Tsumugu Kihara. The group of friends makes the most out of every day and overcomes the struggles of having a friendship between people from the land and sea.
Nagi no Asukara is the closest you will come to finding an anime just like Irozuku Sekai no Ashita kara. Coming from the same studio and having the same director, both anime have very similar setups to their stories and very similar artistic styles. Both anime are very colorful and are very pleasing to look at. As for the stories, they both focus on a small group of high school age kids who are overcoming their problems whether it is dealing with their unrequited loves or overcoming things like Hitomi's colorblindness or the tension between the people of the land and sea. You will find many of the story beats and characters within both anime and they both include a different supernatural element that changes the dynamics of their worlds.
---
5. Kimi no Na wa. (Your Name.)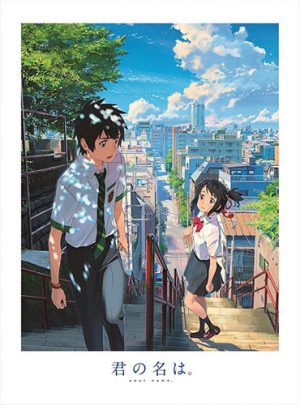 Episodes: 1
Aired: August 2016
Kimi no Na wa. tells the story of Mitsuha Miyamizu, a girl from the countryside who longs for life in a big city, and Taki Tachibana, a high schooler living in the bustling city of Tokyo. One day, the pair finds themselves in unfamiliar places, and they soon find out that they switched bodies. Mitsuha and Taki start leaving messages for each other in hopes of figuring out what is happening. With the switches happening often, they decide to set ground rules in order to help the transition run smoothly. After the switching stops happening, Taki sets out to find Mitsuha and find out the truth behind what happened.
Much like Irozuku Sekai no Ashita kara, Kimi no Na wa. is a story filled with time travel and supernatural elements that change the main characters lives forever. Both anime have a good mix of upbeat scenes and dramatic scenes giving you a nice mix of emotions while watching them. While the main characters don't share many major similarities, they do share some minor traits like Taki and Aoi's artistic abilities and Mitsuha and Hitomi's connection to the supernatural elements of the series. However, the characters do share one very large similarity, with that being how the characters come from the connections between the main characters and how a chance meeting brought them together.
Your Name. Official Trailer
---
6. Ano Natsu de Matteru (Waiting in the Summer)

Episodes: 12
Aired: January 2012 - March 2012
While out recording on a bridge late at night, Kaito Kirishima sees a blue light flying across the sky. Kaito soon sees the light coming closer to him and he is eventually blown off of the bridge thanks to the light. The next thing Kaito knows he wakes up in his bed unaware of how he got home last night. Deciding just to forget about what happened, Kaito goes to school like normal. Kaito and his friends Tetsurou Ishigaki, Kanna Tanigawa, and Mio Kitahara decide to make a movie over their summer break. Tetsurou decides to invite the new transfer student Ichika Takatsuki and her friend Remon Yamano to join their production. Together, the group embarks on the most exciting summer of their lives.
Ano Natsu de Matteru and Irozuku Sekai no Ashita kara share some different elements than any other anime on this list. Both anime focuse heavily on cameras with the cameras serving as not only a way for Hitomi and Kaito to express themselves, but also serve as a deeper meaning to the situations they find themselves in. Both anime also include supernatural elements and have some complicated romantic subplots. While Ano Natsu de Matteru is a much more light-hearted anime, it still dives deep into some more serious moments like the ones seen throughout Irozuku Sekai no Ashita kara.
---
Final Thoughts
That's it for our list of anime that are similar to Irozuku Sekai no Ashita kara. Each anime captures a different aspect of Irozuku Sekai no Ashita kara, giving you anime that feel very similar to it, while still feeling new and original. Which anime on the list is your favorite? Are there any more anime that are similar to Irozuku Sekai no Ashita kara? Let us know in the comments below.
---