También puedes leer este artículo en:Español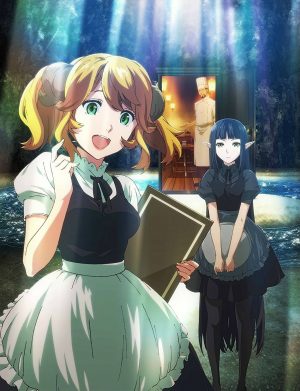 We have all had difficult days where the only thing we want is to have dinner and jump into bed. Or perhaps we miss the cooking skills from someone in our family. Maybe we just want to try out something new. In other words, we want to experience the power of food in all its glory. Well, Isekai Shokudou offers us the anime version of such power. It is the most magical thing for the characters to find a mysterious wooden door with the sign "Nekoya" in it. Once on the other side, they find a fully furnished restaurant where they can try the most delicious food! However, Isekai Shokudou is not the only anime that has depicted the power of food and good company as a winner combo. Let's see what other anime like Isekai Shokudou we can remember...
Similar Anime to Isekai Shokudou
1. Ristorante Paradiso

Episodes: 11
Aired: Apr 9 Jun 25, 2009
What will a girl with a traumatic past will do with her life? Well, apparently in the case of Ristorante Paradiso, she will look for revenge! Nicoletta travels to Italy to find her mother (who abandoned her when she was young) and make her pay her dues… Once Nicoletta arrives, she stumbles into a curious restaurant called Casetta dell'Orso. The peculiarity of the place is that it is ran only by mature, classy men. Thus, Nicoletta gets caught by the restaurant atmosphere and the slow pace of Italian life.
If there is something the Italians are good at, it is two things: food and a slow pace of life. Both combine perfectly well in Ristorante Paradiso. The story was adapted from two mangas by Natsume Ono (Gente and Ristorante Paradiso). The anime version focuses on the experience a good dish can create for a customer, just like Isekai Shokudou. Both animes also rely strongly in their charismatic characters. Let's just say that you don't see chefs in the same way once you have watched Isekai Shokudou and Ristorante Paradiso.
---
2. Amaama to Inazuma

Episodes: 11
Aired: Jul 5 to Sep 20, 2016
Let's imagine for a while that we have the perfect family, with a loving father and a loving mother who is a master cook. However, one bad day, our mother passes away. Now there is an empty place in the family, so how to go on living? Despite father's efforts, his cooking is so bad… This is where Kotorii Ida enters to cheer up the incomplete family. In her restaurant, Kotorii will receive the father and daughter to them how to cook… and perhaps, also teach them how to be a family again.
We know how food can heal hearts in Isekai Shokudou. The same happens in Amaama to Inazuma, where a warm meal can make you smile. We also testify how the most ordinary food in both shows can bond people together. This makes every meal something extraordinary, and reminds us that a true family goes beyond blood bonds. We all can get along together if we just try, as Isekai Shokudou and Amaama to Inazuma shows us 🙂
---
3. Bartender

Episodes: 11
Aired: Oct 15 to Dec 31, 2006
In a dark alley, you can find a discreet bar where you can forget your problems for a while. The genius bartender Ryuu Sasakura will prepare something special for you. Once you try a cocktail here, you will understand why he is called the "Glass of God"... And who knows? Perhaps you will also find what your life was lacking in this relaxing place...
Bartender is based on the manga with the same name by Kenji Nagatomo and Joh Araki. This anime is probably the most similar to Isekai Shokudou. We have an ordinary place with a calm atmosphere in both cases. It functions also as "a place to hide" from the real world. Whatever you eat or drink there will change your life for good! Both Ryuu and Tenshu (our hosts) have excellent abilities. The music in both animes is superb as well. The main difference is that Bartender is about alcoholic beverages, and we testify in detail about their origins and their recipes, which intertwine with the client's story.
---
Any Anime Like Isekai Shokudou ?
4. Shirokuma Café

Episodes: 50
Aired: Apr 5, 2012 to Mar 28, 2013
Can you imagine how the world would look like if animals were able to communicate with people? How about animals working and studying with us? That would take our best friends to the next level, don't you think so? That is why Shirokuma Café is the perfect anime for animal lovers that are food lovers at the same time. In this show, we meet the Polar Bear Café owner, Shirokuma, and his friends. It does not matter if they are clients or employees, Shirokuma will make sure that the experiences in Polar Bear Café are memorable for everyone.
Shirokuma Café is very similar to Isekai Shokudou, as the customers who enter the Polar Bear Café are treated in a special way. We can guarantee that Shirokuma and his waiters will do everything to help you feel relaxed after a difficult day. Plus, it doesn't matter if you are a human or an animal, everyone is friends here! The real magic behind both animes is that the characters grow in us. They sometimes also make us shed a tear or two. Yes, only Shirokuma Café hits the sweet spot between food and animals full of personality!
---
5. Eve no Jikan

Episodes: 6
Aired: Aug 1, 2008 to Sep 18, 2009
Let's take a trip into the future, ok? Eve no Jikan depicts it as not so differently from our present time. The location looks oddly similar to Japan 😉 The interesting part is that robots in the shape of humans (androids) can be found everywhere, although humans usually treat them coldly. Anyway, this story was adapted from the manga by Yasuhiro Yoshiura and Yuuki Oota. We testify to the adventures of Rikuo Sakisaka, a normal high school student who discovers an anomaly in his domestic robot. When he follows her, Rikuo discovers a special cafe that might change his worldviews forever…
In Eve no Jikan, we can see how a small and cozy place becomes a refugee from the outside world, just like Nekoya in Isekai Shokudou. Here, people and robots are equal. They can talk with the owner of the place and interact with others while they eat or drink something delicious too. Both animes have a touch of magic, presenting us with characters that long for a warm contact.
---
6. Shokugeki no Souma

Episodes: 24
Aired: Apr 4 to Sep 26, 2015
To close with a grand finale, we could not pass one of the best anime shows that have been aired in recent years. Shokugeki no Souma was based on the successful manga by Yuuto Tsukuda, Yuki Morisaki and Shun Saeki. This anime proved (once again) that interesting shows full of action could also include delicious food. Souma Yukihira grew up in his father's restaurant, learning to cook like a pro. However, he was eager to prove himself against better chefs, so Souma entered the Tootsuki Culinary Academy. In this place, he will perfection his techniques, meet new friends and new foes that will take his cooking skills to the limit.
What is common in both animes is the central topic of food. However, we also get to know the main characters pretty well throughout their cooking abilities. It is also important how they consider the person who will consume the food carefully. The main difference is that Shokugeki no Souma is highly competitive and gives detailed explanations about the food, while Isekai Shokudou is all about relaxation.
---
Final Thoughts
Food, food, food… is there anyone out there who does not have at least one favourite dish? Without food, life would not be this colorful. And it is even better when you have someone to share it! Animes like Isekai Shokudo remind us of how simple it is to enjoy a meal. Also, they tease us into talking to that person who prepared the meal or to other people around us. Sometimes, the best surprises are hidden just in front of our eyes. So let's give a chance to the people who have their food in the same space as us! Who knows? Maybe we can get some magical encounters just like in Isekai Shokudo!
Which is your favorite anime like Isekai Shokudo? Do you have any anime in mind that we didn't mention? Don't forget that we are open to all your comments and suggestions. See you soon!
---