También puedes leer este artículo en:Español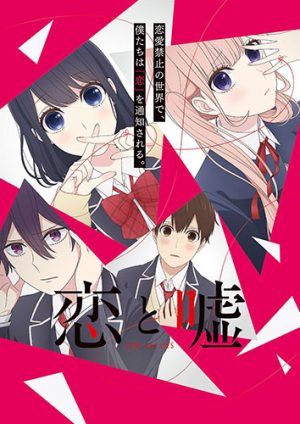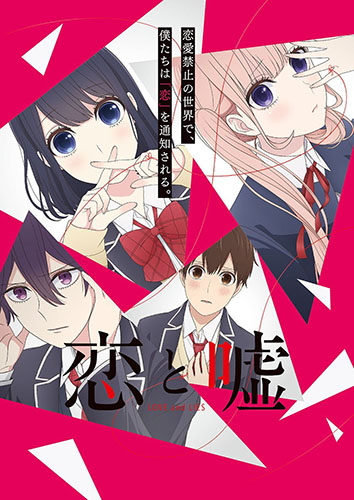 Koi to Uso takes place in the near future, where young people are assigned a marriage partner by the Japanese government when they turn sixteen. In order to find the most suitable partner for their citizens, the government takes many things into account; however, appearance is not one of them. Yukari Nejima is a fifteen year old student who has a secret no one knows. He is in love with a fellow classmate named Misaki Takasaki. Yukari confesses his love to Misaki the night before his government notice. However, moments after Yukari and Misaki share their mutual feelings, Yukari is assigned a partner by the name of Ririna Sanada.
Love and Lies takes you into a world where love is handpicked for you by the government. The idea that people don't have to stress out or worry about finding the right companion, has been accepted by those in society. Yukari and his friends must cope with their new feelings and thoughts, while trying to understand if these arranged marriages can actually lead to true love or if it's all a lie. If you enjoyed watching Love and Lies, here are 6 other anime that take you on love rides you never imagined were possible.
Similar Anime to Koi to Uso / Similar Anime to Love and Lies
1. Kuzu no Honkai (Scum's Wish)

Episodes: 12
Aired: Jan 2017 - Mar 2017
In the eyes of everyone around them, Hanabi Yasuraoka and Mugi Awaya seem to be the perfect couple. However, they both carry a painful secret: they are in love with other people. Hanabi is in love with her childhood friend and neighbor, Narumi Kanai, who becomes her homeroom teacher. Mugi is in love with his middle school tutor, Akane Minagawa, who begins to work at their school. To make matters worse, Narumi and Akane begin to date. In order to cope with their suffering and loneliness, Hanabi and Mugi use each other to ease their emotional pain.
Kuzu no Honkai or Scum's Wish can be seen as a very dark anime in comparison to Love and Lies. However, they both deal with how harsh a love life can be. Not everyone can be with the person they love, and that's the situation you find in these anime. Sometimes one must choose the hard road in order to find the easy road ahead. In Love and Lies, Yukari must accept the fact that he can't be with Misaki, whereas in Scum's Wish, Hanabi and Mugi fall in love with the wrong people. And because of their decision to love those people, they must live with the agony that comes along with it.
Kuzu no Honkai PV
---
2. Golden Time

Episodes: 24
Aired: Oct 2013 - Mar 2014
Before going off to law school, Banri Tada suffers from amnesia after a tragic accident that has caused him to forget memories of his home and past. In an attempt to start a new life at a law school in Tokyo, he befriends a guy named Mitsuo Yanagisawa. Through Mitsuo, Banri meets the lovely and beautiful Kouko Kaga. Banri and Kouko start dating, and as the year progresses, Banri learns more about what it's like to have new friends, be in love, and have memories that someone would never want to forget.
A lot of rom-com anime take place in high school, however, Golden Time takes place in a college setting. Even though there is an age difference between the two, we can see that college students and high school students go through similar experiences when it comes to the topic of love. In Love and Lies and Golden Time, both Yukari and Banri go through many hardships and experiences when it comes to their new relationships. Yukari must not only deal with his forbidden love for Misaki but also maintain a healthy relationship with his future wife, Ririna. At the same time, Banri must handle his relationship with Kouko and rekindle a past relationship with Nana Hayashida, a childhood friend. Through their relationships and new experiences with love, Yukari and Banri, both learn and grow from their partners, those around them, and themselves.
Golden Time Trailer
---
3. Ao Haru Ride (Blue Spring Ride)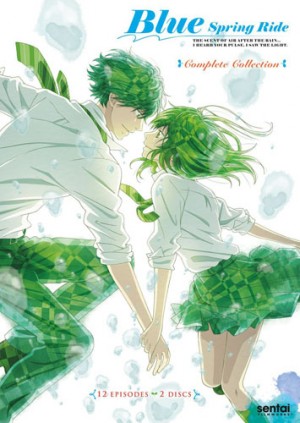 Episodes: 12
Aired: Jul 2014 - Sep 2014
In middle school, Futaba Yoshioka was popular amongst the boys despite being ostracized by the girls at her school. To Futaba, the only opinion that matters is from her classmate, Kou Tanaka. However, the only moment she had with Kou was sharing a roof while trying to escape the rain. As they waited for the rain to let up, Futaba and Kou made plans to spend time together at the summer festival. Once the summer festival arrived, due to a misunderstanding, Futaba and Kou never saw each other that day. Futaba, now in high school, tries her best to stand clear from any attention or drama. As Futaba is walking down the hallway, she runs into Kou who now goes by the name of Kou Mabuchi. To Futaba's surprise, Kou is a completely different person from what she remembers.
Love is a very mysterious thing. At times, it's unexplainable, and both Yukari and Futaba begin to realize this. Yukari wants to be happy with Misaki, while Futaba just wishes to be happy with Kou. However, life isn't quite that simple. Although life and love present many difficulties, Yukari and Futaba grow a ton from their unique new experiences with love. Yukari begins to wonder if he can really fall in love with someone the government picked and Futaba wonders, if she can really fall in love with Kou, even though Kou seems to be a completely different person from what she remembers. The similar situations in Ao Haru Ride and Love and Lies, allow for great character development. And as Yukari and Futaba get into a deeper state of love, more questions arise that leave them pondering, and little by little they begin to change and mature as young adults.
Ao Haru Ride PV
---
Any Anime Like Love and Lies / Any Anime Like Koi to Uso ?
4. Orange

Episodes: 13
Aired: Jul 2016 - Sep 2016
On the morning of Naho Takamiya's first day of her second year of high school, she receives an unfamiliar letter in the mail. The letter turns out to be from herself 10 years in the future. The letter contains details about her future and includes many regrets her future self hopes she can correct. At first, Naho is very skeptical and refuses to believe this strange warning; however, events mentioned in the letter begin to happen. One of the biggest points mentioned in the letter is about the new transfer student, Kakeru Naruse. According to the letter, Kakeru isn't around in the future. With the help of this letter, Naho and her friends try to protect Kakeru from a cruel fate.
Plenty of things happen in high school, and unfortunately, depression and suicide are two of many. Despite this harsh reality, it's always good to know that there are people out there who care about you and are willing to support you in anyway possible. In Love and Lies, Ririna decides to help Yukari and his relationship with Misaki, even though Ririna is Yukari's future wife. In Orange, Naho isn't the only one who tries to comfort Kakeru. Kakeru is surrounded by many good friends who care about him deeply and just want the best for him. Hiroto Suwa, Kakeru's best friend, even puts his own future in jeopardy, in order to see his friend alive and well. Hiroto and Ririna are strong, courageous, and unselfish characters because both place their friends happiness and future in front of their own.
Orange PV
---
5. Shigatsu wa Kimi no Uso (Your Lie in April)

Episodes: 22
Aired: Oct 2014 - Mar 2015
Kousei Arima is a young piano prodigy. However, after the passing of Kousei's mother, Saki Arima, Kousei is unable to hear the sound of the piano keys. As the years go by, Kousei avoids the piano and does his best to live an ordinary life with his friends. That all changes when he meets Kaori Miyazono, an energetic, beautiful, and enthusiastic violinist. As Kousei spends more time with Kaori, he slowly begins to recover his ability to hear the piano keys and starts to fall in love with the girl who started changing his life for the better.
Love is a beautiful thing, but it can also be dangerous, unhealthy, and painful. There are instances where people may fall in love with the wrong person or it just isn't meant to be. In Love and Lies, Yukari and Misaki are venturing down a forbidden path that possibly may only lead to pain and heartbreak. In Your Lie in April, Kousei runs into the girl of his dreams, but unfortunately, fate has other things in mind. Even though Yukari and Kousei understand the consequences of their decisions, they choose the path that perhaps will only bring temporary joy. But when someone is in love, nothing else seems to matter.
Your Lie in April Trailer
---
6. Nisekoi (Nisekoi: False Love)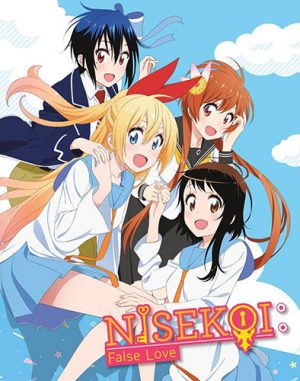 Episodes: 20
Aired: Jan 2014 - May 2014
Raku Ichijou, the heir of a yakuza family, made a promise with a childhood friend ten years ago. The promise has stayed intact because Raku wears a pendant around his neck. The only person that has the key for it is his long lost childhood friend. Raku tries his best to not involve himself in his family's affairs. Instead, Raku prefers to spend his time with his middle school crush, Kosaki Onodera. However, his whole world is turned upside down when the American Bee Hive gang begins to bump heads with Raku's yakuza family. In an attempt to ease the tension between both families, Raku is forced into a relationship with Chitoge Kirisaki, the daughter of the Bee Hive's head chief.
Love and Lies and Nisekoi have many similarities. The biggest similarity is that the main protagonists, Yukari and Raku, are forced into a relationship they didn't choose. Their real crush is within their reach but instead they find themselves with someone they believe is an inadequate partner. But, the more time Yukari and Raku spend with their chosen partners, the more comfortable they become. They begin to see the good things in their new partners and begin to think of a possible future with them. Which leaves Yukari and Raku in a predicament. Should they fall in love with the person they supposedly always loved? Pr with their new assigned life companion? Decisions, decisions, decisions.
Nisekoi Trailer
---
Final Thoughts
To be honest, it's really hard to depict what love actually looks like, but anime has a special way of portraying it. There is an abundance of romance anime out there, and they range from showing love as something beautiful, to portraying it as an ugly thing. In Love and Lies, love is chosen for you but that isn't enough to satisfy Yukari. Yukari wants to find the true meaning of love and hopes to find that through his own methods. Whether you are looking for love that protects you from feelings like pain, love that allows you to overcome past traumas, love that leads to personal growth, or love that helps you find your true self, we hope that this recommendations list is just what the love doctor ordered. If you think there should be other anime on this list, please leave a comment below.
---