También puedes leer este artículo en:Español
Let's face it folks! The best part of school is having the chance to hang out with your friends all the time! Before school, during breaks, lunch, study period, and after school, your squad helps you stay sane, guides you to reason, and most of all, brings excitement! In particular, your group of friends has that one favorite eatery to go to that serves the cheapest foods (mostly unhealthy) and is the spot to be seen. In Konbini Kareshi, our characters share these very sentiments, as their stories tell of their everyday lives and more specifically, about their romances. Could it be a belly full of konbini snacks or butterflies? Either way, we present to you 6 anime like Konbini Kareshi! Thank you, have a nice day!
Similar Anime to Konbini Kareshi
1. Zutto Mae kara Suki deshita.: Kokuhaku Jikkou Iinkai (I've Always Liked You)

Movie
Aired: April 23, 2016
Natsuki Enomoto is starting her third year at Sakuragaoka High School. As the fall term begins, many believe that this time is when people start coupling up and romances begin. Natsuki has always had her eye on her childhood friend, Yuu Setoguchi, and has finally worked up the courage to tell him how she feels. So when the occasion finally arises and the two of them are alone, will she finally tell Yuu, "I've always liked you"? Watch and see Natsuki, Yuu, and a number of other students manage romances and relationships throughout the new school year.
I've Always Liked You and Konbini Kareshi are both fantastic school, slice of life, romantic anime that really resonate the message of taking chances and living in the moment. Even though I've Always Liked You differs in duration, pacing and general story-telling approach, these two titles are similar in that they exist in a high school environment, deal with tons of romances, long awaited confessions, and infatuations.
Zutto Mae kara Suki deshita.: Kokuhaku Jikkou Iinkai PV
---
2. Hatsukoi Limited

Episodes: 12
Aired: April 2009 – June 2009
Hatsukoi Limited is a romantic comedy anime following the lives of a group of middle school girls. Ayumi Arihara, Kei Enomoto, Nao Chikura, Koyoi Bessho, and Rika Dobashi are on a quest to find romance with various high school boys in the hope of getting with their first true love. With each episode focusing on a different girl, we get to observe an array of unpredictable and surprising connections. Also in this series, we are given the chance to see their first romantic encounters and how it will ultimately demonstrate a growing experience for all.
Whether there is scientific data that can formulate the sequence for the perfect couple or if the odds are written in the cosmos, we can never know for sure why some relationships work out and others don't. Hatsukoi Limited and Konbini Kareshi are two entertaining series that reflect on the mysterious nature of couples and romantic chemistry. In both anime, we watch the characters pursue their romantic interest, showing that love can develop between any two people, and doesn't always work the way one imagines it. Furthermore, we also are shown the complexities of the opposite sex, concluding that we can never fully understand how they truly operate.
---
3. Nijiiro Days (Rainbow Days)

Episodes: 24
Aired: January 2016 – June 2016
Nijiiro Days (Rainbow Days) details the lives of four students: Natsuki Hashiba, Keiichi Katakura, Tomoya Matsunaga and Tsuyoshi Naoe and their daily lives in high school. As we commonly hear "boys will be boys", Natsuki, Tomoya, Tsuyoshi and Keiichi banter with one another about their crushes. As they balance their social lives with school, Nijiiro Days is an easygoing series with various shifts of conflict between one of the boys and their female counterpart, and how they collectively try to help and uplift one another.
In comparing Nijiiro Days (Rainbow Days) with Konbini Kareshi, they are similar in that they are very relatable and perhaps reminiscent of romantic situations in high school (or if one has not experienced such events, it is a scenario that one can imagine having). Both anime have characters displaying a diverse and mixed set of personalities, with couples struggling to come to terms with their true feelings. Although they differ in plot and dynamic, Nijiiro Days and Konbini Kareshi are both fun and heartwarming series to watch.
Nijiiro Days PV
---
Any Anime Like Konbini Kareshi ?
4. Tsurezure Children

Episodes: 7+
Aired: July 2017 - Ongoing
Tsurezure Children highlights the romantic experiences of several fascinating high school students with some of them possessing the potential of forming into couples. Exposing the delicate nature of puppy love, we are suffering and celebrating with these guys and gals when they learn about crushes, love, heartache and acceptance. In this anime, we discover our characters' trials though various situations with every step along the way a sweetening affair.
Both Summer 2017 premiers, Tsurezure Children and Konbini Kareshi share a lot of similarities including animation style, the storyline surrounding in romance with different couples, a lovey-dovey sensation while watching the guy and girl interact, comedic elements, and a certain realism in the way the youths interact with one another, whether it entails the journey to school, joining clubs for your crush, or gathering after school at the usual hangout. Both touching and heartwarming series, Tsurezure Children and Konbini Kareshi shows that after couples overcome the messy business of relationships, the end result proves love to be a bittersweet necessity.
Tsurezure Children PV
---
5. Kimi to Boku. (You and Me.)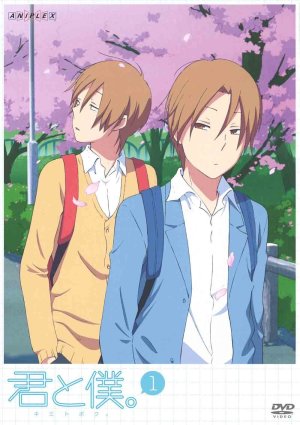 Episodes: 13
Aired: October 2011 – December 2011
Kimi to Boku centers on the lives of five high school students where four out of the five boys have known each other since kindergarten. We are introduced to the twins Yuuta and Yuuki Asaba, Shun Matsuoka, Kaname Tsukahara and newcomer Chizuru Tachibana, sharing with us the wonders and innocence of teenage years and demonstrating that there is much to endure and learn. Furthermore, Kimi to Boku displays the same daily routine of high school kids, going through the motion of classes and deciding which college or career path to take. As such, we can see in Kimi to Boku that with a great group of friends to experience various events with, time seems to fly by so much faster.
Kimi to Boku and Konbini Kareshi both present to us a day in the life of high school students, portraying all of the fun, excitement, and struggles they must deal with at that age. Additionally, as new and unfamiliar situations can be difficult to sort out, our guys from Kimi to Boku and Konbini Kareshi have the most supportive and nurturing circle of friends, surrounding themselves with very positive and uplifting personalities. As a result, not only do the characters grow individually, but also they grow collectively as companions.
---
6. Gekkan Shoujo Nozaki-kun (Monthly Girls' Nozaki-kun)

Episodes: 12
Aired: July 2014 – September 2014
Gekkan Shoujo Nozaki-kun follows a girl named Sakura Chiyo, a bright and cheerful high school student who attempts to confess her love to her stud muffin Nozaki Umetarou and is unsuccessful. In the process, Sakura learns that Nozaki is a respected shoujo manga artist. In some strange turn of events, Sakura ends up as one of Nozaki's assistants. As she helps further Nozaki's manga career, Sakura hopes that by working in close quarters with him, he will eventually notice her romantic feelings.
In comparison, Gekkan Shoujo Nozaki-kun and Konbini Kareshi share the element of long-anticipated confessionals, although this anime only centers on one couple versus Konbini covering a bunch of couples. Furthermore, each anime boasts dynamic and fascinating characters, appealing to all audiences. Additionally, both anime consist of many silly and comedic scenes.
Monthly Girls' Nozaki-kun PV
---
Final Thoughts
As the final school bell rings, we've reached the end and hope you enjoy our recommendations for 6 Anime Like Konbini Kareshi. A slice of life anime, it is not hard to find excitement and enjoyment with each episode. Highlighting the simple things in our youth, this anime shows us joy and the feeling of never wanting to become an adult. Oh, if time only moved slowly so we could hang out with our friends longer!
If you haven't already, make sure to check out all of these great titles, as they are ones that will not disappoint! Even though we know these are only a few of many in comparison, let us know what we've missed! What other anime similar to this one can you suggest to us and other readers? Leave your comments below! See ya!
---