"The best and most beautiful things in this world cannot be seen or even heard, but must be felt with the heart."
--Helen Keller
Utsumi Toyohi and Chiharu Kashima meet at a bar. Toyohi goes up to Kashima, seeing that he's drinking alone and orders the same drink as him, a Cosmic. In easing awkwardness and tension, Toyohi asks Kashima what he does. Kashima replies, saying that he is a wizard—Government Officer (first class)—an elite job only people with chosen bloodlines can perform. Toyohi is amazed at Kashima's occupation, as he always wanted to be a wizard, but unfortunately was let down when he found out about the requirements. As such, Toyohi is a "freeter", someone who never stays in one place for a long time, always traveling and on the move. As he moves into town, Toyohi believes it's time for him to settle down. Always living life in the fast lane, he comes on to Kashima swiftly, telling him he's fallen in love with him. Caught off-guard, Kashima doesn't know how to reply. Constantly enveloped in his work, Kashima doesn't know how to do anything not related to magic. How will his life and his job change after being swept away by Toyohi?
As it is common stated, "love is like a hurricane", a rapid force of nature that charges in when least expected. Even more to say about this figure of speech is to accept its presence, letting go of any barriers in experiencing these strong feelings of affection. As the heart wants what it wants, we give you 6 more anime like Kono Danshi, Mahou ga Oshigoto Desu. Enjoy!
Similar Anime to Kono Danshi, Mahou ga Oshigoto Desu (This Boy is a Professional Wizard)
1. Doukyuusei (Doukyuusei -Classmates-)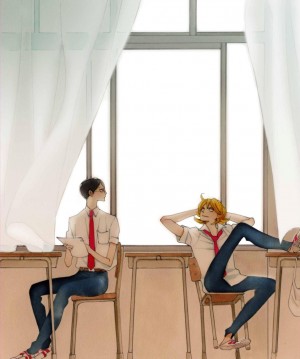 Episodes: Episodes: 1 (Movie)
Aired: February 2016
In Doukyuusei, the introduction scene highlights the preparation for the upcoming chorus festival at the high school. Hikaru Kusakabe forgets his bento lunch in the classroom; he goes to fetch it and finds Rihito Sajou practicing a song. Rihito never sings in class and people thought he was too good for it, but really he can't see the notes on the board. As he is having difficulty with one of the lines, Hikaru helps him out and suggests to Rihito to meet together to rehearse before the big festival. As their meetings have become routine, Hikaru develops feelings for Rihito, displaying this with a kiss. As the day of the festival arrives, shockingly, Hikaru chokes on his solo. After this, none other than Rihito chases after him to console him. The boys express their feelings to one another in this instance, and over time, we see how their varying personalities stand the test of their blossoming relationship.
In comparing Doukyuusei with Kono Danshi, Mahou ga Oshigoto Desu, we find one character incredibly focused on his craft, wanting nothing more than to excel in their particular area of interest, and his lover distracting him from his goal. While Rihito from Doukyuusei and Kashima from Kono Danshi, Mahou are dedicated to their studies/work, their partners surprisingly approach their lives in profound ways, thus improving their performance. Additionally, the couples' personalities are very similar and very entertaining to watch.
Doukyuusei Trailer
---
2. Love Stage!!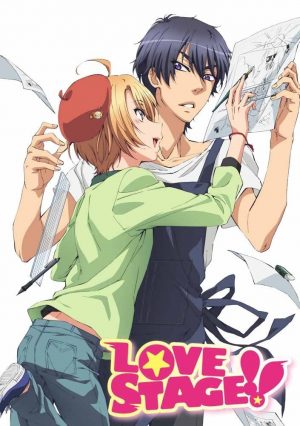 Episodes: Episodes: 10
Aired: July 2014 – September 2014
"Somewhere in this world, there is a door that leads to my dreams. I don't know where that door is. I may not find it in my entire life. And even if I do find it, it may be locked to me…"
Izumi Sena just started his first year in college. His mom, Nagisa Sena started as a model and is now an actress in films and shows. His dad, Seiya Sena, is a singer who starred in musicals and now owns the talent agency "Sena-Pro." His brother, Shougo, is the vocalist of a rock band. His grandparents were an actor and dancer. Essentially, the Senas are a show biz family, pushing Izumi to stay in the family business; but he has other ventures, becoming a manga artist! The Happy Wedding commercial is approaching its 10th anniversary. Producers want to film another commercial, "a wedding 10 years later," casting the children who caught the bouquet. As a stand-in, Izumi was the young girl hand-in-hand with the popular, Ryouma Ichijou. As a child star, Ryouma made a significant impact on Izumi when he helped him calm his nerves during this shoot. A decade later, Ryouma hasn't forgotten Izumi and has fallen in love with this "girl." Although Ryouma has later discovered that Izumi is not a she, he cannot get over the fact that he still loves Izumi.
Love Stage!! and Kono Danshi, Mahou ga Oshigoto Desu are similar because Ryouma and Toyohi become a huge source of inspiration for their counterparts. They become their support system in magic and manga, respectively, and spark excitement in their once bland lives. Moreover, Izumi's and Kashima's introverted personalities are forced to come out of their comfort zones, which overall provides growth in love and professional pursuits.
LOVE STAGE!! PV
---
3. Tight-rope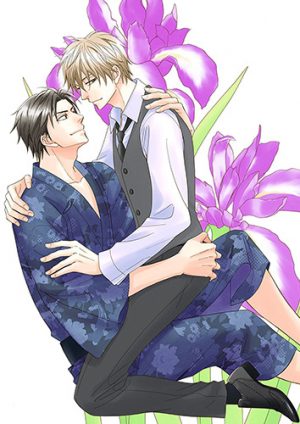 Episodes: Episodes: 2
Aired: May 2012 – June 2012
People say Ryu is not normal because he has a scary dad, a tough sister, strict household, and many brothers who aren't really his brothers. Ryu is from a Yakuza family, but is a great person. Ryu is the fifth heir to the leadership, specially the Ohara sect. To prepare him for this role, he has been isolated from the outside world. However, six months prior, Ryu stated he was not going to accept the inheritance. Also noteworthy is Naoki, who is Ryu's childhood friend. Naoki and his family have always been close to the yakuza. As a child, Ryu had a hard time making friends because of his status; therefore, he values Naoki's friendship. Overtime, Ryu wants a romantic relationship with Naoki, but Naoki wants Ryu to focus on what he was meant to do. The Ohara sect is notorious among the locals, but the rival Nishijima group seeks to overthrow them. In this rival group is member Nishi, who is Naoki and Ryu's childhood rival. As revenge for being constantly bullied, the Nishijima take Naoki hostage. From this incident, Ryu must decide whether to take on the duties he is assigned to save his friend and love or ignore his responsibilities.
A similar aspect between Tight-rope and Kono Danshi, Mahou is that Ryu and Kashima come from an industry of work going back several generations, and their families are highly dependent on them to continue the family business. There is a lot of strain and preparation for Ryu and Kashima to continue this work from a very young age. Their counterparts, Naoki and Toyohi represent the adage "opposites attract", in that they become a source of motivation, particularly in occasions where their partners lose confidence in themselves or fall into despair. They give their partner a push in the right direction, ultimately helping them decide the proper paths to take.
---
Any Anime Like This Boy is a Professional Wizard / Any Anime Like Kono Danshi, Mahou ga Oshigoto Desu?
4. Kono Danshi, Ningyo Hiroimashita (This Boy Caught A Merman)

Episodes: Episodes: 1
Aired: November 2012
Kono Danshi, Ningyo Hiroimashita (This Boy Caught A Merman) is the second OVA of the Kono Dan series. We start with Shima, a boy who recently lost his grandfather, reflecting on the times he and his grandfather shared; he is heartbroken and falls into the ocean. We then observe Shima being rescued by a handsome guy, Isaki. Still overcome by grief, Shima says he feels alone and doesn't want Isaki to leave. So Isaki offers to stay with him saying, "good luck bringing me with you". From this moment, Shima notices that Isaki is a merman! As Shima brings him home, he realizes Isaki doesn't have any information. So Shima takes it upon himself to name him Isaki, after the gross fish in his fridge that has been bothering him. Throughout the episode, we watch Isaki and Shima's relationship grow, until it appears that Shima has finally become independent and accepted his grandfather's passing. As Shima has come out of his depression, will he toss Isaki to the side or will the two remain together?
As both of these anime come from the same Kono Danshi series, the animation and style for each are very similar, utilizing vibrant colors and styles. The plot for Kono Danshi, Ningyo and Kono Danshi, Mahou also share resembling qualities, e.g., a supernatural element or being is involved with a normal person, and sparking romantic interests. Although their storylines are straightforward, Kono Danshi, Ningyo adds a comedic touch, while Kono Danshi, Mahou brings forth reminiscent tender feelings of one's first date.
Kono Danshi, Ningyo Hiroimashita Trailer
---
5. Sekaiichi Hatsukoi (Sekai Ichi Hatsukoi – World's Greatest First Love)

Episodes: Episodes: 12
Aired: April 2011 – June 2011
Ritsu Onodera has been watching his crush, Masamune Takano, all throughout high school. One day, Ritsu's straightforward personality has him declaring his love for Takano in the school's library. What happens in between unfolds throughout the series. Ten years later, Ritsu gains employment at Marukawa Shoten Publishing Co., transferring into the shoujo manga department. Having felt too privileged at his previous job due to his father owning the company, Ritsu sought to establish himself in the literature field elsewhere. However, to his dismay, the new editor-in-chief, who made the shoujo manga department top in sales, happens to be his high school crush, Takano. Ritsu doesn't recognize Takano at first because his name used to be Masamune Saga before his parents got divorced, in addition to his changed looks. As such, Takano confronts him about who he is, remembering Ritsu being as direct as he was when he said he loved him in the school library. In addition to two other sub-stories, we watch how Ritsu and Takano fell out and how Takano will have Ritsu declaring his love for him once more.
What comes to mind while viewing Sekaiichi Hatsukoi and Kono Danshi, Mahou is that love is an intoxicating distraction. Ritsu and Kashima try extra hard to focus on their manga and magic, respectively, but ultimately get wrapped up in the excitement and mystery of love. Can love also be a factor of motivation? In this case, YES! As Ritsu becomes more involved in the process of manga publication, his personal life becomes a huge element in understanding what the fan base truly desires. More so, Kashima has loosened his reigns when it comes to his captaincy of the crisis management division, tossing in some r&r with Toyohi and delegating more tasks to his deserving subordinates.
Sekaiichi Hatsukoi Trailer
---
6. Junjou Romantica

Episodes: Episodes: 12
Aired: April 2008 – June 2008
Misaki is having trouble keeping his grades up in school. On his way home, he runs into his older brother, Takahiro; catching him in the most compromising position with another guy, Usami Akihiko, Takahiro's old friend and classmate. With a distinguished educational and personal background, Usami aka Usagi-san becomes Misaki's tutor. Harboring an unrequited love, Usagi really cares for Takahiro; so he wants to tutor Misaki and help him get into his dream school, Mitsuhashi University. On one significant occasion, we find that it is Takahiro's birthday. Takahiro also announces that he and his current girlfriend are getting married. Sympathizing with Usagi-san's heartbreak, Misaki cries for him, thus providing proof that there is more to Misaki and Usagi-san's relationship than just studies. Over the course of this anime, we are taken through this and two other romantically linked stories, watching these guys battle various life struggles and opening up to new romances.
Junjou Romantica and Kono Danshi, Mahou provide an array of distinguishable personalities that overall set the tone for a lot of drama-filled and intriguing scenarios. We observe within each couple, two very opposed dispositions which bring out qualities in one another, thus making improved versions of each other. What was entertaining in both anime is that Misaki and Kashima overcame the barriers in their hearts, accepting that love and the emotions that come with it made them better people.
---
Final Thoughts
So there you have it! These are Honey's Recommendations for 6 Anime Like Kono Danshi Mahou ga Oshigoto Desu. We hope you enjoy these romantic selections. With many of these anime, the common theme demonstrates that it is difficult to deny one's feelings, particularly when it comes to love. Additionally, the various anime on this list provide different styles, but nonetheless share heartwarming moments. In comparison, we know there are tons more out there. Let us know what we've missed! What other anime similar to this one can you suggest to us and other readers? Leave your comments below!