Kyoto Teramachi Sanjou no Holmes is about a girl named Aoi who has moved to Kyoto and finds herself at an antique shop where she meets a man whose nickname is Holmes. In fact, his name is actually Yagashira Kiyotaka, but he's known as "Holmes" for his deductive skills. While Aoi is facing a personal dilemma of her own, Kiyotaka provides her a job that might help her more than she knows.
If you are watching Kyoto Teramachi Sanjou no Holmes, you are probably enjoying the small, inconsequential mysteries and the slice of life feel of working at a shop and solving people's problems. Perhaps you are enjoying a little bit of the Japanese culture that's also exposed in the anime. If that's the case, boy, do we have a list for you. Today we are taking a look at 6 anime like Kyoto Teramachi Sanjou no Holmes that have a little of everything you want!
Similar Anime to Kyoto Teramachi Sanjou no Holmes / Similar Anime to Holmes of Kyoto
1. Rokuhoudou Yotsuiro Biyori (Yotsuiro Biyori)

Episodes: 12
Aired: April 2018 - June 2018
There is a Japanese tea shop through the bamboo called Rokuhoudou. Here, four men work hard to give you the best tea experience they can give you. They have a passion for tea, food, teaware, and cats. Rokuhoudou is a place where people come to get away from their problems, and the men of Rokuhoudou may be able to solve a problem or two.
Rokuhoudou Yotsuiro Biyori matches Kyoto Teramachi Sanjou no Holmes so well with its touch of traditional Japanese aspects in a modern day Japan and the concept of helping each client. While Rokuhoudou is not outright about helping people the way Holmes is, the men of Rokuhoudou are the type to do anything to help other people even when they don't have to get directly involved. If you were anticipating Kyoto Teramachi Sanjou no Holmes to be full of tradition, problem solving and bishounen, you'll find that Rokuhoudou will suit your tastes well.
Rokuhoudou Yotsuiro Biyori PV
---
2. Fukigen na Mononokean (The Morose Mononokean)

Episodes: 13
Aired: June 2016 - September 2016
Ashiya Hanae has been a difficult first week at high school as he's had a strange creature attached to his back! With the help of an exorcist who spends his time in the Mononokean, Hanae is able to get rid of the little youkai. This further opens him up to the world of youkai and all of their splendor.
Taking on a supernatural approach, Fukigen na Mononokean is similar to Kyoto Teramachi Sanjou no Holmes in the way that Hanae and Aoi find themselves helping an individual who helps people/youkai with their problems. However, Fukigen na Mononokean is great because it introduces a slight boy x boy undertone and has more comedy without all of the melodrama that Aoi goes through. You also get to know more about Japanese youkai and the folklore involving them!
Fukigen na Mononokean PV
---
3. Tsukumogami Kashimasu (We Rent Tsukumogami)

Episodes: 12
Aired: July 2018 - ongoing
In the Edo period, Fukugawa ward lies a shop where everyday items can be rented called Izumoya, and it is run by two siblings not related by blood, Obeni and Seiji. Some of the wares at Izumoya are tsukumogami, items that gain sentience after living for 100 years. Utilizing the tsukumogami, Obeni and Seiji lend out their wares in hopes of solving people's problems.
Tsukumogami Kashimasu takes place in the Edo period so it has a traditional feel much like Kyoto Teramachi Sanjou no Holmes. Combine that with the use of traditional items like seal cases, incense burners, and wall scrolls, and you have touches of traditional Japanese culture you might not have ever thought of and may be interested in. On top of that, Obeni and Seiji are much like Aoi and Kiyotaka in which they use their assets, in this case the tsukumogami, in order to help solve other people's problems. Then, like Aoi, Obeni and Seiji also have their own personal situations that run as an undercurrent in the anime!
Tsukumogami Kashimasu PV
---
Any Anime Like Kyoto Teramachi Sanjou no Holmes / Any Anime Like Holmes of Kyoto ?
4. xxxHOLIC

Episodes: 24
Aired: April 2006 - September 2006
Kimihiro Watanuki has the supernatural ability to see youkai, which he absolutely hates because it leads to him being chased through the streets by youkai. In an attempt to bring normalcy to his life, he begs a mysterious woman named Yuuko to help him get rid of his ability. She agrees, but only if he agrees to work for her store where Yuuko grants wishes.
While xxxHolic takes on a more supernatural aspect, the similarities are there in the foreground. xxxHolic and Kyoto Teramachi Sanjou no Holmes both take place in shops with the main character helping out the other when clients come in with specific requests. xxxHolic has a bit more humor and supernatural elements, like Fukigen na Mononokean, but that doesn't mean you won't enjoy it with Kyoto Teramachi Sanjou no Holmes!
xxxHOLIC Trailer
---
5. Uchouten Kazoku (The Eccentric Family)

Episodes: 13
Aired: July 2013 - September 2013
In the city of Kyoto, tanuki and tengu have been living alongside humans for years without them knowing. In the tanuki clan is Shimogamo Yasaburou who likes to spend his time taking care of an old tengu and people watch. Yasaburou's father was killed and consumed by humans and this haunts Yasaburou and his brothers.
Not only is Uchouten Kazoku set in the same city as Kyoto Teramachi Sanjou no Holmes, you will get a touch of Japanese culture while watching Uchouten Kazoku. They are both about a modern day Kyoto with ties of tradition that not every anime touches upon even when set in Kyoto. Uchouten Kazoku is a slice of life that explores Yasaburou's life and relationships with people, which is something that Aoi gets to see in Kyoto Teramachi Sanjou no Holmes, but Uchouten Kazoku does it so much better!
Uchouten Kazoku PV
---
6. Hyouka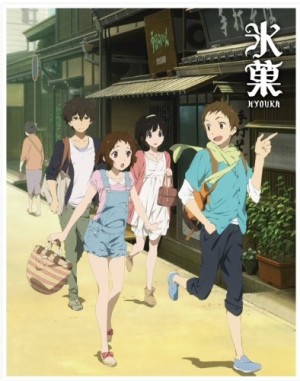 Episodes: 22
Aired: April 2012 - September 2012
Oreki Houtarou joins the Classics Club at the request of his sister and finds himself being pulled into the club's history and the dark roots from 45 years ago. In this club, he'll solve mysteries alongside Chitanda Eru, Fukube Satoshi, and Ibara Mayaka. There are a slew of mysteries and the Classics Club will need Houtarou's help in order to solve them.
While Kyoto Teramachi Sanjou no Holmes does not really dive too much into real mysteries, if that's what you signed up for upon watching it, do we have a recommendation for you. Hyouka pulls that mystery aspect and interlaces it with a slice of life (like Kyoto Teramachi Sanjou no Holmes) to create a great story with a few mysteries that doesn't drive you as crazy as other mysteries might. There's a somewhat dark tone in this anime, but if you were looking for a slice of life mystery series with more mystery than Kyoto Teramachi Sanjou no Holmes, Hyouka is your anime!
Hyouka Trailer
---
Final Thoughts
Kyoto Teramachi Sanjou no Holmes is a decent anime of the season with a rather unique way of laying out a plot. Hopefully, we were able to recommend six great anime similar to Kyoto Teramachi Sanjou no Holmes that you'll be able to enjoy after the series' end or white it's airing. If you think we're way off base or want to chime in on your thoughts about Kyoto Teramachi Sanjou no Holmes, we're all ears. Share your thoughts and let us know how you feel in the comments below! Once again, thanks for joining us here at Honey's Anime. Until we meet again.
---