The Vampire Dies in No Time is a light-hearted supernatural comedy featuring Ronald, a novel-writing vampire hunter, and his companion, a geeky vampire lord named Draluc, who happens to turn into a pile of sand upon being "harmed" by anything including light punches and surprises. This anime is non-stop humor with jokes building on top of each other and each scene proceeding as hilariously as possible. Anyone looking for something to unwind with at the end of the day will likely enjoy The Vampire Dies in No Time. If you are one of those people, and you are looking for more anime in the same vein, get ready for our list of 6 Anime Like The Vampire Dies in No Time!
Similar Anime to Kyuuketsuki Sugu Shinu (The Vampire Dies in No Time)
1. Mairimashita! Iruma-kun (Welcome to Demon School! Iruma-kun)

Episodes: 23
Aired: October 2019 – March 2020
Welcome to Demon School! Iruma-kun is a charming fantasy comedy about a human boy getting into outrageous situations while surviving in demon school. One day, the fourteen-year-old Iruma finds out that his parents sold him to a demon! Fortunately, this demon only desires Iruma as a grandchild and pampers him, even sending him to school. Doesn't sound too bad, right? This comes with a certain danger though! Since demons are unfriendly to humans, Iruma must pretend to be one of them or risk being killed!
Fans praise Welcome to Demon School! for its easily understood plot, exciting animation, and characters that stand out. While this anime features demons instead of vampires, it has many similarities to The Vampire Dies in No Time: Both anime are about people interacting with those who are different from them and learning to get along despite those differences, and both anime are amazing at making the audience laugh. If you enjoyed The Vampire Dies in No Time, we think you'll enjoy Welcome to Demon School!
Welcome to Demon School! Iruma Kun Trailer
---
2. Maoujou de Oyasumi (Sleepy Princess in the Demon Castle)

Episodes: 12
Aired: October 2021 – December 2021
Sleepy Princess in the Demon Castle is a cute fantasy comedy featuring a human living among demons. Since getting kidnapped from her home, the human princess Aurora hasn't gotten a single night of good sleep. While most people would try to escape, Aurora isn't bothered by living in the castle. Instead, her main concern is simply finding the materials to build a comfortable bed so she can finally sleep well!
Each episode has Aurora embarking on fun quests to achieve her goal and meeting cool and unique demons, many of whom are actually helpful instead of scary! The premise might sound silly, but it's perfect for an anime that is just pure entertainment. Visually, the light color palette helps create a relaxing atmosphere, and the voice acting for the protagonist is calm and soothing. Sleepy Princess in the Demon Castle shares many similarities with The Vampire Dies in No Time: Both Anime feature a human protagonist and a non-human protagonist living together, and both anime are just plain hilarious. If you enjoyed The Vampire Dies in No Time, we think you should check out Sleepy Princess in the Demon Castle!
Sleepy Princess In The Demon Castle Trailer
---
3. Vlad Love

Episodes: 12
Aired: December 2020 – March 2021
Vlad Love can be described as a slapstick comedy centered on a high school girl named Mitsugu Banba and a vampire girl named Mai Vlad Transylvania. While donating blood, Mitsugu encounters Mai, who has come to the blood bank to find food but ultimately ends up fainting due to hunger. After rescuing Mai and taking her home, Mitsugu discovers that Mai is a vampire who is unable to bite victims, so Mitsugu begins looking after Mai and letting her drink her blood.
Like The Vampire Dies in No Time, Vlad Love a funny anime that doesn't take itself too seriously. Some things we like about this anime are that the dialog flows naturally, and the character designs are stunning. While some fans complain about the lack of overarching plot and the sometimes erratic pacing, if you love vampires and you're alright with watching an anime that prioritizes comedy above all else, we think you'll like Vlad Love.
Vlad Love Trailer
---
Any Anime Like The Vampire Dies in No Time / Any Anime Like Kyuuketsuki Sugu Shinu?
4. Jitsu wa Watashi wa (Actually, I Am…)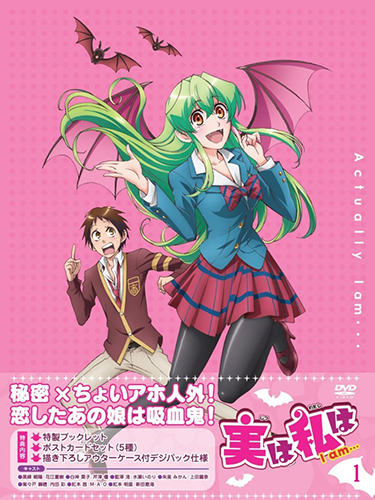 Episodes: 13
Aired: July 2015 to September 2015
Actually, I Am… is a fantasy romance that takes place in a high school. Asahi Kuromine is a boy with a crush on a girl named Youko Shiragami, While going to confess to her, Asahi accidentally finds out that Youko is actually a vampire. To keep her from quitting school, Asahi promises to keep Youko's secret safe, which is a task easier said than done considering Asahi is terrible at keeping secrets! As the series goes on, more and more supernatural beings pop up in Asahi's life. He needs to deal with protecting all his new friends while figuring out how to win Youko's love!
Like The Vampire Dies in No Time, Actually, I Am… is a comedy that features the concept of a supernatural being living in the human world. The plot is simple and easy to understand, the episodes are filled to the brim with humor, and the supernatural characters that get added in throughout the series are all unique and enjoyable. Other than the vampire, there is also a devil, a wolfman, and more, which keeps things fresh. Whether you enjoyed The Vampire Dies in No Time for its comedy or its depiction of a good friendship involving a human and a vampire, we think you'll definitely enjoy Actually I Am…
Jitsu wa Watashi wa PV
---
5. Hataraku Maou-sama! (The Devil is a Part-Timer!)

Episodes: 13
Aired: April 2013 to June 2013
In this supernatural comedy, Satan accidentally ends up trapped in Tokyo by his rival, unable to escape since his magic is of no use here. Satan assumes the name Sadao Maou and pretends to be human, getting a job at a fast-food joint. After settling in, he decides rather than return to hell, he will "conquer" Earth by becoming climbing the corporate ladder!
The Devil is a Part-Timer is amazing at depicting the most mundane of tasks, such as household chores, in the most hilarious fashion. The plot is well-paced, and it's so relatable seeing Sadao struggle with the basics of adult life in modern-day Japan such as paying rent on time and getting along with coworkers. While there isn't a ton of action or fight scenes, the art and animation are top-notch. If you enjoyed watching Ronald and Draluc struggle as roommates in The Vampire Dies in No Time, you're sure to like the Devil is a Part-Timer!
The Devil is a Part-Timer! Trailer
---
6. Blood Lad

Episodes: 10
Aired: July 2013 – September 2013
Blood Lad is a classic vampire anime that no vampire fan should miss! According to rumor, Staz Charlie Blood is a terrifying vampire ruler, but in reality, he's just an otaku who lets his underlings manage his territory while he indulges in anime, manga, and games. When Fuyumi Yanagi, a human girl, accidentally wanders into his territory and gets killed, Staz sets out to resurrect the human girl and return her to the human world. Compared to many of the other anime on this list, Blood Lad is more action-packed and adventurer oriented, but the similarities to The Vampire Dies in No Time are there: both vampire protagonists are otakus, and they both also get attached to a particular human character.
Blood Lad has been praised for many things. The anime combines an exciting overarching plot that makes you look forward to each episode with a light-hearted tone that can lift anyone's mood. The supernatural characters, including the vampire protagonist, a witch, and a werewolf, all have intriguing abilities and memorable personalities, and each of the side characters gets just enough screen time to flesh them out. As the characters travel together on their quest, it's fun watching them become friends and appreciate each other. There is a lot of chemistry tying Staz and Fuyumi together. In terms of worldbuilding, Blood Lad takes place in a well-built supernatural world which is a plus for many fans looking for something more original than the classic high school or workplace setting. Overall, we agree that Blood Lad has become such a well-known vampire anime for good reasons, and we highly recommend that you give it a shot if you haven't already!
Blood Lad Trailer
---
Final Thoughts
Thank you for reading 6 Anime Like The Vampire Dies in No Time! We hope you found a couple of anime that you are hoping to watch! Have you already watched a series on this list? How did you like it? Do you have any other anime suggestions? Give us a comment!
---