Idol anime series aren't appealing to all anime viewers out there but that doesn't stop them from having a cult following. There have been all sorts of idol series created; some that mirror the real world struggles of idols and others…that are quite bizarre to say the least. Leaning towards the latter group is a series produced by studio Yokohama Animation Lab called Lapis Re:LiGHTs and this is easily one of the most intriguing idol anime we've seen in quite some time.
Lapis Re:LiGHTs has won our idol otaku hearts over by being quite different from most series like it. Mixing the themes of Harry Potter with the concept of anime idols, Lapis Re:LiGHTs is proving to be a sleeper idol series! Unfortunately, Lapis Re:LiGHTs is still airing and that has been a true test of our patience. If you're like us, then you hate waiting weekly for a new episode to air. Luckily, we have a list of similar anime to Lapis Re:LiGHTs that might help you find a new series to enjoy in the meantime. These series are all quite quirky and change the normal ideas of idol anime in very strange--but unique--ways! Those who need idol anime done differently will love the list below as these go against the typical idol genre we've come to expect.
Similar Anime to Lapis Re:LiGHTs
1. Shoujo Kageki Revue Starlight (Revue Starlight)

Episodes: 12
Aired: July 2018 – September 2018
Every year, Seisho Music Academy holds the well-known Seisho Festival! This year, the 99th class has plans to perform their own version of a classic tragedy called Starlight and hope to make a big scene at the festival! Meanwhile, Karen Aijou—a girl with dreams of going on stage herself—has just heard her friend Hikari plans to transfer to the school! When the two unite they end up ironically discovering a secret theater in the depths of the school where duels are being held to determine the Top Star! Now determined to join these duels, Karen aims for the top but will she overcome the competition!?
Two years ago, Shoujo Kageki Revue Starlight released with almost no fanfare. Idol fans, though, quickly jumped into this series and they were greeted with some amazing music and a fun story. Similar to Lapis Re:LiGHTs, the two series mix school genres and idol tunes for an engaging and finger-snapping good time. If you love idol school stories, then you should check out Shoujo Kageki Revue Starlight!
Shoujo Kageki Revue Starlight PV
---
2. Zombieland Saga

Episodes: 22
Aired: October 2018 – December 2018
Sakura Minamoto wished to be an idol but that dream died when she…well, died too! Nearly a decade has passed since Sakura's early demise and despite her clearly having died she's now back among the living! Koutarou Tatsumi has used magic to revive Sakura and he wishes her to join a group of other zombie girls to make the world's first zombie idol group! Wishing to make her dreams come true finally and now forced to work with the odd Tatsumi, Sakura joins the other girls hailing from different time periods to bring music to the world in a radically different way!
Zombieland Saga, when it was first announced, seemed almost too crazy to work as a series. Yet studio MAPPA did the impossible and made Zombieland Saga one of the hidden gems of the 2018 anime season with some truly goofy storytelling and a soundtrack that we can listen to every day! While the girls of Lapis Re:LiGHTS might not be zombies, the two series are quite similar thanks in part to the ideas of magic being used to change the landscape of music. We loved Zombieland Saga and we know you idol fans will too!
Zombieland Saga PV
---
3. PriPara

Episodes: 140
Aired: July 2014 – March 2017
PriPara—or Prism Paradise—is a world that only a select few get to see. While PriPara is filled with many elements, the one thing most girls want to engage in are the daily auditions that allow for a girl to become an idol! Laala Manaka isn't one of those who wish to become an idol as she only enjoys watching idol shows but when she ends up in PriPara she soon learns this world isn't what she expected. Even more surprising, Laala might contain the legendary Prism Voice which could lead her to be the next new idol of this world!
The series Lapis Re:LiGHTs has cute girls, idol music, and tons of magic. Incidentally, PriPara is all too similar filled with cute girls all wishing to belt it out for your viewing pleasure! PriPara was another underrated idol series that released several years ago and lasted for 140 episodes showing this series was quite popular. You might think PriPara will take you a while to watch but after episode one, we know you'll be hooked and will find this series easy to binge.
PriPara PV
---
Any Anime Like Lapis Re:LiGHTs ?
4. AKB0048

Episodes: 13
Aired: April 2012 – July 2012
The bright blue planet filled with life that we called Earth is no more. Earth was unfortunately pelted by various attacks during an intergalactic war and the survivors were forced to abandon their homes and head out into space. During their time in space, the Deep Galactic Trade Organization has taken control of various laws and one of their newest laws set in place is to ban all forms of music due to its alleged evil ways. An idol group known as AKB0048 isn't about to let this ban stop their dream of saving the universe with their catchy tunes. Despite the illegal nature of singing, AKB4008 heads out to spread their tunes throughout the cosmos!
Space and idol music isn't a foreign combination in the anime world but very few have done it well. Luckily, AKB0048 is one of the better ones and is truly a great series. Based very loosely on the real idol group, AKB0048 takes the girl's various real-world challenges and spins them in an exaggerated—but playful—way. If you dig the hybrid nature of Lapis Re:LiGHTs but wish it had more space elements then we recommend AKB0048!
AKB0048 Trailer
---
5. Senki Zesshou Symphogear (Symphogear)

Episodes: 13
Aired: January 2012 – March 2012
The Noise, a strange but deadly alien race that threatens humanity every day. While most humans are unable to fight back against the noise, two young women can by using ancient weapons called symphogears! The idol duo—Tsubasa Kazanari and Kanade Amou—fight the noise together unbeknownst to the general public. Unfortunately, during a battle with the noise, Kanade dies as a sacrifice with her powers transferring to a human girl named Hibiki Tachibana. Despite the pain of working with someone other than Kanade, Tsubasa must train Hibiki to become the newest idol and help her harness the abilities to keep the world safe.
Senki Zesshou Symphogear isn't the best idol series out there but don't let the reviews keep you from giving this series a chance. We loved the space battles—which sometimes are outlandish like the magical fights in Lapis Re:LiGHTs—and the music was quite solid as well. Studio Satelight and Encourage Films did a great job keeping the series fun and occasionally serious. Senki Zesshou Symphogear is a good idol anime and fans of Lapis Re:LiGHTS will want to give it a shot.
---
6. Wake Up, Girls!

Episodes: 12
Aired: January 2014 – March 2014
Wake Up, Girls was an idol band that had lofty ambitions. Despite its members wishing to become the next big idol band in Japan, various incidents seemed to make their dreams impossible. Their manager took all of their funds and ran off and the first debut went quite horribly. Nevertheless, Wake Up, Girls is about to gain a second encore and it's up to them to make this second try work! Can Wake Up, Girls win the idol world over or will they face failure again and possibly disband forever?
Our last idol anime on our list of 6 Anime Like Lapis Re:LiGHTs is Wake Up, Girls! and we're ending on a truly fun series. The girls in Lapis Re:LiGHTs start the series behind the eight ball due to their lack of points and in a similar theme, Wake Up, Girls are starting from a pretty rough beginning. Both groups need to overcome their own insecurities and failings to rise up and become the idols they were destined to be! This theme might be kind of cliché in the idol anime genre but we loved how Wake Up, Girls! tried to be relatable and heartwarming in the same venture. Wake Up, Girls! is an enjoyable idol anime and should be watched if you need a more serious—albeit occasionally humorous—idol series.
Wake Up, Girls! PV
---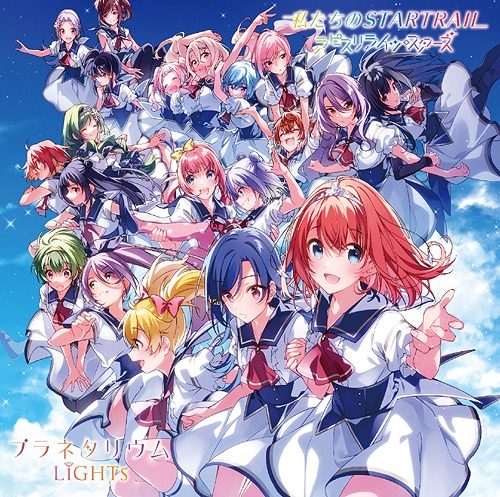 Final Thoughts
Lapis Re:LiGHTs might not become the next anime of the year—though idol series rarely do—and that is perfectly okay. We are enjoying the series for occasional laughs it delivers and the catchy idol tunes that make our otaku blood heat up! Are you watching Lapis Re:LiGHTs or have you seen any of the shows above? Comment below with the shows you've seen and/or plan to after checking out our list! Be sure to keep stuck to our musically addictive hive here at Honey's Anime for even more lists like this one!
---