También puedes leer este artículo en:Español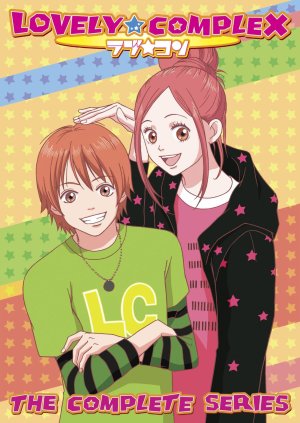 Love Com, or simply known as Lovely Complex, explores the turbulent roller coaster of teenage romance with the same silly slapstick humor that fans of romantic comedy anime will immediately be familiar with. While at times tearfully dramatic, a big selling point of Love Com is the hilarity that ensues between the comedic protagonists, Risa Koizumi and Atsushi Otani who both have serious height complexes that interferes with their confidence finding love.
But despite this disparity and the almost amusingly constant exchange of personal insults, Risa finds herself falling for the incredibly dense Otani. Soon, drama and even more comedy unfolds as the series progresses, making for a fun and warm romantic comedy anime. Although difficult to find a show that is exactly like Lovely Complex, here are six anime that have similar romantic themes and comedic characters.
Similar Anime to Love Com / Similar Anime to Lovely Complex
1.Kaichou wa Maid-sama! (Maid-Sama!)

Episodes: 26
Aired: April 2010 – September 2010
Misaki Miyazawa is the first ever female student council president at Seika High, a formerly all-boys school. She is disliked for her strict authority that she wields fiercely over the majority of male students. But despite her serious demeanor, she holds an embarrassing secret. Due to family circumstances, she works as a waitress at a maid cafe where she is accidentally spotted by Takumi Usui, the most popular boy at her high school.
Fortunately for Misaki, Usui mutually agrees to not let anyone know about Misaki's part time job. Over time, they both begin to understand one another much better despite the adverse situations they go through. Eventually Misaki's personality and character eventually wins Usui over who has rejected every girl that has confessed to him since, but Misaki is unsure of whether or not she can properly accept his feelings.
As in Lovely Complex, Kaichou wa Maid-sama also explores how characters deal with one-sided feelings which produces funny and sweet outcomes that are highly enjoyable. With a heartwarmingly romantic storyline and well-developed characters, Maid-sama is definitely an anime that romantic comedy enthusiasts should watch!
Maid-Sama! Official Trailer
---
2. Kokoro Connect

Episodes: 13
Aired: July 2012 – September 2012
Kokoro Connect follows the story of Taichi Yagashi, Iori Nagase, Himeko Inaba, Yui Kiriyama and Yoshifumi Aoki who mysteriously end up switching bodies with each other. Despite the supernatural turn of events, the group of friends do their best to conduct themselves normally in school.
However, they soon find that they cannot simply escape the problem as the members of the Student Cultural Research Club find their personal lives disrupted with the constant switching. Coming to grips with no longer being able to control their bodies, the group of friends struggle to understand themselves and each other, revealing to them the opportunity to explore their personality and love relationships.
Despite the lack of constant comedy and a focus on a group of protagonists, Lovely Complex fans will definitely find the complicated feelings of high school love that is portrayed in this anime recognizable. With a brilliant balance of intriguing stories, amazing character development, and laughs, Kokoro Connect is a must watch for romantic comedy fans.
Kokoro Connect Trailer
---
3. Nisekoi (Nisekoi: False Love)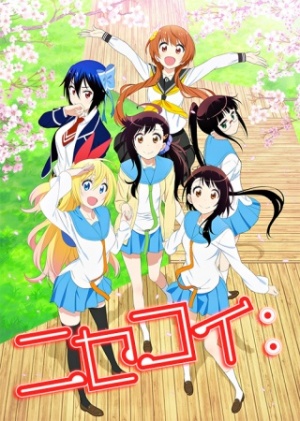 Episodes: 20
Aired: January 2014 – May 2014
All Raku Ichijou wants to do is to have a normal and calm high school life, but as the son of the local yakuza boss his, it is far from ordinary. On his way to school he is greeted with a knee to the face by none other than the aggressive Chitoge Kirasaki, who turns out to be the daughter of a rival gang! Needless to say, they do get off on the wrong foot and develop a dislike for each other, but they are hilariously forced to have a fake relationship when their fathers tell them to be a couple to resolve a territory dispute.
This complicates matters for Raku since he already has a crush on the kind Kosaki Onodera who similarly has romantic feelings for him, but cannot adequately express them. The situation is further corrupted when a girl from his past, Marika Tachibana, appears and claims to be Raku's fiancee, hilariously complicating the dynamic between the peculiar love triangle. Soon enough, even Chitoge finds herself struggling to comprehend if what she feels for Raku is real love or a meaningless manifestation of their false love.
Although typically recognized as a harem anime, Nisekoi has romantic and comedy elements that fans of Lovely Complex will enjoy, delivering with it a wholesome anime feel despite the genre. In particular, the vivid characterization of the characters is what makes Nisekoi so unlike other harem animes.
The meaningful and charming dynamics between the personality driven Raku and the main female characters creates a cute romance that Lovely Complex fans can easily enjoy. For example, Chitoge's struggles to understand what she feels for Raku are particularly reminiscent of Risa's endeavor to grasp her own feelings for Otani. In tandem with hilarious comedy, the romantic feelings portrayed in Shaft's creatively artistic animation will surely attract Lovely Complex and romantic comedy fans.
Nisekoi Official Trailer
---
Any Animes Like Lovely Complex / Any Animes Like Love Com ?
4. Acchi Kocchi (Place to Place)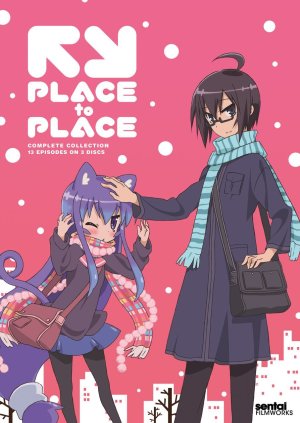 Episodes: 12
Aired: April 2012 – June 2012
Acchi Kocchi follows the cute story of Tsumiki Miniwa who tries to understand the feelings of her charming and dense crush, Io Otonashi. He often displays heart melting affection and kindness towards her, but never seems to follow through to the next step which always ends up confusing Tsumiki. It does not help her that she is easily flustered whenever he is around her.
Her carefree group of school friends are of little help as well, playfully teasing Tsumiki about her feelings at every change they get. With no one else reliable to turn to, Tsumiki finds herself in an embarrassing dilemma that plays out in this charming slice of life.
Even without serious drama or intense feelings that are common in similar animes, Acchi Kocchi makes for a very relaxing and casual romantic comedy. Essentially a slice of life with only a small touch of romance, it delivers a cute story that Lovely Complex fans will find familiar. Like Risa's struggle to express her true feelings to Otani, Tsumiki's almost constant flustering comes across as cute and funny at the same time. But apart from the similarity, the overall heartfelt feelings of love that Acchi Kocchi portrays makes it an easy to enjoy anime.
Place to Place Promotional Trailer
---
5. Sakura-sou no Pet na Kanojo (The Pet Girl of Sakurasou)

Episodes: 24
Aired: October 2012 – March 2013
For refusing to give up a stray cat, Sorata Kanda is forced to move into Sakura Dormitory where Suiko's eccentric and trouble-making students are forced to live. But just as he was growing accustomed to the craziness in the dorm, he is burdened with having to help world famous painter Mashiro Shiina who cannot be left alone to take care of herself. Despite everything, however, life still manages to throw fun and comedy towards Sorata and his unusual group of friends.
Over the course of the year, all the residents of Sakura Dorm also work hard to pursue their respective interests, but not without heartache and difficulty along the way. Their projects are further complicated when unrequited feelings occur, shaking the foundations of the mutual relationships that the dorm is built upon.
If the regularly occurring comedy is not enough to convince Lovely Complex fans to watch Sakurasou no Pet na Kanojo, then the cute romantic story taking place in the background will. Although Sorata and Mashiro's relationship is not as comedically outlandish as Risa and Otani's, the pure and warm feelings that develop between the two are thoroughly enjoyable.
Sakurasou no Pet na Kanojo Trailer
---
6. Chuunibyou Demo Koi ga Shitai! (Love, Chunibyo and Other Delusions!)

Episodes: 12
Aired: October 2012 – December 2012
Leaving behind his shamefully dramatic persona as the "Dark Flame Master," Yuuta Togashi is determined to start his life afresh in high school. Almost immediately, however, he stumbles upon Rikka Takanashi who continues to harbor fantastical middle school delusions. Moreover, Rikka somehow knows about Yuuta's past and admires him much to Yuuta's own embarrassment. They unexpectedly end up gathering up a circle of friends centered around Rikka's delusions despite the negative sentiments he still harbors about his past. However, the two of them slowly become romantically closer, but not without going on a difficult and tumultuous journey of high school love.
The relationship between Yuuta and Rikka does not start out as romantically theme like romantic comedies, but like Love Complex, both of the protagonists take an emotional trip to discover their true feelings. With its clever humor, cute drama, and relatable storyline, all portrayed with fantastic animation, Chuunibyou is definitely an anime worth spending time to watch.
Love, Chunibyo, and Other Delusions Official Trailer
---
If you loved Lovely Complex, this list should give you a good idea of what other hilarious, cute and romantic rom-coms are out there just waiting to be watched! Admittedly, there are other great anime not included on this list, but do you agree with these recommendations? Is there an anime you want to see here? Let us know in the comments below!
by Otonashikun
---