También puedes leer este artículo en:Español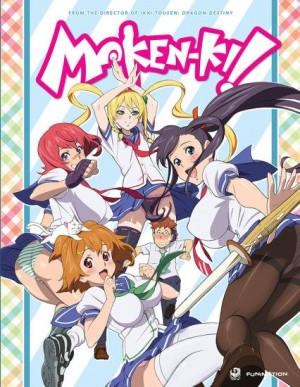 Boys will always be boys. When talking about anime that explore the harem genre, one thing remains true – it will always be a funny and interesting genre to watch. Add in some comedy and a bit of serious plot, and a lot of viewers will get stuck rather fast. It's fun and cool to see how a character grows in any given genre – especially if the character is weak at first but gains some kind of power that gives them the courage to be a stronger person. School life is something that always will have a big presence in anime and it's fun to see how the creators play around with that theme.
Stick around and check out these recommendations and maybe you just might find yourself in the perfect harem one day.
Similar Anime to Maken-Ki!
Similar Anime to Maken-ki!
1. R-15

Episodes: 12
Aired: July 10, 2011 – September 25, 2011
Taketo Akutagawa is studying at the Inspiration Academy Private High School – a school for the gifted and intelligent. His gift is in the form of being a talented writer and his work is about erotica. Even though he might not be seen as a noble guy, he still aims for the absolute top as the world's best writer.
Both anime have one lucky boy with girls all around him, in short, a harem. The schools in both anime are similar in the way they are presented; as a weird place. Other similarities involve the main character and his quest to achieve a specific goal while interacting with a variety of characters and events. Both of these anime have similar styles and genre; drama, comedy, a few emotional scenes of course and some romance as well.
R-15 - Trailer
---
2. Sora no Otoshimono: Forte

Episodes: 12
Aired: October 2, 2010 - December 18, 2010
Angeloids, strange dreams and meteors crashing down… These are just some of the things Sakurai Tomoki is going through in his life with Ikaros and Nymph, his two angeloids. But that is not all that happens in the eventful life of Tomoki. He keeps having weird dreams, and with some help from Nymph, they come up with a machine that can enter Tomoki's dreams to see what they're really about.
These anime are similar in multiple ways. Firstly, we have the main protagonist who is a rather weak boy. The main character in both anime has a childhood friend who likes them. They live with girls, because both anime have the harem element plus a comedy style to them. They have similar types of humor and the main protagonist is blind to the fact that the girls like him. More similarities include the fact that the main character is a pervert and has girls protecting him in some way.
Sora no Otoshimono: Forte - Trailer
---
3. Maburaho

Episodes: 24
Aired: October 14, 2003 – April 6, 2004
Aoi Academy is a school for the best magicians. Our protagonist is Kazuki Shikimori – a 17 year-old boy going to Aoi. The magicians at the school can only perform a specific number of spells and exceeding one's limit will result in a quick death. The number of spells that Kazuki can perform is way below the average for students at his school. Kazuki meets three girls one day and soon realizes that those girls want something: his genes.
These two anime are both harem-style anime with one guy surrounded by girls. Both have one girl that claims to be the main protagonist's fiancé and also another girl who wants to kill the main character. The stories in both anime take place at a school where magic is being used with emphasis on spells, or in other words, one's combat abilities.
Maburaho - Opening Theme
---
Any Animes Like Maken-ki! ?
4. Accel World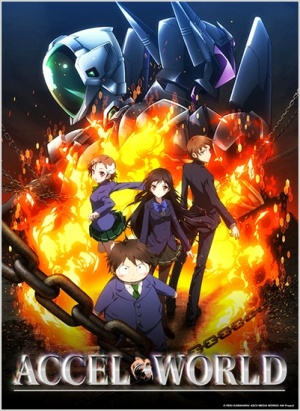 Episodes: 24
Aired: April 7, 2012 – September 22, 2012
The anime takes place in the year 2046 with Haruyuki Arita an outcast at his own school. He doesn't like his pitiful life and often turns to virtual games to escape from it all. One day, when the number-one popular girl in school shows him the program Brain Burst, that is when it all changes.
Some similarities between both anime are that we have a main protagonist who is a weak boy at first but after some time, he gains a power of some sort which makes him stronger. Because both anime are harem-style, the main character has girls around him very often. And in both anime, the girls that come into the protagonist's life are in love with him.
Accel World - Opening Theme
---
5. MM!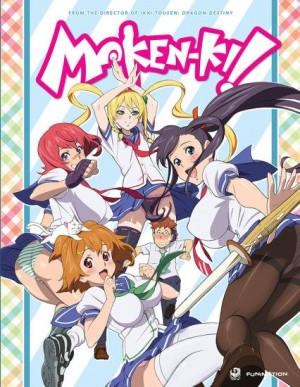 Episodes: 12
Aired: October 2, 2010 - December 18, 2010
The anime is about Sado, a boy who likes it when he feels depressed and put down. In order to break out from this affliction he finds and joins a club which will hopefully help him correct his strange way of life. But he learns that this will not be so easy when the other club members reveal their own problems.
The main character in both anime is being punched, kicked, and just abused in general all the time. The main character is a big pervert but has many girls around him who are also quite perverted sometimes. Both anime have a focus on school life with heavy shades of harem and comedy. Both of our main protagonists seem to enjoy being beaten up and have big perverted personalities, but can be serious at times.
MM! - Trailer
---
6. Baka to Test to Shoukanjuu (Baka and Test - Summon the Beasts)

Episodes: 13
Aired: January 7, 2010 - April 1, 2010
Akihisa Yoshii is the star of the anime and the idiot mentioned in the title. At the school he's attending, if a student attains good grades, then they are placed into a class with high quality AC, comfortable chairs, a cushy classroom, etc. But if a student's grades are bad, as is the case with Akihisa, then they basically get a pretty bad learning experience with nothing more than some old furniture. And never mind quality AC – they're lucky to have a school day go by without sweating buckets.
The similarities between these two anime start with the style of superpowers which exist in each world. They are ecchi harem based with one boy and a bunch of girls fawning over him. The school in each anime is on the strange side when it comes to educational institutions. The main character is not that smart and doesn't seem to grasp the fact that girls like him. Both anime have two girls who like the main character – the childhood friend and the strongest girl among the students.
Baka to Test to Shoukanjuu - Trailer
---
Weird schools, perverts, and lots of girls. That's what it's all about when it comes to the anime we just went through. Of course, some are better than others, but be sure to check 'em out and take a peek into the world of harem anime.
Until next time, enjoy this harem of anime!