After years of being almost a perfect assassin, Manji is tired of his life and the constant violence that he has created. Fortunately for him, the witch who cursed him has agreed that there's a way to break the curse, but said method is not easy. Manji must kill one thousand evil men: a hundred for every innocent he slaughtered. In his search, he meets Rin, a young girl who wants revenge on the swordsmen who killed her family, and together they learn the high price of revenge.
Mugen no Juunin: IMMORTAL is the second anime adaptation of the manga of the same name, and it is a very interesting look at what makes someone "human". It's a tale of morality and consequences that highlights said themes with an apparently inhuman protagonist. But this ONA is not the only series that touches on this conflict so here are some suggestions that you might like!
Similar Anime to Mugen no Juunin: IMMORTAL (Blade of the Immortal)
1. Dororo

Episodes: 24
Aired: January 2019 – June 2019
When Hyakkimaru was born, he had no eyes, nose, limbs, ears or skin: They had been a sacrifice made by his father to 12 demons who would in exchange give him untold powers. While his parents abandoned him, Hyakkimaru was saved by a medicine man who taught him how to survive and provided him with prosthetics and weapons since, if he could defeat all the demons that took his body as a tribute, Hyakkimaru could regain his human form. He is accompanied in his travels by Dororo, a young orphan, who tries his best to keep a somewhat happier outlook in life.
In many ways, Hyakkimaru is an inverse Manji: Both have to kill to regain what they have lost, but while each kill makes Manji feel more human, Hyakkimaru only looks more human and instead becomes more and more closed off to humanity. This is because he realizes how bad some humans are and is not sure who are the real monsters. Another great similarity is the friendship between Hyakkimaru and Dororo and Manji and Rin as both younger orphans want to fight and remind their older partners what it is that makes life worth living.
Dororo PV
---
2. Stranger: Mukou Hadan (Sword of the Stranger)

Episodes: 1
Aired: September 2007
When ronin Nanashi found a young boy and his dog in the same temple he had decided to use as a temporary shelter, he wasn't expecting much trouble. That is until he finds that Kotarou, the boy, is a thief being chased by Chinese assassins who have poisoned Tobimaru, the dog, to slow them down. After Nanashi defeats the first wave of assassins and offers to stay with them until Tobimaru feels better, Kotaru instead gives him one of the gems he stole and asks Nanashi to be his bodyguard as the boy knows that his life will be in danger for a long time due to a terrible prophecy.
Even though Stranger: Mukou Hadan has a lot less magic than Mugen no Juunin: IMMORTAL, both of them are quite similar in the relationship between a hardened, jaded fighter and a younger, more idealistic companion. While Rin is probably more moral than Kotarou, both main characters help their respective adults, Nanashi and Majin, to reconnect with a life that is not completely rooted in violence.
---
3. Peace Maker Kurogane

Episodes: 24
Aired: October 2003 – March 2004
Despite being only fifteen years old, Ichimura Tetsunosuke is driven by only one thought: Join the Shinsengumi to avenge his parents' deaths at the hand of the Choushuu. However, he's not that skilled, and even with the support of the other members of the Shinsengumi and his older brother Tatsunosuke, the reality of battle and killing those who are a danger to others may be too much for his emotional stability.
Peace Maker Kurogane and Mugen no Juunin: IMMORTAL deal with the same main subject: How revenge can poison your heart and make you lose sight of what is really important in your life. However, where in Mugen no Juunin: IMMORTAL Majin has difficulties to explain this to Rin, as he is still consumed by thoughts of violence, Tetsunosuke has a bigger support group. This makes both series very interesting to watch back to back.
Peace Maker Kurogane PV
---
Any Anime Like Mugen no Juunin: IMMORTAL / Any Anime Like Blade of the Immortal?
4. Kimetsu no Yaiba (Demon Slayer: Kimetsu no Yaiba)

Episodes: 26
Aired: April 2019 – September 2019
Tanjirou Kamado's peaceful life was destroyed when his family was murdered by a demon while he was out in the town trying to sell charcoal to the townspeople. The only survivor was his younger sister, Nezuko, who was left for dead but instead transformed into a demon herself. Determined not to lose the only family he has left, Tanjirou decides to become a Demon Slayer so he can have a chance at finding the demon who hurt Nezuko, and if possible, find a way to turn her human again.
Once again, we have a series that presents us with a fighter protecting a younger girl. Only that here, the situation is inverted from the one in Mugen no Juunin: IMMORTAL, where the official protector and fighter is human, while the person he's trying to protect is the one fighting to regain her humanity. The relationship between the two siblings is not like the one between Manji and Rin, but given their similar situations, both series complement each other very well.
Demon Slayer: Kimetsu no Yaiba Trailer
---
5. Onihei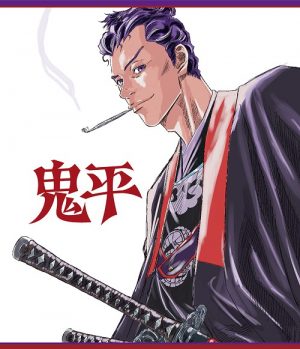 Episodes: 13
Aired: January, 2017 – April 2017
The Tenmei era was not a peaceful time in Japan, as criminals roamed the streets of Edo. It was then that Heizou Hasegawa, the chief officer of the city's police, decided to make sure all robbers and arsonists would face justice, earning himself the nickname "Onihei" or Devil. Criminals of all levels learned to fear him, even as he would show some mercy to those who truly repented. While the innocent citizens of Edo sleep, Heizou, and his men patrol the streets and make sure no one can disrupt the peace.
Of all the titles on this list, Onihei is the least supernatural of them all but it occurs in the same period of Mugen no Juunin: Immortal, only in the city rather than in small villages. This contrast is very interesting, as Majin and Rin avoid big cities, so we can see the difference in Japanese society if we play both series back to back. Some of the cases Onihei chronicles also deal with the dangers of revenge and obsession, and the animation is gorgeous so it's worth a watch.
Onihei PV
---
6. Shigurui (Shigurui: Death Frenzy)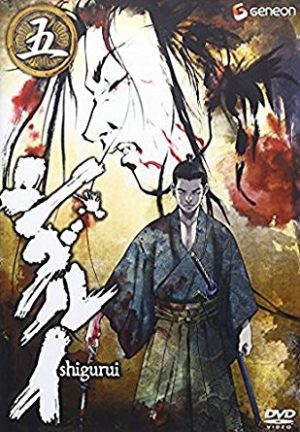 Episodes: 12
Aired: July 2007 – October 2007
What drives a man to want vengeance against a former friend and ally? What can be so bad that when faced with the opportunity to participate in a deadly tournament ordered by the daimyo Tokugawa Tadanaga, all they want is to kill their old friend? That is the question that Shigurui presents us with when we meet the one-armed Fujiki Gennosuke and the blind Irako Seigen, ready to fight to the death in a duel that uses real swords. What follows is a flashback that will tell us exactly how they got to that position, and how their friendship was poisoned by intrigue, betrayal and yes, the desire for revenge.
Shigurui, just like Mugen no Juunin: IMMORTAL, shows us a very dark side of human nature. Just like Majin, younger women accompany both Fujiki and Irako: Fujiki by Iwamoto Mie, and Irako by Iku, who also helps as his guiding eye. Besides being loyal to Fujiki, Iwamoto also seems to hate Iku. As the story and the duel advance, we can see the consequences of letting hate turn into your life's goal.
---
Final Thoughts
Love, betrayal, and revenge are three very common subjects that pop up in good stories. They are part of the spectrum of human emotion, just as the need to have a family, either biological or chosen. Perhaps this is why stories like Mugen no Juunin and the rest of our list make such intriguing plots: It's part revenge, and part redemption, created thanks to the desire to protect someone else. Within the same idea, we can't forget to mention an honorary manga mention: Lone Wolf and Cub, which you should also consider reading if you love these anime series.
Of course, there are more series that have a similar theme and feel. As we said, the contrast between the darker side of humanity and the more positive ones. So please, let us know, which series on our list have you seen? Which ones do you think we're missing? We can't wait to read your comments in the section below.
---