♫♬ The girls wanna play with boys
And the boys wanna play with girls
And the girls wanna play with girls
Boys wanna play with boys
So boy, don't you love this world? ♫♬
The affairs of young adults appear to be so simple and uncomplicated looking on, but through a magnifying glass, there is so much more to it than meets the eye. Adults may recall growing up "back in the day" with only so much as studies to be concerned about. However, today's teens have a lot more pressures and drama involved, on top of school, to deal with. All of the conflicting and challenging situations that follow the teenage years can really affect one's sense of worth and livelihood. In Netsuzou TRap –NTR-, we observe the lives of Hotaru, Yuma, Fujiwara and Takeda, and the tangled web they weave with one another. With so much going on, it's hard to turn away! In a similar vein, we give you 6 anime like Netsuzou TRap –NTR-, in hope that you will be fixated on these choices as well. Enjoy!
Similar Anime to Netsuzou TRap -NTR-
1. Koi to Uso (Love and Lies)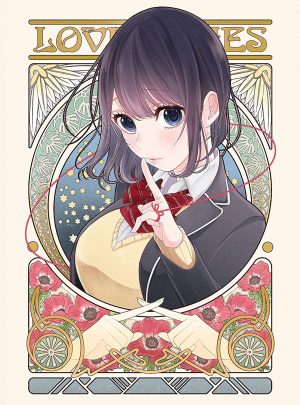 Episodes: 12
Aired: July 2017 – September 2017
In the anime Koi to Uso, the Japanese government has implemented a system called "The Red Threads of Science" in order to increase the number of successful marriages and the birth rates to follow. Using a guided and calculated compatibility outline, teens reaching the age of 16 are assigned marriage partners. It's the law to remain in this relationship with your appointed partner, or else the consequences will be severe. We are then introduced to a young man named Yukari Nejima, an average guy, who believes this marriage system will propel his life into a more than average existence. As Yukari approaches his 16th birthday, he confesses his love to his long-time crush, Misaki Takasaki, defying this important government policy. When he finds out that he is assigned to one Ririna Sanada, Ririna becomes oddly fascinated with the way relations will advance between the three of them.
In comparing Koi to Uso (Love and Lies) with Netsuzou TRap, a similar quality that is seen in both is that the main characters are in a relationship where they are testing the boundaries of their current status and expressing feelings for more than one person. The main characters also exhibit a sort of guilt and conflict within themselves because they have emotions and information that they're withholding, afraid of letting the other person know something that could be potentially harmful. Essentially, as we watch our star characters work out their issues, we observe their progression as each resolution unfolds.
Koi to Uso PV
---
2. Sakura Trick

Episodes: 12
Aired: January 2014 – March 2014
Haruka Takayama and Yuu Sonoda have been super besties ever since middle school. Now that they are entering their first year of high school, their friendship is still inseparable. With word that Misato West High School will shut down after graduation, the duo is certain that they will continue to be friends after they graduate. Determined to start off the school year with a bang, the girls make a pact stating, "Let's do something we'd never do with other girls." Impulsively, Yuu kisses Haruka, which leads to a lot more kissing. From this point, Haruka and Yuu realize that their friendship has shifted into something that was always there before, yet has finally been revealed.
Is a kiss still just a kiss for these two anime? Nope! Based in a school setting, Sakura Trick and Netsuzou TRap both share the similarity of a special relationship between two close girl friends, exploring depth that wasn't seen before. As one is more sweet and delightful and the other brazen and eye-catching, we are shown in Sakura Trick and Netsuzou TRap an array of elements in the way a companionship turned into a relationship functions.
Sakura Trick Trailer
---
3. Strawberry Panic

Episodes: 26
Aired: April 2006 – September 2006
Strawberry Panic is about a young girl named Nagisa Aoi who is a transfer student at St. Miator's Girl's Academy. Her new school, along with St. Spica's Girls' Institute and St. Lulim's Girls' School, are all affiliated Catholic schools. Nagisa quickly learns of the school's social structure, the Etoile System, and in order to fit in, she must interact and engage in many school activities. Here, we see Nagisa socialize and mix with many girls across the three campuses, doing whatever she must to feel like a part of the hierarchy.
Young and old, regardless of age, often find difficulty when describing emotions that they are unfamiliar with, especially when it concerns matters of the heart. In Strawberry Panic and Netsuzou TRap, we have Nagisa and Yuma, girls who are placed in unfamiliar territories, physically and emotionally. In their environment, the girls encounter other girls who can offer them knowledge and experience. Some may be generous, while others take advantage of their naïve quality. Whomever they communicate with, Nagisa and Yuma quickly learn that their hearts can't just be handed over to anyone and everyone. "Better to be safe than sorry."
Strawberry Panic Trailer
---
Any Anime Like Netsuzou TRap -NTR- ?
4. Maria-sama ga Miteru (Maria Watches Over Us)

Episodes: 13
Aired: January 2004 – April 2004
Maria-sama ga Miteru (Maria Watches Over Us) follows the story of Yumi Fukuzawa as she enters the prestigious Catholic school, Lillian Girls' Academy. With its location in bustling Tokyo, Yumi never imagined that she would stand out among the crowd, particularly catching the eye of one of the most popular girls at school, Sachiko Ogasawara. Sachiko offers to be Yumi's guide for the school year, and although flattered and excited about the offer, Yumi is concerned that their partnership might bring about the wrong kind of attention. WWYD? What would Yumi do? Watch and see!
When comparing Maria Watches Over Us and Netsuzou TRap, we notice the similar relationships between Yumi and Sachiko, and Hotaru and Yuma, in that one girl acts as a mentor or "teacher" to the other more inexperienced and innocent individual. Sachiko and Yuma's personalities are also alike because they're both very audacious, while Yumi and Yuma are quite the opposite. More or less, it is very interesting and entertaining to see how these dynamic characters relate so well.
Maria-sama ga Miteru Trailer
---
5. Kuzu no Honkai (Scum's Wish)

Episodes: 12
Aired: January 2017 – March 2017
In Kuzu no Honkai (Scum's Wish), we are introduced to eight dynamic characters who are all connected to each other in some shape or form: Hanabi Yasuraoka, Mugi Awaya, Narumi Kanai, Akane Minagawa, Noriko Kamomebata, Sanae Ebato, Atsuya Kirishima, and Takuya Terauchi. These eight individuals are smitten with someone, not just a simple crush, but with intense, fiery passion. However, they all can't just reveal their feelings to their love interest, as easy as it seems, because they are plagued with the pain of being in love with someone they cannot be with.
Kuzu no Honkai (Scum's Wish) and Netsuzou TRap share similar scenarios including dramatic themes, unreciprocated advances, love and friendship, a sense of uneasiness and tension between some of the characters, and a great emphasis on romantic and sexual encounters. Both stories want to present a great focus on scandal and theatrics, and rest assured, these anime get super juicy!
---
6. White Album 2

Episodes: 13
Aired: October 2013 – December 2013
White Album 2 documents the story of Haruki Kitahara, a talented musician who dreams of performing at the school festival, but may not have the chance due to the light music club being on the brink of breaking up. An accomplished guitarist, Haruki still lacks the confidence to perform. However, two of his classmates, Setsuna Ogiso and Kazusa Touma, give him credence in his music and with romance. Journey with this trio, as they juggle friendship, romance, and music together.
An unfortunate circumstance to liking more than one person is that two will emerge happy and relieved and the other, heartbroken. For White Album 2 and Netsuzou TRap, we notice and experience the grief that comes with being the "odd one out", as well as many other emotions that are attached to new, undiscovered romances. Additionally, both anime demonstrate a realistic quality to them, as we can really empathize and connect with each character in some shape or form.
---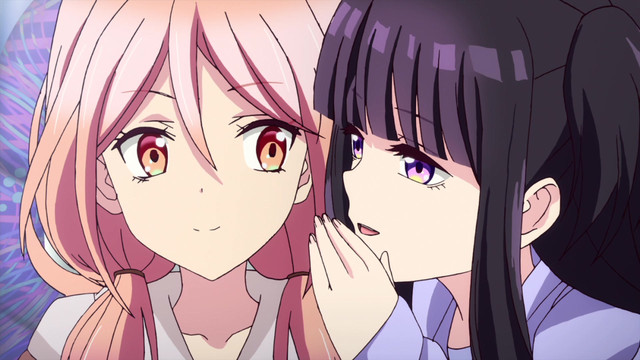 Final Thoughts
"That's why her hair is so big. It's full of secrets!" We hope you enjoyed our take on 6 anime like Netsuzou TRap -NTR-. If you haven't already, make sure to check out all of these great titles, as they are ones that will not disappoint! Netsuzou TRap is a bold yuri anime that succeeds many others and we definitely foresee more anime like it in the future! Even though we know these are only a few of many in comparison, let us know if we've missed any! What other anime similar to this one can you suggest to us and other readers? Leave your comments below! See ya!
---