Ninja Slayer is a web-series produced by TRIGGER (Studio Trigger). Fujikido Kenji is the show's protagonist, and resident bad-ass. After his wife and child were killed, he narrowly escaped death himself. In the process, he was possessed by the soul of an extremely powerful ninja. Now, with nearly unparalleled abilities he searches for the ninjas who killed is family. His quest for vengeance earns him the title of Ninja Slayer.
It's a shame that there are currently only three episodes available. So, I've done some digging and surfaced some anime that are similar to this fantastic show. Take a look at some options that can hold you over for the duration in between episode releases of Ninja Slayer.
Similar Anime to Ninja Slayer
1. Kill la Kill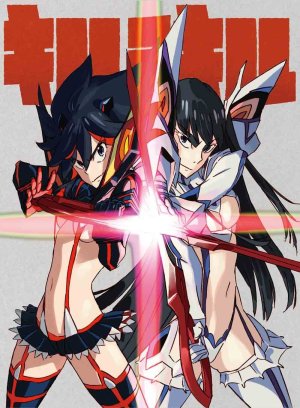 Episodes: 24
Aired: Aired: October 4, 2013 – March 28, 2014
Kill la Kill is a revenge story that was also produced by TRIGGER. Ryuuko Matoi is on the search for the person who murdered her father. The trail of clues leads her to a prestigious academy that is governed by a special student council. They possess "goku uniforms", a type of uniform that gives its wearer superpowers.
Similar to Ninja Slayer, Ryuuko receives supernatural abilities to aid her on her quest for justice. That assistance takes the form of Senketsu, a blue sailor uniform with sentience. Using Senketsu and her unique scissor blade, she has to take down the head members of the council. All the while she tries to discover who is really behind her father's death.
Kill la Kill Official Trailer / Fan Video / OP
---
2. Inferno Cop

Episodes: 13
Aired: Aired: December 25, 2012 – March 19, 2013
Another anime from TRIGGER, Inferno Cop, has a very similar premise to Ninja Slayer. The main character's family was killed by an organization known as the Southern-Cross. This man, claiming to have risen from hell, seeks to punish the evil group and anyone else who has the audacity to bring the law in Jack Knife Edge Town.
It seems as if Ninja Slayer carried on the spirit of the Inferno Cop series. But, where Inferno Cop was minimalistic in its animation, Ninja Slayer is a bit more fluid and has more special effects. The action is over the top. The tone of the humor is extremely comparable to Ninja Slayer. I love that the humor is present in almost every single frame. If the characters aren't doing something outrageous then their dialogue or timing is securing a laugh out of the audience.
Inferno Cop Official Preview
---
3. Gankutsuou (Gankutsuou: The Count of Monte Cristo)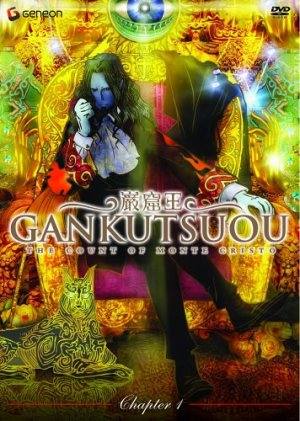 Episodes: 24
Aired: Aired: October 4, 2004 – March 30, 2005
This retelling of The Count of Monte Cristo is another tale of a man seeking revenge (seeing a pattern here?) for his false imprisonment. In this version, he receives powers from a demon that allow him to strike down the ones who exiled him to Cheateau d'If.
This series has a very unique art style. It is nothing like Ninja Slayer, and yet it still stands apart from most contemporary anime. Interestingly enough, the plot is not told through The Count's point of view. Check this out if you're looking for an interesting story with an art style that pops and is just as important as any of the main characters.
Gankutsuou (Gankutsuou: The Count of Monte Cristo) Official Trailer / Fan Video / OP
---
Any Animes Like Ninja Slayer ?
4. Mononoke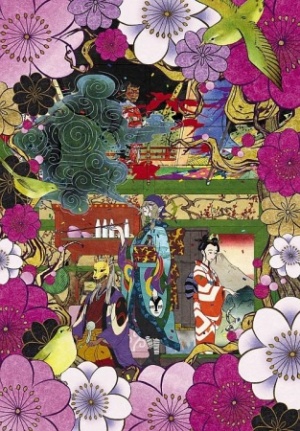 Episodes: 12
Aired: Aired: July 13, 2007 – September 28, 2007
Mononoke is an interesting piece set in feudal Japan. Kusuriuri is a "medicine seller" who wanders around the country encountering "mononoke" or lingering spirits. Using his vast knowledge of the supernatural and the Exorcism Sword he is able to destroy the evil spirits.
This series bizarre visuals and use of supernatural abilities secured it a spot on the list. However, it was also chosen because the main character is very different from the previous recommendations. He is not driven by anger or selfish reasons. Instead, Kusuriuri believes in searching for "katachi" (shape), "kotowari" (reasoning), and "makoto" (truth) throughout the world. His greatest fear is that during his travels he'll cease finding these beliefs and thus discover that he has no reason to exist.
Mononoke Fan Video
---
5. Karas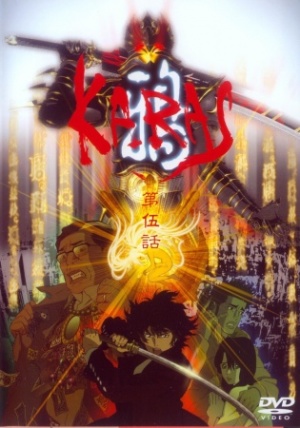 Episodes: OVA 6
Aired: Aired: March 25, 2005 – October 26, 2007
In this reality, the worlds of demons and humans overlap. Though humans can't see demons, a balance needs to be maintained. Otherwise, demons could harm or kill people. Insert the protectors of humanity, aka Karas. They maintain the balance. However, one of the longest living protectors has gone rogue.
Now, it's up to the newest member, Yousuke Otoha, to take down the evil Karas who plans on unleashing his army of demons on the world. He must use his newly acquired abilities, and unique physiology, to protect humanity.
Karas is another show that centers around a man who receives supernatural abilities to fight evil. Though he is not a ninja, like Fujikido Kenji, Otoha does become skilled as a swordsman. Also, Karas broke away from its contemporary anime shows by mixing 2D and 3D techniques. The CG details enhanced the 2D approach to give the show a unique aesthetic.
Karas Trailer (English Dub)
---
6. FLCL

Episodes: OVA 6
Aired: April 26, 2000 – March 16, 2001
The only connection the show shares with Ninja Slayer, and it's a strong one, is its absurdity. Both shows are hold no punches and are willing to toss aside traditional anime conventions. Though, Ninja Slayer has unique characters and an interesting story, FLCL blows it out of the water. The characters are so strange and their actions defy logic.
The story is confusing, purposely so, and is almost entirely a coming of age metaphor. All you need to know is that the main character's name is Naota Nandaba. He is a 6th grade boy who is struggling to make sense of the relationships he has with the women around him. From there, just enjoy the crazy fast-paced ride that is FLCL. Get ready to witness some incredible use of color, music, and emotional atmosphere throughout the series.
FLCL Toonami Promo (English Dub)
---
Each of these shows is noteworthy in its own right. They contain elements of greatness. Ninja Slayer brings those components together to create an intense experience. Though not quite as extreme as some of the recommendations above, the mix of animation, character design, humor, action, and supernatural aspects construct a unique series that has started out very strong. I'm sure it will continue and only become better as the episodes continue.
I'd love to hear your thoughts. Let us know what you think of these recommendations. Or if you've been watching Ninja Slayer chime in with your thoughts on the show so far.