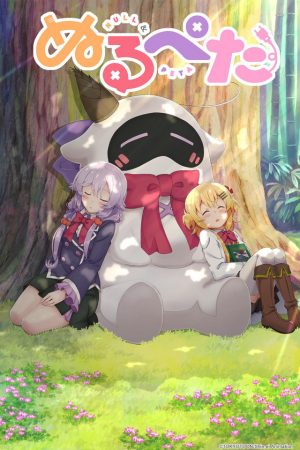 For a show about the controversial decision to bring back a dead loved one through AI, Null & Peta is hilarious! Null's incredible intellect has left her feeling isolated from her peers but she never had any trouble connecting with her older sister. When Peta passes away, Null decides to recreate her sister from her soft skin to her gentle voice and throw in some dangerous spikes for good measure! While Null may have just wanted her kind older sister back, what she was got was an overly protective guardian, epic robot fights, and more inedible food than she could ever believe. All in all, it's a pretty ridiculous show with some tender moments thrown in each 5-minute episode.
There are, unfortunately, not a whole lot of sister-themed anime that don't get weird. Don't get us wrong, Null & Peta definitely gets weird but the bond shared by Null and Peta that transcends even death remains a touching part of the anime. It manages to be both relatable and ridiculous. It's funny how it can go from Null admitting she hates school because she has no one to relate with to a missile-launching battle between her and Peta over fried rice. If you want more sisters, silliness, and sci-fi? take a look at these 6 other anime like Null & Peta!
Similar Anime to Null & Peta
1. Minami-ke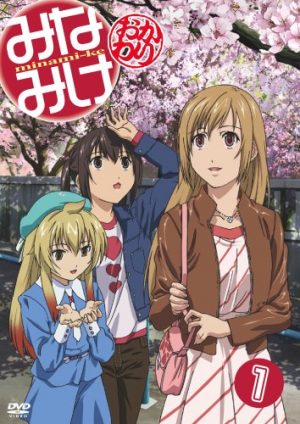 Episodes: 13
Aired: October 2007 - December 2007
Sisters Haruka, Kana, and Chiaki look after each other and share their burdens. Or rather, oldest sister Haruka and youngest sister Chiaki teeter between aiding and restraining their rambunctious sister Kana. Every day brings new challenges and new opportunities to the three girls, be it school exams, cooking, or finding love!
Haruka and Peta share some similar traits. Both oldest sisters dote on their younger sisters and enjoy cooking for them. Thankfully for Kana and Chiaki, Haruka is the more skilled cook. Peta does have the upper hand on nifty gadgets and intellect which definitely compliment her genius little sister well. Both Chiaki and Null clearly admire and care for their oldest sister. Though, oftentimes, it seems that Chiaki could do without Kana. Kana and Null may be worlds apart when it comes to brainpower but they both have a rather self-serving nature. When Peta acts more maternally than Null would like, she considers shutting her sister down. Kana schemes ways to get things out of her sisters to avoid doing work herself.
Minami-ke PV
---
2. Nichijou (Nichijou – My Ordinary Life)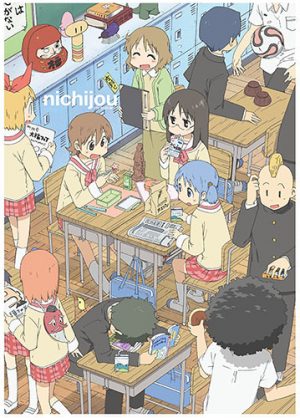 Episodes: 26
Aired: April 2011 - September 2011
The everyday lives of the characters in Nichijou are not what you'd expect from a bunch of high schoolers! Throw in a child scientist and self-conscious robot with a talking cat and it's a recipe for the unpredictable. They do all the normal things normal people do like attend classes, make breakfast, meet new people, but everything takes a different turn than you'd expect. Thankfully, they can keep going no matter how weird things get.
Nichijou's title is misleading as it might invoke the idea of a normal and predictable slice-of-life anime. With all the unexpected happenings and surprise twists on classic situations, it really keeps you entertained. Similarly, you'd think a robot would be nice and predictable but Peta is continuously surprising Null. Both shows have a young genius who doesn't interact with many others being looked after by a robot who cares about the former's well-being. They may not be the most adept, but Peta and Nano clearly care for their respective little Einsteins.
Nichijou – My Ordinary Life Trailer
---
3. Shao Nu Qian Xian Ren Xing Xiao Ju Chang (Girls' Frontline)

Episodes: 26
Aired: July 2019 – Currently Airing
T-Dolls, Tactical Dolls made for fighting in place of humans, must fight evil robots to protect humanity… unless they're too busy fighting over a piece of cake! Humans may not have made the best choice in leaving war to a bunch of immature fighting machines. When you combine simplistic desires with incredible powers into AI, there's no telling what will happen. They may be based on guns, but they're girls at heart!
Null & Peta and Shao Nu have potentially dangerous AIs that somehow manage to be both ineffective and incredibly destructive! Fighting and explosions run rampant even though the girls care for each other. While not exactly sisters, the girls of Shao Nu are sisters-in-arms of sorts. The settings are somewhat dark with Shao Nu dealing with war and Null & Peta with being unable to let go of the dead, but the way the shows play out is surprising hilarious making them very easy to watch. Each episode is about as long as an episode of Null & Peta as well so you can figure out pretty quickly if you'll like it or not!
---
Any Anime Like Null & Peta ?
4. Himouto! Umaru-chan

Episodes: 12
Aired: July 2015 – September 2015
Umaru is well-known as a beautiful, kind, smart girl who is at the top of her class. To everyone, that is, save for her older brother Taihei who knows her best. The second she steps in the door to their home, she becomes a tiny, junk-food indulging gremlin who only cares about her anime and games. Taihei tries to make her a more responsible person but Umaru is a master of lazing about.
While not sisters, Umaru and Taihei share a close familial bond similar to Null and Peta. They can be each other's greatest rivals or staunchest supporters. Taihei and Peta really try to get their combative little sisters to eat better and behave properly although there's a little more love on Peta's end. Then again, there are also literal spikes on Peta so maybe the grumbly but indulging older brother is preferable. Umaru and Null care about their older siblings but it's clear they prefer to be unhindered in their search for happiness. Both girls are very smart but don't care much about school or connecting with other people. They're quite happy in their own little bubbles!
Himouto! Umaru-chan PV
---
5. Mini Yuri

Episodes: 4
Aired: September 2019 - October 2019
Akari, Yui, Chinatsu, and Kyouko are back as chibis for the 10th anniversary OVAs! 4 episodes help convey the true meaning of the Amusement Club to those unfamiliar with the Yuru Yuri series. Which is to say, it's basically whatever Kyouko decides it is regardless of what the other girls think. Then again, not knowing what Kyouko will come up with next is all a part of the experience!
You never know quite what's going to happen with Mini Yuri, which is somewhat indicative of the Yuru Yuri series. Much like Peta dragging Null along, Kyouko spurs the girls to undergo different activities she decides would benefit them. Kyouko is a bit more selfish than Peta but both girls end up causing about as much harm as they do good due to Peta's limited understanding of nutritious meals and the limits of the human body. There are a lot more cute girls in Mini Yuri as opposed to the one cute girl and one cute robot in Null & Peta and what it lacks in sci-fi it makes up for with imagination!
Mini Yuri PV
---
6. Teekyuu 9

Episodes: 12
Aired: July 2017 - September 2017
The Tennis Club that so rarely plays tennis returns for their 9th season with more strange characters and ridiculous set-ups. You'd think an alien would stand out in a group of high school girls but Tomarin fits right in with the body-morphing, nonsensical sports team. Nasuno and Yuri are more likely to check Marimo and Kanae's zaniness but all 4 of them get up to some weird stuff.
It's hard to even describe Teekyuu because there's no limit to what will happen. It's more fast-paced than Null & Peta but both shows are incredibly funny and surprising. Neither Null & Peta nor Teekyuu play out like you think they would and their short episodes leave you excited to move on to the next one. There are a lot of sci-fi elements for these anime that seem to defy the laws of physics and matter. Tomarin is a cute little alien girl and while not a robot, she and Peta share a skewed perception of humans.
Teekyuu Season 9 Trailer
---
Final Thoughts
There is a lot of action you can pack into 3 minutes and quite a few of these shows prove it. Whether it's viciously fighting with those you love or trips to space, a short episode doesn't limit potential. It's also nice to see some sibling-focused anime that isn't just about perviness. Family can really test you, but often they're there for you when it feels like you have no one else to turn to. Though with a robot sister, your life would be pretty unpredictable! We hope you enjoy these similarly unpredictable and funny shows! If you know of a sister bond you feel deserves some praise, leave us a comment as to who and why!
---