También puedes leer este artículo en:Español
Re:ZERO has to be one of my favorite series this anime season. There is so much happening and I have so many questions! And every time you think you and Subaru have the whole thing figured out, BAM! No. You don't.
Re:ZERO has a great combination of RPG-like world, Adventure, Mystery, Comedy, Suspense and it can go from a sweet and romantic moment to disembowelment all within a few minutes. It's no surprise if you're searching for another anime with a similar feel. That's why we've found 6 anime series that you're sure to enjoy if you're a fan of Re:ZERO so far!
On to the recommendations!
Similar Anime to Re:Zero Kara Hajimeru Isekai Seikatsu / Anime Like Re:ZERO -Starting Life in Another World-
1. Boku Dake Inai Machi (Erased)

Episodes: 12
Aired: Jan. 2016 – Mar. 2016
Satoru Fujinuma is a jaded aspiring manga artist and he has a gift. When tragedy strikes, he is sent back in time - usually a few minutes - in order to prevent it from happening. He has saved a few lives by taking advantage of his ability. One day someone close to him is murdered and he is the prime suspect. This time, he is sent 18 years into the past where this particular tragedy had its beginning and is linked to the murder of one of his classmates. He must now prevent these tragic events from happening to save lives and change the future.
When first watching Re:ZERO I immediately thought of Erased. Much like Re:ZERO, Erased keeps you hooked episode after episode with constant twists and surprises. Like Subaru, Satoru can go back in time and re-do things to avoid tragic consequences. However, neither of them have much control over when that happens. There is definitely less comedy and no cute, fuzzy creatures in Erased, but Satoru's little comments and reactions will definitely elicit a chuckle or at least a smile.
TV anime "Boku Dake ga Inai Machi" 2nd PV
---
2. Steins;Gate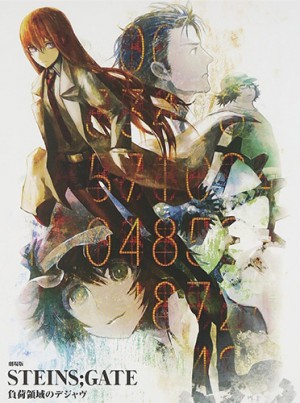 Episodes: 24
Aired: Apr. 2011 – Sep. 2011
Mad Scientist Rintarou Okabe and his friends spend their time inventing new gadgets in their lab in Akihabara. While tinkering with their "Phone Microwave" they discover it can send text messages to the past and thus change history. Things get difficult when their time tampering has terrible consequences and SERN comes after their time machine.
Again the obvious link is time travel. And like in the previous anime mentioned, Steins;Gate deals with people who must change the past in some way to alter their original actions and save lives or prevent disasters. While this is more of a Sci-Fi Thriller, it has much of the surprises and extreme consequences that can follow a bad decision. Many fans agree you'll probably like Steins;Gate if you enjoy Re:ZERO.
Steins Gate The Complete Series Trailer
---
3. Higurashi no Naku Koro ni Kai (When They Cry: Kai)

Episodes: 24
Aired: Jul. 2007 – Dec. 2007
As the second season of When They Cry, Kai continues from where the story left off and follows the group of friends as they relive the summer of 1983 which always ends with one of their deaths. Rika Furude, does everything she can to prevent her friends from dying and along with them they work to find out who is behind it all and how stop this torture.
Though not necessarily about time travel per-se, the second season of Higurashi, focuses on preventing deaths and tragedy. The main characters in both anime are forced to repeat a certain period of time and try to change the outcome each time they get to start over. It definitely has more of a Supernatural feel instead of Adventure but it also keeps you wondering what's going to happen next and trying to guess what exactly is going on. It's a bit darker, but it has some really cute little girls in it!
"When They Cry" Blu-ray BOX 30 seconds CM
---
Any Anime Like Re:Zero Kara Hajimeru Isekai Seikatsu / Any Anime Like Re:ZERO -Starting Life in Another World-?
4. Punchline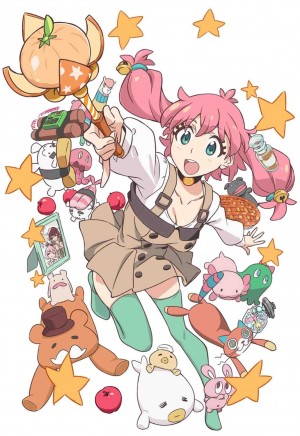 Episodes: 12
Aired: Apr. 2015 – Jun 2015
Yuuta Iridatsu is a young boy who faints from excitement every time he sees a girl's underwear. One day, Yuuta's soul gets separated from his body and he is doomed to wander around like a ghost in his apartment building where 3 girls also happen to live: Mikatan, Ito and Rabura. In this form, however, if he were to get as excited as he does, an asteroid would destroy the earth. While figuring out his abilities and his connection to the aforementioned girls, Yuuta tries desperately to avoid the disasters that he knows will take place.
Without giving too much away, in Punchline, our main character must also prevent deaths and other disasters by sort of retracing his steps, let's say. Like Re:ZERO it has Comedy, cute girls and a cute floating feline. Though obviously there are a lot more panty shots! Punchline also has the element of surprise and takes a couple of unsuspected turns that will definitely catch you of guard. And if you like Re:ZERO because of the art and character design, Punchline won't disappoint!
"Punch line" third PV
---
5. The Melancholy of Haruhi Suzumiya (2009)

Episodes: 14
Aired: May. 2009 – Sep 2009
The second season of The Melancholy of Haruhi Suzumiya follows the members of the SOS Brigade as they try to enjoy their summer vacation. Suddenly however, Kyon starts to feel like he's been living the same two weeks of summer over and over again which leads him to believe there is something wrong. Mikuru, Yuki and Itsuki also become aware of the problem and together they try to fix this endless loop.
Once again, without giving too much away, I'll tell you there is a specific event that goes awry and Kyon must figure out a way to prevent it by going back and figuring out how to prevent it. Like our other guys on the list, though, he doesn't get to request a re-do and it happens when it's meant to happen. If you're already a fan of Haruhi, you'll certainly enjoy this one.
Just a bit of warning; because of the looping nature of the story, it may feel somewhat repetitive at the beginning. Some love it, some don't mind it and some have hated it. I was annoyed at first but then I noticed what was happening and it became worth it!
"The Melancholy of Haruhi Suzumiya I + II (Volume 2)" DVD release CM
---
6. KonoSuba (Kono Subarashii Sekai ni Shukufuku wo!)

Episodes: 10
Aired: Jan. 2016 – Mar. 2016
When Kazuma Satou was on his way home from high school one day, he ended up dead while trying to play hero. When on the other side, the goddess Aqua tells him he can go to heaven, or go to a real-life RPG-like fantasy world and start a new life. Being a gamer NEET, Kazuma quickly chooses the latter. When Aqua tells him he may take anything he wants to this new world, he chooses her and now she's stuck in this world with a n00b and Kazuma's stuck with a useless goddess! How will they survive and make a living?
In KonoSuba we have a boy who is transported to this adventure world, though Kazuma dies first and then gets transported, whereas Subaru is mysteriously transported first and then dies. Although, we don't know for sure if Subaru didn't also get hit by a car or something… And unlike Subaru, Kazuma isn't trying to prevent any tragedies; he's just trying to survive. Of course, KonoSuba has the adventure game feel to it, along with funny, clumsy, and some weird cute girls. This show has much more Comedy than Re:ZERO and it's pretty ridiculous. In a good way of course! There isn't much in the way of twists and surprises, but it will keep you watching and laughing.
"Kono Subarashii Sekai ni Shukufuku wo!" 1st PV
---
Final Thoughts
There you have it guys! If you're as into Re:ZERO as I am, I promise you will be entertained by any or all of these series. They are arranged from most similar to least (in my opinion) and there are a few different genres to check out so you can get a good variety of anime to watch.
Have you seen any of these anime? All of them? What other shows would you recommend to lovers of Re:ZERO?
As always, thanks for stopping by and see ya next time!
Nya~!
---