También puedes leer este artículo en:Español
The Japanese are obsessed with Coffee Shops in the Western style. Honestly! You can find many places that will remind you of Europe or the US in Tokyo. That is why it is refreshing to watch Rokuhoudou Yotsuiro Biyori, where a team of four men run a Japanese style coffee shop. They have combined the best of East and West! Just imagine getting inside a cozy, hidden refugee, enjoy the finest food prepared just for you and maybe chat a few words with the staff. If you are into soothing anime that make you feel like home, you are probably wondering if there are more anime like Rokuhoudou Yotsuiro Biyori. That is why we are delivering this article to you. So sit down with a good cup of your favorite tea and snacks by your side! Let's go!
Similar Anime to Rokuhoudou Yotsuiro Biyori
1. Seiyou Kottou Yougashiten: Antique (Antique Bakery)

Episodes: 12
Aired: Jul 4, 2008 to Sep 19, 2008
This probably was the first anime that presented us the concept of a store with delicious food and handsome men. When Tachibana decides to open an authentic Western style bakery, he ends up hiring Ono, a genius pastry chef who once confessed to him in high school. Together with retired boxer Kanda and Tachibana's bodyguard Kobayakawa, they will personally serve the bakery customers. However, the personal tragedies behind the smiling four men will spice up their work.
We have four men running a shop in both anime, and these four men have different personalities and background stories. The main character is the boss, and the slice of life style is prevalent throughout the episodes. Slow and soothing, the main difference between the two anime is that Antique Bakery is more focused on cakes and the tea hours, while Rokuhoudou Yotsuiro Biyori has a more varied assortment of food and… well, they serve Japanese cuisine, of course! So, if your piece of cake are… cakes, just step into Antique Bakery!
---
2. Isekai Shokudou (Restaurant to Another World)

Episodes: 12
Aired: Jul 4, 2017 to Sep 19, 2017
Welcome to Tokyo! One of the most popular restaurants in town is Nekoya, which serves Eastern and Western cuisine of the best quality. Every Saturday, the restaurant is apparently closed… But wait, look closely at the people inside. Dragons, fairies, and all sorts of unique folks visit Nekoya for a taste of good food. They share a piece of their hearts and minds while they eat, and that is how we discover that humans are not so different from them.
If you like the concept of people going inside a safe space where they can relax, talk about their problems and have delicious food, then you will find Rokuhoudou and Isekai Shokudou similar. The prepared food is specially thought for each costumer's needs in both stories. The main difference is that the episodes in Isekai Shokudou are divided in two, with a human shown in one of the halves and a fantastic creature in the other half. Also, the selection of food is more limited in Rokuhoudou. Therefore, if you like fantasy anime combined with the concept of a coffee shop, you may want to give a try to Isekai Shokudo.
---
3. Ristorante Paradiso

Episodes: 11
Aired: Apr 9, 2009 to Jun 25, 2009
How would you feel if your mother had left you when you were small to remarry after divorcing your father? Nicoletta decides to take revenge on her mother by traveling to Rome and presenting herself in Casetta dell'Orso, the restaurant her mother and her new husband own. However, what she finds inside turns her world upside down. Now Nicoletta is a cooking apprentice in the restaurant, where she will interact with the interesting male staff.
Ristorante Paradiso and Rokuhoudou Yotsuiro Biyori are very similar because they depict four men who run shops. They are capable of creating an atmosphere of safety and tranquility for their clients, while their cooking skills are amazing. The main difference is that the cast in Ristorante Paradiso is older and their stories tend to be more dramatic as well. Therefore, if you want something more grown up but with the same flavour as Rokuhoudou, maybe you might like to try the food at Ristorante Paradiso.
---
Any Anime Like Rokuhoudou Yotsuiro Biyori ?
4. Bartender

Episodes: 11
Aired: Oct 15, 2006 to Dec 31, 2006
We visit the sophisticated district of Ginza in Tokyo in this anime. Hidden among the shops, there is a quiet bar called Eden Hall. If you are lucky enough to find it, you will be greeted by the bartender Ryuu Sasakura, a legendary talent in terms of cocktail making. Whoever encounters him will find exactly what they needed in the form of an unforgettable drink.
In terms of relaxing atmosphere, there is no anime that can beat Bartender. Yes, the type of customers that we encounter in Rokuhoudou and Bartender are similar. The experience of a good drink or beverage are key in both anime as well, lead by handsome men with great skill. The main difference is that Bartender is a bit more adult, because well, the action develops in a bar. Also, the selection of music involves classical and jazz, mostly in piano. So if you are into classy anime that are all for soothing environment and to find a bright side in life, Bartender is a must for you.
---
5. Gochuumon wa Usagi Desu ka? (Is the Order a Rabbit?)

Episodes: 12
Aired: Apr 10, 2014 to Jun 26, 2014
We could not help but mention this cute anime that has had a sequel. The protagonist is Hoto Kokoa, an upbeat girl who moves in with the Kafuu family in order to be able to go to her desired high school. She also enters the wonderfully cozy Rabbit House, a cafe where she will make friends and work as waitress. Together with fellow friends and rivals, Hoto Kokoa will deal with her daily life.
So yes, coffee shops rule in Rokuhoudou and Gochuumon. You will be able to find delicious, sweet treats in both anime, where you will feel like you are the customer yourself. A team of friends run the coffee shops in both stories, and they have distinctive appearances and personalities. The main difference is that Gochuumon is more focused onn the silly and light headed style. If you find Rokuhoudou delicious but too formal, you may want to head for Rabbit House, where a staff composed by lovely girls will make sure you feel like in home.
---
6. Shirokuma Cafe (Polar Bear Cafe)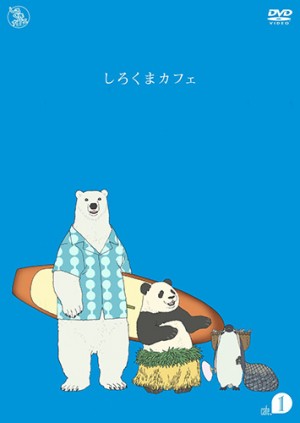 Episodes: 50
Aired: Apr 5, 2012 to Mar 28, 2013
Ok, so maybe cute guys or girls are not your thing. Maybe you are an animal lover? In that case, don't worry, we've got you cover with Shirokuma Cafe. Located close to a zoo and run by a charismatic polar bear, this is a place where animals and humans can interact in a relaxed atmosphere. Also watch out for Penguin and Panda, who help out with the customers and have their own personal and sometimes dramatic lives.
Rokuhoudou and Shirokuma Cafe are focused on coffee shops where delicious meals and a relaxed atmosphere are a must. The attendants have distinctive personalities, although well… the differences between them are obvious! There is some drama but also good feelings enhanced by the atmosphere and companionship in the two stories. Therefore, if you liked Rokuhoudou but love animals… or Animal Cafes… now you know what anime to watch!
---
Final Thoughts
Coffee Shops come in all sizes, styles and flavors. It is good to remember that there is a special place where we can sit, relax and have some comfort food. Maybe we are in good company with a friend from outside, but if that is not the case, don't worry. The charismatic staff in anime like Rokuhoudou Yotsuiro Biyori will always be there to make you smile. And well, if everything else fails, the delicious food will make the visit worthy. Wat other similar anime have you watched? Which are your favorite cafe themed anime? Don't forget that we are open to all your comments and suggestions. See you soon!
---