También puedes leer este artículo en:Español
Shoujo-tachi wa Kouya wo Mezasu, or Girls beyond the Wasteland tells the story of a group of friends rallying together to make a gal game. It all starts when Sayuki Kuroda, an otaku, persuades her classmate Buntarou Houjou into collaborating with her and fulfill her goal to make a gal game. One thing led to another, and eventually, a group of friends banded together in order to make the game of their dreams.
Interesting premise and a good setting, Shoujo-tachi more or less touches on the part on creating something off your passion and the dedication one will take in order to achieve that. It is a simple story with a very straightforward plot.
If the slice-of-life genre with simple plotlines is your kind of thing, join us as we list the 6 animes that are similar to Shoujo-tachi.
Similar Anime to Shoujo-tachi wa Kouya wo Mezasu
1. Saenai Heroine no Sodatekata (Saekano)

Episodes: 12
Aired: Jan 2015 - Mar 2015
Tomoya Aki is your everyday highschool otaku and nerd. Amidst a chance encounter on the slope back home, he meets Megumi Katou. This awe-inspiring backdrop and Megumi gave him the inspiration to create the most awesome gal game ever. Together with his childhood friend, Eriri Spencer, and Kasumigaoka Utaha, he assembles a team of an outstanding artist and a literary genius to make the best gal game ever based off Megumi.
The premise for Saekano is strikingly similar to Shoujo-tachi. This is a setting where a group of friends with complicated relationships. It just so happens that they are all in for the pursuit of one common goal with many misadventures along the way. Highly hilarious and interesting, this is as close as Shoujo-tachi as you can get!
Saekano-How to Raise a Boring Girlfriend- Streaming Announcement
---
2. Sakurasou no Pet na Kanojo

Episodes: 24
Aired: Oct 2012 - Mar 2013
Mashiro Shiina is a world renowned artist with brilliant painting skills. However, a painter is not what she aspires to be, she is really more into manga. A savant, she can hardly take care of herself and is placed in a school dormitory of eccentric misfits. There she meets Sorata, the most normal amongst all and instantly latched onto him. This is a story of the pursuit of individual goals and the unforgettable memories that you can form with friends.
Similarly to Shoujo-tachi, this is an anime of friendship. In Sakurasou, everyone who lives in the infamous Sakura Hall have exceptional talents in their own ways, and equally high aspirations. Not everything ends up well and they must learn to cope with failure and accept the new reality as well. A minor plot line is also Sorata's passion in game design and Aoyoma's interest in voice acting which adds to the creation attribute as well.
[PV] TV Anime Sakurasou no Pet na Kanojo Promotion Video
---
3. Mangaka-san to Assistant to The Animation

Episodes: 12
Aired: Apr 2014 - Jun 2014
Mangaka-san revolved around the life of a manga artist, Aito Yuuki and his assistant, Ashisu Sahoto. Often perverted, he is heavily frowned upon by his assistant as he always asks for the most ridiculous things. Tight deadlines and a lack of inspiration are the core of his worries, and he often does not make it on time, much to the chagrin of his editor.
Also on the topic of creation, Mangaka-san shows the hard life of a mangaka with exaggeration. The fan-service comedy in this series sets a light tone to the anime giving off the vibe of a simple and pleasurable show. Nothing too fancy, just 30 minutes of nonsense per episode that will make you laugh.
TV Anime Mangaka-san to Assistant to PV 2
---
Any Animes Like Shoujo-tachi wa Kouya wo Mezasu ?
4. Shirobako

Episodes: 24
Aired: Oct 2014 - Mar 2015
Life in the anime industry is not as easy as everyone thinks it is. Aoi is a production assistant in an animation studio. While she is doing what she loves and gearing towards the eventual dream of creating an original anime with her friends, it is mostly busy days and many schedules to meet for her. The whole series explores a part of the group of 5 friends pursuing different careers in the anime industry such as art, voice acting and graphic design, giving it an all-rounded view of the lives of the people in anime industry.
The anime industry is undeniably stressful, Shirobako eliminates the pressure by injecting light humor. Combining different elements of the industry, we are able to see the hardship of each and every department and component of making anime, and the joys of everyone after collaborative effort.
Truly giving respect to the slice of life genre, Shirobako is a must watch for any anime lover! who dig the whole creative process of animation professionals and the industry as a whole. And this does not end up here, recently, one of the producers of Shirobako, Nakayama, said on a web radio interview that "our plan of making Shirobako a videogame has been approved" source: 第381回 2015年12月23日 のら犬ブラザースのアニメ!ギョーカイ時事放談.
Original TV Anime Shirobako Comic Market 86 PV
---
5. Gekkan Shoujo Nozaki-kun

Episodes: 12
Aired: Jul 2014 - Sep 2014
Nozaki-kun is a renowned shoujo manga artist. In reality, he is actually a high school student. Chiyo Sakura has a crush on him, and imagine her surprise when she found out his true identity. Agreeing to be his assistant, they work on his manga together, encountering many different individuals as inspiration for the plot.
An otaku related job, manga is a part of the culture and this show extends it by making this anime about manga creative process. It has the same elements as Shoujo-tachi, such as a cast of odd characters and some characters who are simply there for comedy. Gekkan Shoujo also explores the tropes of the culture, with Shoujo-tachi focusing on gal games and Gekkan Shoujo on manga.
[PV] TV Anime Gekkan Shoujo Nozaki-kun PV 2!
---
6. D-Frag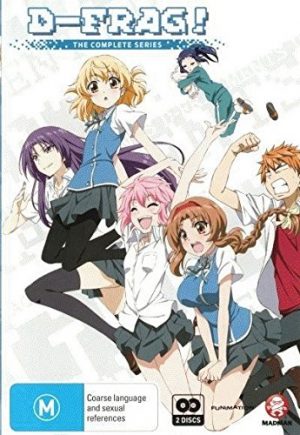 Episodes: 12
Aired: Jan 2014 to Mar 2014
Due to an unfortunate encounter with a bunch of weird people, Kazama Kenji is roped into the Game Creation Club against his will. Outrageous behavior is one thing, but making him join the silly antics of the club is another. Often retorting at the levels of wackiness of the club, he knows his remaining days in this club are definitely not going to be smooth.
D-Frag is similarly set in an environment of close-knit friends, but is more focused on the comedy. While the name of the club is the Game Creation Club, there is actually very little creating involved, and most of the time is usually spent watching the club members come up with a ridiculous plan and the loud retorts of Kazama Kenji. Either way, it shares the same element of a group of friends interacting with each other in a humorous fashion
D-Frag! Series Collection - Official Trailer
---
So what are you opinions on the anime listed? What elements did you enjoy the most so far with Shoujo-tachi wa Kouya no Mezasu? We feel that it has the exactly same premise of Saekano. Which of these 2 anime series do you feel did a better job?
Let us know, and we will see you next time
---