También puedes leer este artículo en:Español
In this article of the similar anime series, we will be covering the recently released musical anime, Show by Rock!! The series received a new season after its first release in early to mid-2015. One of the most unique things about the series is its distinctive animation style. It features a unique cartoonish 'chibi' flair, but still maintains the generic style that fans have been familiar with. With the new season having aired in October 2016, it's only fair to touch on the subject at hand. For those who have never watched the anime before, here's a quick summary of what the series is as a whole, as well as, what to expect from this colourful anime!
Show by Rock!!, in hindsight, is about a girl named Cyan Hijirikawa, who is really good at playing the guitar, and with that ability, she's motivated to join the school band. There's only one problem; she is extremely shy. Follow her journey as she gets sucked into a parallel world, where she transforms into a cute cat-like creature and ultimately has to rely on her musical abilities to defeat terrorizing monsters that threaten the peace!
So, that's it for the quick summary of the Show by Rock!! series. If you find this anime interesting, then here's the good news! We will be featuring 6 anime that are similar to this series! The criteria we'll be covering will be based upon animation styles, themes, storyboard, and character development. So without further ado, let's get right into this!
Similar Anime to Show by Rock!!
1. K-On!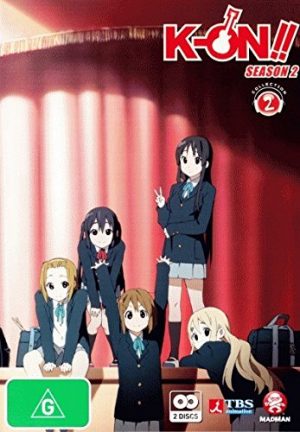 Episodes: 13
Aired: April 2009 - June 2009
Starting off the list, we have K-On! For those who have already seen this anime, you'd know exactly why this anime made it onto the list. Aside from its moe-like style that seemed to appeal a large number of fans, the character development in this anime is also something note-worthy.
It starts off with the life of the average, carefree, air-headed, Hirasawa Yui, who, despite having no experience whatsoever in terms of musical talents, decides to join her school's band. Initially, the only motivation for her to join the Light Music Club was because she thought that light music meant "easy music".
After some initial tries, Yui actually develops a talent for it, albeit needing some more work. With the help of her bandmates, Mio, Tsumugi, Azusa, and Yui will learn to overcome her struggles in music as well as her school. Don't miss out on this moe anime and be sure to enjoy the songs in it because they're quite decent!
---
2. Uta no☆Prince-sama♪ Maji Love 1000%

Episodes: 13
Aired: Jul 2011 - Sep 2011
Uta no☆Prince-sama♪! is next on the list! This anime did a great job in terms of their animation style, as it contained extravagant colors. And just like Show by Rock!! the protagonist is a girl who is trying to make it through the world of music. Not only that, she is practically swarmed by hot-looking guys in her academy. As you can already tell by the character casting, that this anime ultimately leaned towards the Shoujo genre.
It all started with a girl named Haruka Nanami, who longed to be the composer for her famous idol. To be able to achieve that, she decides to enroll at the prestigious Saotome Academy of performing arts. There, she will meet a bunch of good-looking guys such as Kurusu Shou, Jinguuji Ren, Shinomiya Natsuki, Ittoki Otoya, and much more! You can already guess the love storm that is going to brew between Haruka and the other boys at her academy!
Uta no Prince-sama: A Maji Love 1000 Trailer
---
3. Love Live! School Idol Project

Episodes: 13
Aired: Jan 2013 - Mar 2013
Judging from the title alone, you'd probably already have some idea of what this anime is going to be like. If you're thinking a bunch of high school girls becoming idols, then you're right! Much like how the characters in Show by Rock!! saves the town from monsters, the characters in this anime struggles to save their own beloved school! So if you're into the musical anime with a touch of slice-of-life, then this anime will be perfect for you!
With the plummeting popularity of her beloved school of Otonokizaka High School, Kousaka Honoka struggles to brainstorm any ideas that could help save the school from shutting down. Thanks to the school's un-strategic location of being located at the border of three major cities, it starts to lose popularity and face risks of getting shut down. It's up to Kousaka Honoka and her friends' idea of creating a school idol to regain popularity, will they be able to save their school?
Love Live! School Idol Project First Season - Official Trailer
---
Any Anime Like Show by Rock!! ?
4. Nodame Cantabile

Episodes: 23
Aired: Jan 2007 - Jun 2007
If you like music and some rom-com on the side, then this next anime will definitely appeal to you! It's basically 'love is in the air' with this anime, with the random quirky pianist named Nodame who fell in love with a perfectionist conductor, Chiaki Shinichi who live next door to her apartment. You will see the quirky side of Nodame be somewhat similar to the main protagonist of Show by Rock!!. As they might be quirky and weird, but nevertheless, they do appeal in that way.
Even though initially Chiaki was forced into playing the piano together with Nodame by his instructor, Chiaki soon realized that the more she played there was something special about the quirky girl. As Chiaki tries to mold Nodame into a special pianist, her feelings for him grew. But will Chiaki ever feel the same towards Nodame? Stay tuned to Nodame Cantabile for a hearty laugh!
---
5. Pretty Rhythm: Rainbow Live

Episodes: 51
Aired: Apr 2013 - Mar 2014
Moving on the list, we have the Pretty Rhythm franchise. This anime might be popular amongst the girl's community. Just like the previous anime on the list, it features a group of girls who undergo great character development to become dazzling and stunning idols! Of course, with the added touch of magic, this anime becomes quite a sight for sore eyes!
The plot centers on Naru Ayase, a girl gifted with the ability to see the colors of music when listening to them. She dreams to become the manager of a trendy fashion store like Dear Crown. And as fate would have it, she becomes interested and immediately applied for it when a newly opened fashion store opened and was recruiting middle school girl to be the store manager. But when she was performing at the final evaluation, a whole new world of music emerged before her eyes. Join Naru as she journeys to discover more about the world of Prism Stones!
Pretty Rhythm: Rainbow Live Trailer
---
6. Macross Δ (Macross Delta)

Episodes: 26
Aired: Apr 2016 - Sep 2016
Now as we all know that Show by Rock!! is an anime that features the protagonist that utilizes her musical abilities to defeat evil monsters. This unique plot can also be seen in Macross Delta, although the character cast and animation style very much differ from Show by Rock!!, but nonetheless, it became something unique in itself.
With a futuristic mecha vibe, Macross Delta delivers an anime like no other. It perfectly blends some of the musical aspects into an action suspense anime, which is a rare combination of genre. It might seem weird at first, but once you go through a few early episodes then you'd get sucked into the plot.
When the Earth is under threat and the human race was brought to the brink of extinction due to the Var Syndrome, a viral virus that spread like wildfire, turning people violent, that's when Walkure, a tactical sound unit was established. Armed with their voices, they sing beautiful dazzling melodies to protect humans and save the Earth.
---
Final Thoughts
Overall, Show by Rock!! is definitely one of the most appealing musical-genre anime out there, and with this list, you might find something you like from the original Show by Rock!! series. Who knows, the list might help you find the next musical anime that you fancy. That's it folks! We hope you enjoyed the 6 Anime Like Show by Rock!! article?! Be sure to check out the list and watch more anime! Anime Banzai!!!
---