También puedes leer este artículo en:Español
Boy thinks about girls. A lot. Boy would like to meet girls. Then, wish granted! Literally, one falls over him from the skies. The girl declares to be his servant, and the life of the boy is forever changed when he suddenly finds himself involved with even more girls, and serious battles.
Also known as Heaven's lost property, Sora no Otoshimono was created in 2007 by Minazuki Suu, a manga artist active since 2002. But the ecchi guy who encounters a beautiful lady who opens up a whole new world for him is not a novel topic in Japanese animation. Let's make a quick review of anime like Sora no Otoshimono!
Before and beyond Sora no Otoshimono.
Similar Anime to Sora no Otoshimono
1. Chobits

Episodes: 26
Aired: Apr 2002 – Sep 2002
The legendary artist quartet CLAMP has rarely left a manga gender to explore, therefore, they also have a story about an ecchi guy and his "slave". Chobits ran in Kodansha from 2000 to 2002, followed by a T.V. series.
On this occasion, our protagonist Hideki Motosuwa is a poor guy who finds a sophisticated and cute Persocon (word play with "paasookon", personal computer) in the trash. His geeky friend Hiromu helps him to set her up, and soon, we have Hideki teaching Chi, the Persocon, the basics of being human. Expect the most detailed girly clothes and the most shining innocence from Chi, but not all is full of fun and ecchi situations. The mysterious black clothed Freya lurks like a shadow in the Persocon's dreams.
Chobits - US Preview Pioneer/Geneon
---
2. DearS

Episodes: 13
Aired: Jul 2004 – Sep 2004
Created by the duo Peach-Pit in 2002 and published by MediaWorks, DearS also counts with OAVs and a game.
This time it is all about aliens crashing in our planet (quite literally falling from the sky). Takeya Ikuhara is a racist high-schooler. He finishes encountering a weak alien and taking her home. She receives a new name, Ren, and becomes very fond of the annoyed Takeya. Although she is being tracked by the Aliens she left behind…
If you are into cute alien girls who want to become friends with earthlings, this anime is just for you!
DearS Trailer
---
3. Ah, Megami Sama!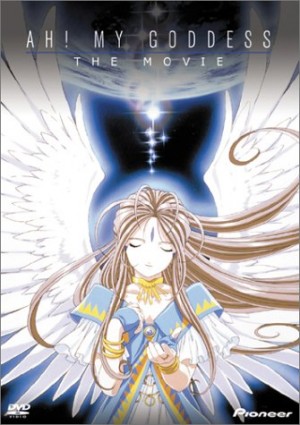 Episodes: 26
Aired: Jan 2005 – Jul 2005
The brainchild of Kousuke Fujishima, who started his career as an editor before becoming an accomplished manga artist and character designer. Also known as Oh my Goddess!, the story of the looser Keiichi Morisato and the sweet Belldandy started as a manga published by Kodansha, quickly followed by several OAVs, Anime T.V. series, a film and a novel.
Belldandy became an icon of the ideal anime girl in the beginning of the 21st century. Summoned by the Goddesses' telephone help line, Keiichi requested her to stay with him. This is how his several acquaintances with the worlds of the Goddesses and Demons begins, usually involving Belldandy's cheerful sisters Urd and Skuld.
Anime 'Ah, Megami Sama!' PV First Blu-ray
---
Any Animes Like Sora no Otoshimono ?
4. Sekirei

Episodes: 13
Aired: Jul 2010 – Sep 2010
Also known as Wagtail, this is the work of Sakurako Gokurakuin, originally published by Square Enix in 2004. Gokurain is a female manga artist famous for her titles in the yaoi and soft porn genres, so you can imagine how ecchi the story will be.
It is the year 2020 on an alternative reality, where college exams are as hard as in our reality. Thus our protagonist, Minato Sahashi, is a failed academic soul in whose lap falls a girl from the sky. It turns out that she can become his Sekirei ("slave") due to a particular genetic compatibility they have. The girl, Musubi, is also a battle warrior who will do anything for her master Minato's sake. So, expect a lot of action on this anime!
Sekirei - Season 1 on DVD 11.23.10 - Anime Trailer
---
5. High School DxD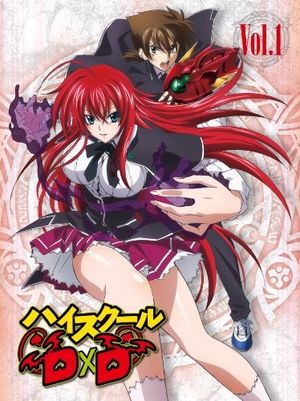 Episodes: 12
Aired: Jan 2012 – Mar 2012
This manga released by Fujimi Shobo is still being printed, but it already has several T.V. anime seasons, OAVs and Games. High School DxD was born as a light novel written by Ichiei Ishibumi and illustrated by Miyama-Zero.
Issei Hyodo, our ecchi protagonist, is a student in the prestigious Kuoh Academy, which is attended also by supernatural beings in disguise. One day, a pretty girl called Yuma asks him on a date. So, is he a lucky guy? Unfortunately, he ends up being attacked by her and dies. When he revives as a demon, he becomes her master and even more crazy adventures come on the way. Although this anime is darker than Sora no Otoshimono, the action packed battles are worth watching.
High School DxD Trailer
---
6. Hentai Ouji to Warawanai Neko

Episodes: 12
Aired: Apr 2013 – Jun 2013
Also known as The Pervert Prince and the Stony Cat, originally was a light novel published by Media Factory in 2010.
On this occasion, our perverted protagonist, Yoto Yokodera, wants to change his nature. He does not know how to be straightforward and express his feelings. A former perverted friend tells him that a statue of a cat can help him, so he goes to request a wish to it. A girl called Tsukiko asks for a wish at the same time, and suddenly Yoto is a straightforward guy while the girl is unable to show emotions. They end up not liking the change, so they have to work together to revert it.
The "Hentai" Prince & The Stony Cat.
---
Although the relationship of "master" and "slave" is complicated, these anime show us how teamwork makes us champions… even when girls are frequently portrayed as creatures from another world.
So, did you like our anime selections? Which other similar anime to Sora no Otoshimono have you watched? Comment away and we hope you enjoyed this quick review!
by Sakura Moonprincess.
---