The world of voice acting in Japan can be frantic and competitive. Written by voice actress or "seiyuu" Masumi Asano, Sore ga Seiyuu! takes a dive into that world and gives you the ins and outs of life working as a seiyuu. Today, Honey's Anime is looking into a few anime like Sore ga Seiyuu! These anime have similar environments, themes, and lovable characters that show us the eccentric and humorous side of the working world. If you enjoyed Sore ga Seiyuu! as much as we had, then stick around for a bit. We have for 6 anime that may just capture your heart!
Similar Anime to Sore ga Seiyuu! / Similar Anime to Seiyu's Life
1. Girlish Number

Episodes: 12
Aired: October 7, 2016 – December 23, 2016
College student and aspiring voice actress, Chitose Karasuma is looking forward to her start in the industry. Rude, ill-mannered, and managed under her older brother's agency, she believes she is highly talented and that her career will be a walk in the park. Though, after only receiving small roles, this voice acting thing has left a bitter taste in her mouth. Grinding for a lead role, Chitose is put up against many other interesting voice actresses along her journey. She is soon to learn that being a voice actress is much more than just some leisurely stroll and that this industry may just have her number.
The biggest similarity between these two anime is, of course, that they both revolve around voice acting. While both anime are comedies, the characters in Sore ga Seiyuu! take the topic in a more light-hearted and humorous manner, teaching you the ins and outs of the seiyuu experience. In Girlish Number, the characters are a lot more cynical and take on a different type of humour showing you the hardships someone can experience in the industry. Both of these anime have many quirky and interesting characters, from a young and talented highschool girl, to an older actress with much experience under her belt. If you want to get the most out of the life of a seiyuu, then Girlish Number may have your number!
Girlish Number Trailer
---
2. Working!! (Wagnaria!!)

Episodes: 13
Aired: April 4, 2010 – June 27, 2010
Souta Takanashi cannot refuse cute and small things. Somehow, this characteristic has led to him becoming a waiter at the restaurant Wagnaria. Working as a waiter can be a cinch. Though, in spite of that, when there is a co-worker that wields a katana, one with an interesting phobia, and a few other oddballs, being a waiter can turn into a much different experience. Accompany this restaurant family at Wagnaria, where fine dining and eccentricity are both at its finest.
Both of these anime depict the daily lives of those in the workplace. Where Sore ga Seiyuu! takes you deeper into the workings of an industry showing their ups and downs, Working!! shows off more of the comedic interactions between co-workers as they do their jobs. If you are looking for a relaxing and hilarious viewing experience, this anime will definitely do the trick!
Working!! (Wagnaria!!) Trailer
---
3. Servant x Service

Episodes: 13
Aired: July 5, 2013– September 27, 2013
Working as a civil servant in the city of Mitsuba isn't the best job one could have. Nevertheless, Servant x Service could make you feel differently. Come join Lucy Yamagami, Yutaka Hasebe, and Saya Miyoshi as they start their comedic adventure as civil servants. Who knows what different type of people you can meet as a government worker? You could meet the slacker of all slackers, the serious type sporting glasses, an angry old woman, or even, dare we say… an otaku!? Follow the life of a civil servant! This quirky office has it all.
Servant x Service is very similar to the previously discussed anime, Working!! as they have the same manga author. The similarity with Sore ga Seiyuu! comes from the workplace setting and lovable characters. Both anime have a bubbly and comedic atmosphere that can really draw you in and keep you watching. Who knows what has led someone to become a civil servant? It's just like wondering the reasoning of someone who dreams of becoming a voice actor. Servant x Service has amazing characters that you will fall in love with as you are rolling on the floor in laughter.
Servant x Service PV
---
Any Anime Like Seiyu's Life / Any Anime Like Sore ga Seiyuu! ?
4. Bakuman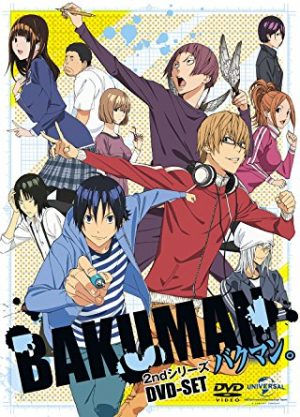 Episodes: 25
Aired: October 2, 2010 – April 2, 2011
When he was a child, Moritaka Mashiro had dreamt of becoming a mangaka. Though when his uncle passed away, that dream of his soon faded. Moritaka, now in middle school, has suddenly been asked by classmate and top student, Akito Takagi, to become a manga artist together with him. Moritaka refuses, but the persistent Akito doesn't let up and Moritaka soon agrees after finding out that his crush, Miho Azuki, dreams of becoming a voice actress. If he could have his manga adapted into an anime, could she play the female lead? It would be a long road, but Moritaka is intent on achieving their dreams.
Bakuman and Sore ga Seiyuu! are very different but similar anime. The tone of Bakuman is much more serious and dramatic, whereas Sore ga Seiyuu! is more high-spirited overall. What makes them the most similar are the workfields and characters. Bakuman is about the life of managka and Sore ga Seiyuu! is about voice actors. The characters in both have dreams of becoming part of anime production, whether it's writing the original work or being a main voice. The in-depth look at becoming a manga artist is the greatest aspect of Bakuman, from editor interactions and grinding out that next chapter, to being behind on work or spilling ink on an entire page. If you are a huge lover of manga, Bakuman surely will draw you in!
Bakuman PV
---
5. New Game!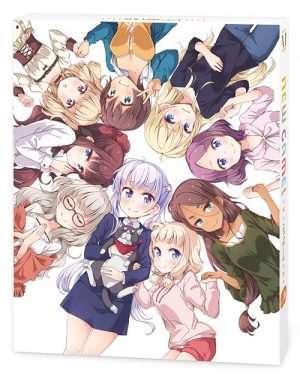 Episodes: 12
Aired: July 4, 2016 – September 19, 2016
Aoba Suzukaze has recently graduated high school and is ready to join the workforce. She begins working for Eagle Jump, the video game company responsible for creating Aoba's favorite childhood game series, Fairies Story, and sparking her love for character design. It seems that the company is working on a new installment for the series and to her surprise, she is now working under the main character designer of her favorite childhood game! With high hopes for the future, a young and excited Aoba goes all in to create a great, new game.
If there is an anime like Sore ga Seiyuu!, New Game definitely comes to mind. While having similar art styles and being of the Slice of Life and Comedy genres, both anime are not set in a typical work field. New Game's game designing workplace brings a new and refreshing environment to anime, just as Sore ga Seiyuu! did with its close look at voice acting. New Game shows the hard work and dedication video game companies bring to the table when creating your favorite games. Join Aoba as she and her lovely co-workers work to create a new game!
New Game! PV
---
6. Shirobako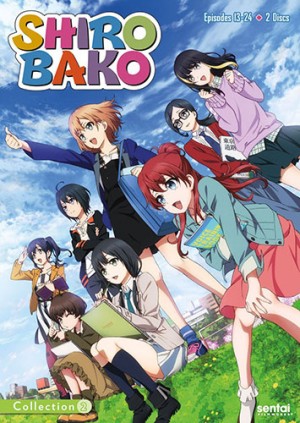 Episodes: 24
Aired: October 9, 2014 – March 26, 2015
With dreams of joining the anime industry, five girls from the Kaminoyama High School animation club vow to one day come together as successes and create their own anime. However, a couple of years pass and the girls are struggling to find their way through this crazy maze called life. A few are struggling with stress in their field of work and some are worried about not being able to make their big break. Will these girls push through the hardships of the industry and stay true to their vow? Will they give into this crazy maze?
This anime may be last on this list but definitely not least. When it comes to insight into the hardships and work put into anime production, Shirobako takes the cake. As Sore ga Seiyuu! goes in depth into a seiyuu's life, Shirobako takes you through every step as you observe the production of anime from director storyboards, to the funny quirks of sound production. Both of these light-hearted anime have captivating and relatable characters that add a perfect comedic effect as you observe the stressful nature of the anime industry. If you need an insightful anime with great art and guaranteed to give an entertaining anime experience, Shirobako would be an amazing choice!
Shirobako Trailer
---
Final Thoughts
That concludes our 6 Anime Like Sore ga Seiyuu!! One common theme among many of these anime, are characters that have a dream and strive to make it a reality. Dreams like that are what help us push forward and keep going. There are many other anime out there that could very well have also made it on this list. What do you think we may have missed? Let us know down below in the comments!
by Christian "Kyueue" G.