Magic, supernatural themes and fantasy are three elements that seem to go really well together in the anime world. Though if you want definitive proof of this, all you have to do is look at Wit Studio's latest creation Mahoutsukai no Yome. This beautiful anime has only released 3 episodes—as of this article being written—but already people are falling in love with not only the characters, like Chise and Elias but also the incredible world within. However, like any good currently airing anime, during the down time between the weeks, you're forced to wait for yet the next episode. That's why we here at Honey's Anime always having some back up shows to enjoy to make the wait better. That's why to help you out we have made our 6 Anime Like Mahoutsukai no Yome list so you can find similar anime to enjoy.
With our 6 Anime like Mahoutsukai no Yome list, we tried to capture anime that truly feels like an adventure as well as gives viewers a look into a whimsical world full of magic. Some of the listed anime below are quite popular all while others might have missed your radar by just a small margin. Regardless, if you're loving Mahoutsukai no Yome and you need something to make the pains of waiting lessen, you're going to want to read this list of 6 Anime Like Mahoutsukai no Yome. Now sit right down and let us transport you into a realm of great anime.
Similar Anime to Mahoutsukai no Yome
1. Natsume Yuujinchou (Natsume's Book of Friends)

Episodes: 13
Aired: Jul, 2008- Sept, 2008
Takashi Natsume at first may look like just your everyday 15-year-old but that couldn't be any further from the truth. Takashi actually has a secret power of sorts which lets him see youkai. Though poor Takashi also is cursed to be constantly chased by these seemingly angry spirits. Though as Takashi learns, his grandmother before passing away gave him a strange book known as the Book of Friends. This book contains all the youkai she sealed away but in turn the spirits chase Takashi to hopefully free themselves from the book itself. Can Takashi find a normal place to avoid being chased by these beings or will his life be forever haunted?
One of the best elements of a good supernatural story like Mahoutsukai no Yome is to give the viewers a glimpse into a world that seems almost impossible or mystical. Though by accomplishing this feat, an anime becomes a truly engrossing work that just wows the audience at every possible turn. That's what you can expect if you watch Natsume Yuujinchou. With beautiful animation and a truly interesting world filled with magic, spirits and some intriguing slice of life elements, Natsume Yuujinchou is truly an anime you should enjoy if you're loving Mahoutsukai no Yome. Don't worry about binging Natsume Yuujinchou either as there are multiple seasons so you won't run out of episodes for a least a little while.
Natsume's Book of Friends Season 1 & 2- Official Trailer (Official Trailer)
---
2. Akagami no Shirayuki-hime (Snow White with the Red Hair)

Episodes: 12
Aired: Jul, 2015- Sept, 2015
Shirayuki might share a name with a fictional girl—in this case Snow White—but that doesn't mean her life has been anything too fantastical. For years Shirayuki has just known the peaceful country life working for a herbal shop and just enjoying the beautiful days of peace. However, one day a prince finds Shirayuki's beauty to be amazing and wishes for her to join him as a concubine. Fearing that she will never know freedom again, Shirayuki cuts her long red hair and flees. As she makes her escape, Shirayuki is saved by several strangers from an adjacent kingdom and thus decides to go to work for them to hopefully repay them for saving her. Shirayuki maybe indeed shares more than she thought with the fictional Snow White.
Akagami no Shirayuki-hime might be less about magic than Mahoutsukai no Yome but that doesn't detract from how similar these two stories are. Like Mahoutsukai no Yome, Akagami no Shirayuki-hime follows the plights of a young girl trying to avoid a life of servitude and darkness. This theme is mirrored in Mahoutsukai no Yome with Chise having her life transformed from a dark world of suffering when Elias buys her at an auction that could have ruined her life. Akagami no Shirayuki-hime was animated by studio Bones and you can see their usual excellence in everything from the animation to the character designs. If you want a romance story that melds with fantasy themes, we highly recommend checking out Akagami no Shirayuki-hime.
---
3. Mushishi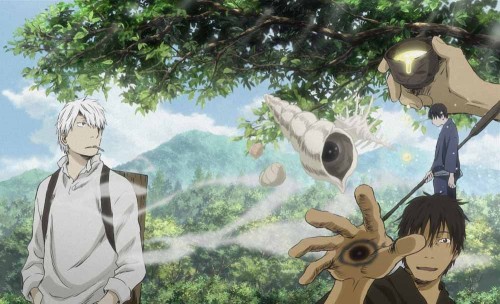 Episodes: 26
Aired: Oct, 2005- Jun, 2006
Traveling researcher Ginko has taken it upon himself to explore the world of Mushi. Known as beings that hold multiple forms and are strange in every sense of the word, Ginko wishes to understand why they exist. In his travels, Ginko will come across many people and Mushi in equal measure and using his skills he will try to mend their issues. In a world filled with mystery and question can Ginko truly find a means to understand why Mushi are the way they are in this world. Welcome to the world of Mushishi where life is a never-ending question waiting to be solved.
Back in 2005 studio Artland released Mushishi, a slice of life story within a bed of other genres such as fantasy, adventure, mystery and so forth. Every episode of Mushishi's two season story—a ten-episode sequel did indeed release in 2014—kept us wanting more as we fell in love with the slow but whimsical world Ginko walked through. That's why as we watch Mahoutsukai no Yome we're constantly reminded of the similar tones found in Mushishi. We know if you're finding the world of Mahoutsukai no Yome to be intriguing you're going to feel the same about Mushishi. Even though Mushishi is now more than a decade old we promise you it's still a legendary series that deserves the mass praise it still has in the anime community.
Mushishi- Box Set- VC on DVD 10/6/09- Trailer (Official Trailer)
---
Any Anime Like Mahoutsukai no Yome ?
4. Ookami to Koushinryou (Spice and Wolf)

Episodes: 13
Aired: Jan, 2008- Mar, 2008
Traveling merchant Lawrence Kraft has stumbled into the town of Pasloe during an interesting annual celebration. Once the town of Pasloe truly respected their deity known as Holo but as time passed the townsfolk began to forget about Holo and have this celebration as a means of partying and not prayer. However, just because the residents of Pasloe don't believe in Holo makes her any less real as Lawrence soon discovers. Finding himself face to face with the deity wolf Holo, Lawrence's life will forever be changed once she asks him to accompany her on a journey to the north…
In the anime landscape romance doesn't always have to be simple or even normal for that matter. Just look at Holo and Lawrence one is a wolf deity and the other a simple merchant with dreams of opening his own store. Though together these two oddities make for one heck of an adventure/romance anime and that's why we had to include Ookami to Koushinryou to our list of 6 Anime Like Mahoutsukai no Yome. Ookami to Koushinryou also has a second season so you'll a combined total of 25 episodes to partake in while you watch Mahoutsukai no Yome. Now let us all hope for a third season of Ookami to Koushinryou so we can finally see a conclusion to Holo and Lawrence's tale in anime form.
Spice & Wolf Season 1 Trailer (Official Trailer)
---
5. Fukigen na Mononokean (The Morose Mononokean)

Episodes: 13
Aired: Jun, 2016- Sept, 2016
Hanae Ashiya's has to wonder if he's been cursed. While this is supposed to be a new high school year for Hanae instead of going to classes and making new friends, he's been bed ridden for the first week of school! Though soon Hanae learns the cause of this sickness comes in the form of an odd small being that has attached to Hanae when the school year began. Unable to remove the being, Hanae continues to get more and more sick and wonders if he will soon die. Though lucky for Hanae there exists a place called the Mononokean that has people who deal with events like this on an everyday basis.
Imagine for a moment you had the chance to enter a world filled with spirits and magic. Would you dive into such a world or would you refuse the offer and just enjoy a peaceful life? For Hanae Ashiya whether he wanted to or not he found his answer when he decided to become part of the Mononokean in Fukigen na Mononokean. Like Chise in Mahoutsukai no Yome, Hanae's new way of life won't be easy as he has to acclimate to the oddness that he now can see as real but equally this new world will take his mundane existence and make it into something truly awesome. That's why to all those who are in love with Mahoutsukai no Yome why not check out Fukigen na Mononokean? At only 13 episodes long you'll wonder if you were possessed by some being when you get addicted to Fukigen na Mononokean truly amazing tale and world.
TVアニメ『不機嫌なモノノケ庵』公式PV第3弾 (Official Trailer)
---
6. Akatsuki no Yona (Yona of the Dawn)

Episodes: 24
Aired: Oct, 2014- Mar, 2015
In the peaceful Kingdom of Kouka, princess Yona has lived a life of luxury and calm. Yona's biggest issue of the day would be how to get her love Su-won to notice her not as a friend but as a lover. However, Yona's peaceful life is shattered in a mere second when her love Su-won betrays her family and kills them right before her eyes. Luckily for Yona her other childhood friend Son Hak saves her and thus the two escape alongside several other retainers. Yona now must grow up as she leads her small group of warriors to take back her land and get revenge on Su-won for destroying her beautiful life and killing those whom she held dearly.
We end our list of 6 Anime Like Mahoutsukai no Yome with Akatsuki no Yona created by studio Pierrot. This 24-episode long series follows Yona as she goes from privileged princess to a warrior who is self-sufficient and strong. Yona truly reminds us of Chise in many ways—besides the obvious hair color—as these two women must grow up after facing traumatizing situations. With visceral fighting, an epic fantasy story and an adventure filled with both beauty and darkness at times, Akatsuki no Yona truly is something that should be watched by all. Now if you'll excuse us, talking about Akatsuki no Yona has actually made us want to re watch it.
---
Final Thoughts
Mahoutsukai no Yome might be amazing but equally the shows we've listed above are pretty epic in their own rights. Whether you decide to save them till after you finish Mahoutsukai no Yome or watch them while you wait we know that you'll fall in love with these similar anime just as much as we loved listing them for you. Now that we've talked quite a bit we wish to hear from you amazing people out there. Do you have a recommendation for a similar anime to Mahoutsukai no Yome that we failed to mention? Comment down below and share your knowledge with other anime viewers. If you loved this article and desperately need more you're in luck as our site here at Honey's Anime is filled with similar articles just waiting to be read by you.
---