As you have probably heard already, Tiger and Bunny, that unforgettable 2011 anime that spawned two films, a manga series, music concerts, and countless fan works, will be an upcoming live-action Hollywood superhero movie with Ron Howard and Brian Grazer as producers. Until the next installment in the Tiger and Bunny multimedia universe, what is a fan to do? Whether you're a new fan or a long-time "TiBun" supporter, finding anime that has a resonating mix of comedy and action along with inventive and likable characters can be a difficult task. The following is a list of recommended anime that bears some resemblance to Tiger and Bunny. With hopes, this list will fill the gap until Tiger and Bunny roars back on the silver screen.
Now without further ado, let's let out a wild roar for 6 anime like Tiger and Bunny!
Similar Anime to Tiger and Bunny
1. Shingeki no Bahamut: Genesis

Episodes: 12
Aired: October 2014-December 2014
Starting off a list of anime that are like Tiger and Bunny with an adventure fantasy anime perhaps doesn't seem promising. But, when you consider the cast and staff involved in the production of Shingeki no Bahamut: Genesis, similarities reside in more than just what meets the eye. Both Tiger and Bunny and Shingeki no Bahamut: Genesis share the same director, Keiichi Sato, and many of same voice actors, such as Masakazu Morita, Go Inoue, Hiroaki Hirata, and Tsuda Kenjiro. With this creative team, Shingeki no Bahamut: Genesis both sounds and, through its smooth transitions between drama, comedy, and drama, narratively feels like Tiger and Bunny. Along with Kotetsu T. Kaburagi and Barnaby Brooks Jr.-esque chemistry between the main characters, Favaro Leone and Kaisar Lidfald, this anime is also great for those who like the bromanc-y aspects of Tiger and Bunny.
For those unfamiliar with this anime, Shingeki no Bahamut: Genesis follows the story of Favaro Leone and Kaisar Lidfald, two bounty hunters that share a long history with one another, as they are thrown into a battle between gods and demons. Faced with the possibility of world destruction, Favaro must protect the mysterious girl Amira to prevent the release of the terrible Bahamut.
---
2. Tentai Senshi Sunred

Episodes: 26
Aired: October 2008-March 2009
Taking into consideration the "superhero" part of Tiger and Bunny, we have Tentai Senshi Sunred, an anime that takes an "everyday life" spin on the superhero narrative. Much like how Tiger and Bunny tries to situate heroes in an everyday context by making them paid company employees, Tentai Senshi Sunred depicts the average life of the power ranger-like Sunred, job searching and all. Comedic and heartfelt, Tentai Senshi Sunred is perfect for those who want a more homely version of Tiger and Bunny.
Set in Kawasaki City, Japan, this series follows the story of Sunred, an unemployed hero mooching off his long time girlfriend, Kayoko. Yet, Sunred's days are not always filled with lazing around Kayoko's apartment. Occasionally, General Vamp, Sunred's long time enemy, calls out Sunred to fights in the local playground. That is, when General Vamp isn't busy trading recipes with Kayoko or volunteering in the community.
---
3. Samurai Flamenco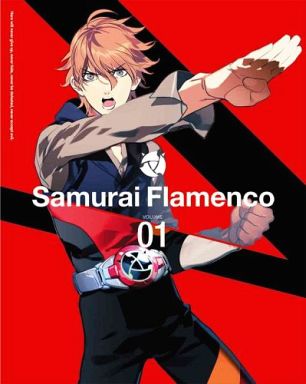 Episodes: 22
Aired: October 2013-March 2014
Much similar to Tentai Senshi Sunred, Samurai Flamenco depicts the story of a hero's everyday life. Well, that is, at least for the first five episodes. Rather than sticking to one genre, Samurai Flamenco plays the genre bending game hard, bouncing from horror to action to even Boys Love all within 21 episodes. Nonetheless, Samurai Flamenco resembles Tiger and Bunny in the way it attempts to push the possibilities of superhero stories along with its depiction of man-to-man friendship between Hidenori Goto and Masayoshi Hazama.
As previously mentioned, Samurai Flamenco genre bounces. The phrase, "you have to see it to believe it," might be the most apt when describing the show. For the sake of simplicity, Samurai Flamenco is the story of Hazama Masayoshi as he attempts to be a superhero. Along the way, he befriends the local police officer, Goto, and saves the world.
---
Any Animes Like Tiger and Bunny ?
4. Kekkai Sensen (Blood Blockage Battlefront)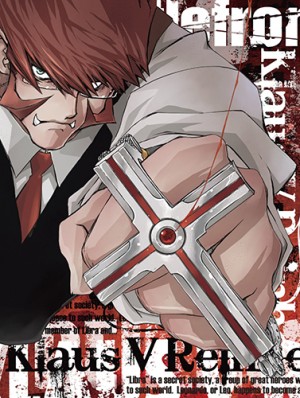 Episodes: 12
Aired: April 2015-October 2015
The notorious summer hit, Kekkai Sensen made waves with its superb cinematography and animation quality along with its better-late-then-never finale. With its dazzling visuals and music, it might be easy to forget this show takes place in America, or more specifically a city formerly known as New York City. Tiger and Bunny also takes places in a city reimagining New York City, the famous Stern Bild City. Taking this in mind, both shows best exemplify the ultimate superhero city, or in other words, urban spaces that need salvation. With this, along with its characters that wield superpowers, we have a show best-suited for Tiger and Bunny fans.
Kekkai Sensen takes place in Hellsalem's Lot, a city formerly known as New York City, after the opening of a portal to the "Beyond." In this city, the young Leonardo Watch, blessed (or perhaps cursed) with the "All Seeing Eyes of God," joins Libra, a quasi-order enforcement organization for the "Beyond." As a part of Libra, Leonardo soon finds himself in pinches well beyond his imagination.
TV Anime Kekkai Sensen PV 02
---
5. One Punch Man

Episodes: 12
Aired: October 2015-Currently Airing
Currently airing with much critical acclaim, One Punch Man is another superhero anime that takes its common sense, everyday life feel to the max. For those who enjoyed the lighter moments of Tiger and Bunny, One Punch Man more than meets the quota of laughs due to its enigmatic protagonist, Saitama. While we have not yet seen all this show has to offer, we can at least expect more superhero action smashed between such mundane everyday worries as grocery shopping or trying to kill a mosquito.
For those who have not yet tuned in to what can be the hit series of the Fall season, One Punch Man is the story of Saitama, a superhero that can take out anything with only one punch. But, even with his OP status, Saitama still has his struggles, such as finishing his fights to make it in time for limited-time-sales at the market
TV Anime One Punch Man PV 01
---
6. Gangsta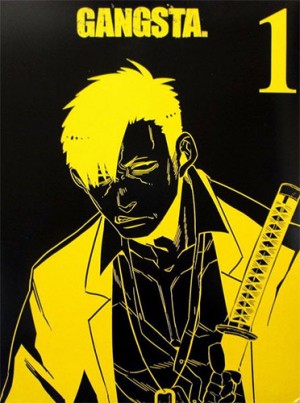 Episodes: 12
Aired: July 2015-September 2015
Last but not least, we have Gangsta. This perhaps is not the most expected recommendation for anime like Tiger and Bunny, but let's consider again Tiger and Bunny's backdrop. Watching Wild Tiger and NEXT friends in action is all fine and well, but when we consider that the basis of Hero TV lies in the history of discrimination of NEXT, Tiger and Bunny takes a whole different flavor. Taking this into consideration, Tiger and Bunny also generates questions about discrimination and the role of media. Gangsta is also an anime that deals with the aftermath of discrimination against those with super human powers. From this angle, Tiger and Bunny and Gangsta share a common backdrop, albeit with a different execution.
Gangsta centers on the lives of Worick Arcangelo and Nicolas Brown, two "Handymen" in the infamous town of Ergastulum. A mix of a mafia, crime, and action anime, Gangsta might be a little heavier than Tiger and Bunny. For those interested in the more philosophical and social questions undergirding both shows, though, Gansgta might be the anime for you.
TV Anime Gangsta PV 01
---
When all is said and done, anime that is 100% like Tiger and Bunny are rather few. Nonetheless, there is an ample selection that share and perhaps further develop aspects presented in the anime. With hope, these shows satisfy your need for that Tiger and Bunny magic as we wait for its Hollywood makeover.
---