También puedes leer este artículo en:Español
Tsuki ga Kirei is a school romance anime that started airing during the spring of 2017. It centers around two main characters, Kotaro Azumi and Akane Mizuno, who are third-year students at their junior high school. Although they've known each other throughout junior high school, their final year is the first year they've been in the same class together.
Kotaro is in the school's literature club, and greatly respects that famous Japanese author Osamu Dazai, whom he aspires to be like. Although he has a calm demeanor, he lacks the confidence necessary to share his work with the rest of the class, or even his closest friends. Contrary to Kotaro, Akane is a rather easy going member of the school's track and field club, but she, too, is struck with bouts of anxiety that she has trouble overcoming. Together with their classmates, they spend the school year learning more about themselves, and each other.
Tsuki ga Kirei tells a thoughtful, slice of life story about a group of students who struggle to overcome their flaws and grow in the process. It is an earnest look at one of the most awkward times in a person's life, regardless of what country they're in, especially when it comes to budding romance and personal identity. How will the students of class 3-1 turn out by the time graduation rolls around? You'll have to watch to find out! But fear not. If that's the type of story that keeps you glued to your seat, we've got six anime like Tsuki ga Kirei for your viewing pleasure.
Similar Anime to Tsuki ga Kirei
1. Kuzu no Honkai (Scum's Wish)

Episodes: 12
Air Date: Jan. 2017 – Mar. 2017
Genre: School, Romance, Drama
Kuzu no Honkai, also known as Scum's Wish also centers around the lives of two students, although this time in high school. From the outside, Hanabi Yasuraoka and Mugi Awaya seem to have the perfect relationship. But looks can be deceiving, and underneath the surface, they both suffer the despair of unrequited love.
Hanabi has had a crush on her older childhood friend, Narumi, for as long as she can remember. Fate seems to have a plan to bring them together when he becomes her new homeroom teacher. But it isn't long before Narumi becomes enchanted with the school's new music teacher, Akane, who seems nice on the outside but only shows an interest in Narumi for the misguided pleasure she receives from hurting Hanabi. On the other side of the drama is Mugi, who was tutored by Akane in junior high school and has loved her ever since. Both Hanabi and Mugi take comfort in their shared misery. Will a new love blossom in place of loneliness?
Although Kuzu no Honkai is a bit more mature than Tsuki ga Kirei, due in part to the high school setting and the fact that adults are involved in the story, it has many similarities. Both focus on the lives of students as they learn about the true nature of romance, and attempt to grow as individuals while navigating the treacherous waters of high school social strata. Although the story is rather melancholy at times, it manages moments of catharsis as its main characters mature, and learn more about the ins and outs of love.
Kuzu no Honkai Announcement Trailer
---
2. Hourou Musuko (Wandering Son)

Episodes: 11
Air Date: Jan. 2011 – Apr. 2011
Genre: Drama, School, Slice of Life
Hourou Musuko, or Wandering Son, tells the story of Shuuichi Nitori and Yoshino Takatsuki, two 5th grade elementary school students. When Shuuichi transfers to a new school, it doesn't take long for them to find they have more in common than they initially expected. Although technically male, Shuuichi appears and acts feminine, and aspires to become a girl. Similarly, Yoshino is tall and tomboyish, and although a biological female, desires to be identified as a boy. As if school wasn't awkward enough as it is, with the sensitive and complicated nature of gender identity added to the mix, both students have even more on their plate than usual.
Hourou Musuko is similar to Tsuki ga Kirei in terms of setting and theme, as they both take place at school, and are coming of age stories that deal with young romance. Both are also quite serious, but Hourou Musuko is especially groundbreaking for its depiction of sexuality and gender identity, two issues that aren't the easiest thing to discuss in general, especially in a society like Japan, where homogeny is considered an important part of harmony and being different can result in ostracism. It is an excellent opportunity for viewers to get insight into an increasingly important issue in our society, and should not be missed.
---
3. Isshuukan Friends (One Week Friends)

Episodes: 12
Air Date: Apr. 2014 – Jun. 2014
Genre: Slice of Life, School, Comedy
For something a little different, there's Isshuukan Friends. Sixteen-year-old high schooler Yuuki Hase has a crush on a schoolmate, Kaori Fujimiya. Although she is rather aloof and doesn't seem to have any close friends, Yuuki finally works up the courage to ask her out – and is immediately rejected. That doesn't diminish his determination, and he meets her on the school's roof, where she eats lunch every day. Throughout the course of the week, he gets to know her better and she slowly opens up emotionally, only to pull away as the week nears the end. He soon learns the nature of her aloofness; due to an accident in junior high, every week she loses the memories of those close to her except for her family, making it nearly impossible for her to develop lasting relationships. Will Yuuki's persistence prove that true love always finds a way?
Isshuukan Friends shares a setting and a theme with Tsuki ga Kirei that should be welcoming to fans of the genre. The added twist of one of the main characters losing their memory throughout the series adds a welcome dose of comedy to the proceedings, but it isn't without its own sense of melancholy. The show explores the true meaning of friendship, and also touches on issues like the effects of trauma. Throughout the series, the show strikes a delicate balance, which makes it easy to recommend to fans of Tsuki ga Kirei.
Isshuukan Friends Trailer
---
Any Anime Like Tsuki ga Kirei ?
4. Bokura wa Minna Kawaisou (The Kawai Complex Guide to Manors and Hostel Behavior)

Episodes: 12
Air Date: Apr. 2014 – Jun. 2014
Genre: Comedy, Romance, School
Kuzunari Usa discovers a newfound sense of freedom when his parents transfer to a new job, which means he'll have to spend this year of high school living on his own. But when he moves into the Kawai Complex boarding house, he soon finds out that he may have more on his hands than he bargained for. The residents are, to put it lightly, quite eccentric. Whether it's his masochistic roommate Shirosaki, the hopeless with men Mayumi, or the man-eater Sayaka, Kuzunari never finds his company boring. However, he finds solace in the presence of Ritsu, an upper classman he greatly admires. As they spend more time together, he begins to develop romantic feelings for her. Will he be able to ignore the influence of those around him, and help true love blossom?
Like other entries on the list, Bokura wa Minna Kawaisou finds drama and comedy in the everyday life of students. The residents of the Kawai Complex add an interesting, unexpected dynamic to the series that results in the majority of the comedic moments throughout the show. Although it is perhaps a bit more light-hearted than other shows included, and Tsuki ga Kirei, there's still plenty of sincere, heartfelt moments that fans of the genre crave.
Bokura wa Minna Kawaisou Trailer
---
5. Bokura ga Ita (We Were There)

Episodes: 24
Air Date: Jul. 2006 – Dec. 2006
Genre: Slice of Life, Drama, Romance
Taking a turn for the serious, Bokura ga Ita finds the main character, Nanami Takahashi, excitedly entering her first year of high school with the hopes of making new friends. A shy student, Yuri Yamamoto, is one of the first people to fit the bill. But Nanami is dismayed to find that one of the most popular students in school is Yano Motoharu, who she sees as a superficial attention hog. Despite her reservations, in the time she spends with him, she soon develops romantic feelings. Although she makes herself emotionally vulnerable by confessing her feelings, she finds Yano difficult to get close to, due in no small part to a past trauma. His previous girlfriend died in a car accident while spending time with an ex-boyfriend. Yano, who suspected her of cheating, withdraws and struggles to open up to people. Things become even more complicated when another potential suitor arrives on the scene and is willing to court Nanami in the way she wants. How will this complicated web of high school romance resolve?
Like Tsuki ga Kirei, Bokura ga Ita takes its time exploring the daily lives of school students and characterizes their relationships in a mature, complicated way. Unlike the previous two entries, this series is more contemplative in nature. Although its set in high school, it depicts a decidedly nuanced take on romance, rife with the complication that comes with emotional vulnerability and past trauma. It walks the fine line between high drama without ever crossing into melodramatic, and is an easy recommendation for fans and newcomers alike.
---
6. Orange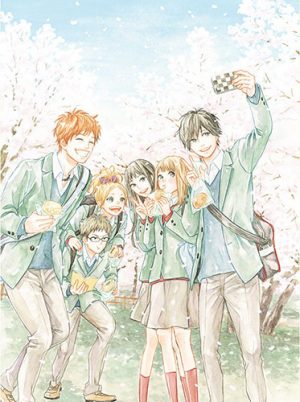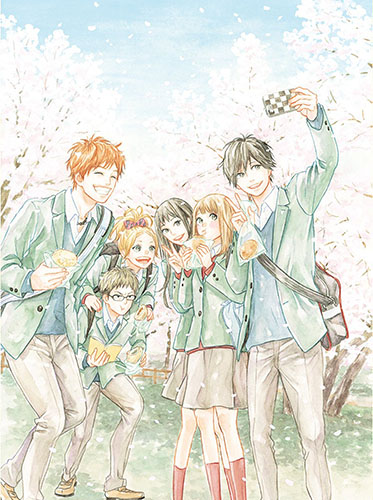 Episodes: 13
Air Date: Jul. 2016 – Sep. 2016
Genre: School, Romance, Sci-Fi
What would you do if you received a letter addressed to yourself, from the future? This is the question that Naho Takamiya must answer on her first day of her sophomore year of high school. Although she initially suspects a prank – after all, how could she receive a letter from herself, ten years in the future – she is soon convinced when events described in the letter happen to the T. The letter describes Naho's high school days as filled with regret, especially in regards to a new transfer student, Kakeru Naruse. With implications that he isn't around in the future, and a warning to handle him with care, will Naho be able to set events on a path towards a brighter future?
Orange tops off the list thanks in no small part to its wild popularity, and it's easy to see why. While it focuses on the daily lives of school students like other entries on the list, and the backbone of the show is the dynamic between its main characters, the sci-fi twist of the letter creates a somewhat surreal setting that helps set it apart from other shows in the genre. With one of the main character's life literally on the line, the drama of the show has an added weight and charms the entire ride to its thrilling conclusion.
Orange Trailer
---
Final Thoughts
With that, we've come to the end of our list of anime like Tsuki ga Kirei. At times a bit saccharine, at other times astoundingly dramatic, the shows on this list are so engrossing because of the nature of their setting. School, especially junior high school and high school, is home to some of the most volatile times in our lives and shows that can depict that in a way that feels honest and resonates will always have a place in the hearts of fans. Are there any shows on the list that take you back to your bittersweet school days? Sound off in the comments section and let us know!
---