También puedes leer este artículo en:Español
Vampires, immortals, action, shounen and ecchi, these are what make UQ Holder! such a great anime. Already we here at Honey's Anime are falling in love with Touta Konoe's adventure alongside others that just so happen to be from the past Ken Akamatsu work Negima. Though as the season is currently airing, that means people are forced to endure the pains of waiting 168 hours—or 7 days roughly—till a new episode of UQ Holder! graces their doors. Don't worry folks we feel the same here at Honey's Anime and we have a solution to ease the pain. Trust us it's a good solution to boot.
Welcome everyone to our 6 Anime Like UQ Holder! list. If you can't binge all of UQ Holder! and are forced to wait why not just watch similar anime in the meantime? That's why with our 6 Anime Like UQ Holder! list we made sure to find works that have tons of genres like UQ Holder! to make waiting for next week's episode a tad easier. This list of 6 Anime Like UQ Holder! will excite you and make you realize there are tons of anime already finished that you can enjoy without having to wait. That why we ask you all to get ready for a slew of ecchi anime with action and harem themes alike as we being our list right now!
Similar Anime to UQ Holder!
1. Freezing

Episodes: 12
Aired: Jan, 2011- Apr, 2011
In the future, humanity is threatened by an alien race called the Novas. Though the future looks bleak, the human race uses men and women who are given implants known as stigmata to fight the Novas back. Females implanted are called Pandoras while men are dubbed Limiters. Our story though focusses on a young man named Kazuya Aoi as he enters a military academy trained to create Limiters and Pandoras alike. Though when Kazuya ends up meeting one of the school's toughest Pandoras named Satellizer el Bridget, a very unlikely partnership occurs, one that might just be strong enough to turn the tides in the way against the Nova.
If one of the reason you love UQ Holder! is for the mixture of action and plenty of fanservice then we recommend our first anime on our list of 6 Anime Like UQ Holder! by the name of Freezing. Join Kazuya and Satellizer as they join forces to not only defeat various enemies but also end up in a slew of ecchi moments that will be sure to remind you of scenes found in UQ Holder. At 2 seasons long, Freezing will give you a nice amount of content thanks to studio A.C.G.T. and their excellent animation. Trust us folks, your newest dilemma won't be waiting for a new episode of UQ Holder! but instead, will be trying to figure out which girl of Freezing should be your next waifu. Even here at Honey's Anime the struggle to name which girl is best is all too problematic…
Freezing PV
---
2. Maken-Ki!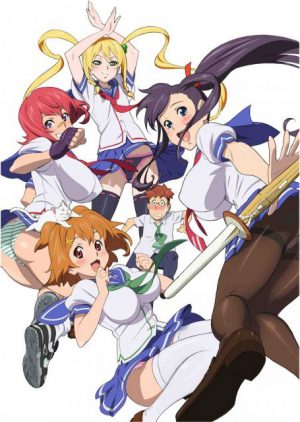 Episodes: 12
Aired: Oct, 2011- Dec, 2011
Hiromitsu Takeda has just found himself jumping for joy at a recent life altering event. Takeda's new designated school has just recently become co-ed meaning he can find possible love and maybe even more. Unfortunately, Takeda's new school isn't what anyone would describe as normal as classes aren't just books and notes but instead magic and martial arts. Here in this school students are able to use a powerful tool known as Maken and with it can unleash magical powers the like of which no one has seen before. Takeda now must find his own Maken as well as survive a school filled with girls who aren't too keen on his perverted natures.
Maken-Ki is one of those anime that when you watch it you think at first it will be a normal harem and ecchi type show. However, quickly Maken-Ki shows you that while those genres are indeed the main premise there are equal amounts of action and martial arts. Studio AIC did an incredible job taking the manga series for Maken-Ki and adapted it to truly fit the feel readers experienced on every page and chapter. If we were to use a checklist to see if Maken-Ki was like UQ Holder, it would be a 100% thanks to lovely—and might we add busty—girls and tons of martial arts action with some spice of super power awesomeness. Maken-Ki is indeed a worthy choice we feel for our list and we're sure many of you will agree after you watch both seasons of this great anime.
Maken-Ki Season 1 Official trailer (Official Trailer)
---
3. Rakudai Kishi no Cavalry (Chivalry of a Failed Knight)

Episodes: 12
Aired: Oct, 2015- Dec, 2015
At Hagun Academy, students who are called Blazers train themselves to hopefully one day become Mage-Knights. One of these hopeful Blazers is a young man named Ikki Kurogane. While Ikki might be considered a Blazer the teachers and students know him better as the only F-rated Blazer among them leading him to be ostracized by his peers. Adding to Ikki's bad luck he ends up stumbling in on a young female A-rated Blazer known as Stella Vermillion and thus challenges him to a duel. Soon though Stella will realize that Ikki might be ranked low but his power isn't what many would expect.
Ikki and Touta might be two very different individuals but one thing they have in common is they are insanely strong. Judged by others to be weak, both protagonists prove their worth time after time and thus why we knew Rakudai Kishi no Cavalry was perfect for our list of 6 Anime Like UQ Holder. With some intense action and beautiful animation—courtesy of studio Silver Link and Nexus—Rakudai Kishi no Cavalry is truly a great anime to watch. Also, don't worry there's plenty of fanservice thanks to the female members of Rakudai Kishi no Cavalry and that will please those who need some ecchi with their action anime. Don't worry we here at Honey's Anime feel the same in that regard.
Chivalry of A Failed Knight- Official Trailer (Official Trailer)
---
Any Anime Like UQ Holder! ?
4. Campione!: Matsurowanu Kamigami to Kamigoroshi no Maou

Episodes: 13
Aired: Jul, 2012- Sept, 2012
One fight was all that was needed to change Kusanagi Godou's life forever. When an odd incident causes Godou to end up fighting the God of War in a deadly battle, Godou somehow emerges victorious and becomes a Campione or God Slayer. Now Godou must use his Campione powers to align himself with followers and defend his territory from other gods who wish to steal it from him. Though Godou probably wishes his only problem was constant death battles as his other problems lie in a slew of very attractive females who wish to serve the new Campione. Get ready for supernatural action, comedy and plenty of ecchi in Campione!: Matsurowanu Kamigami to Kamigoroshi no Maou!
Anime can be pretty interesting at times, right? One minute you're a normal person and then the next you're a God Slayer with several beautiful and cute girls following you. As ridiculous as the plot may be for Campione!: Matsurowanu Kamigami to Kamigoroshi no Maou we have to admit it's one of those anime that truly doesn't disappoint in the entertainment department. Similar to UQ Holder, Campione!: Matsurowanu Kamigami to Kamigoroshi no Maou will keep you glued to your TV screens or monitors as you see Godou and his ladies fight various beasts and other warriors in heart pumping duels that truly mirror the ones found in UQ Holder. At only 13 episodes Campione!: Matsurowanu Kamigami to Kamigoroshi no Maou greatest feat will be ending faster than you wish it to, but at least it will be a good distraction for those suffering from UQ Holder! withdrawals.
Campione Trailer (Official Trailer)
---
5. High School DxD

Episodes: 12
Aired: Jan, 2012- Mar, 2012
Issei Hyoudou's perverted dreams have finally come true! Not only did Issei meet a beautiful and very busty girl but she has just asked him out on a date! Issei's life couldn't go wrong from here it seems. However, Issei learns a rather harsh truth from his new date in the form of her admitting she's actually a fallen angel and then proceeds to kill him. Fortunately for Issei a senior at his school named Rias Gremory actually revives him and makes him a servant of hers. Now Issei will enter a new life as a low-class servant who will have to rise up the ranks to help Rias become the top dog of the devil world.
Maybe you're watching UQ Holder! and wishing for more anime with beautiful girls like Karin or Yukihime, all while still having some supernatural themes and action. Well then, we direct you to try out High School DxD. With 3 seasons currently out—and a recently announced 4th due out in 2018—High School DxD will give you all the oppai and ecchi you need and maybe even more. Many consider High School DxD to be one of the best harem anime ever and we can't disagree it indeed is one of the better titles thanks to its constant comedy and use of fanservice at just the right times. That's why if you haven't seen High School DxD we advise you to change that as soon as possible so you can enjoy one of our most loved harem based anime.
---
6. Trinity Seven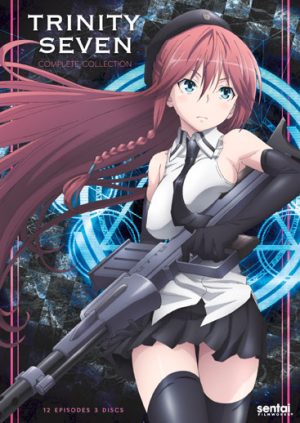 Episodes: 12
Aired: Oct, 2014- Dec, 2014
The Breakdown Phenomenon was an event that changed Arata Kasuga's life forever. In the blink of an eye all the people in Arata's town disappeared and the town with it. Luckily, Arata was able to save his world by using a powerful grimoire he obtained from Hijiri Kasuga his cousin as well as childhood friend. Though Arata's joy is short lived when a strange girl named Lilith Asami and makes the claim that he could hand over the book or perish. However, Arata finds a way out of his situation by joining Royal Biblia Academy and teaming up with several magical ladies as he now trains to become a warrior capable of saving his friend as well as keeping his world safe.
With our list of 6 Anime Like UQ Holder! coming to an end, we wish to talk lastly about a series that almost mirrors UQ Holder—by its genres—called Trinity Seven. Join Arata's story as he enters a world filled with magical oddities and tons of girls who just so happen to suffer slightly thanks to his extremely perverted actions. Equally watch as Arata follows in the footsteps of Touta as he goes from ordinary boy to super powered mage capable of using powers many couldn't even fathom. We personally love Trinity Seven and we're pretty confident you're going to find Trinity Seven to your liking as well. While there is unfortunately only 1 season of Trinity Seven to enjoy there is a movie that released which will make the pain of Trinity Seven ending just a tad more bearable.
Trinity Seven-Official Trailer (Official Trailer)
---
Final Thoughts
Well folks, what did you think of our list of 6 Anime Like UQ Holder? We tried our best to really find shows that mirror UQ Holder! but equally are their own stories and not just mere clones. If we wanted to we could have made this list hundreds of pages long but we also need to occasionally sleep and eat so we figured 6 was good enough for now. Though what anime do you think could have made this list or did we do UQ Holder! proud? Speak your minds everyone in the comments below and for even more list articles like this one keep stuck to us here at Honey's Anime.
---