Uta no☆Prince-sama♪ Maji Love 1000% has a lot to offer as a show. It follows a likable, determined heroine as she navigates the romantic and academic struggles of attending a performing arts school, following her dreams of being a composer. It's visually stunning, and features a cast of colorful, engaging characters. As an anime that centers around music, it also features a high-quality original soundtrack.
The harem anime is a tried and true plot formula. Traditionally these series are aimed at a male audience, featuring a male protagonist surrounded by a cast of uniquely charming female characters. In the last few years, harem anime aimed at a female audience, more commonly referred to as "reverse-harem anime" have picked up popularity.
Many of these are based on visual novels, and Uta no☆Prince-sama♪Maji Love 1000% is no exception. As a fan of an emerging genre, it can be hard to pin down more series that have similar elements. Hopefully the following list will help you find more series you will enjoy, if you enjoyed Uta no☆Prince-sama♪ Maji Love 1000%!
Similar Anime to Uta no☆Prince-sama♪ Maji Love 1000%
1. Amnesia

Episodes: 12
Aired: January 2013 - March 2013
This series is another visually stunning reverse harem anime based on a visual novel. It focuses around a female character who struggles to overcome adversity, and has many twists and turns throughout the plot. This series is a bit darker at times than Uta no☆Prince-sama♪ Maji Love 1000%, but has many similar elements.
The heroine of this series wakes up on a morning just like any other, only to find she has no memories at all. The first person she encounters is a boy who calls himself Orion, who appears to be invisible to everyone else. He informs her that he is to blame for her lost memories, and vows to help her retrieve them. The series follows her quest to reclaim her identity along with these lost memories, which proves to be no easy task.
Anime "AMNESIA" PV (broadcast just before version)
---
2. Brothers Conflict

Episodes: 12
Aired: July 2013 – September 2013
This anime features a cast of bishounen, a tenacious female protagonist, and a dose of humor similar to Uta no☆Prince-sama♪ Maji Love 1000%. Another similarity is that over the course of one day, the main character's life is turned on its head.
Ema's life is pretty average. Average, that is, until her mother re-marries, bringing thirteen new brothers into her life. To make matters more complicated, the series follows the blossoming romantic tension between Ema and her new in-laws, and the drama that ensues.
TV Anime "Brothers Conflict" PV (English Subbed)
---
3. Koi Suru Tenshi Angelique: Kokoro no Mezameru Toki (Angelique: When the Heart Awakens)

Episodes: 13
Aired: July 2006 – September 2006
This is another anime based off a visual novel. The main character is an average girl, surrounded by a cast of bishounen. Through a turn of luck, this girl finds her mundane life totally transformed, without a dull moment in sight. Ange's life is turned on its head. Suddenly, she finds herself bearing the responsibility of the Etoile. What this means, is that she is tasked with essentially saving the universe.
Luckily she has the support of nine elemental guardians to aid her on her quest. Can she rise to the challenge that has been set before her and save the Cosmos of the Holy Beast? Angelique: When the Heart Awakens is pretty similar to Uta no Prince-sama, mostly in the reverse-harem theme where the males in the show begin to fall in love with Ange's.
Koi Suru Tenshi Angelique Opening
---
Any Animes Like Uta no☆Prince-sama♪ Maji Love 1000% ?
4. Ouran Koukou Host Club (Ouran Highschool Host Club)

Episodes: 26
Aired: April 2006 – September 2006
This is another anime that takes place is a school setting, has a strong female lead, and a very interesting plot. It also features of a cast of interesting characters who undergo significant development as the story progresses, with many episodes providing more information on their backstories.
Haruhi Fujioka doesn't quite fit in at her new school. She's having difficulty making friends, and even gets mistaken for a boy. It doesn't help that she manages to accidentally break an antique vase belonging to the famous host club. Not to worry, they come up with a plan for her to earn the money to replace it back, but there's a bit of a catch.
The Ouran Highschool Host Club Offical English Trailer
---
5. Diabolik Lovers

Episodes: 12
Aired: September 2013– December 2013
This is an additional series that features strong reverse-harem anime elements, and a strong female protagonist. Additional similarities can be found in the school setting the show takes place in, as well as the show's strong aesthetic appeal which is another strength that it shares with Uta no☆Prince-sama♪ Maji Love 1000%.
Yui is forced to transfer to a new school. It sounds like a dream - her roommates are six gorgeous men. However, there's a catch to everything - they're not quite human. And if being surrounded by vampires didn't make her new life complicated enough, they're after her blood. High school isn't supposed to be easy, but Yui is in for a heck of an interesting ride.
「DIABOLIK LOVERS」 // PV 1
---
6. Skip Beat!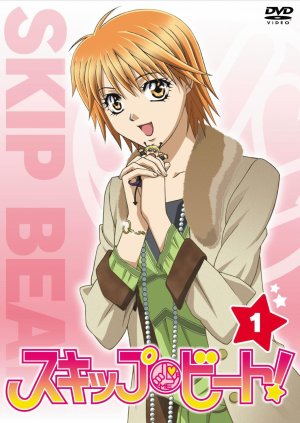 Episodes: 25
Aired: October 2008 – March 2009
Another anime that features a female protagonist who combats adversity to make a name for herself in show business featuring music, as well as romance. This anime is a bit more dramatic than Uta no☆Prince-sama♪ Maji Love 1000%, but shares many of the same qualities.
Kyoko is an encouraging friend, and encourages her friend Shou to pursue his dreams of music – that is until she hears him insult her, and a friendship quickly turns into a rivalry. The road to the top is full of twists and turns in this engaging series that will keep you guessing, and rooting for Kyoko all the way as she strives to see her name in lights and prove Shou wrong.
Skip Beat! Trailer
---
With the popularity of female-focused visual novels and reverse harem anime growing by leaps and bounds, it is likely that in the near future we can look forward to even more series similar to this one. Hopefully this article has helped to steer you in the right direction to find other series you'll enjoy just as much as Uta no☆Prince-sama♪ Maji Love 1000%.
---