También puedes leer este artículo en:Español
The band Wake Up, Girls are caught in a dilemma. Firstly, their debut gig during Christmas was a flop. Thereafter, the manager of the group decided to run off with whatever remainder money the agency that manages the band has left. This left both band and agency in a sorry state with having little to no future ahead of them. Against all odds, however, the group managed to get a shot at redemption thanks to a mysterious individual. The road ahead of them may be tough, but these girls will show that they have what it takes to conquer their obstacles and rise to the top despite their shortcomings.
Wake Up, Girls tells the story of an up and coming idol group with little luck during their starting. Despite the challenges along the way, they eventually pulled themselves out of the pits they started off in and made a name for themselves. Before succeeding in a band, however, the members of the group had to face their inner struggles in order to commit themselves fully to the group. This makes the anime much more memorable due to the character development that is present. If you like stories the revolves around hard work and dedication, tales of the being an underdog and reaping the rewards of success, look no further as we count 6 animes that are just like Wake Up, Girls. Without further ado, let's go!
Similar Anime to Wake Up, Girls
1. Hibike! Euphonium

Episodes: 13
Aired: Apr 8, 2015 to Jul 1, 2015
Kumiko Oumae enters high school with a brand new perspective. Despite looking like an average girl, Kumiko had an illustrious music career back in middle school in the brass band. However, due to an unfortunate incident, she decided to swear off music altogether. But as fate would have it, Kumiko is surrounded by various people with a keen interest in music. Due to the exposure, she takes up the euphonium once again. Now, she aims to set the record straight and right the wrong that occurred to her in the past with old and new friends. This is a tale of redemption and reprieval.
Similar to Wake Up, Girls, Hibike! tells the story of starting rock bottom once again. The high school brass band is a relatively unknown group with little standing in the music community. However, through rediscovering her passion for music and working together with her new peers, Kumiko aims to bring the brass band to new heights. This story showcases the struggles and frustration of starting from nothing and the road to success. In the end, their valiant efforts are recognized and the conclusion of the story is them accomplishing the goal that they aimed for since the beginning.
---
2. The iDOLM@STER

Episodes: 25
Aired: Jul 8, 2011, to Dec 23, 2011
765 Production Studios is the talent agency of 13 professional idols. Their aim is to bring these 13 to the top and become recognized nation-wide. However, as these 13 girls will soon find out, the road to being successful idols is a long and arduous one. Behind the veil of stardom lies frustration, hard work, sweat and even tears. Before they are full-fledged idols, they must overcome the physical, mental and emotional burdens that lies in their way. Will they eventually succeed in their dream before the fire of their passion flickers away?
The iDOLM@STER is a classic idols genre anime that sets the benchmark for subsequent idol themed animes. The original storyboard acts as a precedent even to newer idols anime. The story deals with the protagonists balancing between work and play and struggling with numerous obstacles. On the surface, it may appear that the only worries that idols have are the competitors surrounding them. However, it goes deeper than that. Before fame may surface, every idol must pay a price in order to achieve that status. This anime shows just how ordeals and tribulations can be conquered with the loving support of one another and hard work.
---
3. AKB0048

Episodes: 13
Aired: Apr 29, 2012 to Jul 22, 2012
Depicting a dystopian society, the totalitarian government, the Deep Galactic Trade Organization has proclaimed that music is the root of all evil and has permanently banned its existence. Refusing to accept this new proclamation, the agency group, AKB0048 is formed for the sole purpose of re-introducing music. This group, based on the original AKB48 makes it their personal mission to bring music back to life and restore it to its former glory. The group now travels between planets and holding as many lives as they can in order to spread the influence of music. Amidst their new training regime and numerous concerts, they must also fend off the cops and prevent being arrested for inciting such a taboo...
AKB0048 is not too far off from the idol group that we know, AKB48. It is based on the original group with the voice actresses being members of the group as well. Instead of working towards the top through the improvement of their music, the whole premise is the spread of music itself. The concept of music just does not exist anymore! Similar to Wake Up, Girls expect many insert songs with every song having a purpose. Music is a fundamental aspect of human life and now, it is the underdog of society in this anime. Time to go back to our roots and rediscover the power of music and bring it back to its rightful state!
---
Any Anime Like Wake Up, Girls ?
4. K-ON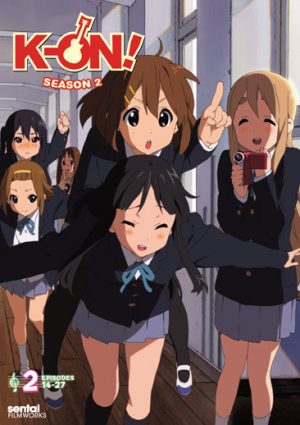 Episodes: 13
Aired: Apr 3, 2009 to Jun 26, 2009
Hirasawa Yui is a carefree girl who is just about to enter high school. Being the fickle minded girl that she is, she decided to join the Light Music Club after chancing upon a poster in school. However, she cannot play any instruments. The members of the club, disheartened to hear about it, had no choice but to retain her or face the disbandment of the club. And that is how the club is maintained with the addition of a new guitarist. Slowly but surely, Yui improves on the guitar just in time for the school festival. Will she get the piece correct before their official debut though?
K-ON is a light-hearted slice of life anime. While not intense in portraying the commitments of joining a music club, the anime still retains the element of showcasing the struggles of balancing homework and mishaps along the way of becoming a functioning music club. The anime tones down on the severity of the issue which makes it easier to digest. So if you just happen to look for a toned down version of Wake Up, Girls, K-ON is sure to not disappoint! After all, it was and still is one of the most popular animes in Japan!
---
5. Tari Tari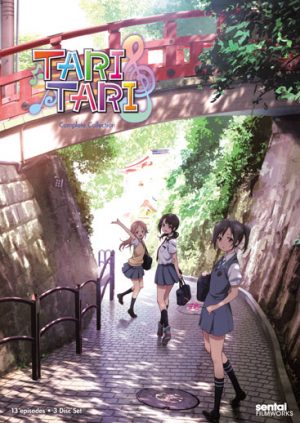 Episodes: 13
Aired: Jul 1, 2012, to Sep 23, 2012
Shirahamazaka High School holds a special every year for its music students. This event is graced by professionals of the industry and other prestigious guests. Now entering her final year in high school, Konatsu Miyamoto yearns to sing at this event. However, due to an incident that happened the previous year, she was barred from performing at the event. Through a flash of inspiration, she decides to form her own choir group. However, her close friend whom she expected supported had given up singing. Not only that, she fails to meet the requirement of 3 participants in order to form a club. Time is definitely not on her side and with only one month left and still no club to practice in, she must do her best in order to fulfill her wish.
Tari Tari is a heart-warming tale of how different individuals with different background come together to perform one final piece before their graduation. We have, on one hand, a jaded singer who seemed to have lost her passion for singing, a passionate singer with a history and one who is pursuing other interests. This anime shows how music is the binding force that brings about individuals together, compelling themselves to reach new heights. Despite the trials and tribulations along their way, as long as the fires of their passion continue to burn, this small but soon to be acknowledged group will achieve what they set out to do. The similar message shared by both animes is that as long as you work hard enough fervently, you will definitely achieve what you desire most.
---
6. Love Live! School Idol Project

Episodes: 13
Aired: Jan 6, 2013 to Mar 31, 2013
Otonokizaka High School faces a crisis never seen before. Due to the alarming rate of declining enrollment, the school faced closure after the current first year's graduate. Honoka Kousaka, a first year at the school refused to graduate from a school doomed to be closed down. Seeing popular idol group A-Rise gave her the motivation to form an idol group. The plan is simple, to become famous, increasing the reputation of the school and have more students enrolling in order to save the school. However, not everything falls into place of her grand scheme when she realized that it was hard for her to even establish a new club in her current school. Next, there is the issue of choreography, costumes and so much more to be planned. Will this spark of imagination live up to its expectation or will it just be another fleeting ideal of a high school girl?
In many ways, Love Live shares many characteristics with Wake Up, Girls. Both shows the initial struggles of a bold new group with high expectations. Both emphasize the complications of maintaining an idol group and developing new content. But the piece de resistance for both animes would undoubtedly be its amazing character cast. These characters pursue on to their dreams relentlessly, overcoming problems after problems before eventually reaching the pinnacle of their creation, making their dreams a reality. You can also expect numerous themed songs that will set the mood and pace of the story. Ultimately, we would rate this anime to be the most akin to Wake Up, Girls in addition to being a must watch for any anime fans!
---
Conclusion
So that's our take on 6 animes like Wake Up, Girls. Truly, the inspiring messages in these animes can sometimes shed some light on our own ideas, motivating us to take action. What about Wake Up, Girls is it that you like and do tell us if it's one of your favorite animes! Already watched some of the animes on the list, do tell us what you think or if you have another anime in mind that is similar to Wake Up, Girls! Don't be shy to leave a comment below and we will see you next time!
---